Considered as the most urbanized and an important economic state in Malaysia, Penang is one of the most diverse and culturally rich places we've ever been. We are happy to have the experience exploring this historical city which also known as The Silicon Valley Of The East for its industries.
We published a summary of our itinerary while traveling to Penang which you can read on our Penang Travel Journal. It surely is a hot and humid place but worth a visit. Penang is consist of two parts; Penang island, which the capital city George Town is located, and Seberang Perai, a part of Malay peninsula.
This island has a rich multicultural history which makes it really interesting to visit. Founded by the British in the 18th century, Penang is rich for Malay, Chinese, Indian, and European influences. You can 'feel' these cultural influences all over the places. The title from UNESCO as a World Heritage Site makes it even more worth to visit.
Even though we only had 4 days to explore especially within the George Town area, its capital city, we visited some authentic and beautiful places. And that makes us want to share these attractions with you guys. These places are highly recommended for travelers or tourists who wants to enjoy Penang and have some great travel photos. Easily found with easy access and cheap as well.
So, here we go. The top 5 attractions to visit in Penang from our personal experience:
1. Sun Yat Sen Museum
The Sun Yat Sen Museum is basically a house turned into a museum dedicated to Dr. Sun Yat Sen, a nationalist from China who established the Chinese Republic in 1912. This well-preserved house museum has a permanent exhibition on Sun Yat Sen's early revolutionary period in Penang when he planned a historic uprising of the China Revolution in 1911.
We felt immersed in the past as we start to enter this old house. In front of the house, you can see some information about Sun Yat Sen as well as His heritage trail in Penang. This is the first Chinese heritage we found in our trip. The first and the charming one.
Sun Yat Sen Museum History
This building was built around 1880. Used to be a house of a merchant with the length of over 40 meters, the building is a living example of the architectural heritage of Penang. Some of the original things to see here which still survive until today include a cozy courtyard garden, a quaint timber staircase, beautifully patterned floor tiles, and large beams.
The interior looks authentic and charming. Old dark wood Straits Chinese furniture with beautiful carvings set the ambiance of the old days. In 1926 the house owned by a Hokkien merchant, Ch'ng Teong Swee. Today, the house is owned by his granddaughter Khoo Salma Nasution, a writer and heritage advocate.
Why is this place historical?
This museum building is the same house where Sun Yat-sen set his plans to overthrow the Qing Dynasty. With the support among overseas Chinese to fight the Qing dynasty, Dr. Sun shifted the southeast Asian headquarters of the Tongmenghui party to Penang.
When Dr. Sun first brought his family to Penang in 1910, the building housed the reading club of Penang Philomatic Union as a cover for Dr. Sun's political party. On 14 November 1910, Sun Yat Sen held an Emergency Meeting of the Nanyang Tongmenghui organization in this house and launched the fundraising campaign for the Second Guangzhou Uprising.
In this very building, Sun Yat Sen delivered his famous speech at the 1910 Penang Conference and raised $8000 on the spot. In December 1910, the first issue of the Kwong Wah Yit Poh was published from this place. A Chinese newspaper launched by Dr. Sun and his followers in Penang, which now known as the world's oldest Chinese newspaper outside of China.
Have Some Tea
With a fee of RM 5 to enter, you can have a nice tea inside which is the best part of visiting this place. Having a tea in the middle of the house where the cozy garden and beautiful old Chinese house ambiance to accompany your afternoon. Authentic! You can also read the history of Dr. Sun revolutionary movement from the posters they hang on the wall in numbers, from the left side until the right side just before you go out.
Also, the Chinese guy who hosts us is one of the nicest persons I've ever met. He passionately tells us the story of Dr. Sun and everything about him, the Chinese history, etc. You will love it. Here are some more photos about details inside the house:
2. Khoo Kongsi Temple
Look at that magnificent majestic grand design of the temple. This literally cause us to ' woahh..' for a while. I don't know how to describe this place by word other than majestic. The Khoo Kongsi is the grandest clan temple in Malaysia. As one of the George Town's major historic attraction, Khoo Kongsi is well known worldwide for its extensive lineage that can be tracked 650 years ago.
I'm sure that this is one of the most beautifully and detailed Chinese temple I've ever visited. It's so complex that it feels like overwhelmed by the ambiance. I've never seen such detail that feels like I'm in a Chinese Palace from the past. You will see why when you visit.
Although this clan house is very famous, still many Penangites don't know the exact location of this temple. Yes, it's kinda hidden to see this place. You're gonna have to go through an alley between shop houses on Cannon Street.
A Little Bit of Khoo Kongsi History
Khoo Kongsi, together with Cheah, Yeoh, Lim and Tan Kongsi, were known as the Five Big Clans (Goh Tai Seh) that formed the backbone of the Hokkien community in early Penang.
Leong San Tong Khoo Kongsi, thus its name for the Leong San Tong Clan (Dragon Mountain Hall). The clan came from Sin Kang clan village in Hokkien province. This clan was among the wealthy Chinese traders of 17th century Malacca and early Penang. The Khoos used to have their own system for government, education, financial, welfare and social organizations.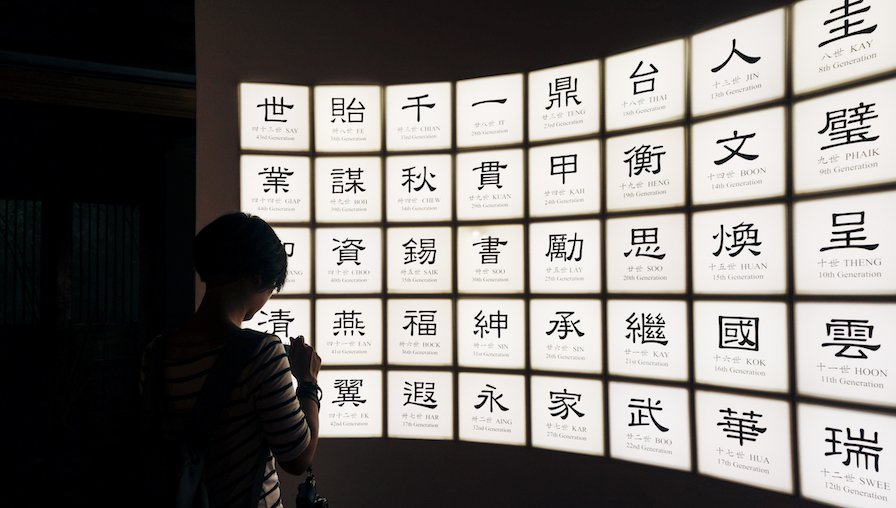 With the help of master craftsmen from southern Fujian, the clan built a new clan house in 8 years. Unfortunately, the building was allegedly burned down because of lightning struck.
The Chinese myth says that it's because the Gods didn't like it because it's the resemblance of the Emperor's palace. The magnificent building which is standing right now was reconstructed in 1902 and finished in 1906. Partially damaged by the Japanese bomb and restored in 1958.
This temple surely holds a rich history of Chinese culture. You will love to spend some times here. The Chinese art and culture will bring you a wanderlust to visit China. For more history from Khoo Kongsi, I guess best to read directly from them. General information and website below, as well as some photos from the temple.
3. Cheong Fatt Tze Mansion (The Blue Mansion)
As you might guess from the name, yes the building is blue. Therefore, it's easy to find. Just look for something big and blue. The color is quite vibrant in the midst of Penang hot weather. I must say, this is one fancy big house. And visiting this house is a must when you are in Penang.
This huge blue building is the house of a wealthy Chinese merchant, Cheong Fatt Tze. Built in the 19th century, this fancy house has 38 rooms, 5 courtyards from granite, 7 staircases, and 220 vernacular timber louvre windows. If that's not fancy enough for you, Mr. Cheong Fatt Tze shipped the artisans from Southern China, imported materials from as far as Scotland, built another big house across the main building for all his house staffs. 'Wow..'
Who's This Chinese Man?
You might be questioning who is this guy? Is he that rich? Yes, he is. Rumors said that he is one of the richest Chinese man doing business outside of China. He got his wealth by trading or doing business with the French Colonial. He is also considered as one of the most influential and powerful men during the colonial era.
This blue mansion is home to his 7th wife. He divided this house in a very well thought section. This house served both as a home and an office as the base for Cheong Fatt Tze's commercial enterprises. Here, his business meetings were held, guests were greeted in function rooms and significant business activities were concentrated in the center of the Mansion.
Feng Shui Principals
The rear halls were kept away from the hustle and bustle of Cheong Fatt Tze's business and administrative work. The favored family members were housed in the center bay and rooms on the first floor. Some spaces were kept exclusively for ancestral prayers and meal times. Those who had lost favor, as well as lesser relatives, were moved to the wings of the Mansion.
One thing they keep boasts about this Mansion is how it is a very well built with very careful attention to the Feng Shui principals. Thanks to the Feng Shui master, I guess? He had money so sure he consult a Feng Shui master. I guess it's true or I just got branded with that intro from them. But once you get inside, you'll feel what I felt. Peaceful, for real.
Although it's very hot outside, here inside the mansion, especially the middle section, is like a different world. It's chill, cool, and relaxing. D*mn I want a house like this.
The distinctive blue color of the mansion is the result of mixing lime with natural blue dye made from the Indigo plant. The blue was very popular in the Colonial period and the dye was imported from India to Penang by the British.
The Blue Mansion Update
In 1916, after the passing of Cheong Fatt Tze, the mansion became worse and worse due to the passing time. The mansion was purchased from Cheong Fatt Tze's descendants in 1989 by a group of local Penang individuals who then restore it. It took six years for the restoration works. The Blue Mansion stands today as a testament to the successful effort of heritage conservation and protection throughout Penang.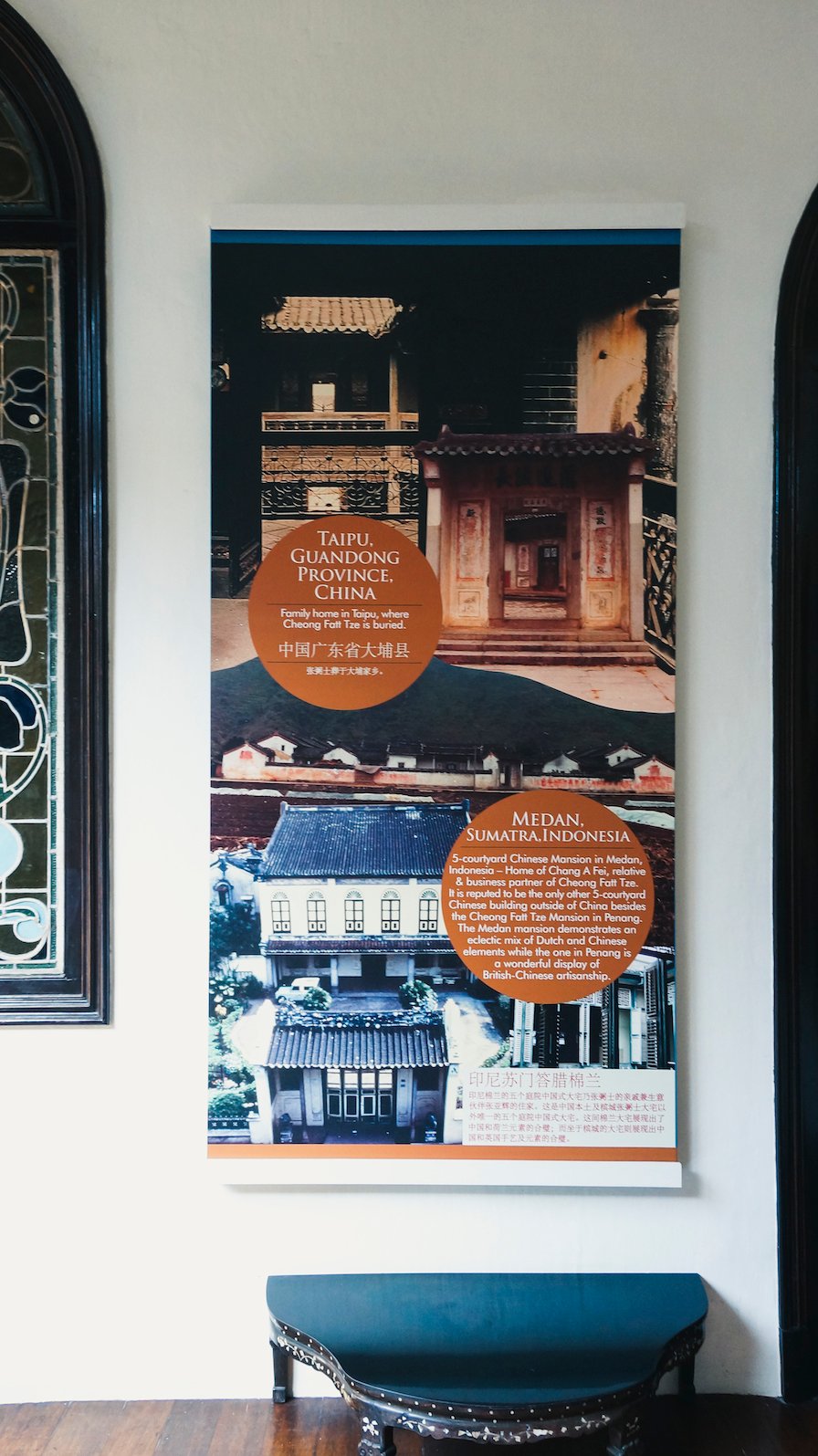 Nowadays, this mansion served as a boutique hotel as well. Note that, you can only see inside this house with a guided tour. They will wait until you're done with the ticket and then started as soon as everybody gathered in the front room.
The English tour we went with guided by an old lady which speaks English fluently. She will share a story of Mr. Cheong Fatt Tze and this mansion in a funny way, she's good. The tour was not boring at all. I suggest you pay attention to her story to get the most of the tour.
Make sure you make time to snap a photo while she took you around the house because once the tour is done, you're not allowed to be inside the area anymore. They said it's for precaution because this is an old house and that they highly careful to preserved this mansion.
4. Penang Hill
Now, this is what I've been waiting to share with you guys, the photos from Penang Hill. This place is magical for the Panoramic view of Penang City. I'm confident to say that for the whole trip to Penang, these Panorama shots you see in this section are our ultimate travel photo. It's just d*mn lovely and such a calming, charming, wanderlust images.
We didn't have any thoughts that we would have such a beautiful view from Penang Hill. We're just expecting some short escape kinda thing from the city since it's just called a 'hill'. But lucky for us, we got there quite late in the afternoon where the sun was just about to set. We took the bus from Weld Quay bus station to air itam. It's not hard at all to get to this place.
Penang Hill History
Located just 6 km from George Town, this is a nice place to escape busy Penang for a while. Penang Hill is known as Bukit Bendera, which covers a number of hills. The highest peak is 833 meters above sea level. This place used to to be a retreat during the British colonial period. It is now one of the most popular sites for tourists. In 2012 alone, it receives over a million visitors.
Back in 1788, Captain Francis light who is the founder of the colony in Penang created a horse track from Penang Botanic Gardens waterfall up to the top of the hill. He also created a strawberry farm on the hill which became known as a strawberry hill.
The official name is actually Flagstaff Hill which refers to the flagstaff outside the residence of the Governor of Penang built by Francis. A project initiated by the straits government to build the Penang Hill Funicular Railway which opened in 1923. With this new railway, Penang Hill quickly became a favorite place to build holiday villas by the Europeans and the wealthy local Chinese.
They boast the longest funicular track in Asia with the distance of 1,996 meters. Also, with 79 meters long and 3 meters wide with a steepness of 27,9 degrees, it is the steepest tunnel track in the world. 😮
What To Do At Penang Hill
One of the oldest building was built by David Brown on the strawberry hill which now became a restaurant where we hang out to spend the rest of the day. Having some afternoon English tea, croissant, cakes, and a beautiful sunset.
Not only the view, you can also enjoy exploring around the hill for some flora and fauna, mosque, temple, historical heritage, owl museum, some bazaar with henna art, the love lock for you lovers, et cetera. It is suitable for families with children. You could do a whole day from early in the morning until late afternoon.
Just know that you gotta be patient with the queue. We queued for 1 hour just to get to the tram going up, and then another 1 hour and a half (maybe) when we queue to go back down around 8.p.m.!
You know what..? Best things to do is the viewing deck and to sit at the David Brown's cafe enjoying the outdoor chill breeze with the view of Panoramic Penang City during sunset! Hands down! But that's just us. You might be different. Who knows..?
5. Camera Museum
I include this museum because obviously, we are also a photography enthusiast. Although we still learning and much trying to improve our travel photography skills, we definitely sure that we like photography a lot. This place was not even our itinerary. But, thanks to our wandering feet, we found this museum by accident.
We're just hunting some street arts when something caught my attention from afar. The sign with written on it 'Camera Museum'. Of course, my senses tingling. Definitely gotta check this place out. We're not usually going off track from what we initially planned, but hey sometimes spontaneous decision brings you a unique travel experience.
This place is surely a heaven for photography lovers. Opened for public in July 2013, this place quickly gained popularity as a cool place for photography enthusiasts. The museum is a result from local photographers and camera enthusiast. They held more than 1,000 cameras from many different periods of time. That's crazy.
Bring Back The Time!
On the ground floor, you can see some photos, gallery, and shop for camera related souvenirs. Their ground floor is quite interesting to look at. The uniquely designed ambiance gives you sorta vintage feels once you enter the place. So hippie… 🙂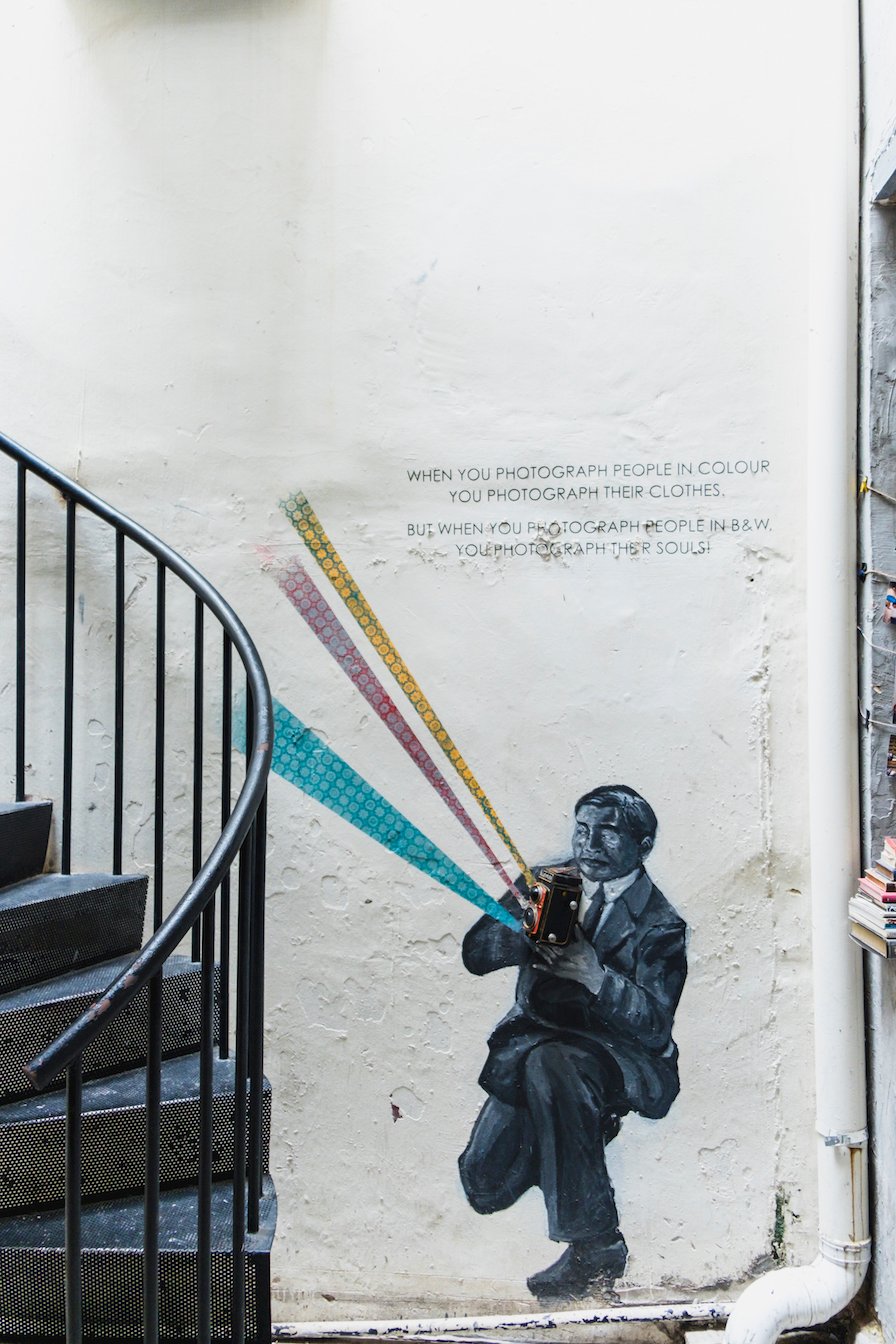 Going to the second floor, that's the real deal. I picture many camera enthusiasts drooling when they see so many vintage, old, historic camera collections. There are Bronica, Mamiya, some camera from world war II, medium format, large format, old polaroid and they're all in a good looking condition. Gotta loves that room.
They display the camera in a chronological timeline so visitors can follow the story of how the camera technology developing through time. When you're done drooling all over the floor in that display room, you can also see more on the second floor.
They have camera history display as an art on the wall, films attached to windows as a window art, negative film camera processing room complete with the dark and typical red light, a pinhole room, camera obscura, et cetera.
We didn't realize that we spent almost 2 hours in this place. If not for one of us looking at our watch. It's just really interesting. The admission fee is a bit expensive compared to many museums here in Penang. But totally worth it. I guess it's best to share through pictures. So here they are:
The Unvisited, haha..!
That's our top 5 places that we had the chance to visit. If not for limited time, this list would have grown to seven! We got another two places out of our reach. Don't ask why.

By Flying Pharmacist – Own work (own photo), CC BY-SA 3.0, Link
Kek Lok Si Temple
This is one of the best-known temples on Penang island. Said to be the largest Buddhist temple in Malaysia, this is an important pilgrimage center for Buddhists from Hong Kong, Philippines, Singapore, and countries in South East Asia. This temple also heavily commercialized with shops.
Batu Ferringhi
We seriously thinking to spend a night and try this resort. Again, because of some considerations, we canceled our plan to stay at this resort. It would be d*mn nice to have even just a night getaway here. They have quite an impressive review as a resort. It's just the location, though. 😔
If you think this would be expensive, you're wrong. They're not that expensive. Thanks to business competition, this area is heavily developed for tourism. They have to keep the price competitive enough to stay in business. Check out how affordable this Golden Sands Resort is.
That will be all I want to share with you guys from Penang. Top places to visit as usual. Don't forget to plan your best possible itinerary to enjoy the most of Penang. Don't worry if you cannot fulfill all your itinerary. After all, traveling is to be enjoyed. Ain't that, right? 😉
---
SPONSORED
Thanks for reading! Check these links below if you want to get some deals on your next trips, as well as we will get something in return to keep us on track. 😉
---