Happy holiday everyone! Back at it again with the part 3 of the Bali getaway series. Yes, we already have 2 more stories about Bali. If you interested about a budget friendly hotel in Legian then you can click here or you may haven't read about our beach hopping post then click here.
But this time we were not just hoping around but we gonna get down and wet! And the perfect place to do is the Tanjung Benoa.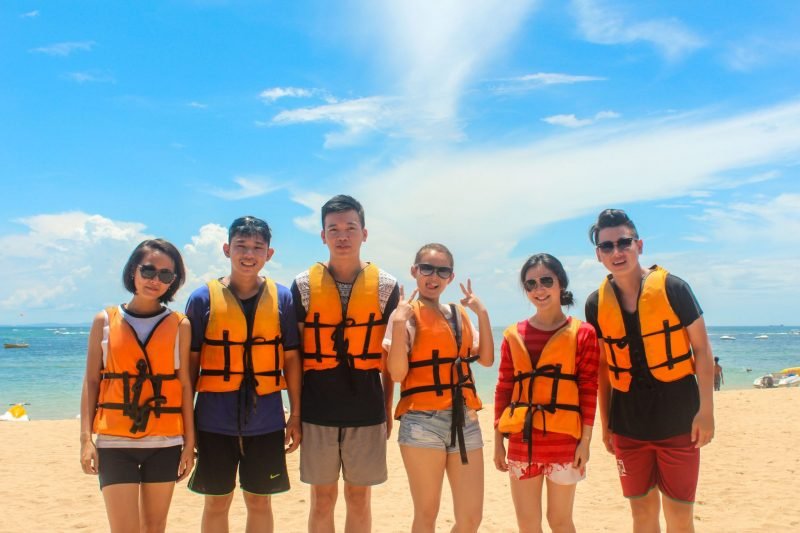 The place to go for some water action!
Tanjung Benoa is a peninsula that extends about 4km north from Nusa Dua to Benoa village, the southern part of Bali. This place is dedicated to water sports recreation. Walk to the beach and you will see all the jet ski being parked on the beach. Try to go near one and guarantee someone will come to offer you to rent the jet ski.
It can get a bit overwhelming on where to book the water sport because everybody seems to know you are a tourist. They will try to persuade you up to book with them. I am not sure what you called them, similar to tour operators I guess but with water sport instead.
When we were there my friend actually knew one of the people, so we booked through him. I think he did not give us the lower cost just because we go directly with him tho. But still, it is nice to know someone rather than going and choose where to book it our self.
The rate was different depending which kind of water activities but they do offer a vast amount of option. I ended up choosing the banana boat, flying fish, snorkeling, and Seawalker. Forget the exact rate for each of them but the total cost me around IDR 900.000. But I do remember Seawalker was the most expensive, it alone cost almost IDR 500.000.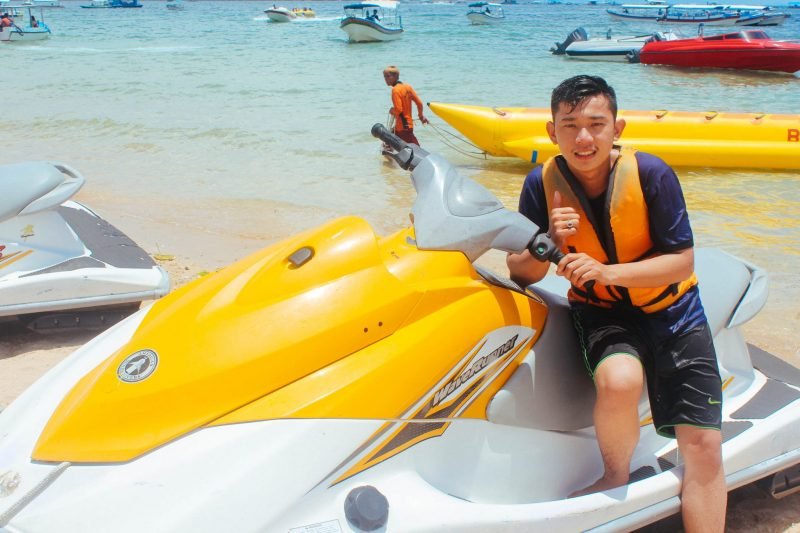 They will give you a book with all the activities they offer and the rate for each of them. But in general, you can bargain for the rate. So bargaining skill was a huge plus point.
We went there in the morning, booked all the activities, settled the payment and then waited for our turn.
First, Flying Fish!
The first thing we did was the flying fish, it was an inflatable boat drawn with high-speed boat against the wind. The boat will fit 2 people plus 1 guide. Almost like flying a kite but with you riding the kite. There was no seat belt, I was just lying there holding on to handle on both side of my hand.
The boat got up quite high until almost 2 meters above the sea level and took around 15 minutes. I think that was fun but you won't like it if you are afraid of height.
Banana ba ba na na…Boat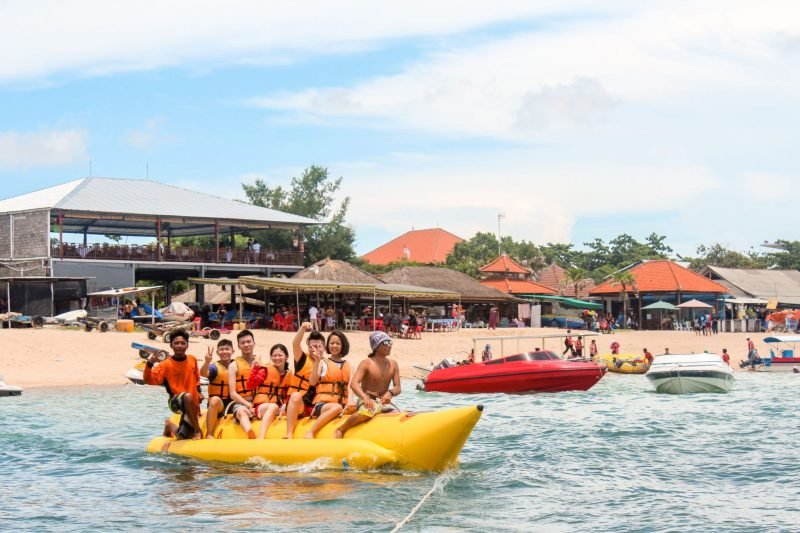 Then next thing was the Banana Boat. Banana shaped boat being pulled by a high-speed boat. One of my friends was not feeling the sea-mood that day, so she stayed on the boat. Good thing because we then have those picture.
The banana boat thingy is super fun! Maybe because that was the only thing that we all able to do together or maybe because we got a crazy companion, or maybe both.
So for the ride we were accompanied by 2 people, I assume for safety reason but one of them was too mental to kept us safe. That guy was jumping while the boat was moving, flipped the boat over, shouting, asking us to scream and doing all the crazy stunts. But I can't blame him, it was fun really.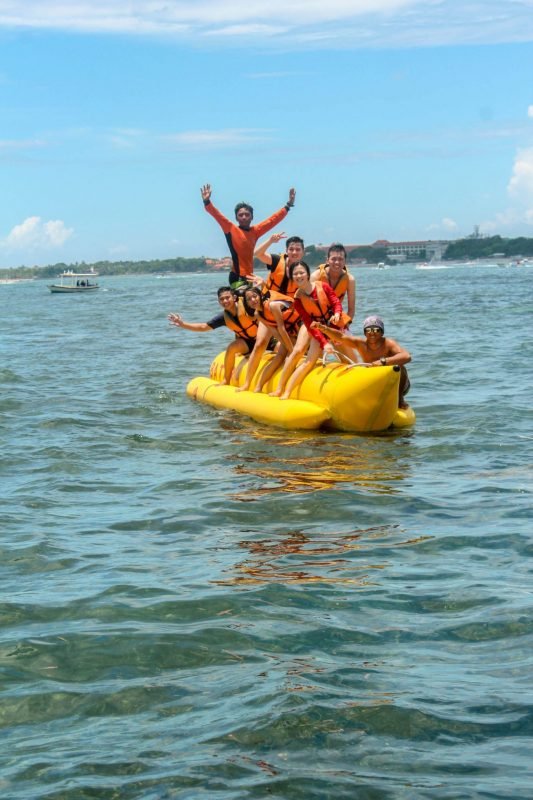 Becoming a SeaWalker
Next were the snorkeling and Seawalker. Either you book one of them or both, you will be given a diving suit. After we gear up, we wait for a bit then we all board the boat.
We were dropped at the floating hut in the sea where we wait for our turn. Warning, If you have any kind of sea or motion sickness then take your pills beforehand.
Seawalker is a soft dive system, which means you only use our unique Seawalker helmet design without the need for a dive tank. Explore the stunning underwater life of Bali where you can walk at the bottom of the sea and come face to face with sea life whilst breathing the same as you do on the surface.
Well, that is basically what a Seawalker is. Walking in the bottom of the sea with a helmet that keeping you alive, which looked like an astronaut helmet. Each person is accompanied by 1 divers as a guide.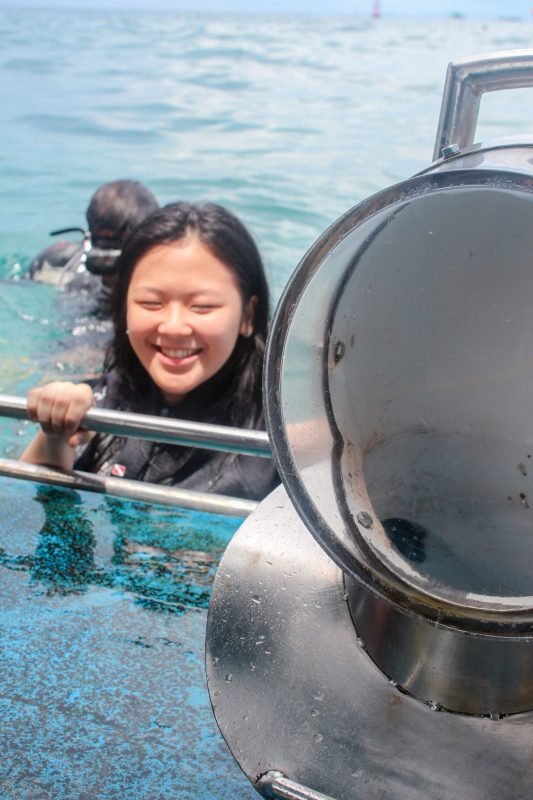 They also gave use bread inside a plastic bag to feed the fish underwater. It was proven very efficient because all the fishes were coming once we pulled out the bread, only the smaller one of course. And no, I did not see any shark whatsoever.
They also offered us the underwater photograph service, where they would take pictures of us underwater. But since I brought my waterproof camera with me, I said no. Obviously, I did not feel it was necessary.
Until my camera died underwater! Did not know what happen even until now, but my waterproof camera died just like that. Oh well, at least it serves the purpose of its original design and died on duty. RIP underwater camera. But due to that, I lost all my underwater photo. Damn it!
Snorkeling
After that was the snorkeling part. Same thing with Seawalker, we were accompanied by 1 Diver for each person. Actually, it was only me who booked the Seawalker and the Snorkeling. The others only booked either one of them. I just want to try everything, basically.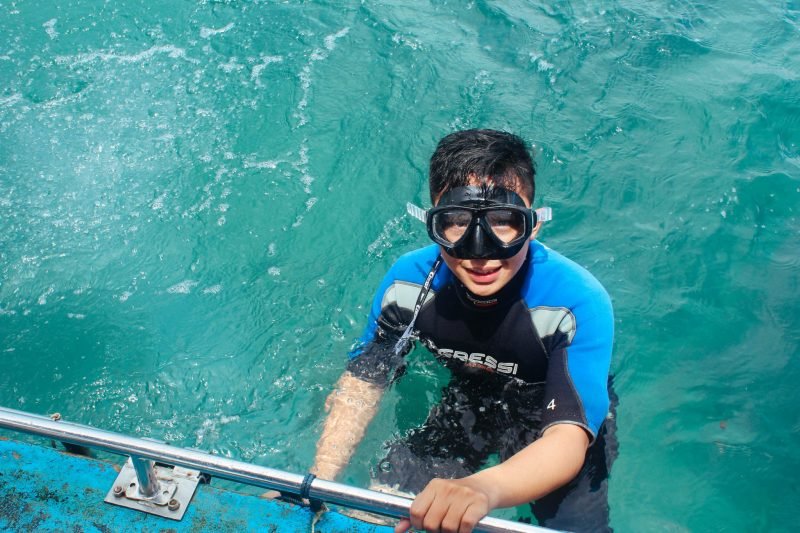 But to be honest, I feel a bit cheated. Because the Snorkeling is actually done in the same area where we did our Seawalker. Not in the exact same place but not too far either. I can even see where I walked before.
Not only that, the sea was also kinda dirty. Not at the point where I was swimming in trash, but it was not clear at tall. The water seems to be all "foggy" and I did see some trash floating around. That probably because the place where we did our snorkeling was not too far from the beach, it was not like in the middle of the ocean or anything.
Such a bummer, I won't recommended either one of them. Then we were back on the boat to the island and washed up. Most of the building alongside the beach had toilets and bathrooms. I am not sure how much it was but it was not a huge amount of money, definitely less than IDR 10.000 / person.
So, My conclusion
Now if you asked me do I recommended water sport here, my answer will be yes. But not the one involving seeing underwater view. If you plan to do either snorkeling or diving then better find somewhere that is more hidden with more experienced people.
But if you are coming with a bunch of friends and just want to have fun then yes, water sport is a great idea. Even though it is called sport, it was more like a recreational activity, not so much of a sport anyway.
Plus I don't think that it is fair to go to Bali and missing out the water sport. Or if you don't fancy any kind of sports (you lazy ass) then chilling out on the beach also a great option but just remember your sunblock.
Next post will be about #foodporn, to be precise, the BEST pork ribs I ever had. That is worth anticipating, really. Thanks for reading this bit and you might want to share it with your friends who might enjoy water sports or your friends in general. Cheers!
---
Check some link below to get yourself some sweet deals on your next trip to Bali and thank me later!
Find out more travel resources that we also use for traveling on our resources page.
---