Finally! Woke up on our last day to enjoy shopping in Hong Kong. Glad you guys still stick to this Hong Kong trip journal. It's quite a long story if you've been following this trip from the very first post. (Thanks for that!) 
From the previous post, our trip to Shenzhen apparently made us all very tired, so we got a very good night sleep and wake up really late. Here's our itinerary for today as shown in the map below.
Day 5, and we got no plan but to just enjoy shopping in Hong Kong. Who doesn't like shopping? After days staying at our hotel, Holiday Inn, we never actually really visit those stores and malls for shopping, only one time at night.
Hong Kong is "perhaps" the best shopping place in the world with reasonable prices, various products, and best service. (quote and quote for perhaps, alright?)
In Hong Kong, shopping is not only the act of buying things but also a form of recreation, a way of life.
My goodness, that's one deep intro for a post. I feel wiser already, it's like reading wisdom for life (shout out to …. a form of recreation, a way of life…). 
But, I have to agree with the shopping hype in Hong Kong. It's great to shop here, not just they're tax-free, but the price also relatively low.
Best Spot for Shopping in Hong Kong
You should see how both tourists and locals into shopping. We walk from our hotel going all the way exploring the Tsim Sha Tsui. Our first stop was sightseeing at the Harbour City.
The one located at Canton Road, after exploring the streets. This road is the heaven for shopaholic who loves branded stuff like LV, Channel, Hermes, etc. Here's a picture from our previous post.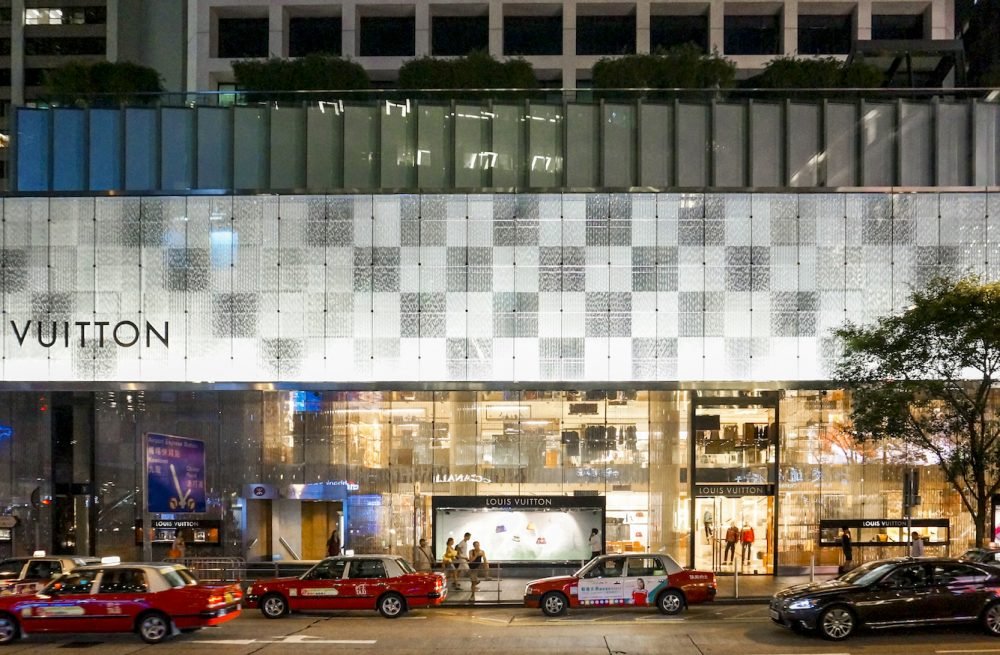 Before that, we actually take a look at some shop across the Harbour City and ended up shopping there plus lunch. Not really much, but pretty significant.
We want to check the branded store so we enter the LV store. As you expect, the service from that branded store was different. They keep the store neat with fewer people, so if inside the store gets too crowded, then you will have to wait and queue to get into the store. (Oh, if only you could see the queue at Channel).
One thing I notice was there's a lot of tourists from Mainland China shops here. That's one thing that is already known widely, that Mainland Chinese people are getting richer and they do spend a lot by shopping in Hong Kong.
See how the Mainland Chinese tourists contribute to Hong Kong economy. But, there seems to be a slight lay back for that.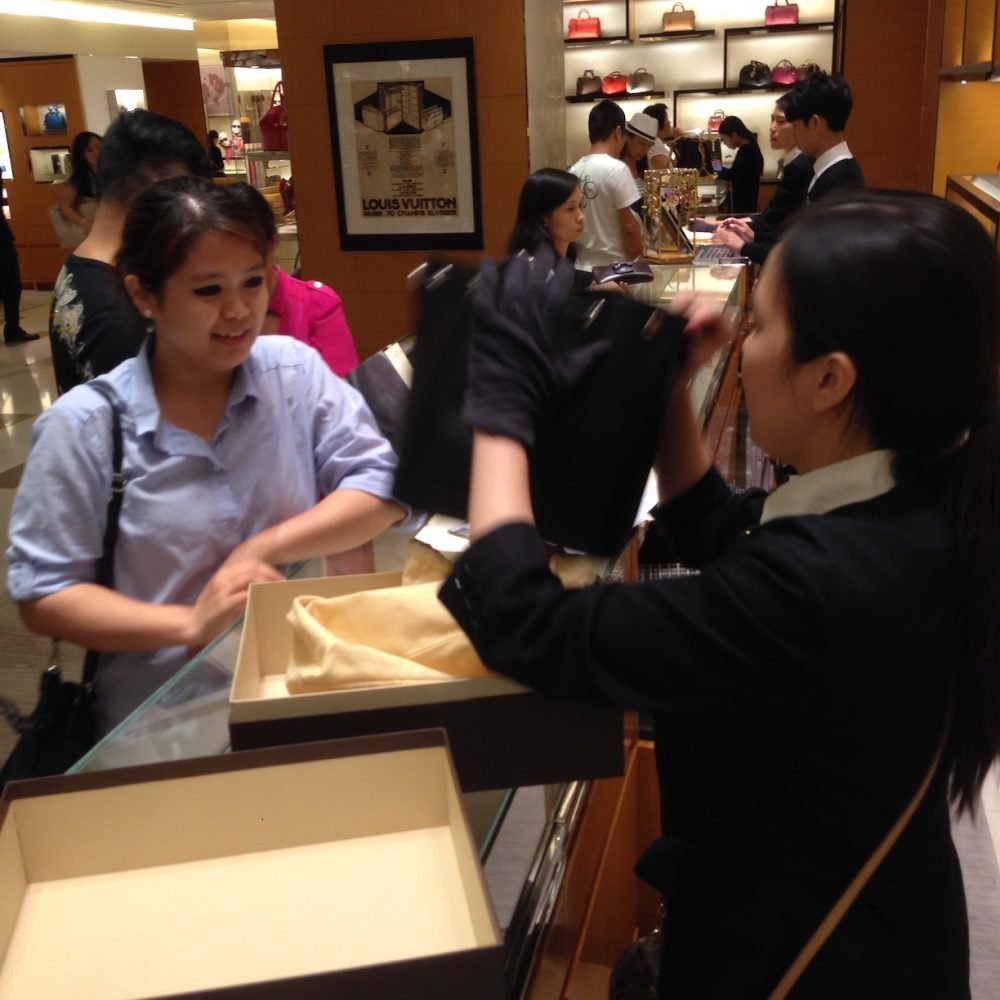 Let The Shopping Begin
We got accompanied while we're in the LV store by one of their staff. It's their policy I guess, to keep company and serve the visitors.
It ended up one of us did buy something, and the queue at the cashier is just crazy. I was wondering is this a branded store? It seems like they sell cheap items, that apparently everyone can buy.
Or is it just me that's poor? I don't know. That seems crazy. Most of them, of course, women. But there's a lot of men too.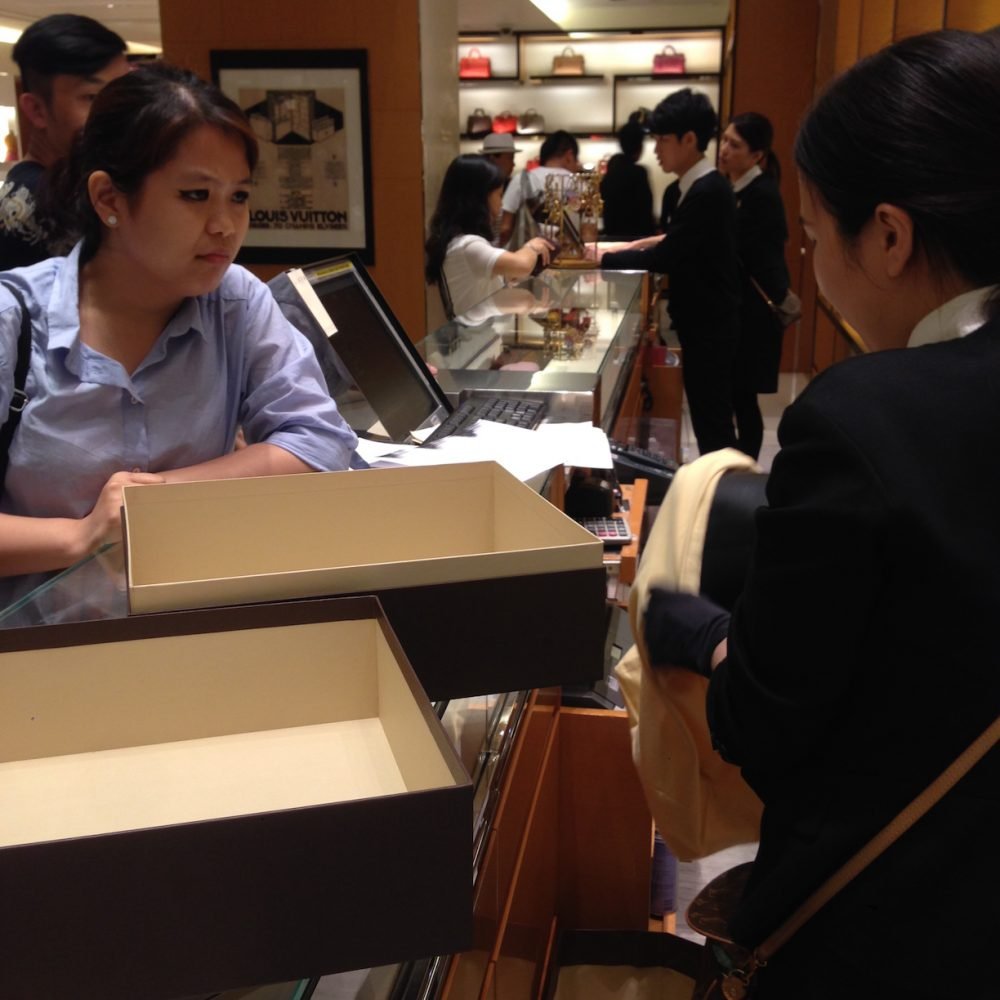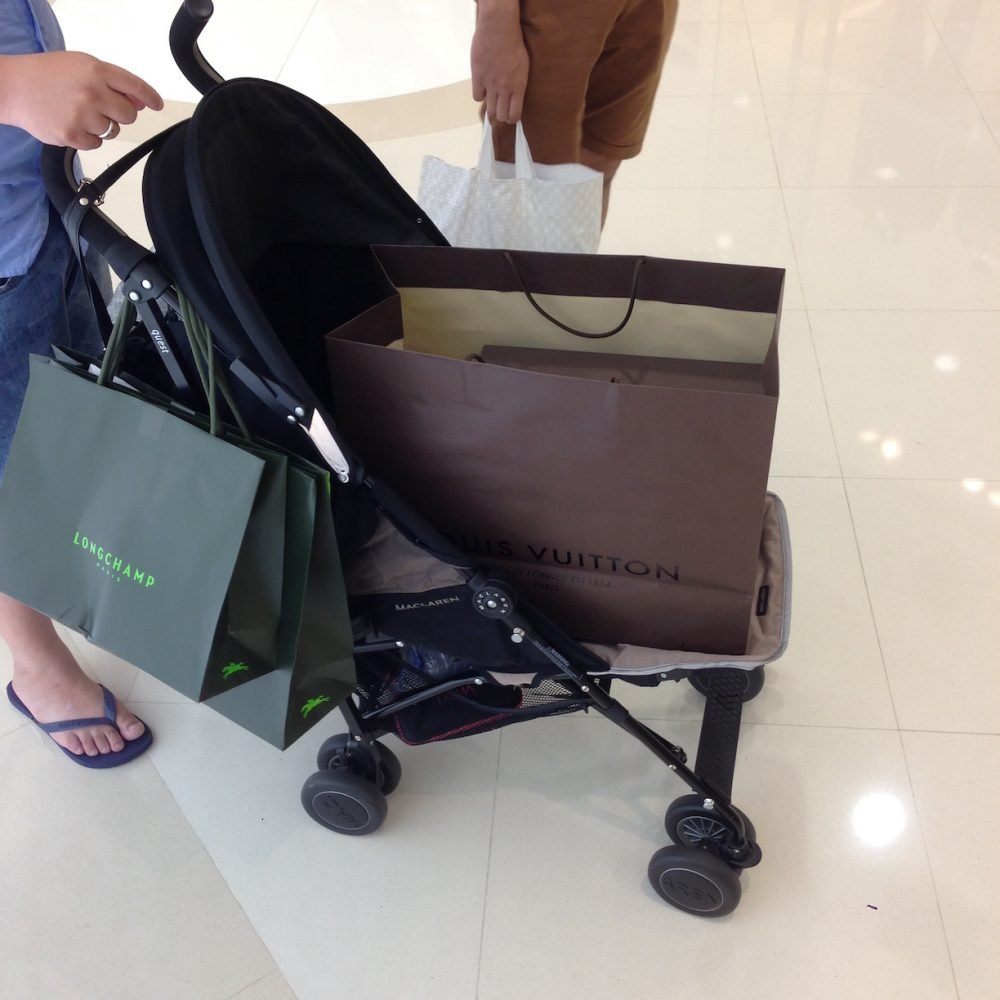 Emergency Shopping Trolley
A baby stroller is a life saver when you travel, you can put your bags, and things there. Not a baby, but things. Yeaa, I like the idea.
That's one travel tip for you, my friend. We brought two strollers, so in the time of shopping, that was a saver. But disaster when your baby must use that stroller. Lol!
We took another walk to explore the Harbour City, and luckily I stumble upon this amazing view.

Lucky for me, that was one good sunset. Love the view. And this place is quite crowded during sunset, especially couples. A romantic moment for free, eh?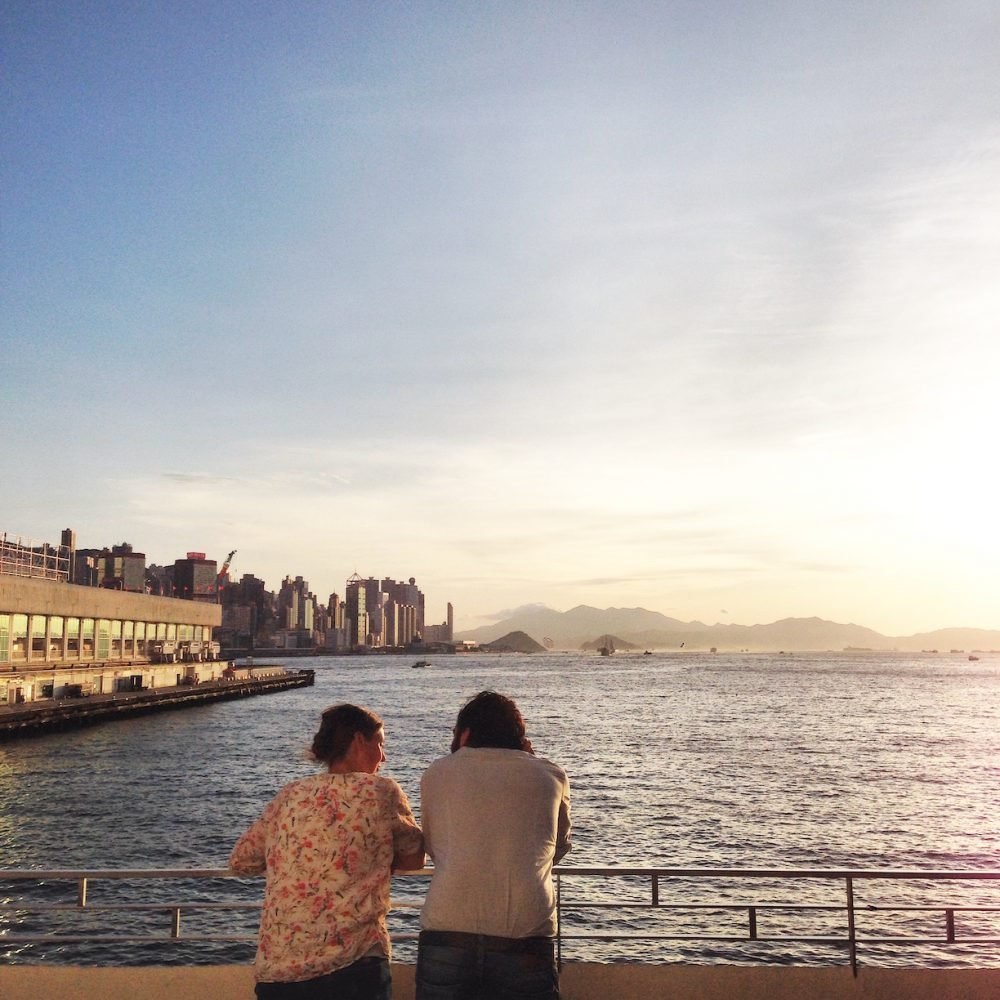 Exit the mall, we proceed to take a walk and finally we went to the so-called Times Square Hong Kong. This place is famous, maybe because it's the first "vertical mall" in Hong Kong. Yep, it's an old place, open April 1994.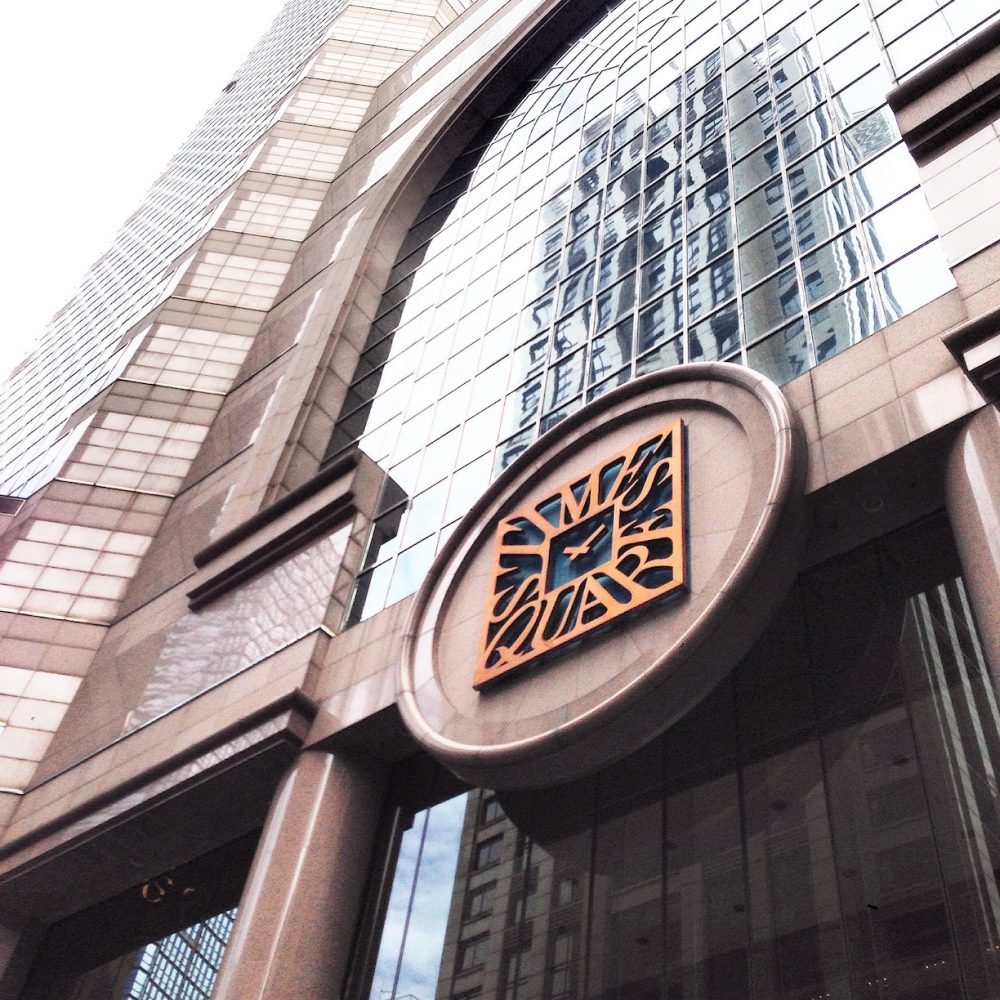 I don't know what is so special, but as I went inside it's just like any other mall. Well maybe not for so many people, this mall is seriously packed, I think most of them are tourists. This mall has 9 stories of retail, that's a lot. We spent 3 hours shopping here.
And finally after another snack, another store, and another dessert, it's night already. So we go back to our hotel while stopping here and there along the way do more shopping.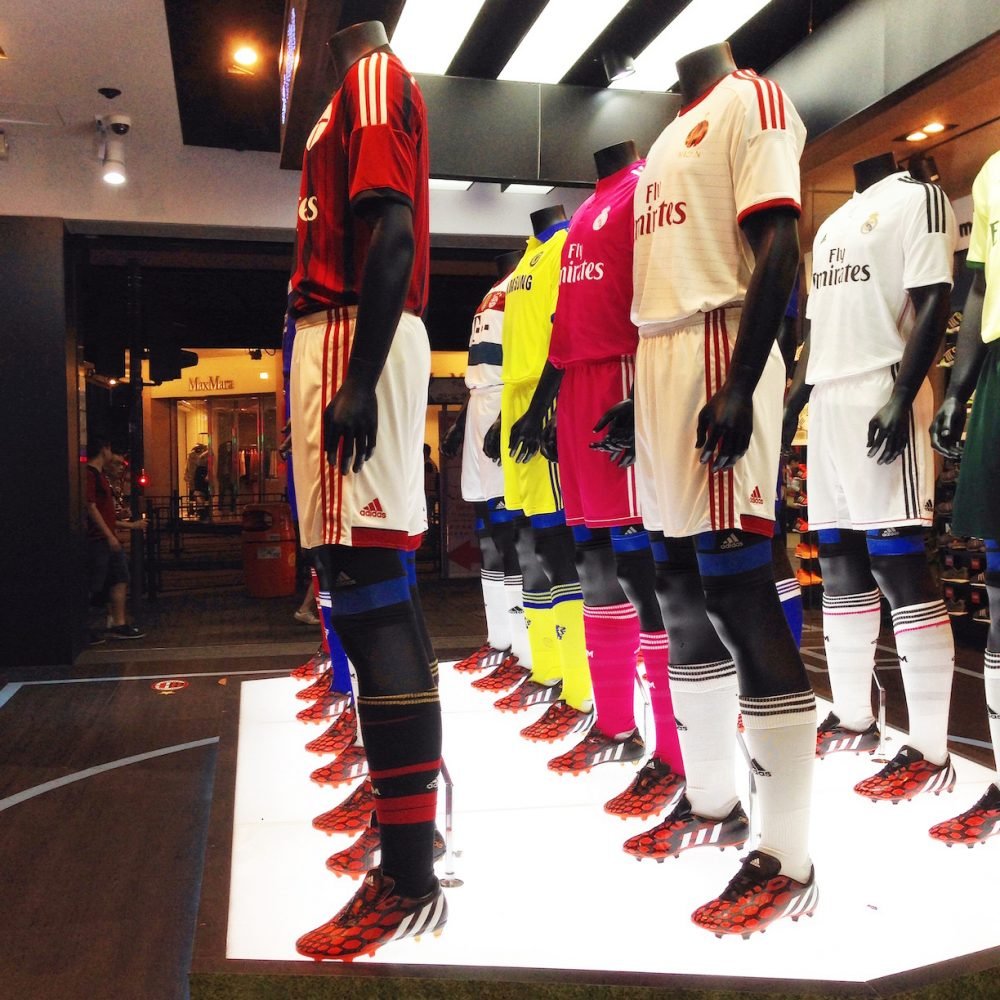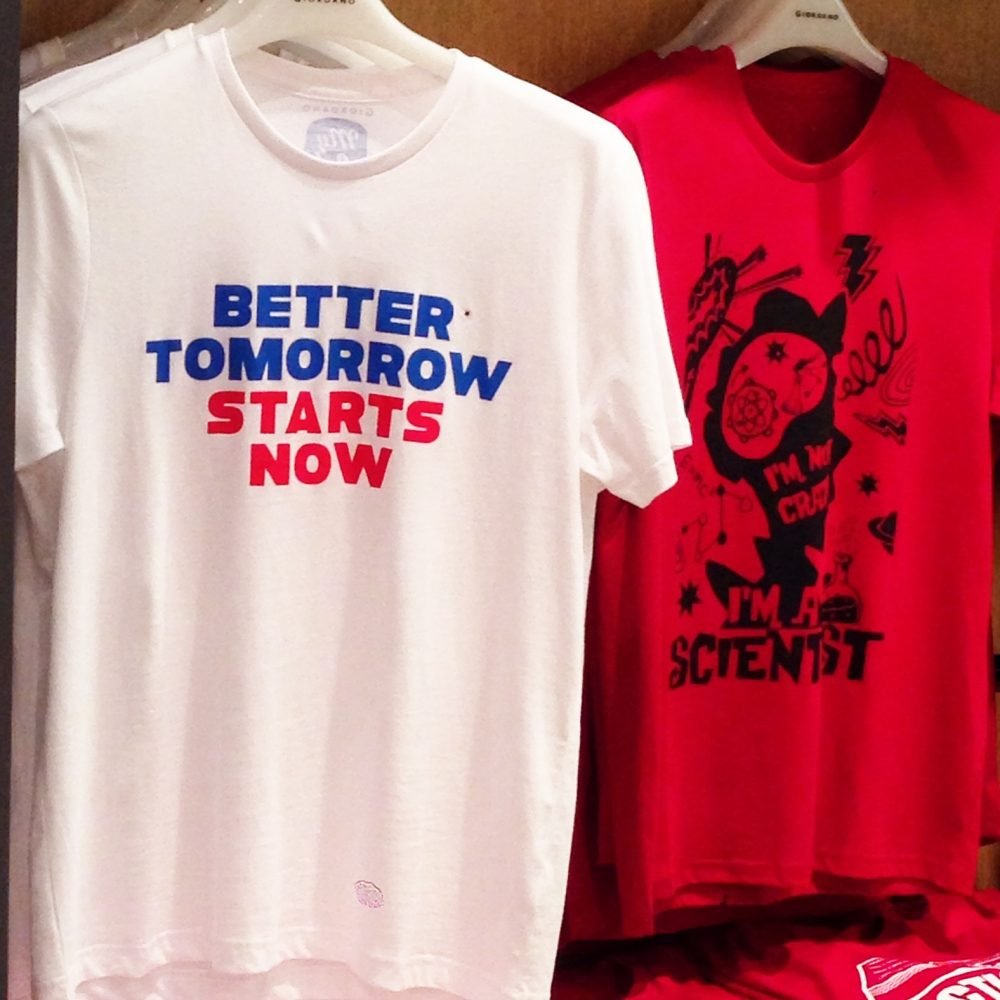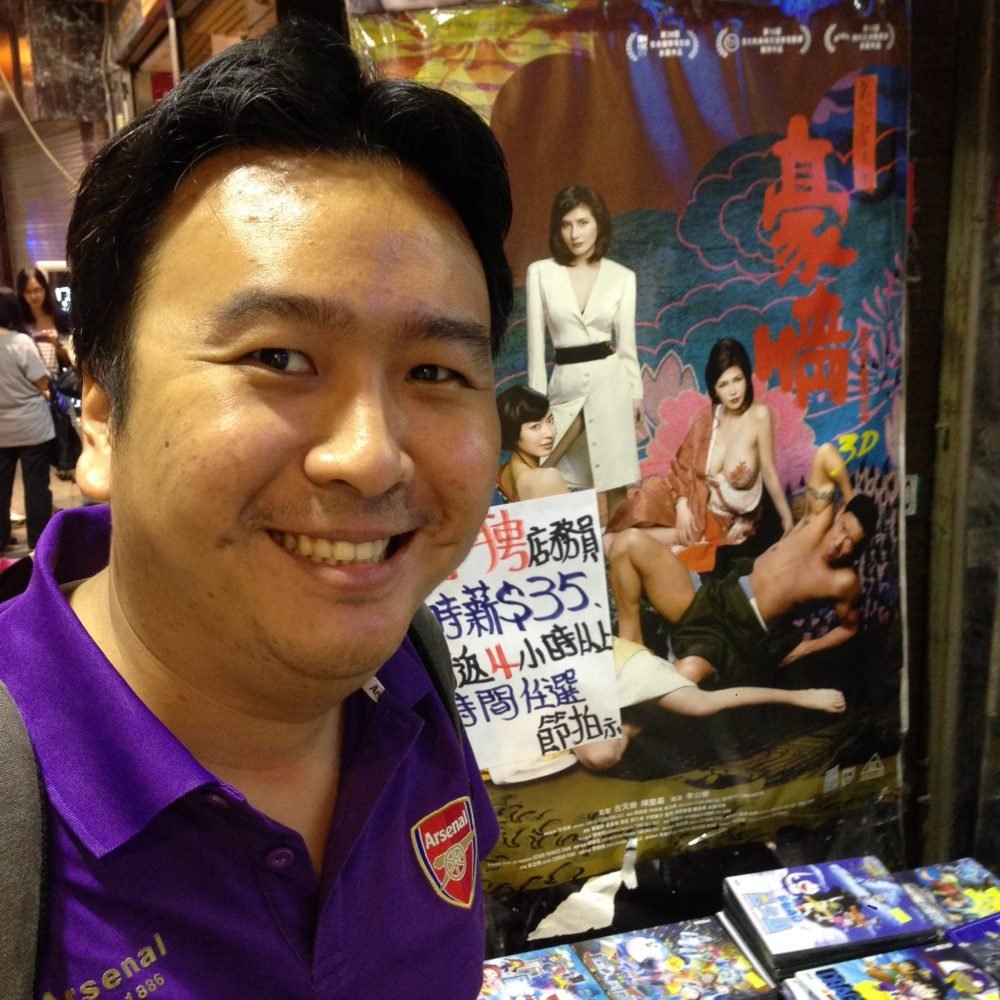 Conclusion
Overall, the shopping experience in Hong Kong is just like what they said. It's fun, it's great and best deal. Shopping always fun, it relieves your stress level. But not too much, or be stressed out with the bills.
I would rate 9/10 for this shopping experience in Hong Kong. I mostly enjoy shopping at their street market. Hong Kong is safe, in fact, it's the number one safest country, according to worldatlas.com. Interesting fact, right?
The next day we did nothing but just shop for some snacks for home. We bought it at the Koi Kei bakery, close to our hotel.
Koi Kei Shop Address we went to
1 Tsim Sha Tsui G/F., No.2, Humphreys Avenue, Tsim Sha Tsui, Kln., HK (Tsim Sha Tsui MTR Exit "A2")
Tel: (+852) 2311 2389 / 2311 2926
This slideshow requires JavaScript.
So, that's everything we have to share with this Macau – Hong Kong – Shenzhen trip. Do you enjoy reading our travel journal? Support us by subscribing, sharing, and give a comment or two.
We hope this travel journal can be useful for you guys. Do enjoy Hong Kong in your own way. Thank you for reading, keep traveling and until next time!
---
Make Your Trip Easy
These links below will help you to settle things down before going. As well as it will help me earn commissions at no cost to you. You will get a discount price, great right?
Find out more travel resources that we also use for traveling on our resources page.
---