As in my previous post about visiting some pilgrim sites in Tiberias within a day, this post dedicated to only shares the experience sailing the one and only Sea of Galilee. Sometimes they call it Lake Kinneret or Tiberias Lake. I would say this is one of the most significant places that I would definitely rate the best.
Why would I call it one of the best experience in Israel? If it is one thing that Israel blessed with the most, it will be this beautiful lake, hands down. Not just as a tourist attraction, but also as a life source because it flows the water and giving life to this promised land. Anyway, let's continue from where we were the last time.
To The Sea Of Galilee
As we leave the Church of Beatitudes after some short refreshment (that will be plums and orange juices), we head straight to sail the boat Mr. Dani booked for us. The most awaited time of the day, to sail the Sea of Galilee. I am super excited, I set my expectation very high, though.
Our bus stop right in front of our hotel where we stay in Tiberias, Emily's Inn. Such a nice hotel just across the lake, literally you can see the lake from your balcony or hotel window. I will share a little about this hotel later, maybe on another post. Maybe…
From Emily's Inn, we just walk across the street after all the check-in done. You know, Mr. Dani handle this group of 30 people very well every time we check in or out. Hat's up, sir…
Walking through a parking area, some shops, restaurants, cafes, and small stalls that sell souvenirs for tourists. Maybe 5 minutes walk. Here's a view.
Chill Tone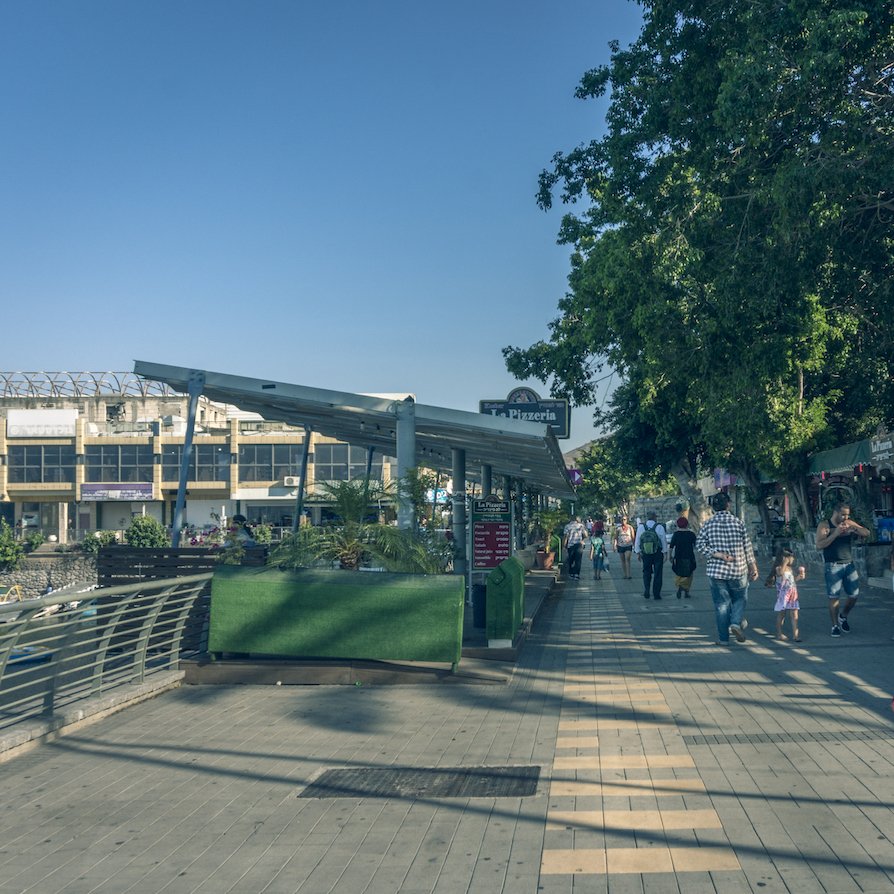 As it is expected, the atmosphere from the lake should be a very nice, very chill one. Yes, I do get the chill vibe, tourists, locals, afternoon walks, sitting at cafes, enjoying early dinner, shopping, you see the pictures. I fell in love with this lake and I'm still not on the lake yet.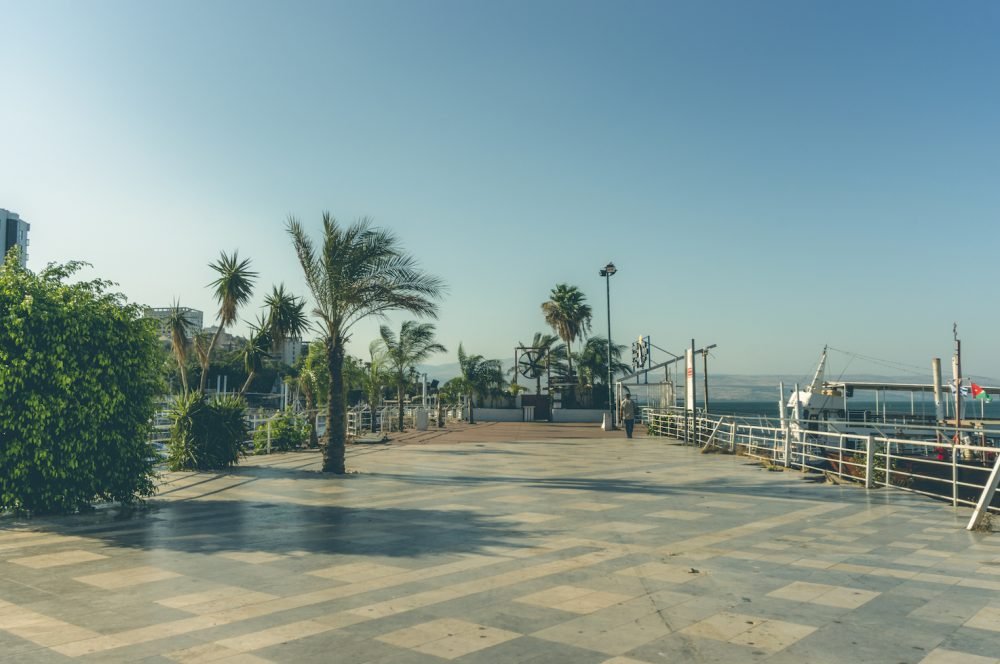 Is it me or is it a really nice view? If only I brought more batteries with me. I have to save it for later while sailing on the boat. I got 50% left, and it's my last battery for the day!
Waiting For Our Boat
Those guys on the dock get us ready to sail in the middle of the Sea Of Galilee, we had to wait for about 5 minutes before we're good to go. It is one of the most visited attractions in Tiberias, sailing the lake. It's so common for them to welcome tourists on their boat and have them sail this open water.
I stumble upon this site, apparently, they called it "Worship Boats". Quite a name, right? I'm not sure if this is the boat that Mr. Dani booked for us, or is it just one company with many boats that serve this kind of service for Christian pilgrim tourists. Anyway, go pop some questions with their site if you want to have one.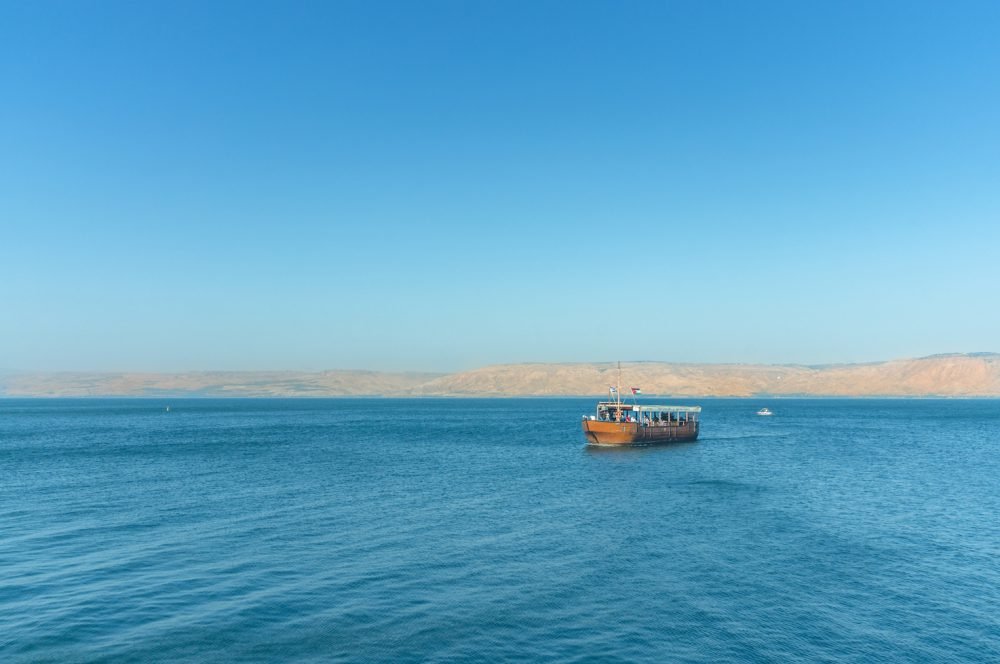 Interesting Story about Sea Of Galilee
A short explanation from Mr. Dani and some interesting fact that I think you would love to hear :
Some Fact
Sea Of Galilee has been called with many names throughout history. Such as Lake or Sea of Kinneret, Lake of Gennesaret, Sea of Ginosar, Sea of Galilee, Lake or Sea of Tiberias, Sea of Minya. Different name through different ages, along with the rich story behind this city and this lake.
It is the largest freshwater lake in Israel, serving as an important fresh water source throughout all Israel. With a total area of 66.7 km2 and its maximum depth is approximately 43 m (141 feet).
At levels between 215 meters (705 ft) and 209 meters (686 ft) below sea level, it's the lowest freshwater lake on earth and the second lowest lake overall right after The Dead Sea.
Israel and Syria once at war to claim the rights to manage this water source back in 1967, where Syria once tried to block the water flow from the Jordan River in 1964.
It is surrounded by many pilgrim sites just along the shoreline. Due to much of the ministry of Jesus occurred on the shores of Lake Galilee such as walking on water, feeding thousands of people, calming the storm, boatload of fish, etc.
Some Update
It is an important source of drinking water in the past for Israel. Thanks to the National Water Plant, nowadays it only supplies 10% of the water need in Israel.
Thanks to this lake, tourism has been a major economy branch in Tiberias. Especially with Christian pilgrims. Just see the worship boats, they call it worship boat.
That fish we ate from our previous post, is very popular that it will extinct soon due to overfishing by the fishermen.
Jordan gets 50,000,000 cubic meters of fresh water annually from this lake. See the Israel – Jordan Peace Treaty.
Something to Worry About
The fresh water level at the Sea of Galilee is often at dangerous stage due to increasing demand of Israel, Lebanon, and Jordan. You can check their data on this site.
They said the government will ban fishing on the lake soon.
From 300 tons of tilapia (St. Peter's fish) in 2005 to 8 tons in 2009. Now that's a problem.
I think that will be enough as an introduction of this lake. That story from Mr. Dani fills my head quickly. I'm happy to be here, but I'm sad to know how this lake will be. But then, our worship boat is coming. I don't know exactly how much for sailing on this boat. It's all paid by the tour company.
An Opening Ceremony on The Worship Boat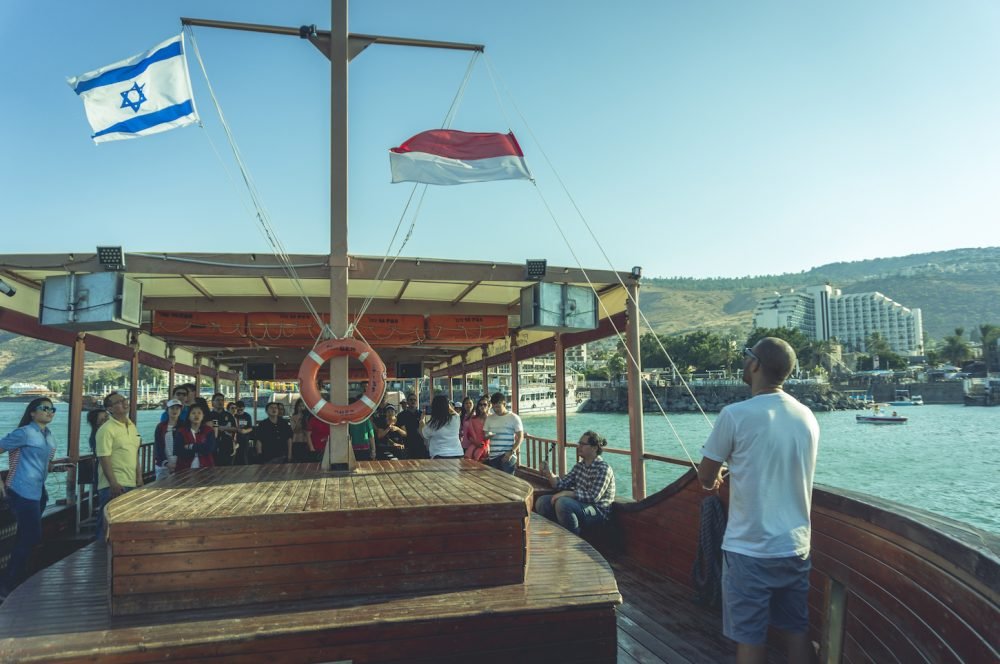 They had this some sort of procedural things on how to welcome tourists. Pretty amazing, though… They prepared flags from many countries and held a ceremony according to our country's national anthem. That's unique and that's how you know they're good at business. Hahaha…
The man prepared the flag, while his friends set up the song on a MacBook and have the sound system ready. Yep, they got a sound system on the boat. Worship boat, remember? I think they can turn this boat as a DJ boat and throw a party during new year holiday. I bet they do. They looked like DJ-ing anyway. 🙂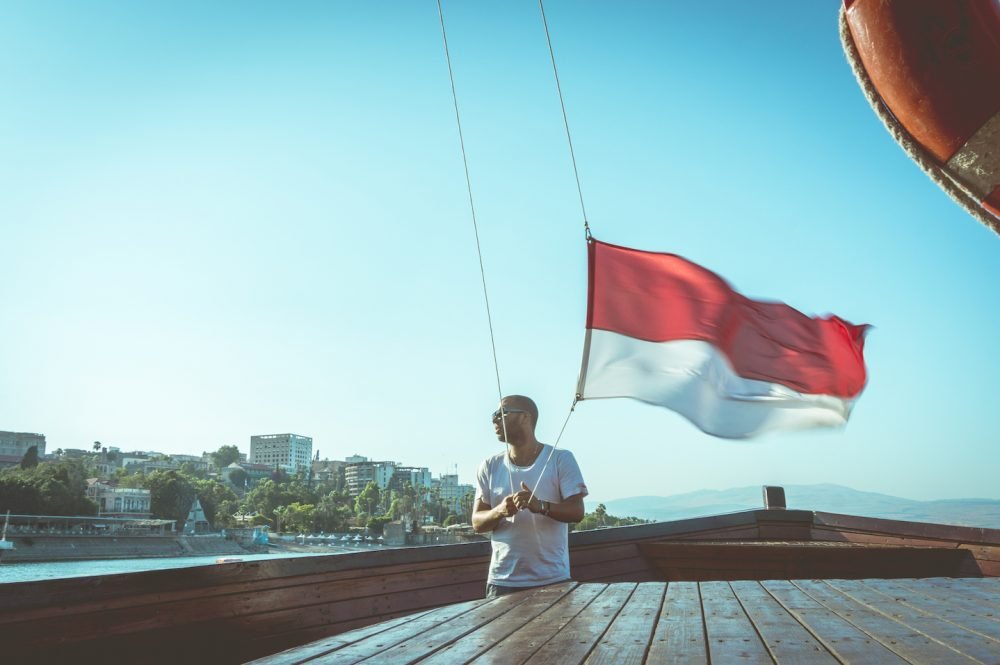 This dude who held our national flag is a pretty cool dude. He got a good sense of humor. He did jokes well. And he salutes the flags well. It feels awkward to see our flag got raised with a Jewish, an Israeli… I don't know how that makes me feel.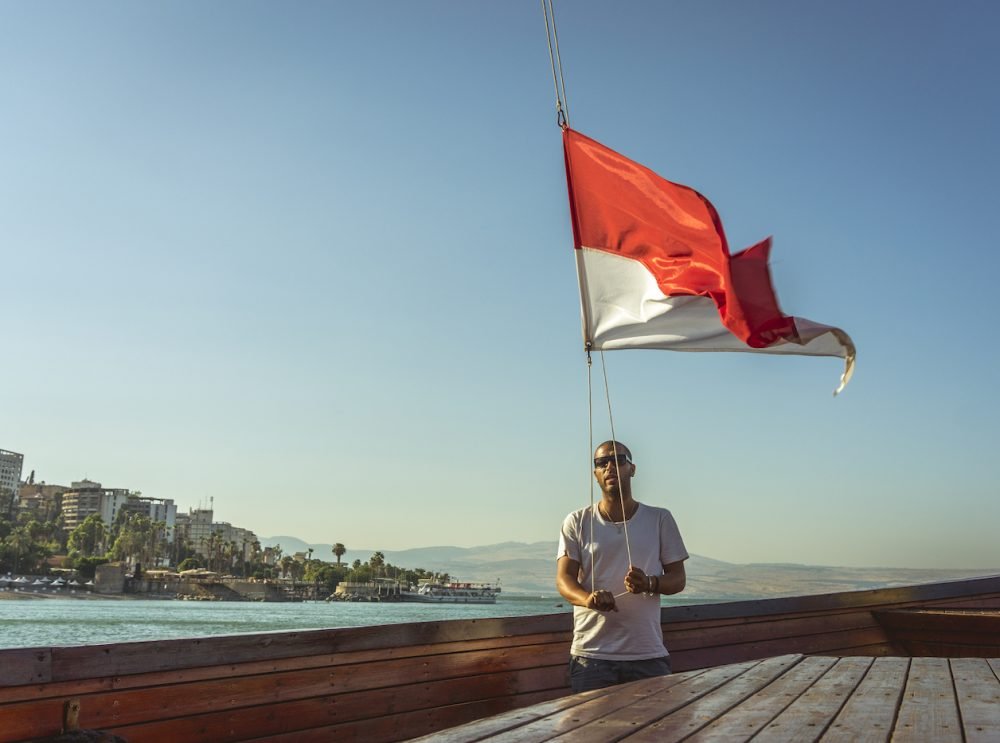 Our national anthem goes out, then the flag is up side by side with Israel's flag. As you can see, it was quite a windy situation on the Lake. The wind is very intense, the more we get to the center, the stronger the wind blows. You'd better keep your hats, scarfs, or whatever that you may lose with strong wind.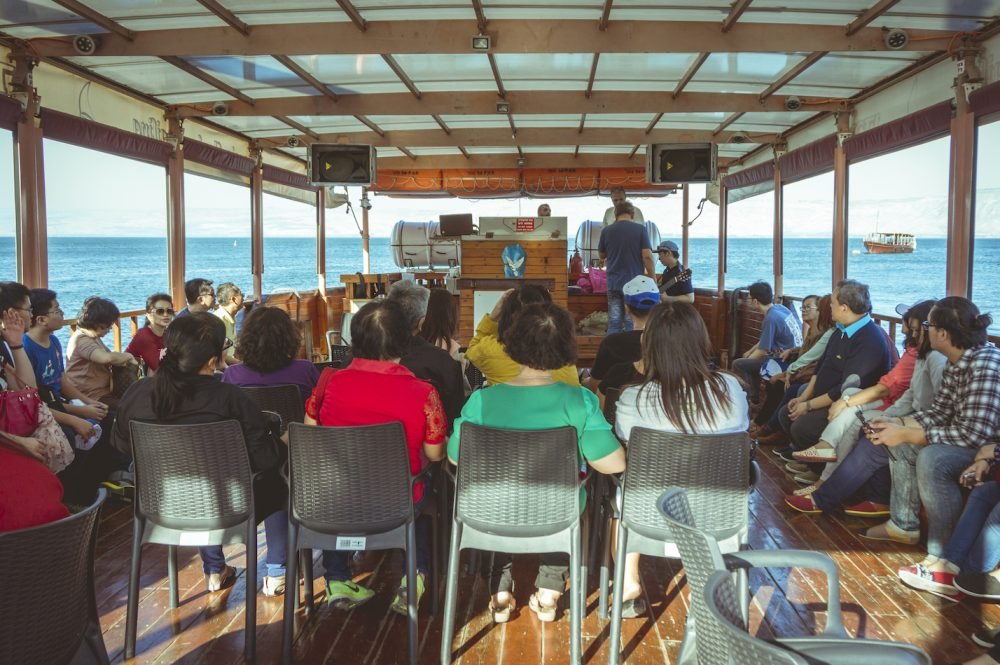 An opening from Mr. Dani to introduce the boat crews before he finally tells what we're going to do while the boat is sailing the Sea of Galilee. And then, our group leader starts to lead us into worship… On the boat…
Let The Worship Begin
We started it slow with a soft guitar played by a friend of mine, Daniel. I must say, from the very beginning we had our worship session, it is absolutely surreal. Amazing feeling…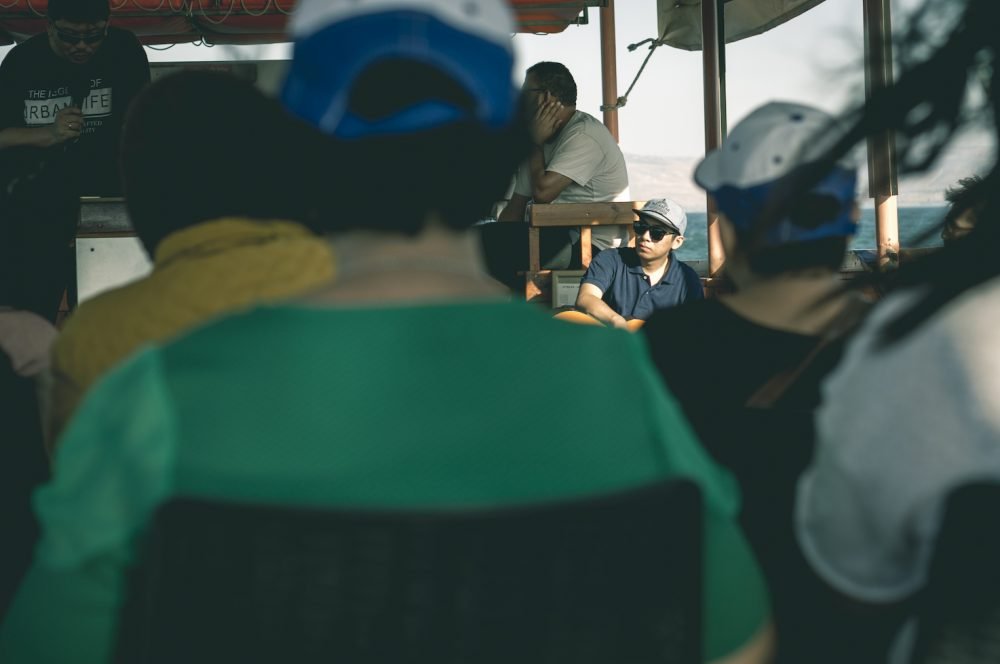 I don't know how to describe the feels by words. It felt really peaceful and overwhelming at the same time. Knowing that I sail on the Sea of Galilee where there once many miracles happened. It's on this lake. Blessed be I am.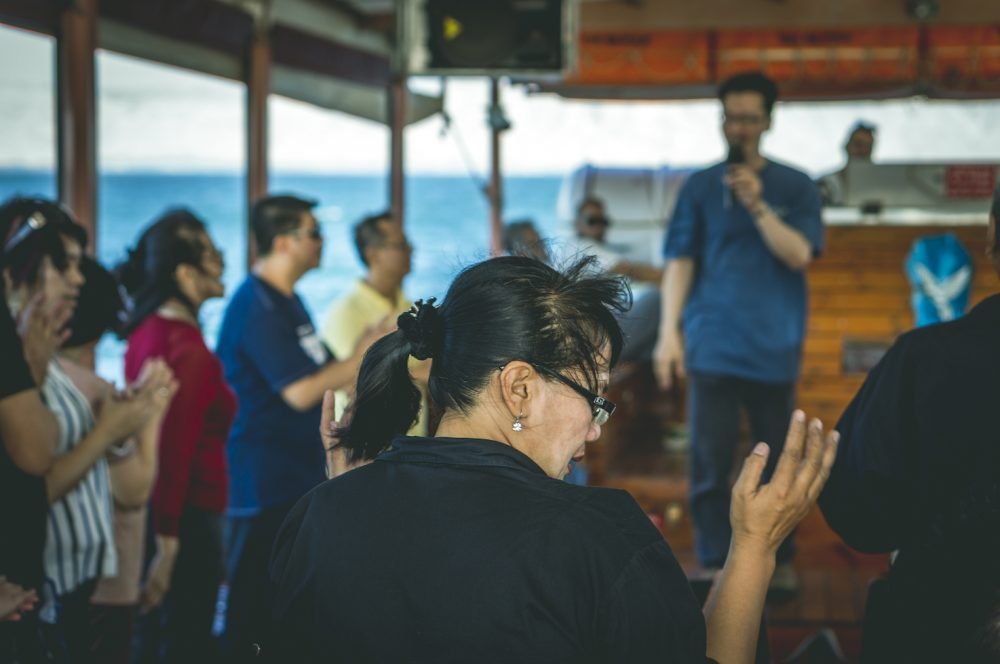 I can see everyone had their moments in this worship session. As song after song, with the boat getting far and far where the shore started to seem small, there we were all standing on our feet and feel… Just feel… It's really good.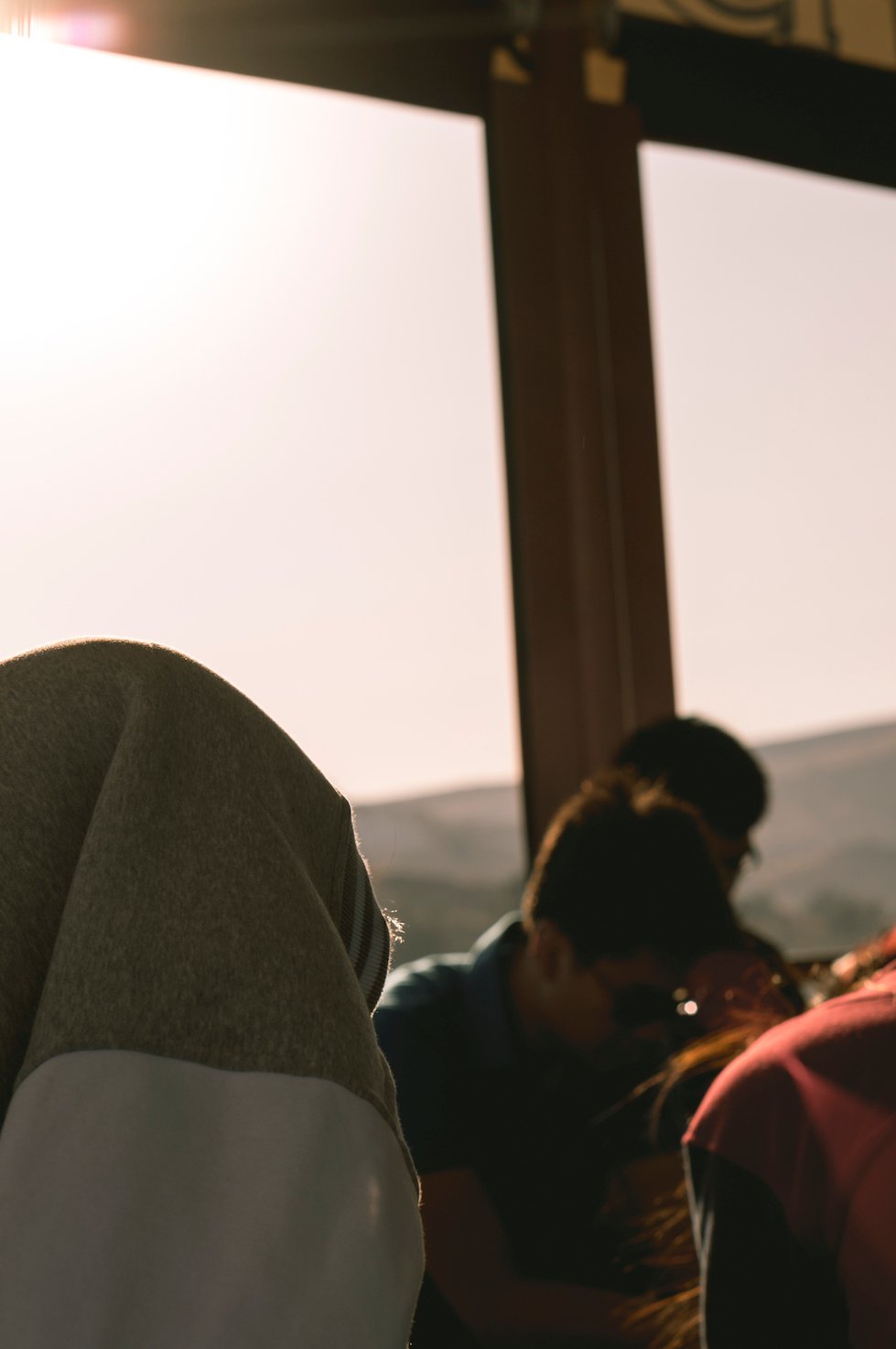 I guess everybody enjoying their private moment. Couples, siblings, families, they started to hold hands and pray. That prayer session is the best ever. Right in the middle of the Sea of Galilee. I can see another boat from afar also having their worship session with pilgrim tourist inside.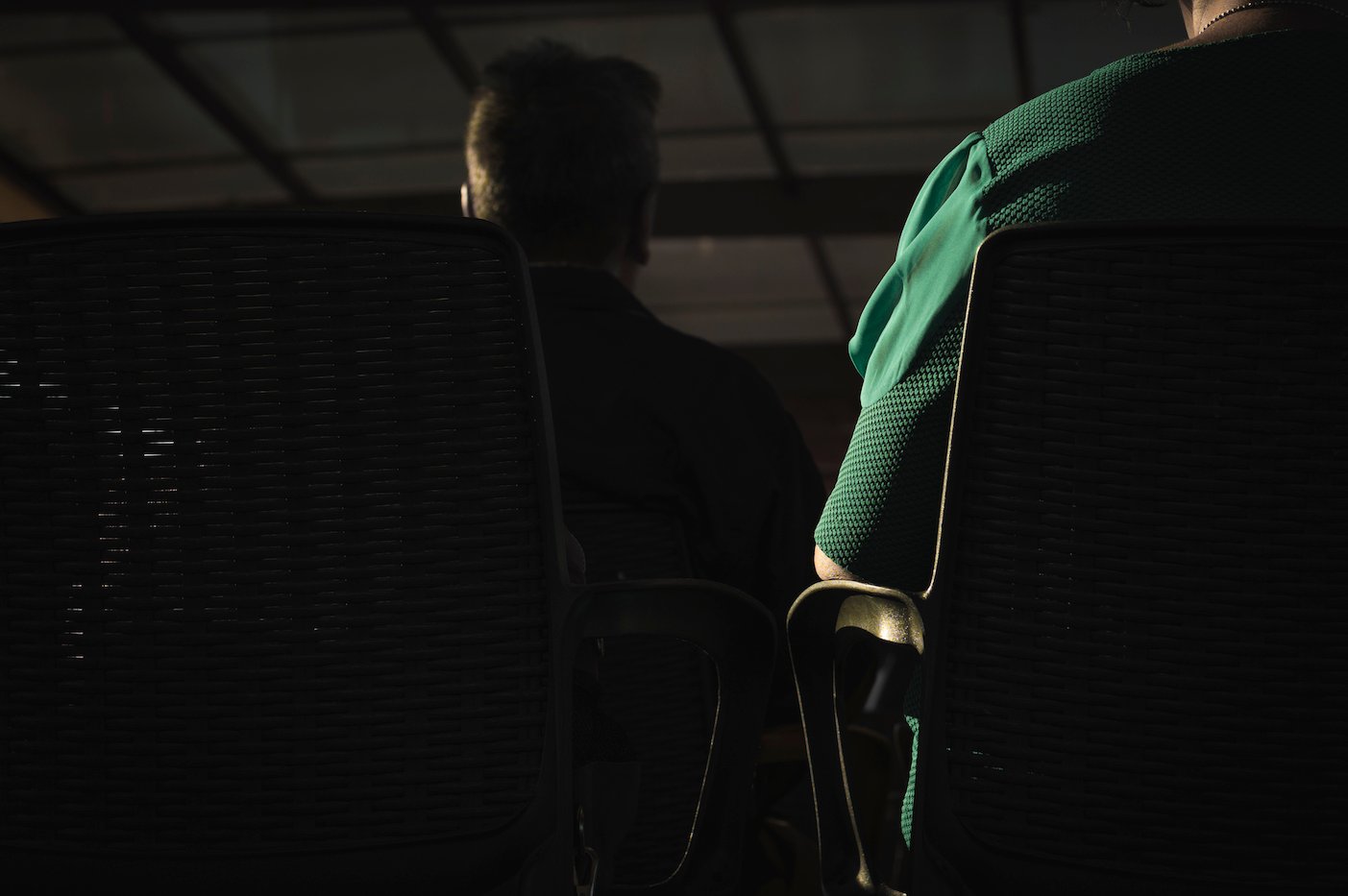 Let The Praise Begin
This is another surprise for me, as I thought we're only gonna have a worship, a prayer, and maybe a short message from the pastor. But I was wrong…
They had us stand up and started to sing a praise song. The problem is, it's very windy and the boat is kinda moving unstable. Although some persons had to "almost fall", but yeah the praise session continued.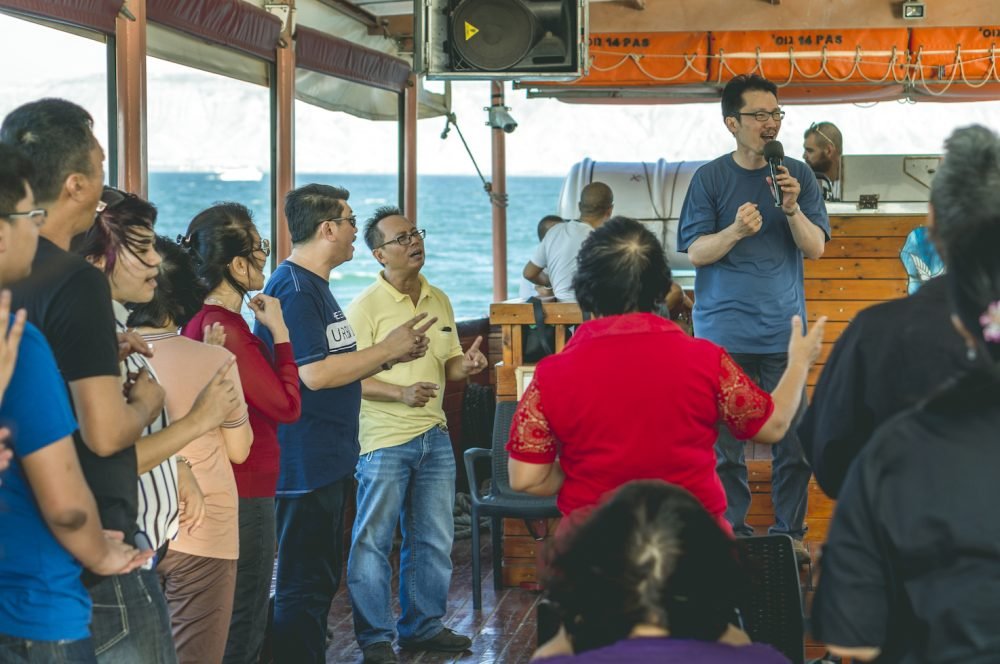 Here's the thing, the praise session was… okay… Well, kinda boring because everybody seems to… I don't know… not really energetic? Then comes this big guy, this dude noticed how things go flat, so he spices them up. And it works!
He Got The Magic in Him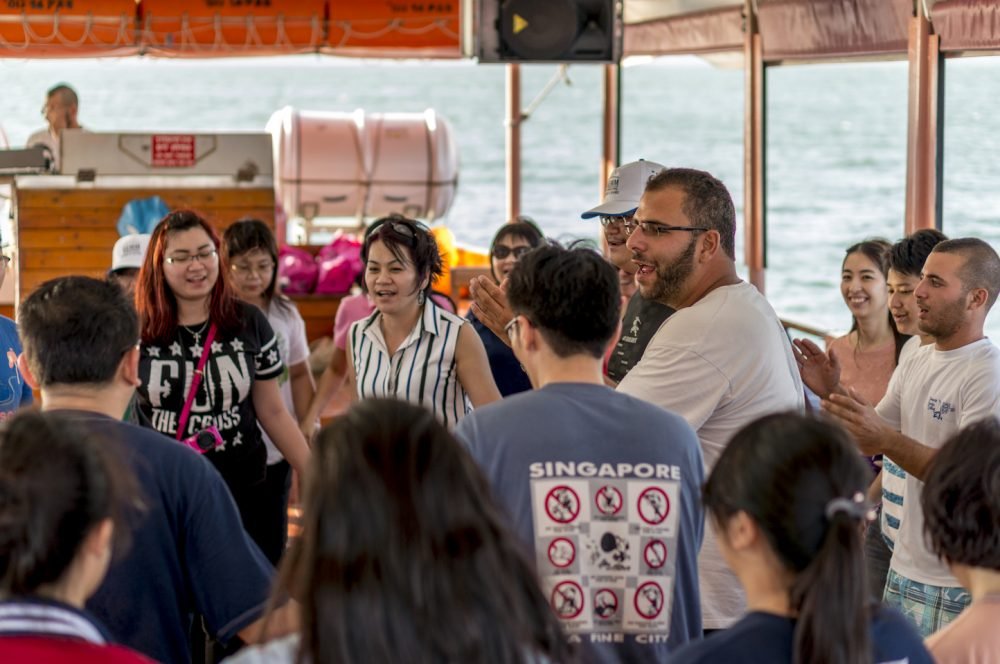 Once the praise song reaches the end, he started to grab the microphone, gave some code to the "DJ", and voila… Magic happen. They play a dance song, middle eastern genre, but the beat sounds familiar. It's a good music, though. Everybody starts to move along with the music with this dude lead the dance.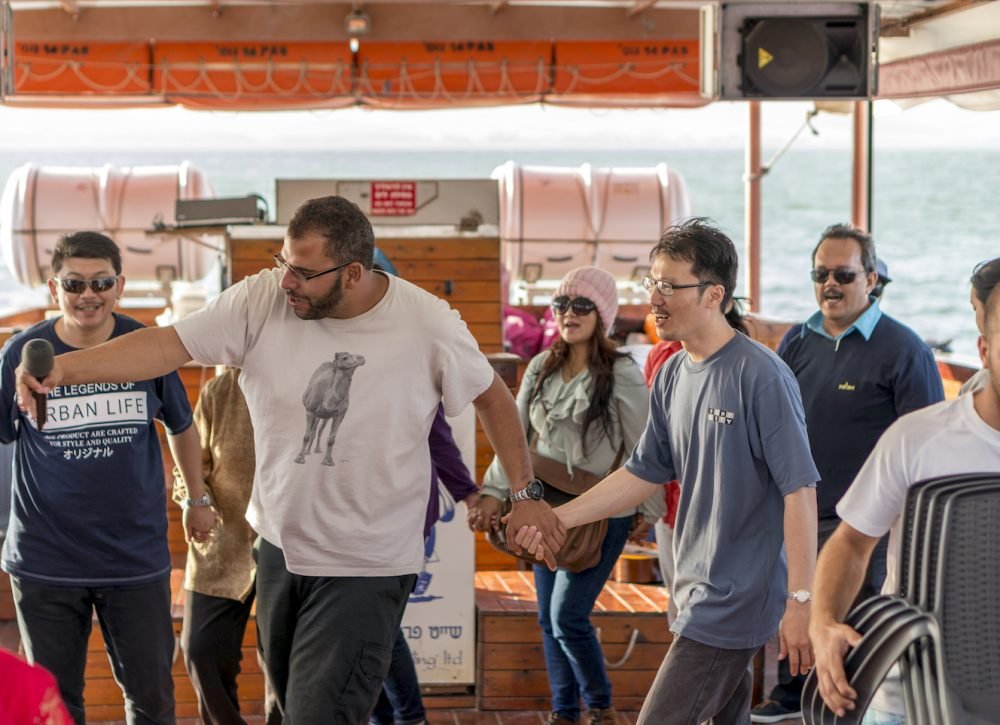 Look at them… Seems happy, right? That's how his magic works. The music was loud and the mix was good. Everybody dance, they gather in the middle forms a circle and dancing around on the boat. Now that's how you praise in the middle of The Sea of Galilee. Lol!
The climax for the dance is the "Hevenu Shalom Aleichem", a Hebrew song which means "We Brought Peace Upon You"

Here Comes The Preach
After that magic session, everybody was seated for the Pastor's preach. It's already 30 minutes of sailing. Felt like just 10 minutes ago. Time flies really fast.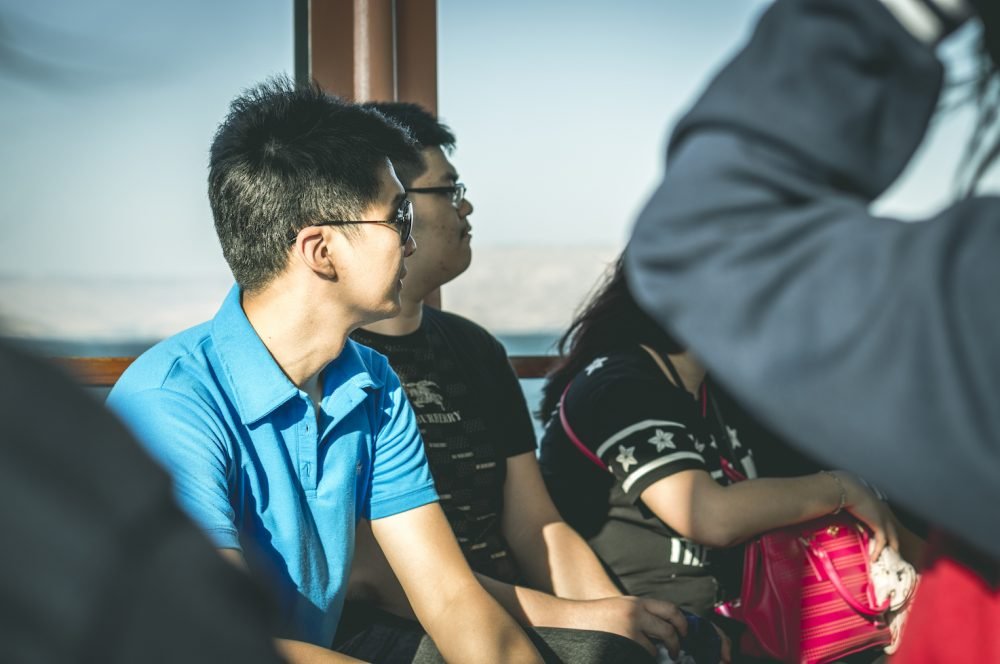 Everybody sits tight listening to the message. Having a service on this lake is definitely recommended. A fresh way to have a service. Ain't that right, churches? 🙂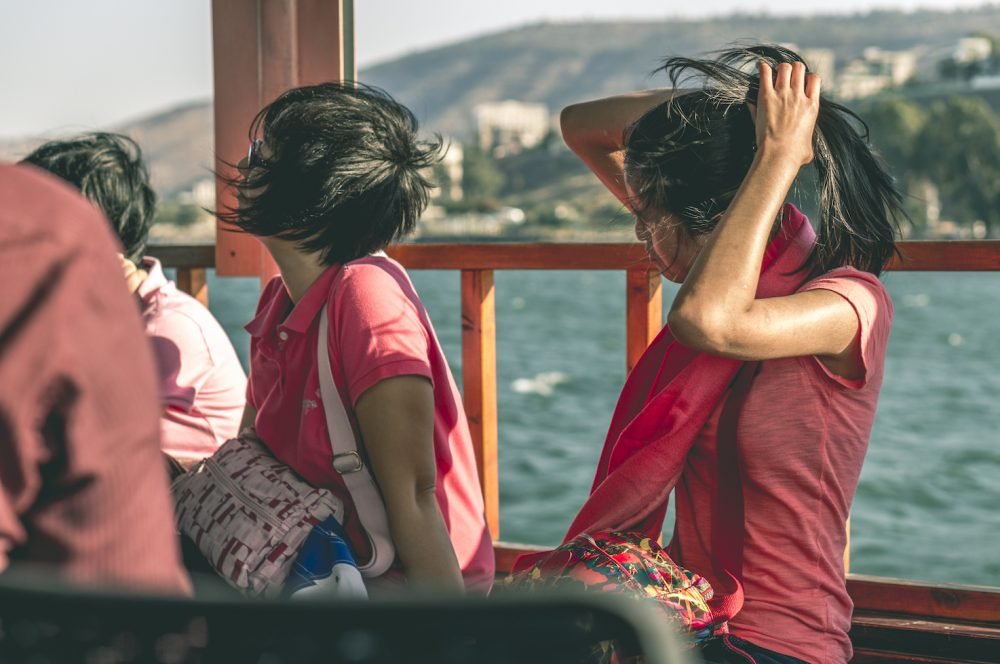 As it getting late, I supposed almost 7 in the evening, the wind gets stronger and stronger. Some of the women started to feel annoyed with their hair. Ladies, wrap it tight or cut it short. Hahaha… The boat crews decided to go back to the shore as the wind went unfriendly.
Let The Shopping Begin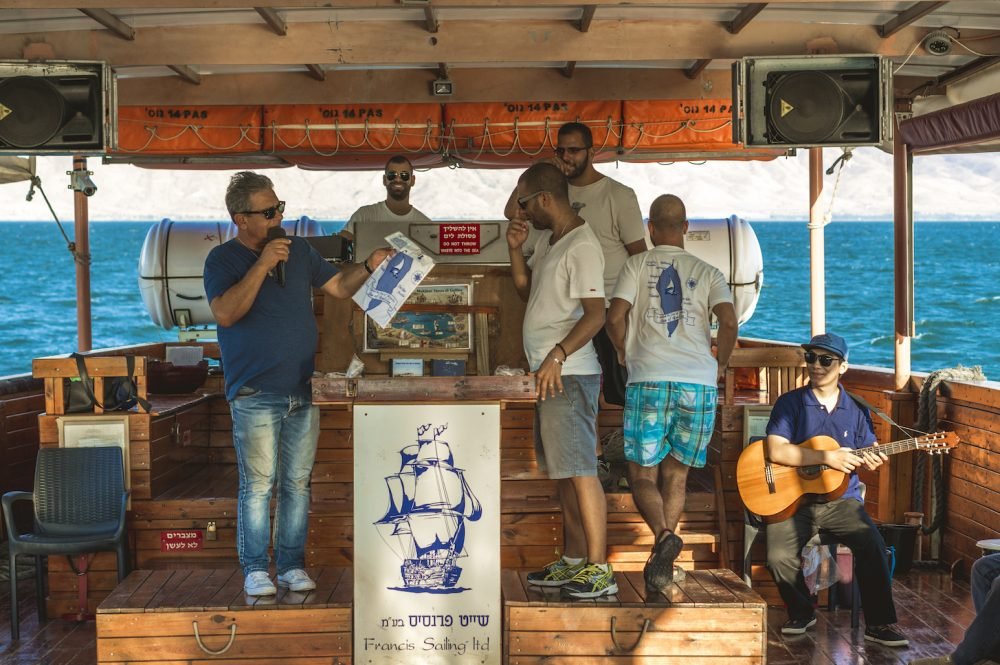 Of course, after all the preach and prayers, then comes the business. I guess, as every tour guide, they make small commissions from our purchase at every shop or places we visited. But who know that they sell you stuff on the boat, the worship boat. But totally understand, business is business.
Mr. Dani informed us that we can buy souvenirs from the Sea of Galilee. They have posters, t- shirts, books, CDs, even jewelry. Price range starts from $1 to $20 something. It's a smart move, we got nowhere to go in the middle of the lake. Sooo.. Might as well see those items.
I bought myself a necklace with a stone from the bottom of the Sea of Galilee for $7. I think they nailed good sales with our group that time. 🙂 Remember that funny guy? Yeah, he's the marketing…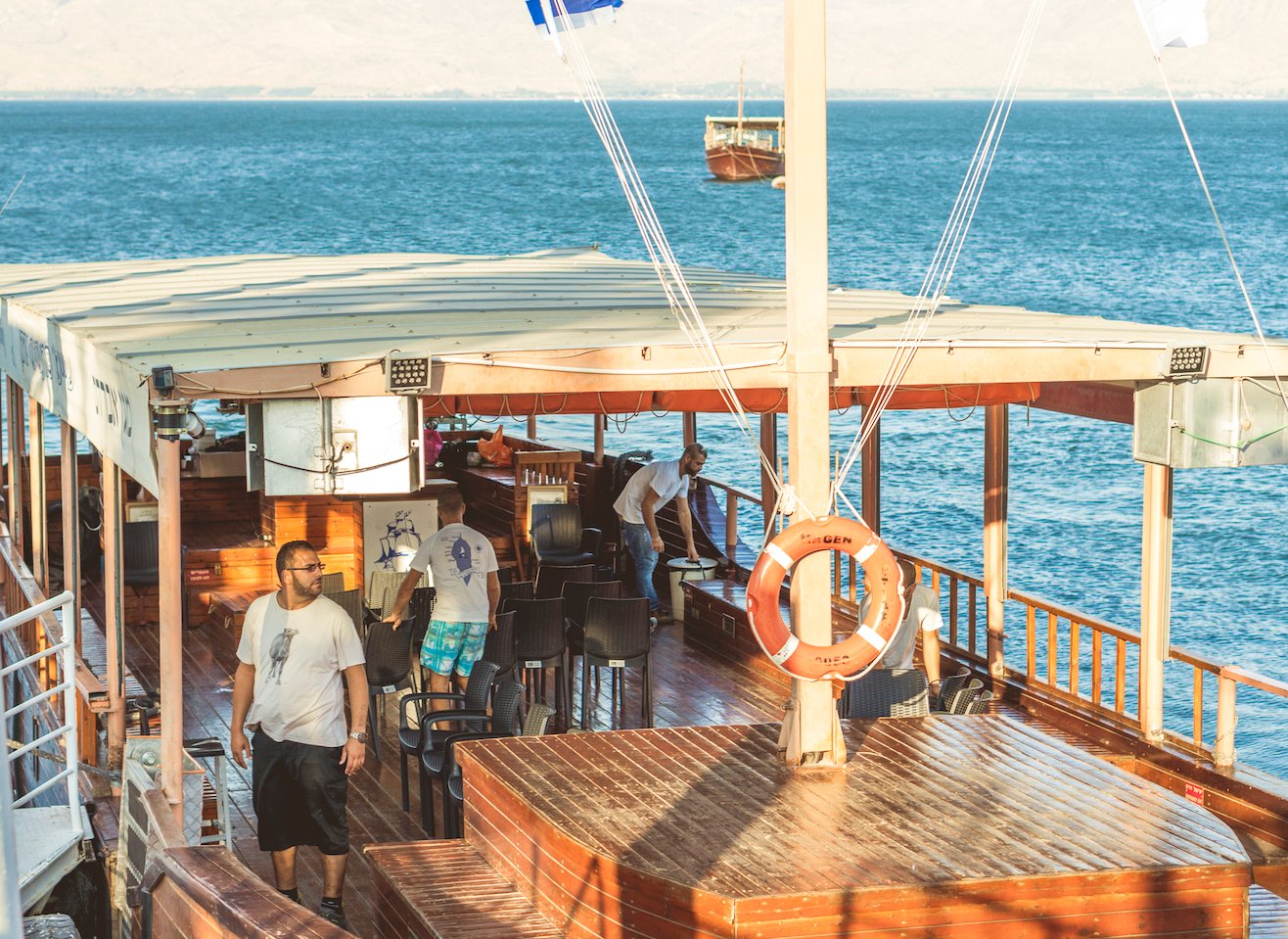 Every journey must come to an end. So does our sail. I will definitely rate this attraction 10/10. Enjoy the lake so much. You should try if you have the chance before it goes dry. Who knows, though… So, finally, goodbye boat crews. Seems they are preparing things for sabbath tomorrow, maybe they will have another sail.
The Beauty of Sea of Galilee at Sunset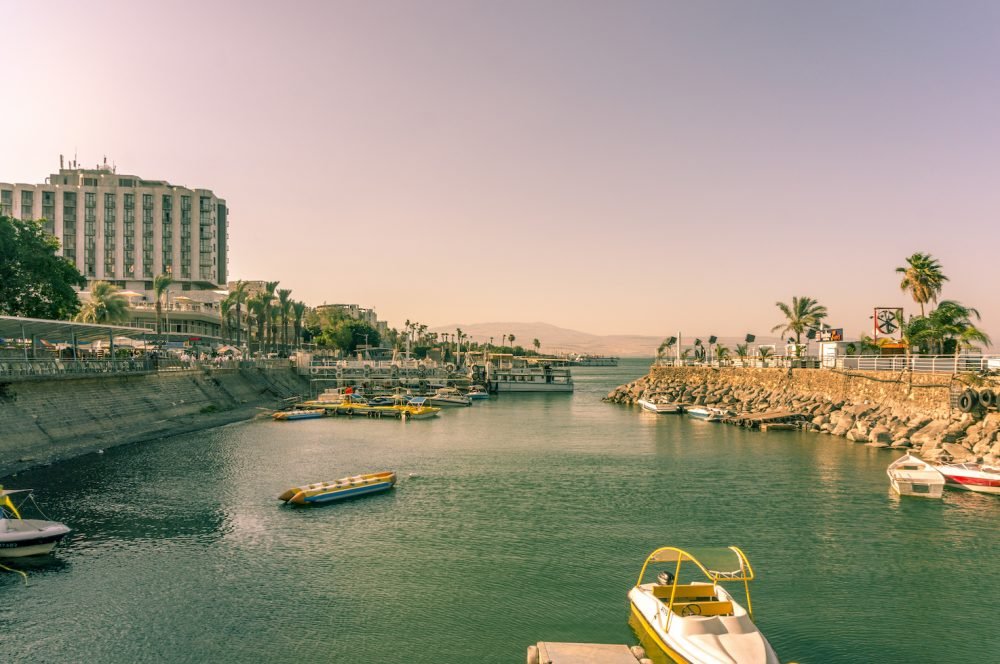 With the sun starts setting, we walk our way back to the hotel. While I'm trying to make the most of my last 2% battery. So I found this spot which is really beautiful. The sun setting on the left, creating a drama for the color in the sky, plus the other elements in the frame. The boats, the dock, the rocks, etc.
I regret myself not be able to take more pictures or footages. I should carry more batteries. This shot above taken from the very right corner from the La Pizzeria restaurant. Look how lovely the lake seems with those highlands in the horizon, not to mention the boat to enhance the feels.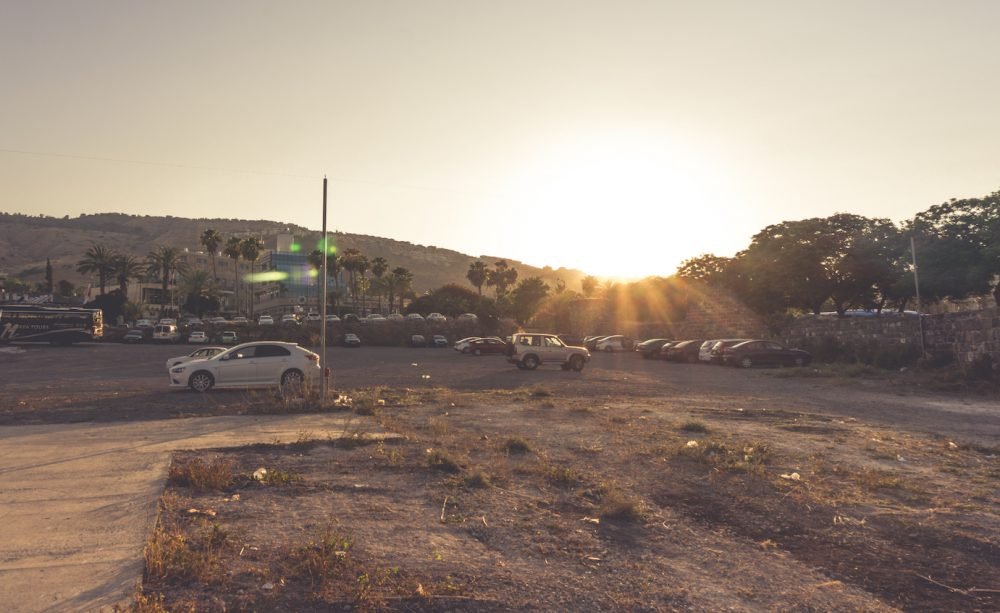 As I walk back to the hotel, I noticed that somehow the sunset in this area is different. It's really beautiful like the sun seems close. The light bias from the sun ray, and maybe the brown cream color that reflected from the desert? I don't know… It's just plainly beautiful.
Would I go back here in the future? Definitely. I want to try to hang out and chilling by the lakeside. Sipping coffee, eating ice cream and enjoying the beautiful view of this lake. It's a great place to chill, though.
Making New Friends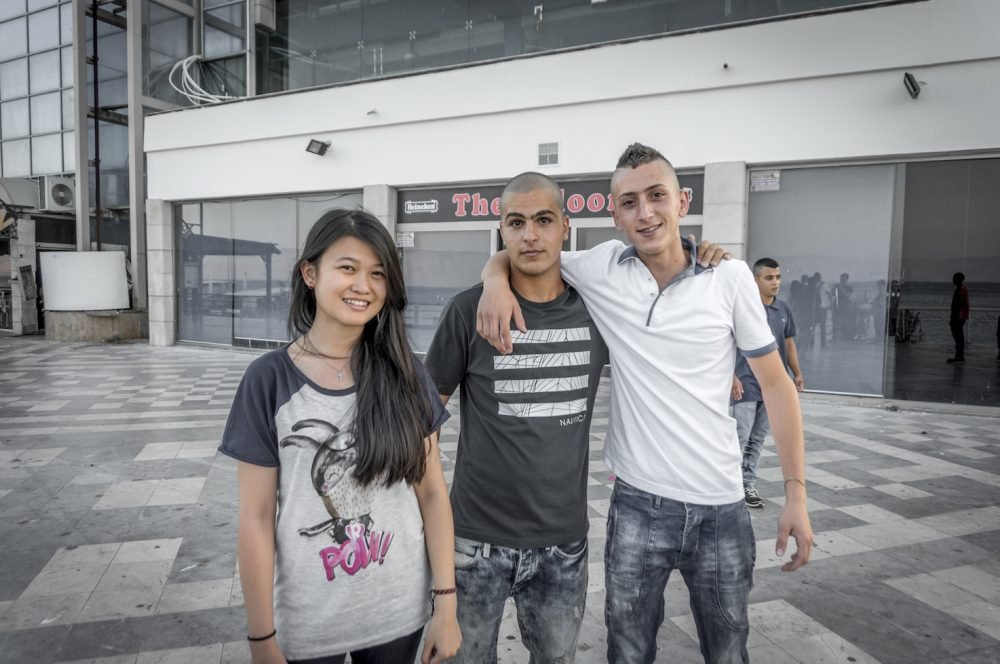 While I was there, I made new friends with some local Israeli. They're walking around the lake and saw me with a camera (attached to a stabilizer) while taking some footage with my friends. They seemed to be attracted with our "shooting".
They approach us and kinda asked for some photos. Maybe we're Asians look exotic in their eyes, as I found Middle Eastern people are exotic. They just look beautiful effortless. Hahaha… Anyway, one of them asked for my number to transfer photos but ended up with facebook. So now we're friends on facebook. This is his profile.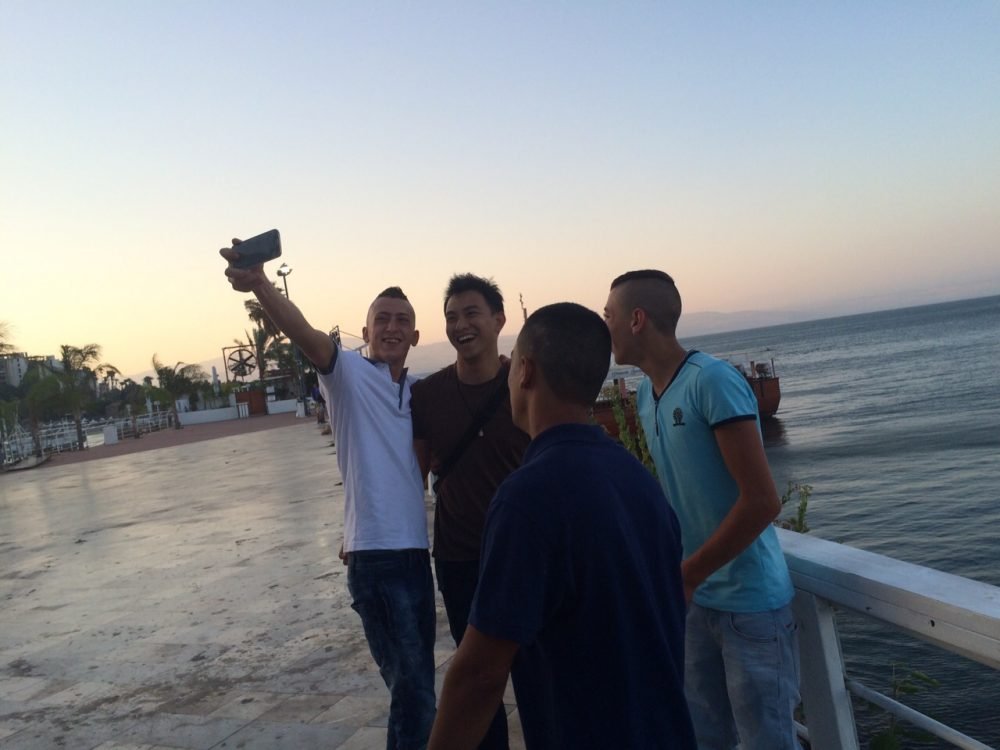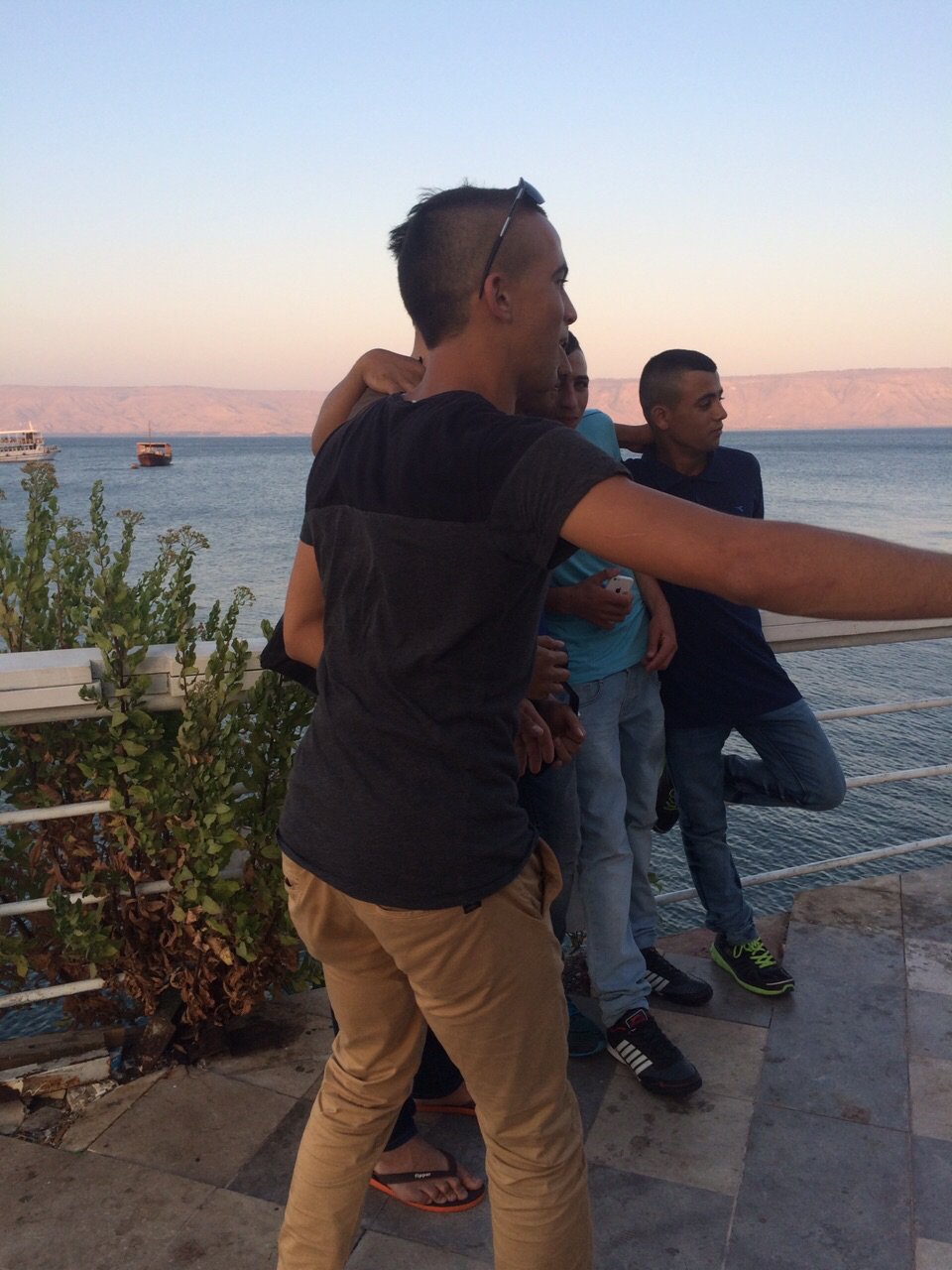 But we had a good time, though. They were very friendly to us. Maybe next time on another chance, we will hang out. Maybe…
And that is the end of my story about the Sea of Galilee. One unforgettable surreal dramatic experience. Hahaha… It is… 🙂
I hope you enjoy reading this post. I will come up with more stories from Israel. The next one will be Mount Hermon. Stay tuned and please support us. Until next post, bye!
---
USEFUL LINKS
Here are some of my affiliate links. These links help you to get the best deal while making your traveling easier as well as helping me get a small commission at no cost to you. It helps me to keep traveling places while pursuing my dream.
---
Here's a map for my itinerary in Galilee :