"Research" plays a huge part when traveling, at least that's what we believe. We research about places to visit, hotels to stay, food recommendations, and the list goes on. Especially talking about places to stay, it's a must. We usually take our time looking and comparing, because you know what they said, "better safe than sorry!"
But sometimes we all can't deny that how much we (try to) prepare beforehand, it might not go as well as we planned. Same goes when we were preparing for this Melaka trip. It was a last minutes decision, literally 2 days before we went there! So, 7 Days Premium Melaka wasn't our first choice actually but this was one of the only hotels left.
Hotel Crisis in Malacca! (weekend only)
We didn't expect Malacca to be that touristy at first. So we were feeling confident when we booked our flight to Kuala Lumpur. Flights, checked. Then the bus to Malacca, also checked. By the time we want to book the hotels, then we realized we should have prepared way before. Let me tell you, Malacca is jam-packed on weekend!
There were couples of hotels on our list. RC Hotel, QuaySide Hotel, and every single hotel along the river were fully booked! Once we see one room left on the QuaySide hotel and not even 5 minutes later it was already gone. We, of course, want to stay in the legendary Casa del Rio Melaka but the only rooms left were the suites that cost more than $500 per night.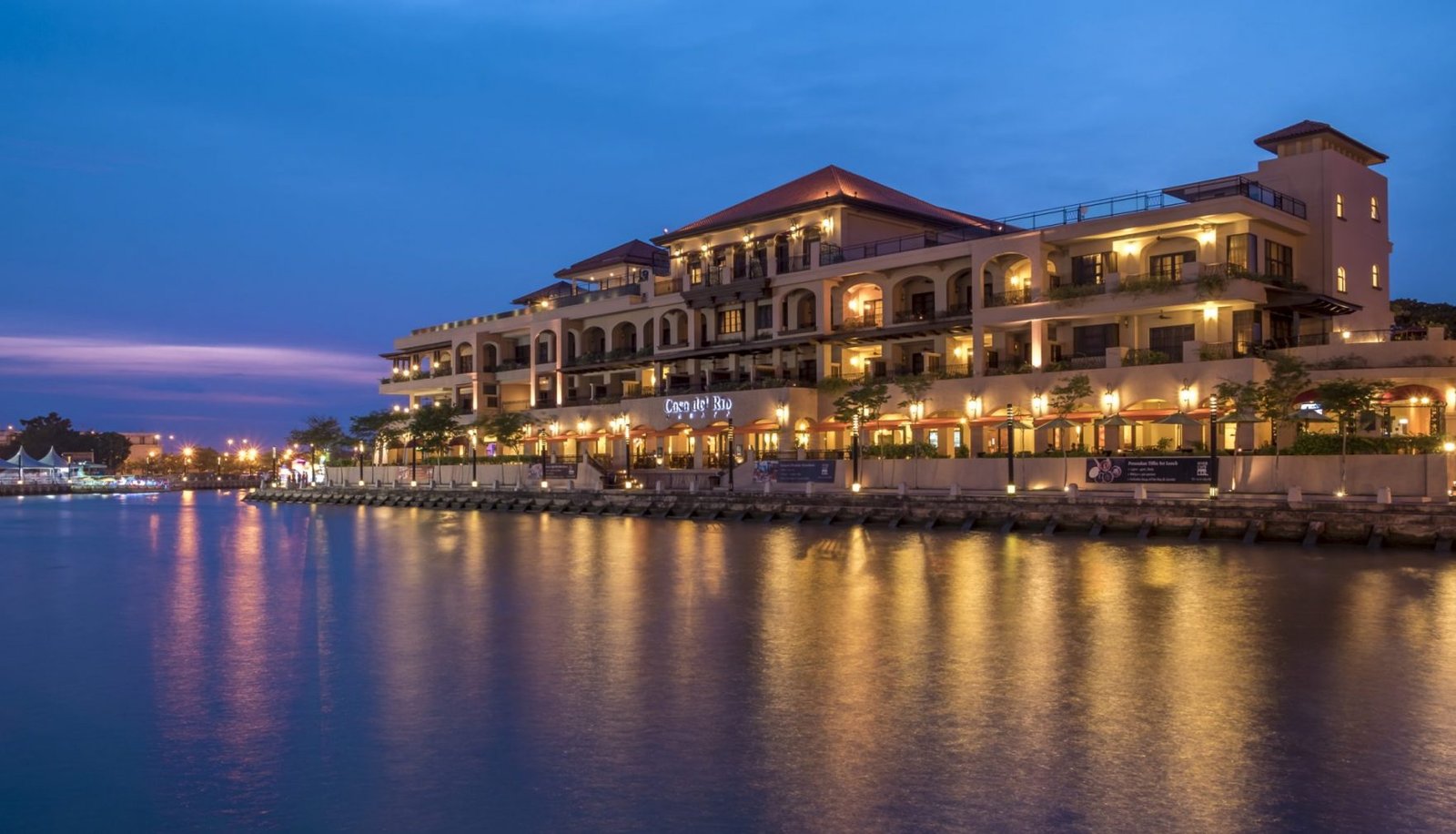 So, to say the least, this was the hotel we managed to book in the last minutes. It used to be call 7Days Inn Melaka which I believe a budget hotel chain from China. But now it has changed the name into 7 Days Premium Melaka.
First Impression
It was already 1 pm when we first arrived at the hotel and unfortunately, we can't check-in until 3 pm. It was kinda a bummer because we were tired from the early morning flight and the least thing we want to do was to wait for our room. They also charged us a "Heritage Tax" upon check-in RM 6 but other than that the check-in went pretty smooth.
From the outside, the hotel looks like the typical budget hotel. It isn't exactly located beside the main road. So we need to walk 2 blocks from the main road to reach the location but it wasn't too hard to find either. They have a signage outside and with the hotel logo which makes it's relatively easy to locate.
Their lobby was pretty straight forward. Just the reception area and couples of sofas. They also have the map of Melaka hanging on the wall and couples of brochures attached on it. In the back was the dining area. Nothing separates the lobby from the dining area hence why it gave the illusion of a bigger space which I think wasn't really that big either.
The Room
The hotel alleys to go to the rooms were tiny! It felt like a maze with lots of turns. And there were like an ironing board, bed sheet along the way. It seems that they have their storage cupboards installed to the wall in the alley. But surprisingly, the room was pretty spacious compared to the alley that we need to go through to reach our room.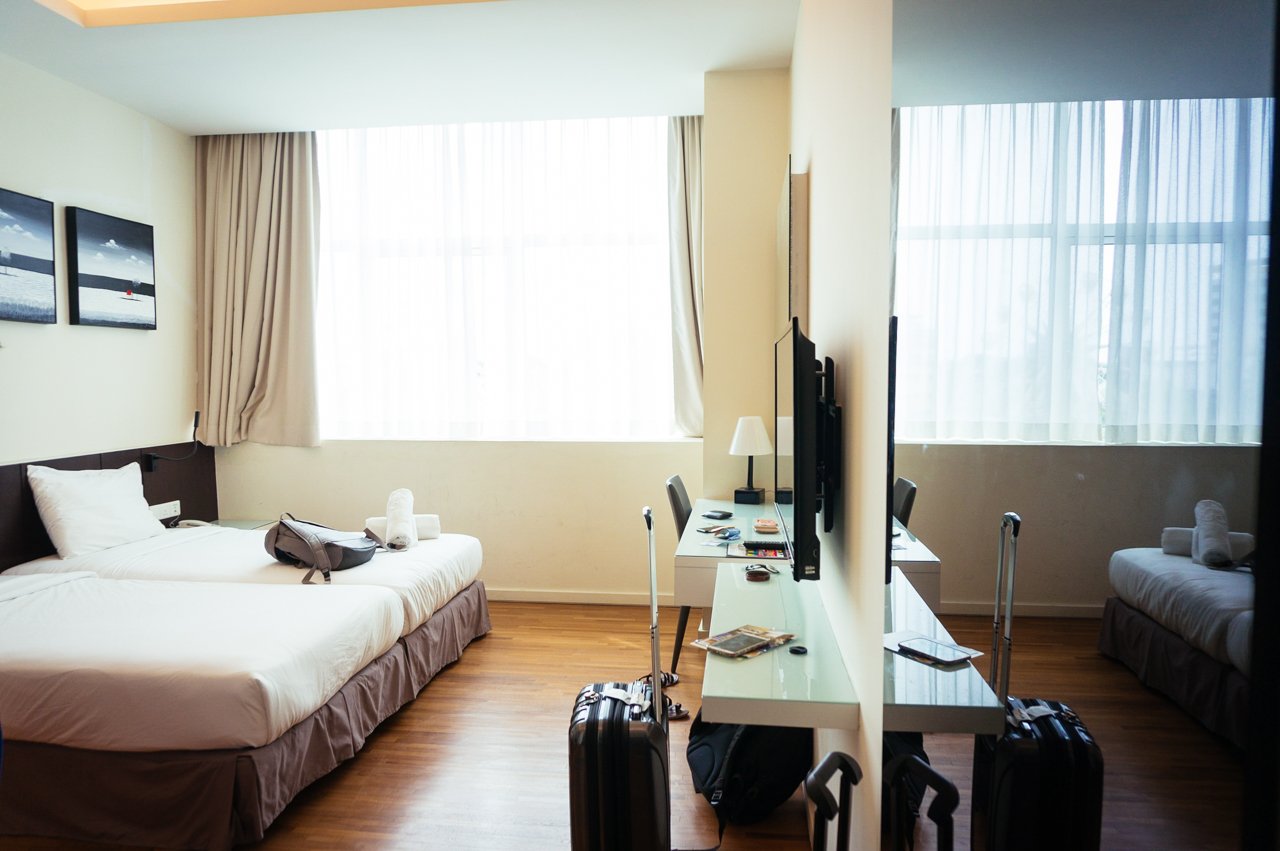 I need to admit that the room was exceeding my expectation. It was spacious and the design was simple and modern. The bed was big enough, there was also a big TV, big mirrors, and wifi that sometimes didn't work. And another great thing was they have a huge window on one side which I can really appreciate. The amenities were also provided like mineral waters and instant coffee.
The bathroom was also spacious and clean. Basic toilets amenities were also provided. The shower and the water heater worked perfectly. One complained that we had was the questionable towel. We had 1 towel with brown stains all over, yucks! But we did ask for another towel and they gave us a new one.
And it seems like this room is not in use for quite a time, there are dust here and there, especially on the furniture, table, cupboard, etc. That's pretty dirty and that could be a problem for allergic people.
The View (Best Part)
One of the reasons why we choose this hotel was because it is located near the river. We originally want to stay just right beside the famous Malacca's River for the view but it didn't go too well. First, the river wasn't as clear as I though which didn't really make the best view. But to be honest, the view from our room wasn't too bad at all.
Top tip : Ask the view on the higher floor for better view and better sleep! (read: less noises)
We have read online that it can get pretty loud at night. So the best is to get the higher floor which we requested when we made the booking. And they gave us this room on the second floor which overviews the river, perfect!
It wasn't high enough to get the best view of the river, I would suggest the Sky Tower in the Shore just for that. But we were happy enough with that. And it was funny how they have the small theme park right outside the window. Not the most "Melaka" view but it made quite a nice view, I'll take that Ferris wheel view anytime. #girlsprob 😂
Location
If you want to be at the center this hotel might not be for you. It took us 15 minutes of walking to reach the center of attraction, the Red Church area. But the location wasn't that bad, to be honest. Having to stay in this hotel gave us the opportunity to walk along the riverbank every day that we no longer want to do the much hyped Melaka River Cruise.
Another great thing about the location is having a shopping mall across the street. With the Shore just couples of seconds away, it's that easy to find food or if we need to buy some stuff. Plus 7 Eleven is literally next door to the hotel, you don't need to worry about forgetting anything.
It was also really easy to reach this hotel. We even took the public bus from the Melaka Sentral Terminal. It's easy using the Panorama Melaka Bus. But if not, then taxi is also easy to find. Or just use Uber, that will be more convenience as you don't need to worry about bargaining or meter cheating and stuff.
If you plan on using the public transportation : Take Panorama Melaka Bus no. 17 and stop at Jalan Bendahara. Cross the road and then walk straight around 200meter or about 3 mins and the hotel will be on your left.
(Not The Best) Breakfast
If I need to pick 1 thing to complain about our stay it must be the breakfast. Not really the best breakfast I ever had, in fact, I don't think they cared enough about the breakfast. It was like "take it or leave it". We don't really have many options for the menu but they definitely all tasteless. The staff won't bother refilling the drinks so better not be late for breakfast.
The breakfast takes place in the same place the reception is located, so the place was not that big and it can get a bit chaotic at breakfast time. We definitely couldn't stay longer or enjoy our food in a leisurely matter because there will be people waiting. After being spoiled by the awesome breakfast in the Chulia Mansion, my expectation for 3* hotel breakfast has never been the same. 😥
Overall Thought
I am a bit torn about this hotel. There are some parts that I think were pretty nice and some were just meh. Overall this is a decent hotel if you are the last minute bookers. Pricewise is okay for 3* hotel standard and all the basic stuff are good enough. Locationwise it is also a nice hotel, not too far from the center of attractions. And I do quite enjoy our stay here.
But if we were given more time to research, I bet we gonna find another hotel with better offers than this. So, yeah that's my thought about this hotel. If you are planning to go to Melaka, also read our previous post for the Melaka Travel Journal and our version on Top 8 Attractions to Visit in Melaka. There will be another post coming on this series so keep your eyes peeled! Until next post, see ya!
---
SPONSORED
Thanks for reading! Check these links below if you want to get some deals on your next trips 😉
---
Below is our itinerary map in Malacca. There will be more stuff added (once I remember them LOL) so make sure to check this again!