Want to stay longer in the magical world of Disney ? Then worry not, the park might be closing but you could always stay at the Disneyland hotel. They have 2 options for you at the Disneyland Hong Kong. Disneyland Resort and the Disney Hollywood Hotel. Which I will do a little bit of Disney Hollywood Hotel Review.
Both of these hotels might not be your cheapest hotel option to stay in Hong Kong. But is it worth the money ? Let me help you decide and read more about my experience staying at the Disney Hollywood Hotel. Psstt…this is the cheapest from that 2 options as it is not a resort.
The Hollywood Grandeur
As the name suggest this hotel is modeled based on the Hollywood. But not just any Hollywood in general, the 1930s Hollywood glamor. It is pretty cool I might say myself. 
The art-deco style of architecture makes it looks kinda old looking but in a good way. From the outside to the decor of the room. So, it is not your typical modern looking hotel that you see everywhere.
Combining stunning Art-Deco architecture with a dash of Disney magic, Disney's Hollywood Hotel invites you to stay in a place where you're the star.
Let's Start The Disney Hollywood Hotel Review
When you first arrive at the hotel you are going to be greeted by the concierge and a long sidewalk on your right side. Now this two things will be useful for your first-time arrival. The concierge is more like the luggage storage and they do pay attention for this service.
As most people come here pretty early to enjoy the park, which I also advise you to do so, keep your luggage here. You just need to show your booking reference and they will give you luggage tag to redeem your bags later. Then walk along the sidewalk to the end and there will be the pickup/drop off point for the park shuttle bus.
Once you get inside the building it will be the waiting room with check-in area on your left and souvenirs shop on your right. The main dining hall for breakfast located beside the souvenirs shop. The check-in area is pretty spacious with lines of receptionists to help you checking in, well considering the number of rooms they have here.
The hotel is shaped like an U letter so there is 2 main elevator location. Then its all depends on where is your room. One is next to the reception area and another one is way on the other side.
How's The Room?
The room itself is quite big, all their rooms are either 2 double beds or 1 king size beds. So it is not 2 single beds but double which what I got on my last stay. If you compare it to Hong Kong usual hotel, you will be surprised by this.
The room seems a bit old in style but I guess that's what they are trying to achieve with the "art-deco" concept. Feast your eyes with the silhouette Mickey's head popping everywhere, from the mirror to the toiletries. If it is not Mickey then it is probably any other original Disney character.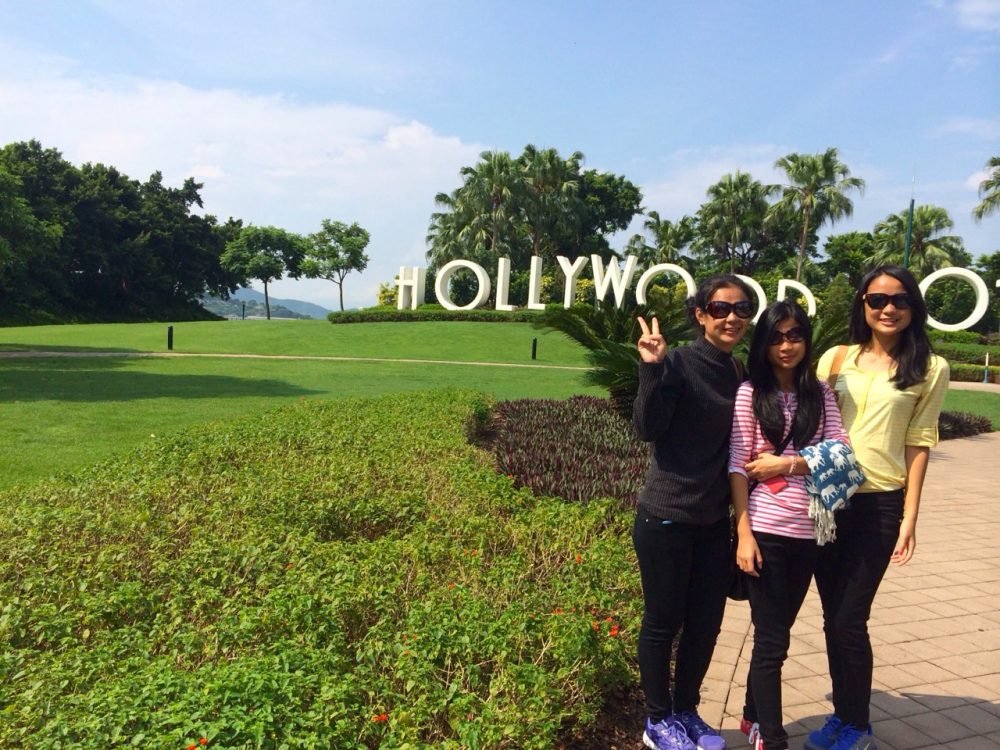 Disney Hollywood hotel offers basic facilities for you to enjoy, such as swimming pool and the garden. If you are done with the Disneyland park then you might want to check those out but nothing really stood out really. Or just walking around and see how many pictures you can take of things shape like Disney character, by Disney character I mean Mickey's head.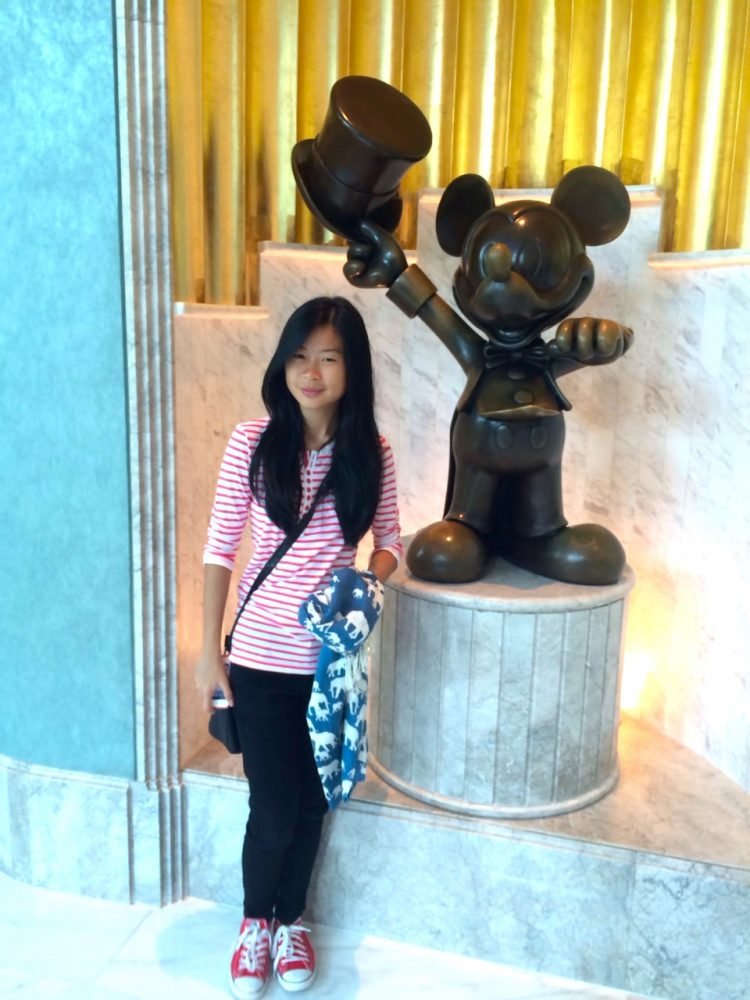 Hotel's Food
One thing that stood out is the dining. Breakfast is wonderful with plenty of choices and more of Mickey shapes things to eat. Breakfast located in the Chef Mickey which is a buffet restaurant, also open outside the breakfast time. Located in front of it is Studio Lounge, as the name suggest is more of a lounge and bar.
Then a bit far away is the Hollywood & Dine, their version of fast dining. Now mind you all of this dining option is not open 24 hours, so what will you do when you start to feel hungry in the middle of the night ? Room service of course, right ?
Sorry to break your dream but they have no room service! You read it correctly, that's what happened to me last time. Tired from the park I assume "let's just order the room service" and no, they have none. You literally need to come down to eat in one of their restaurants or buy to take away.
Last time I was just too tired so I did not even bother to go downstairs but my friend did and she bought chicken with rice something which she later describes as "bland and overprice". Also adding to that is they don't have any convenience store in the resort area, so nowhere to buy any snack. What a bummer.
My Final Thoughts
Final thought, is staying in Disneyland hotel worth the penny ? Yes if you bring toddler or children and planning to enjoy the park from it's open until the closing time. You can just come back to your rooms and back to the park anytime you want.
No, if you not a huge Disney fans and loved to get out at night to stroll around the city, you are basically located in the middle of nowhere surrounded by the silhouette of Mickey's head. Don't get me wrong, I do love me some Mickey's head but there is a limitation of how much Mickey one can handle.
That's everything I have for this Disney Hollywood Hotel review. I hope this information useful for your holiday.
Ps : Sorry for the lack of pictures in this post, did not take much and now regretting it myself. Sigh.. But anyway, Cheers!
Find the best price for both Disney hotels here :
---
Find out more travel resources that we also use for traveling on our resources page.
---