I see traveling as a time where I can spoil all my senses. It's not just what I see but the whole experience matter. Including my taste bud. Before I went to Vietnam, the only Vietnamese cuisine I know is Pho. But I have been missing out, pho real! And this is our Vietnam culinary journal, prepare to for all the food porn or should I say food pho-rn?
Vietnamese cuisine is known for their fresh ingredients. I am not a food expert, but I count myself as a food enthusiast and I agree with that statement. In all the meals I had, didn't matter what type of dish it was, I can always taste the herbs. They especially love to use coriander or cilantro, the signature minty flavor.
Pho
We can't talk about Vietnam without mentioning Pho. Or making Pho puns, in my case. Any Pho that you eat in Vietnam will crush all the Pho you have ever eaten back in your home country. Even if you eat in the random restaurant in Vietnam, it will still taste incredible.
This amazing soup consists of rice noodles, meat, herbs, and clear broth. The key to a good Pho is the broth. It is made by slowly simmering beef bones for a long period of time. So even though it looks clear but it really packs a punch.
Our guide told us how to know where to eat good Pho:
Find the homestyle restaurant or just street style restaurant with open kitchen. Because making the broth is taking a long time, it usually made in an open kitchen or otherwise, all the smokes and smell from the cooking process will fill the entire house. That's why he said fancy restaurant usually can't serve a good Pho. Interesting, right?
Banh Mi
Also known as Vietnamese sandwich. The different is that they are using baguette which is heavily influenced by French during its colonial period. The filling usually varies from sliced pork, ham, pâté, etc. And adding to that are the Vietnamese touch, such as coriander, cucumber, and pickled carrots or white radish.
You can easily find this everywhere, from the street vendor to the coffee shop. This is being sold anytime of the day, for breakfast, snacks. Also depends on where you bought them, some street vendor we tried, the baguette was really dry but some were good.
To be honest, I don't actually know that the next food exists until our guide gave us this cheat card during our trip to Ha Long Bay. So this was his name card and in the back is the list of all recommended food in Hanoi and where to find them. Unfortunately, we didn't get a chance to try them all but these are the food we manage to stuffed on our bellies.
Bun Cha
Grilled pork that served with rice noodle in the side, fried spring rolls, heaping loads of fresh herbs, pickles, and fish sauce as the dipping. Don't be scared by the thought of the fish sauce, the tanginess from the sauce actually balancing the grilled meat taste just perfect. This dish is originating in Hanoi and really popular especially during lunch hour.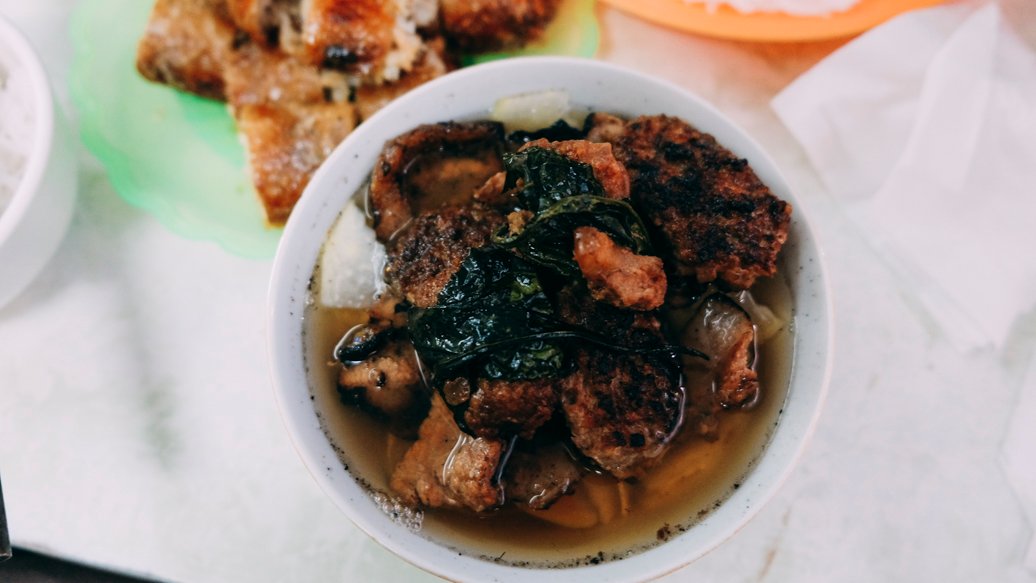 The restaurant that we went to (as per the cheat card) claimed to be the original Bun Cha restaurant and interestingly just beside it is also another restaurant claiming the exact same thing. And it was like watching a sibling fight because they even have all the warning inside the restaurant, straight up telling you the other is fake!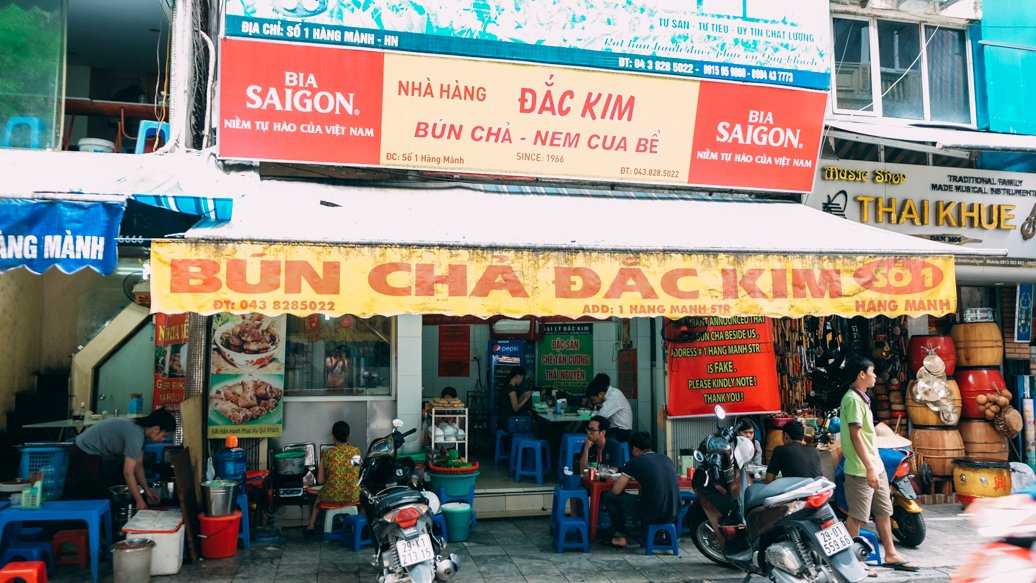 All I know the Bun Cha is amazing and I really enjoyed it. They only serve this dish in the restaurant so don't be scared to just come in as they already know what you gonna order. And this place seems to be really famous both with locals and tourist.
Egg Coffee
I like coffee and I like eggs but I am not sure I liked them literally together. This was made by beating egg yolks with coffee, sugar and condensed milk. It looked this your typical cappuccino, not at all looked like what I imagine them to look like.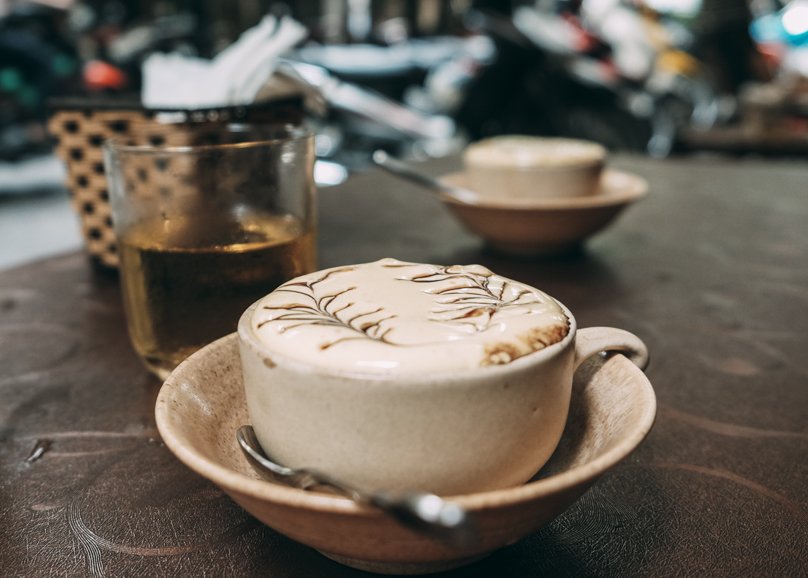 Surprisingly I can't really taste the egg at all when drinking the coffee, it just tasted like normal coffee but I can taste the egg afterward. It felt like the aftertaste of eating a raw egg or like eating a half-cooked omelet, that sticky salty taste in the back of your throat. Anyone know what I am trying to say here?
They also gave us cups of iced tea to wash down the egg taste. Not exactly my favorite, just because I don't fancy the aftertaste of the egg. But the atmosphere of the cafe is just incredible. Drinking coffee outside, overlooking the street. Hmm…that Hanoi feel!
Vietnamese Iced Coffee
While the egg coffee is not my favorite, I freaking loved their iced coffee! I prefer my coffee thick and strong and Vietnamese iced coffee is all I can ask for. They usually made it with condensed milk, so it taste creamy and sweet but you can still get the kick from the coffee.
When we asked locals where to get coffee, they recommended Trung Nguyen or Highlands Coffee. Both of them are like coffee shop chain while I expect more "authentic" local brand or something like that. But the locals know best and I was not disappointed by either of them.
We drank the Highlands Coffee while we were there just because we stumble across their cafe most of the time. But we also bought the Trung Nguyen coffee for our family back home and their instant coffee is almost as great as fresh coffee. Don't expect the sweet watery water that you get from typical instant coffee, theirs is great! Trust me, I know my coffee.. #coffeesnob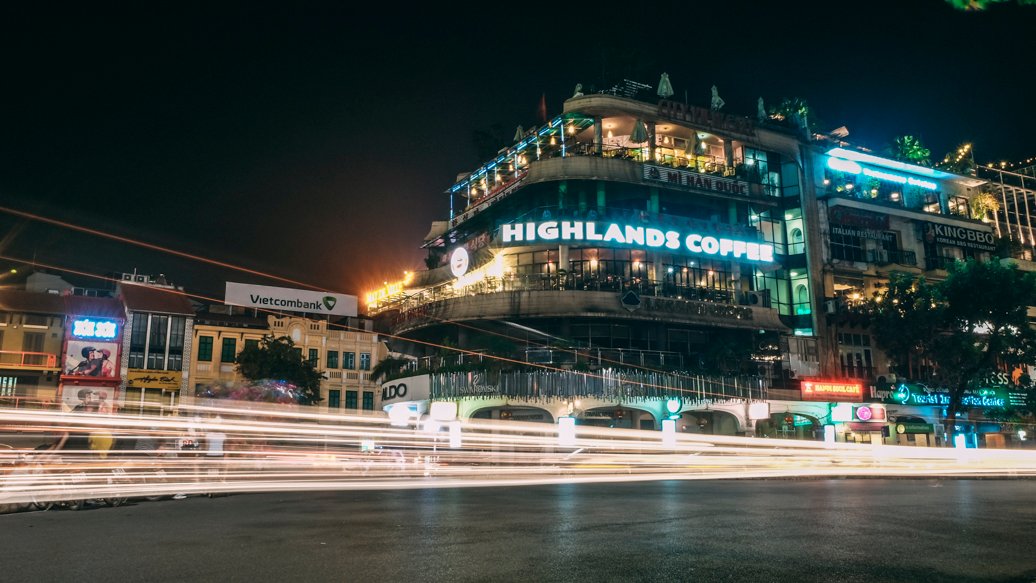 (Misc) Honorable Mention
We ate more than our list above but most of the time we just don't know what we ate. LOL! But they all taste superb so I think it's only appropriate to share them with you guys. These were the food we found randomly, I tried to list the name of the dishes or the restaurant but I could be wrong, so apologize in advance.
Cheap BBQ in Hanoi
This was my favorite meals in Hanoi, not because it served the most authentic food but because of the experience. You choose your meat (beef, chicken, pork) and they already have the oil, the spices, the sauces, and the foil as well as the iron box with a paraffin in the tables. They will change the foil once in a while.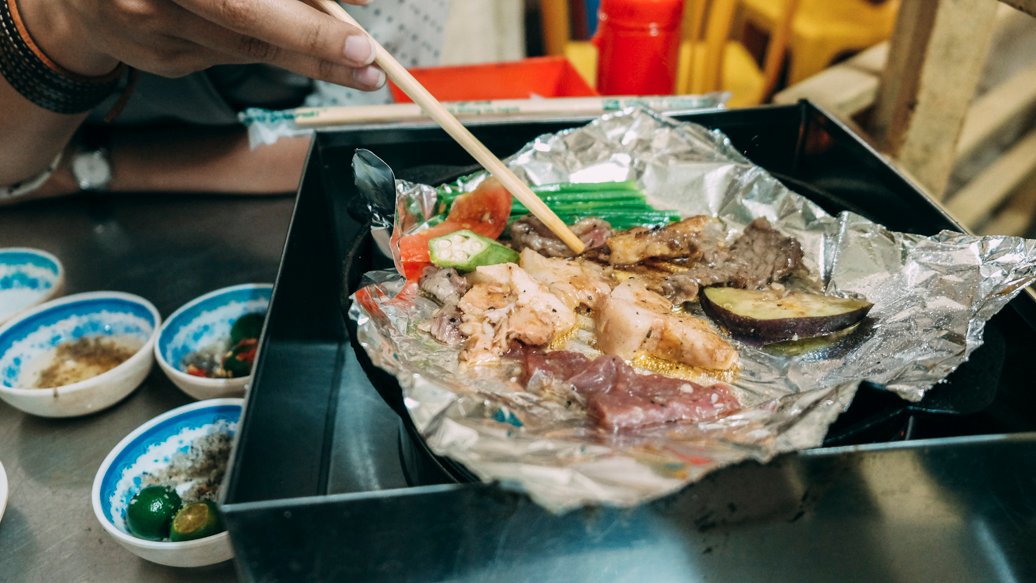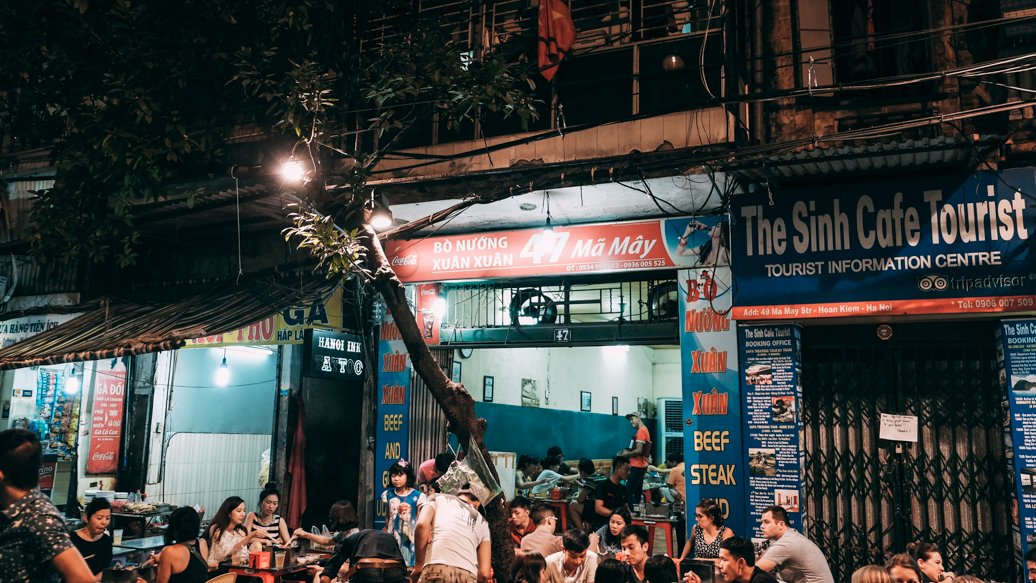 The restaurant name was Bo Nuong Xuan Xuan and it was really cramped with people. Both locals and tourist, eating in the plastic low chair, hanging out, drinking beers and eating BBQ. It's cheap, tasty, basically a no-brainer BBQ experience. We loved it!
Street Snacks
Compilation of almost every street snacks we tried. We had our fair share of walking and walking around could be tiring. But walking while eating is my favorite kind of walking.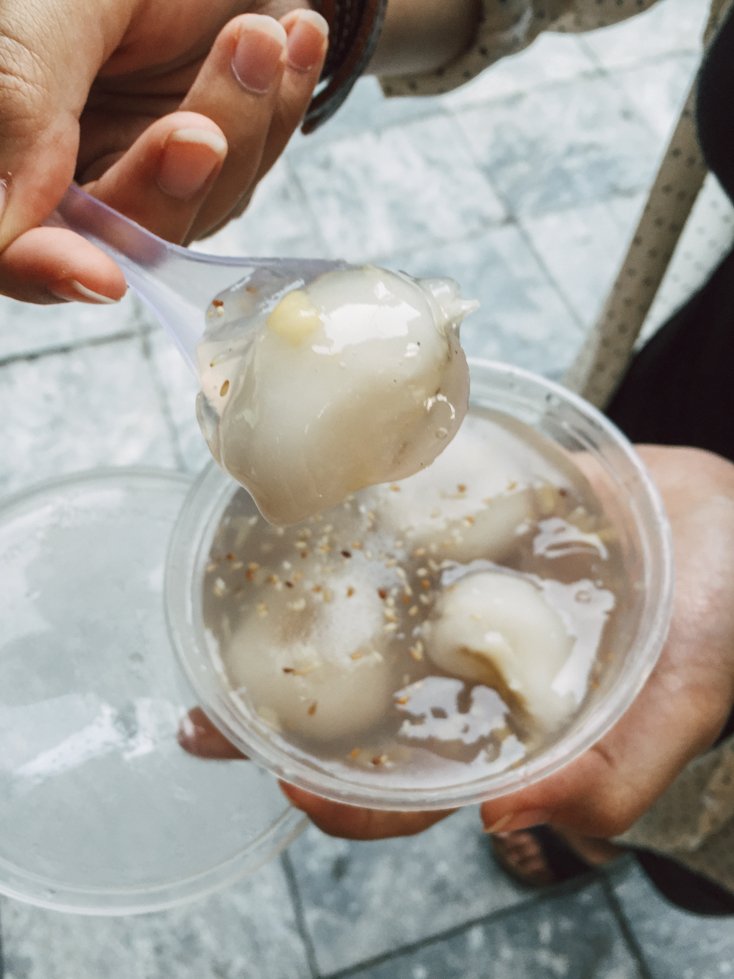 Pho Look-alike
I love Pho and I love everything that looks and taste like Pho which we had a lot during our trip. PHO phor LYFE!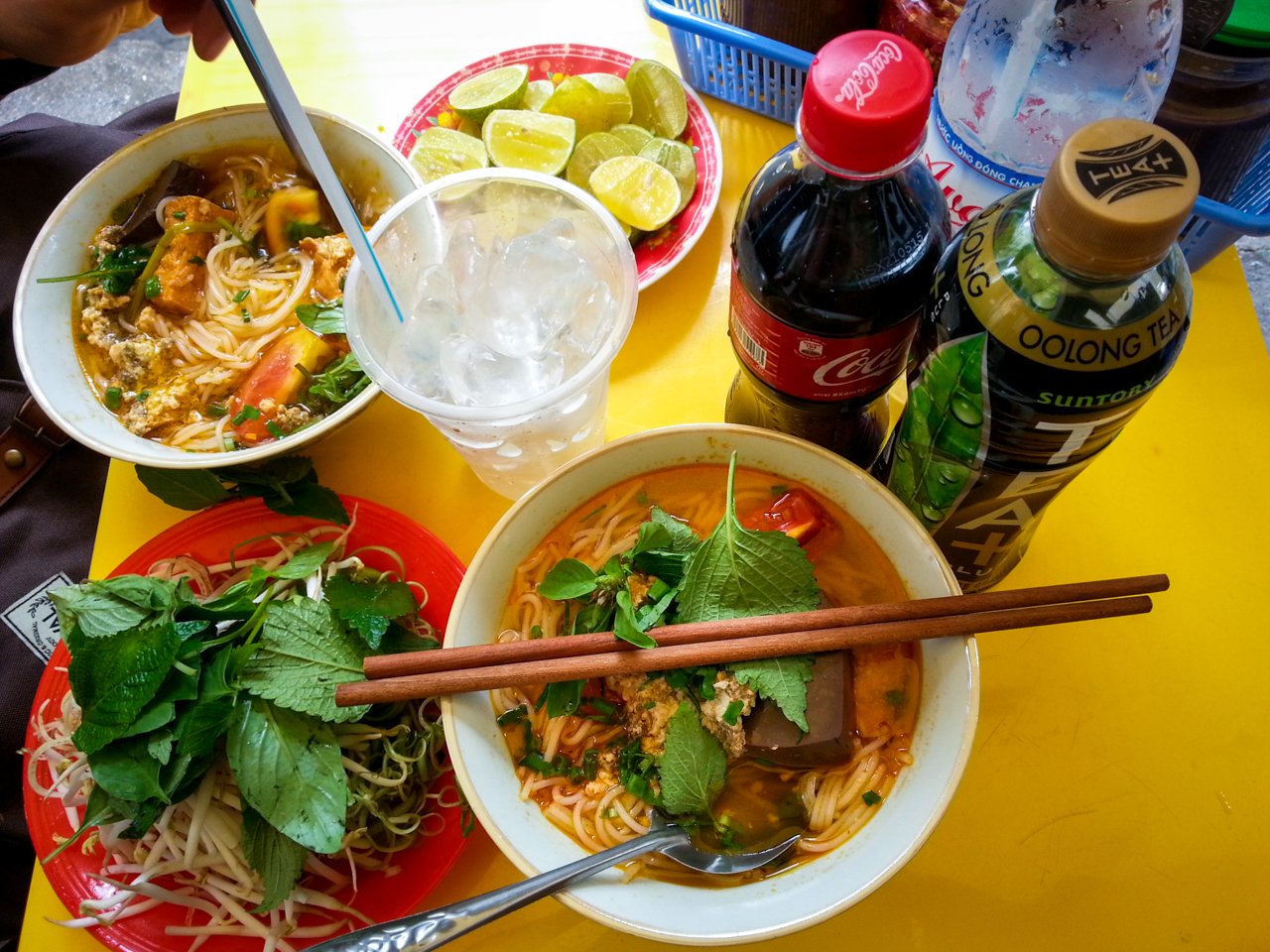 That's all the Vietnamese food porn I could share for now. Those are almost everything we ate in Vietnam. I know we might miss quite a lot of stuff. But I promise next time we visit Vietnam, we gonna let all belt break loose.
If you have any recommendation on the food we should try, please let us know in the comment below. Also, be sure to check our travel journal from Ho Chi Minh City, Hanoi, Chu Chi Tunnel, Ha Long Bay, and our Top Places to Visit in Vietnam. Hope I don't make you drool too much and who else craving Pho right now because I know I am. 😋
---
SPONSORED
Thanks for reading and check these links below if you want to get some sweet deals for your next trips! 😉