KL is a big metropolitan city. Of course, there are so many things to do that no matter how many time you have, it won't be enough. In fact, enough is not listed in our vocabulary as a traveler. Ain't that, right? But we must do what we can with what we have.
True that choices available sometimes made it harder for us to decide. Chances are we will only make it up to 80% success rate on every trip that we plan. No matter how well you planned it, there will always be the 'X' factor.
And that's what happened to us, we didn't really get a lot from KL this time. We should've planned a longer trip, I bet with more time we could explore more in KL. But again, choices are kinda limited due to our time. So here's how we made our last day. Not much, but chill and still acceptable.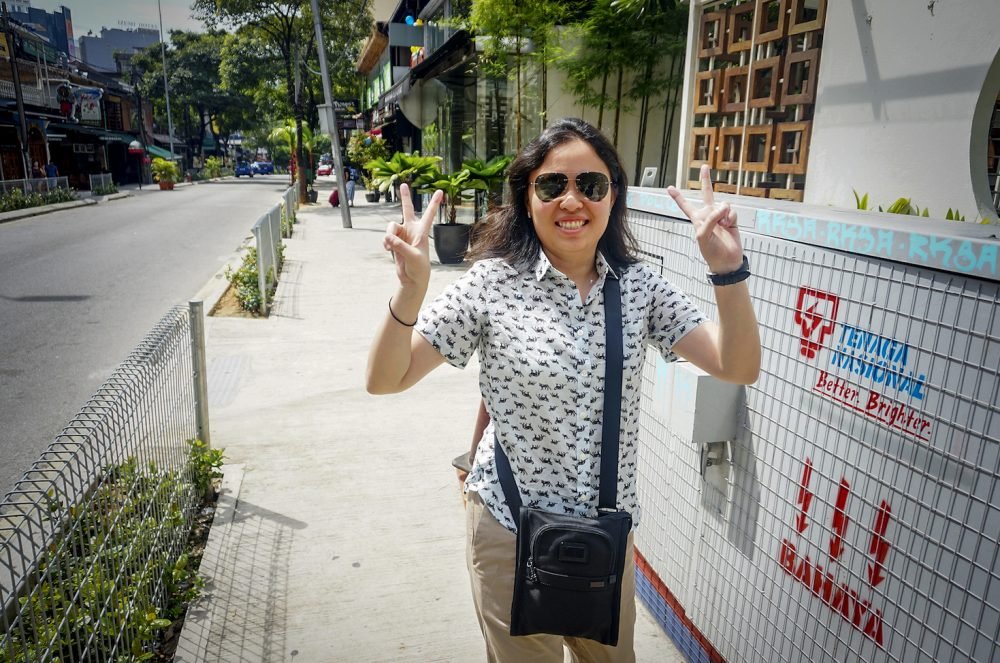 First Mission in KL, Meds
As an opening for the day, we're skipping breakfast because we wake up so late about 9.30 a.m. Not lazy, but chill traveler. 🙂 Maybe because we're all going to sleep with a full stomach, so we didn't feel like having a breakfast. Just some cakes and snacks we bought from Jalan Alor last night.
The first thing we did was bought some medicines, courtesy from friends and family at home. That's just something that is common in my country, that wherever somebody goes overseas, it became some sort of obligation to buy something for them. And that sucks actually, I myself hate that very much.
Unless I had a huge favor from that person, I won't even bother to buy anything even when they said they will pay me. Seriously guys, if you're that kind of person, you can now stop that habit of yours. I bought some medicines from the meds store just a few meters away from our hotel. Prices of medicines here in Malaysia is cheaper compares to my country.
No wonder, a lot of people from my country buy medicines from Malaysia. And they had this GST (Goods and Service Tax) system applied just on April 1, 2015, for 6%. Still fresh, and I can see some business owner still adjusting to it.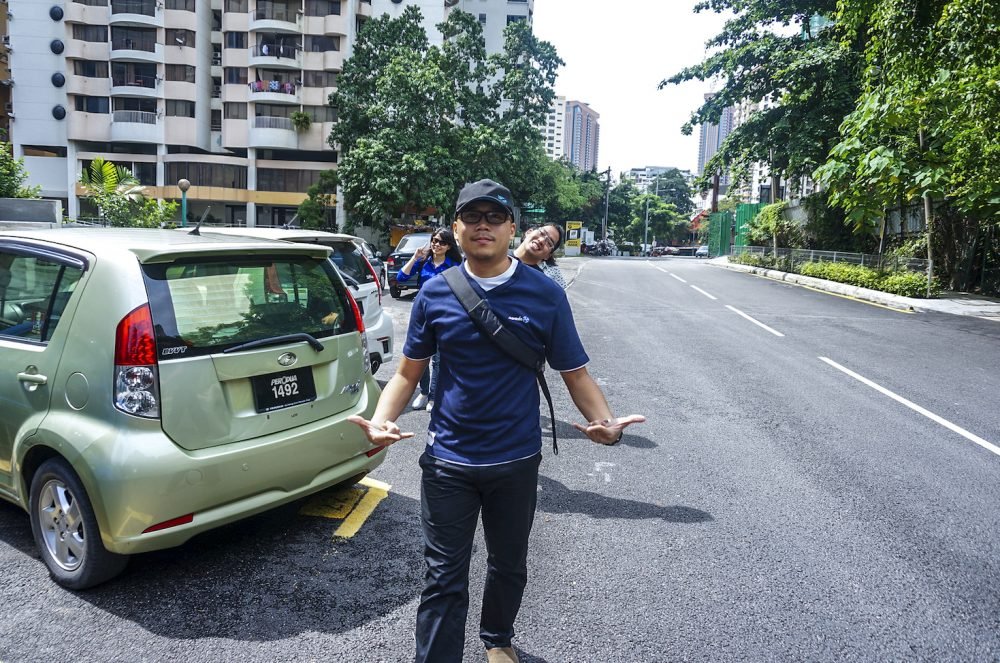 Walking to KL Tower
Done with the meds, we walk to our first mission, the KL Tower (Menara Kuala Lumpur). Walking to this tower was quite far plus the heat was amazing. Malaysia is pretty similar with Indonesia in terms of the temperature. It's hot and humid. But yeah, trying to enjoy it with walking there. Sometimes walking the streets can give you quite a story. Which I like very much.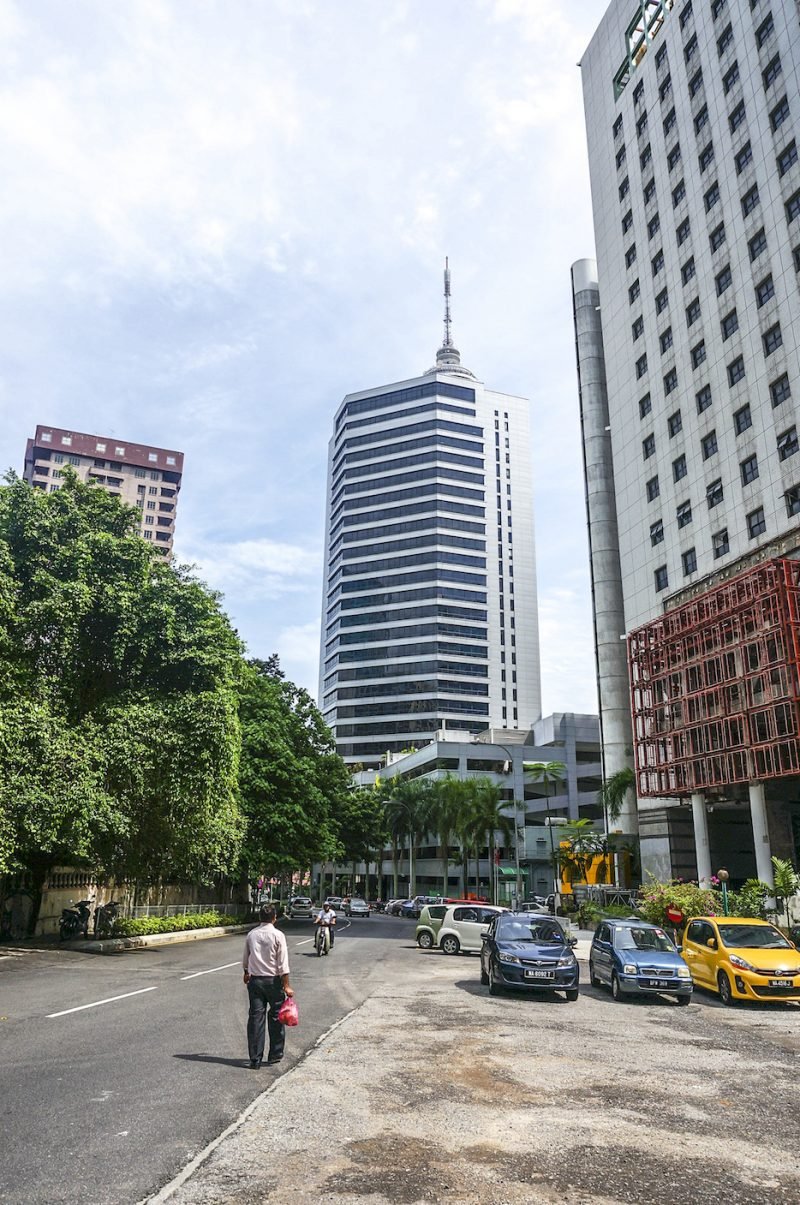 It was Saturday, 25th of April. So it's a weekend but we barely saw anyone walking on the street. Only a few cars passing by once in a while. Maybe it's not so popular to walking by day in KL, same with our country. But you know as a tourist visiting another country, that's what we did, we walk here and there, right?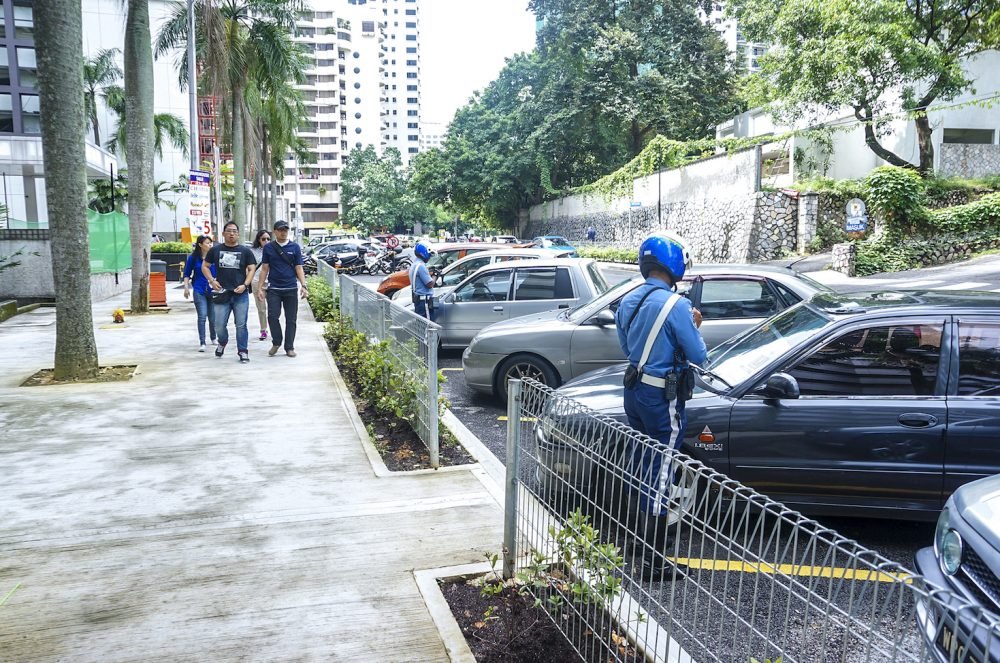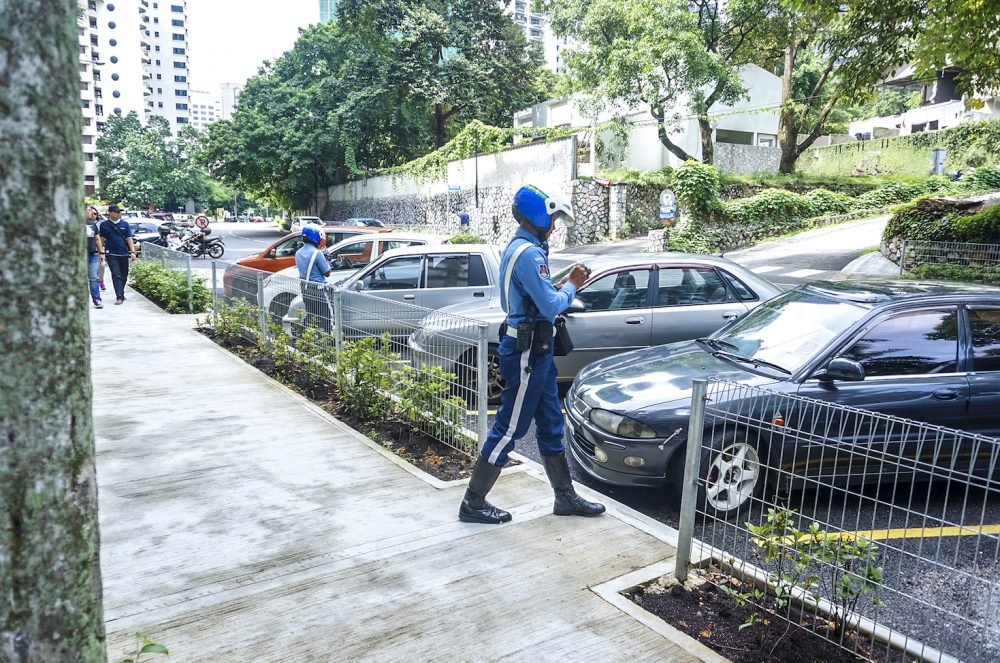 We passed through some police officers writing parking tickets for those vehicles parked on the road. Looks like they passed the parking hour allowed on that street, bet that sucks. They seemed to enjoy their job writing those tickets. However, a law is a law.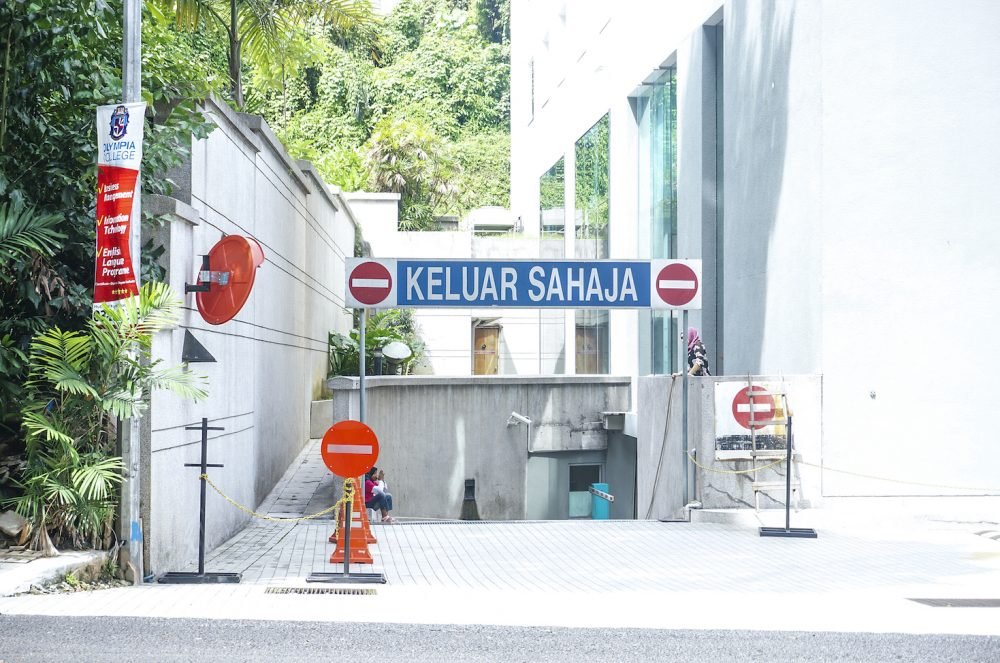 I saw that signage written, "KELUAR SAHAJA" (exit only), the word 'sahaja' in our language mean simple / humble. Malay (Melayu) language is funny for us Indonesian, just as our language is funny to them… Maybe…
There's a lot of funny things about Malay and Indo words, similar but not the same, and sometimes it can be entertaining. Maybe on another post, I will try to compile those as a joke.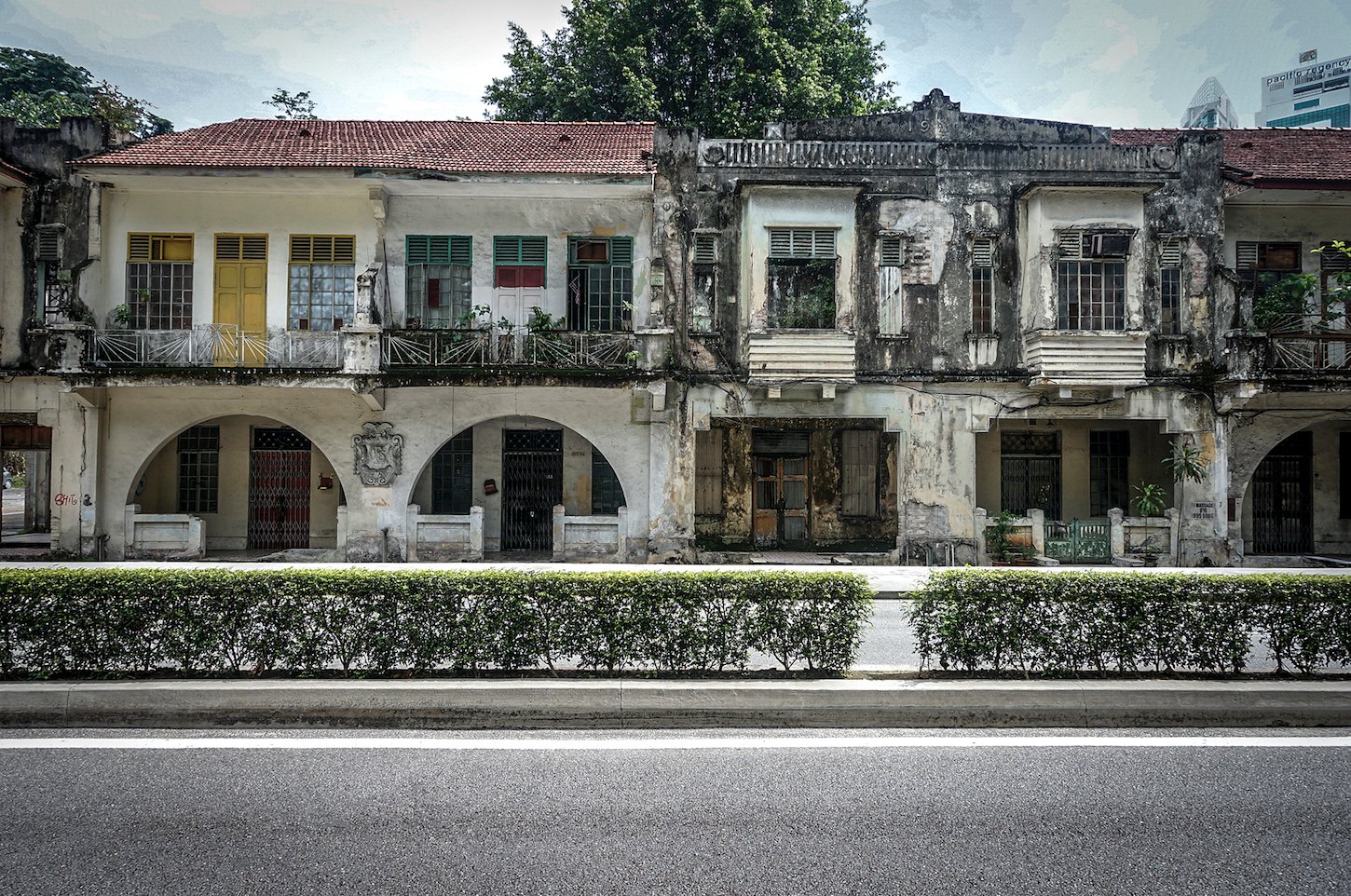 Wrong Direction, Courtesy to The Cleaning Lady
We got a bit confused with which directions we should go because we didn't use google map or something like that (duh!). We asked for some directions from locals, and when we're getting close.
By close I mean we can see the KL Tower, there's this one woman point us to a direction which turns out to be the opposite way that we should be going. It's quite a walk, though. Thank God for some other nice locals, they told us the right one this time.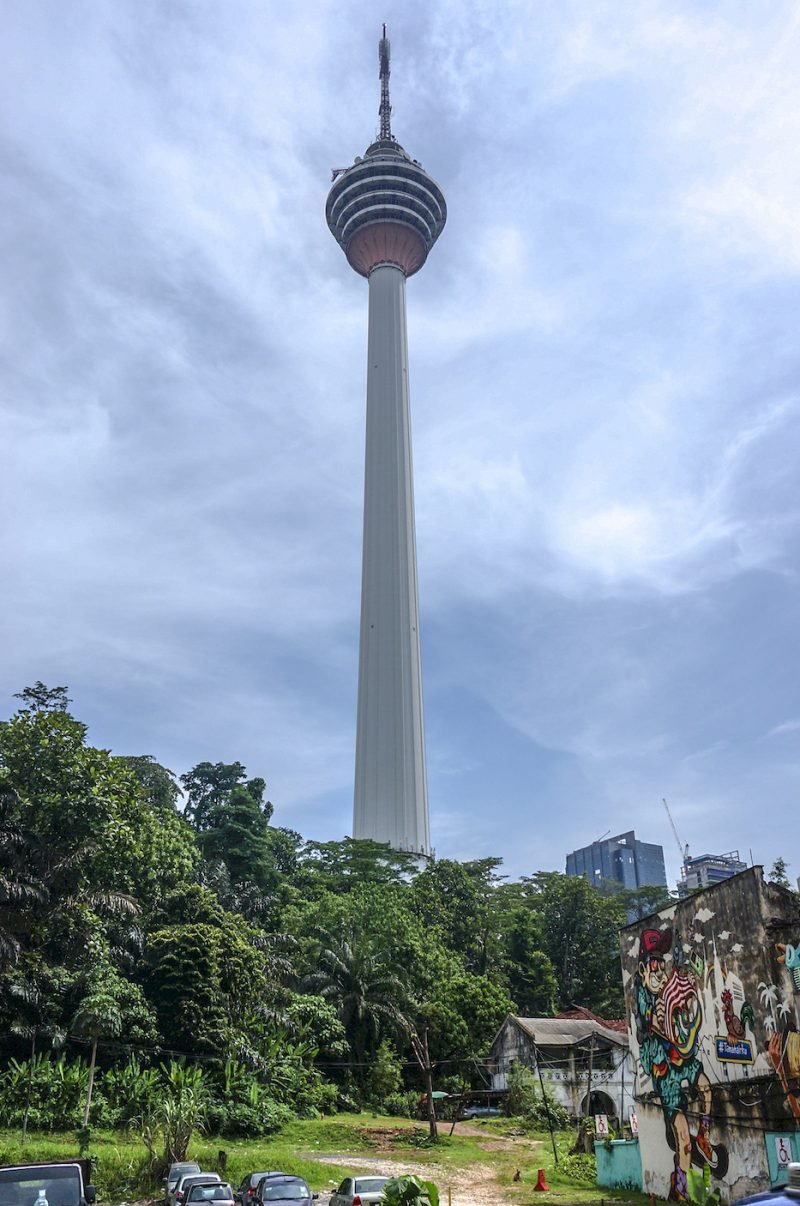 Shuttle Bus at The Entrance of KL Tower
Sweaty and thirsty, we found it, the entrance to KL Tower. Located in Jalan P Ramlee, this tower was first started in 1991. Built in 3 phases, the second one in 1992 and the third on 1994. This tower is 421 meters (1,381 feet) tall and the 7th tallest tower in the world with communication purpose and antenna on it.
So yeah, they have Petronas Twin Tower and KL Tower. They had a race annually where participants run all the way to the top? Imagine the strength needed to go that high with that many stairs.
We wait at the front post at the gate, where they said we should wait for the shuttle bus to take us to the lobby. You can walk, but I guess by shuttle bus is better. Because it looks like walking up a hill to the tower, the elevation of the road is quite something. Nevermind if you have lots of energy.
You can visit their official website for more updated information, ticket price, and events. Also, find out what to do here, there's some attraction that you need to check it out such as theater, F1 simulator, mini zoo, observation deck, and the famous Atmosphere 360 which what we were going here for, the rotating restaurant.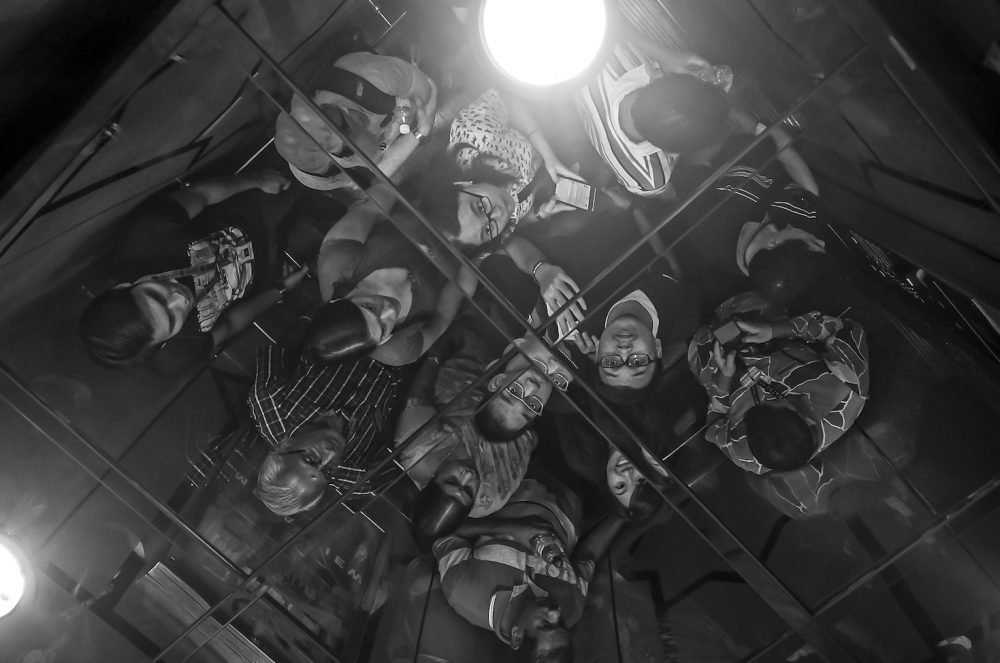 Going Up…
We bought the ticket for the RM 99.75 for the Atmosphere 360, the observation deck and the blue coral aquarium. You can buy different ticket combo for a cheaper price.
We went up after queueing for the elevator about 10 minutes. I took the picture above in the elevator, guess where is the camera? Haha… What about the crowd? It's okay, not too many people even though it's weekend.
The altitude can be felt as your ears getting that feel. As soon as we're out of the elevator, there's the sign for Atmosphere 360. This time, it was only 1 hour left for us to enjoy the buffet. That's right, it's a buffet and they have 2 sessions for the lunch buffet. The first one from 11.30 a.m. to 13.00 p.m.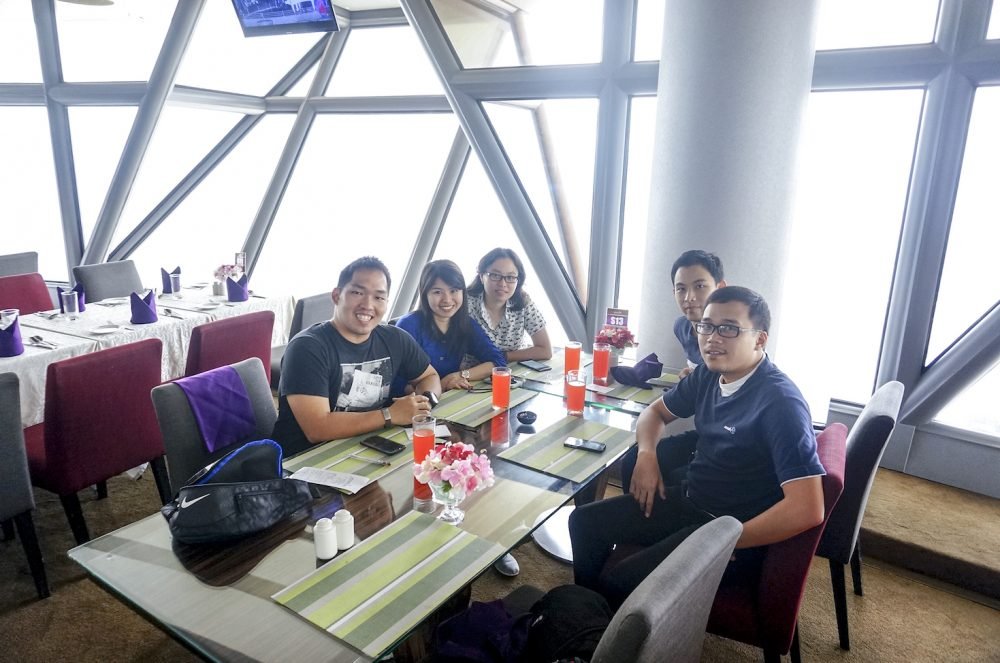 Atmosphere 360
We, of course, went with the first session. They also have a fine dining that if I'm not mistaken was more expensive than the lunch? I remember we want to try at their dinner hour, but the price seems to be a little too much, that's why we ended up with the lunch buffet.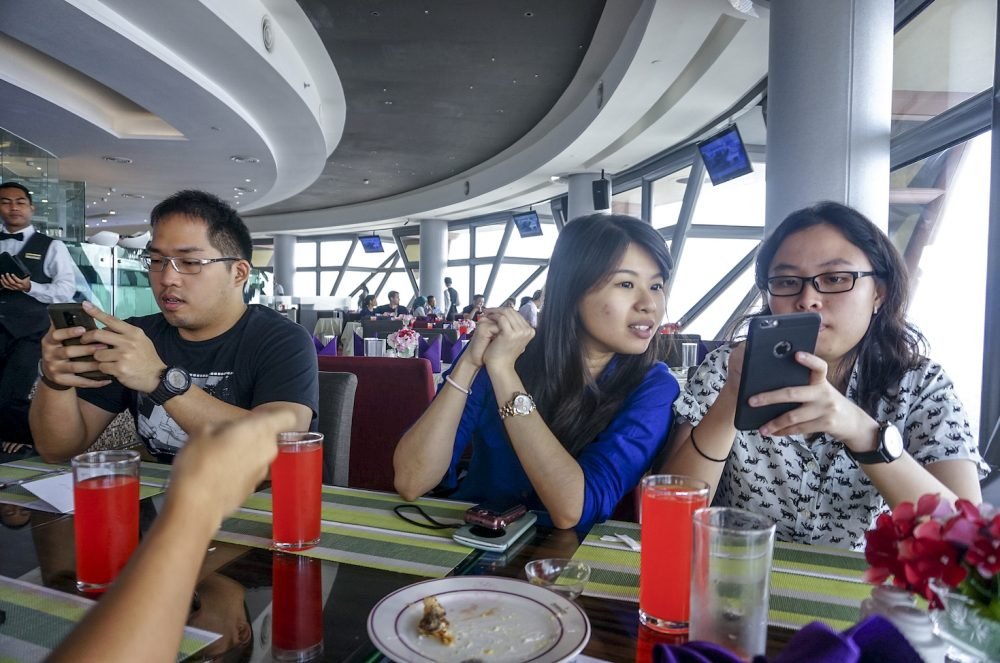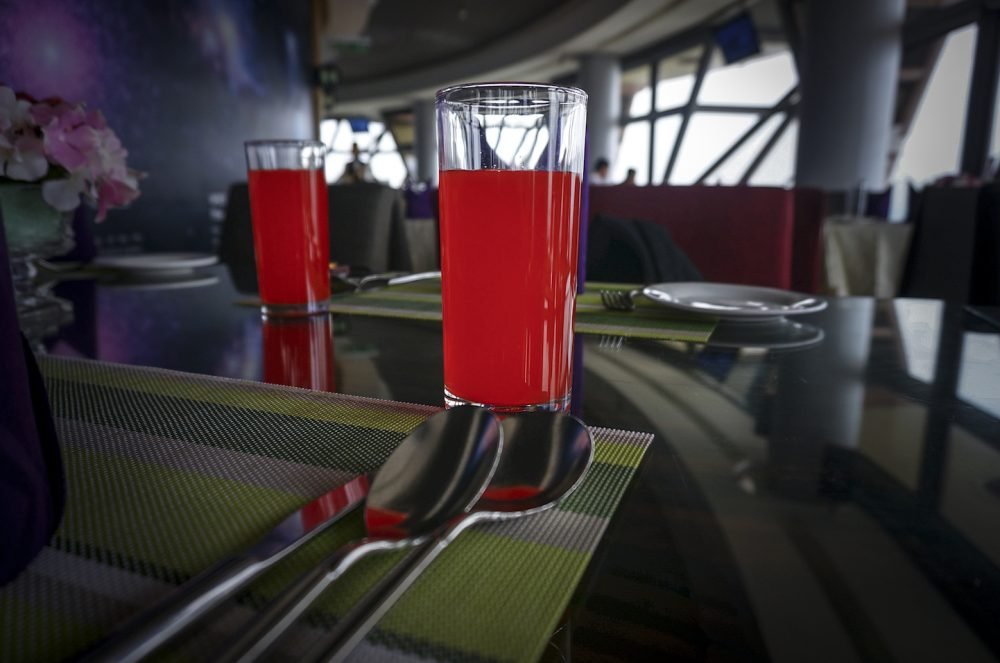 Their set was good. The restaurant offers a really good atmosphere, that's why they name it Atmosphere 360. Its rotating platform makes it interesting for us to enjoy lunch while served with a panoramic view of the KL city with the sensation of moving at such a height. Amazing view by the way.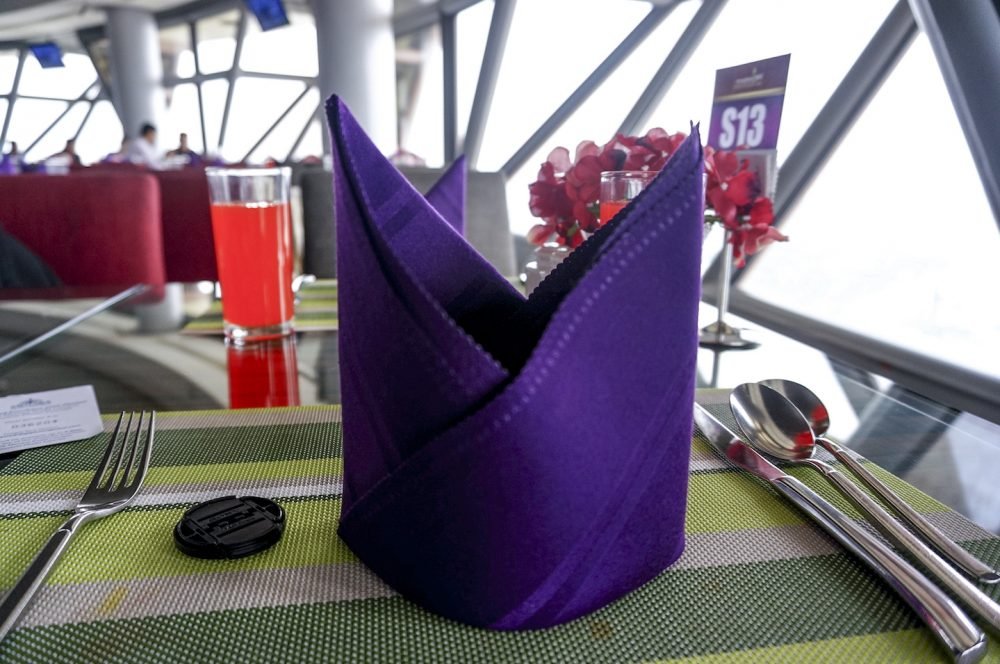 I bet it will be so much better at night with all the lights and the dining ambient here. We offered a seating close to the window which comes at a different price than the seats that are closer to the middle part of the tower. Well… Business, right? Here's how it looks like from our table.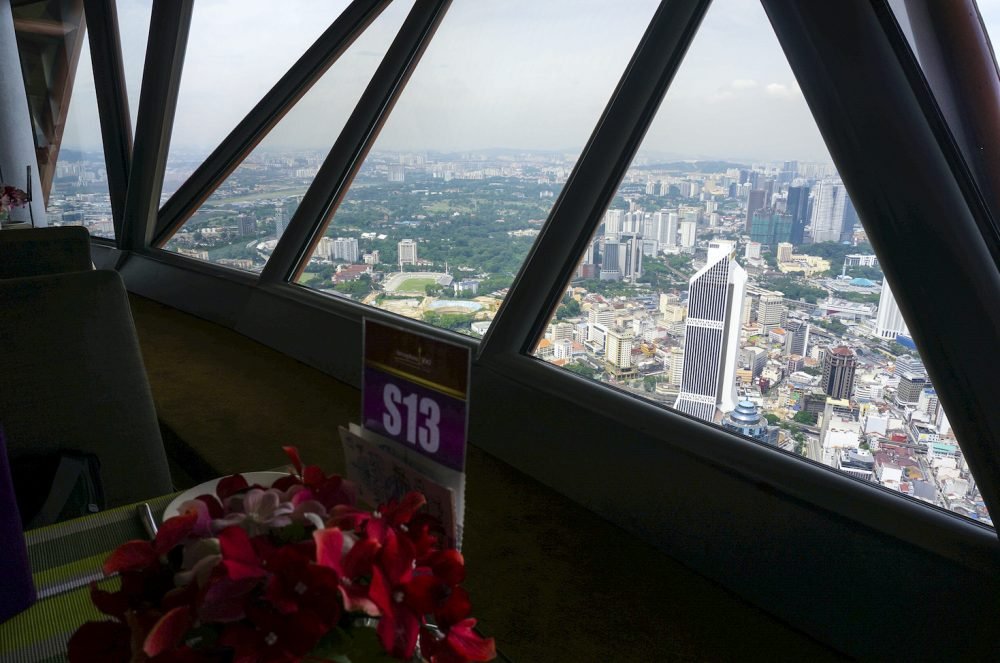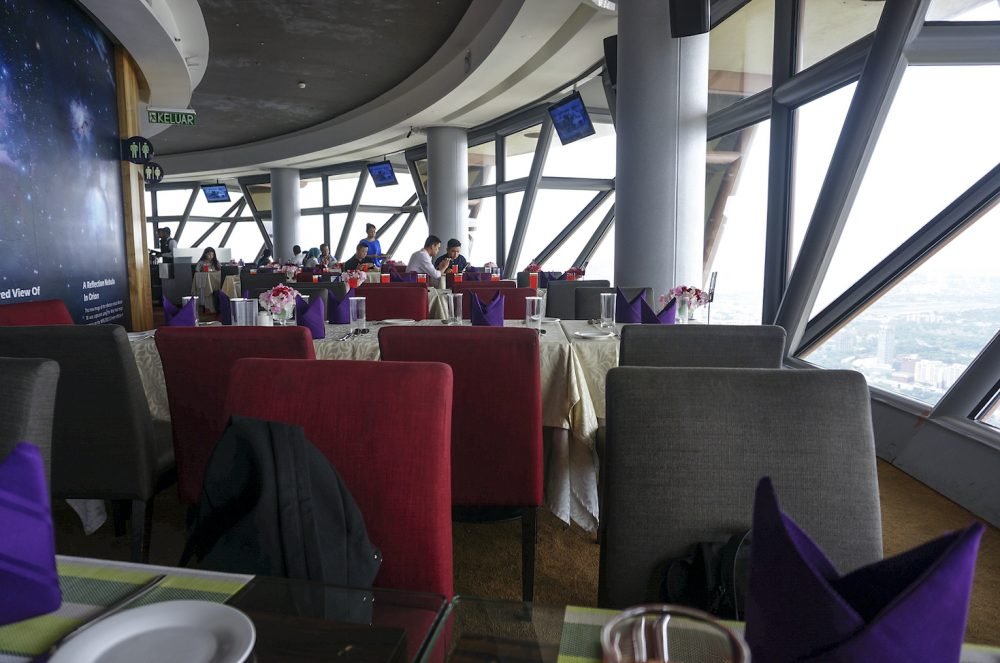 What about the food? Honestly, I thought it would be much better with that price. At least I put my expectation pretty high on this. From 1 to 10, I gave the food 6 for taste and 7 for freshness, and the ambient a 9. They serve western, Chinese, Indian and of course Malay food. From appetizer to desserts.
You can also order an a la carte menu and some quality wine. By default, this pinky drinks they gave us for free. I guess it was a special mix to push our stomach full. You know what I mean… I can feel those 'extras' in this drink. 🙂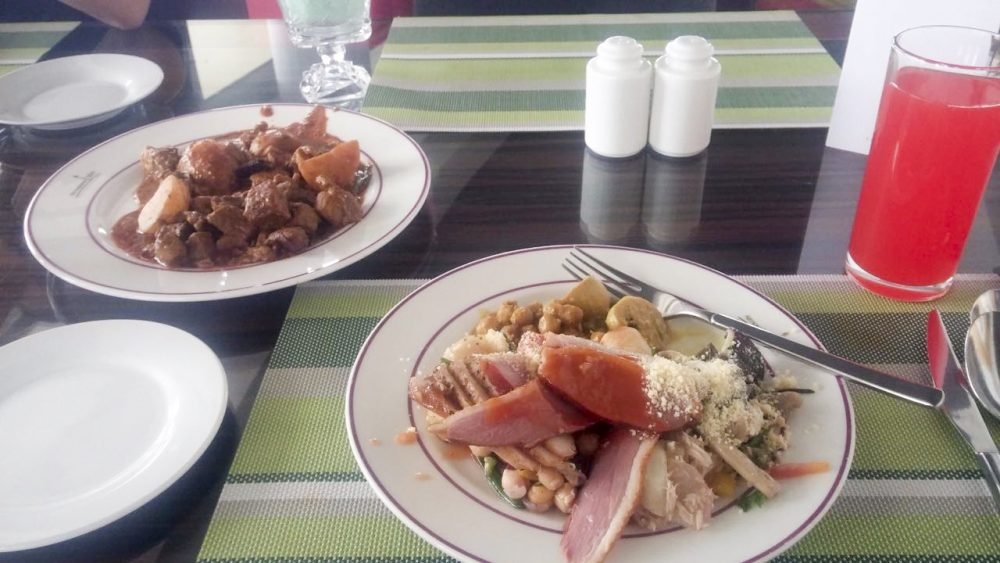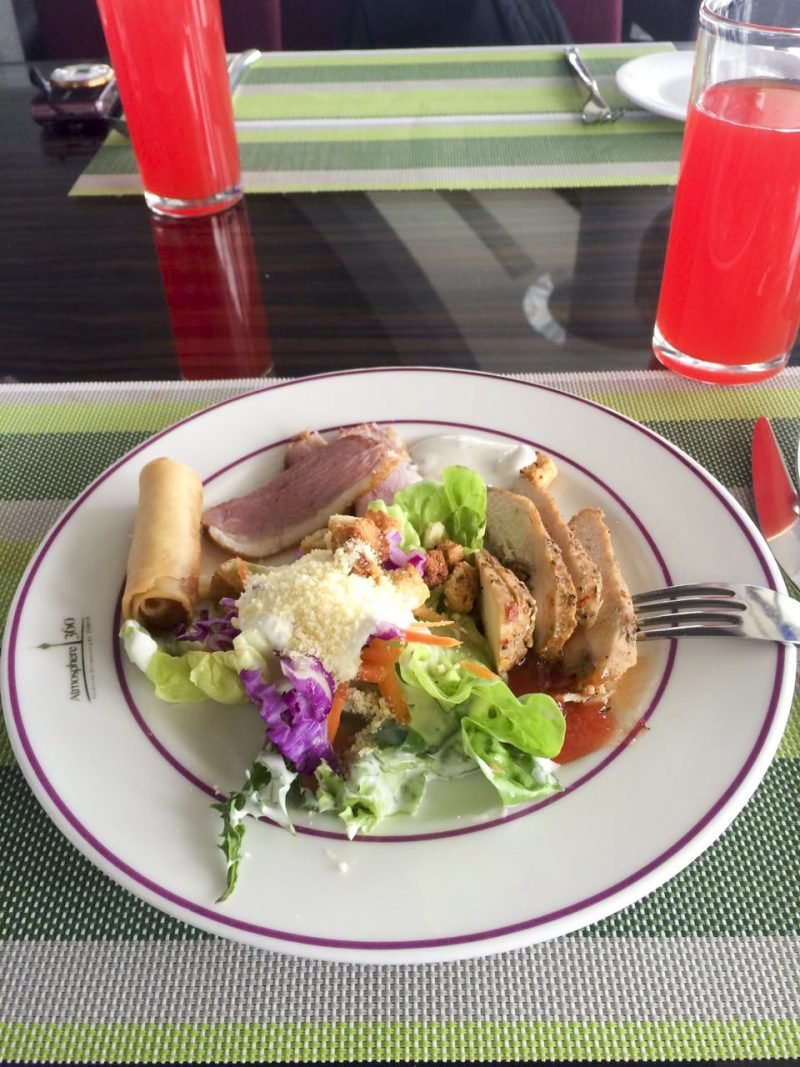 When our session was ended, they seemed to prepare for a break or something. You can hear their announcement through the PA system telling you how much time you have left. Finish with our buffet, we step out to the observation deck which is an amazing view. Take a look.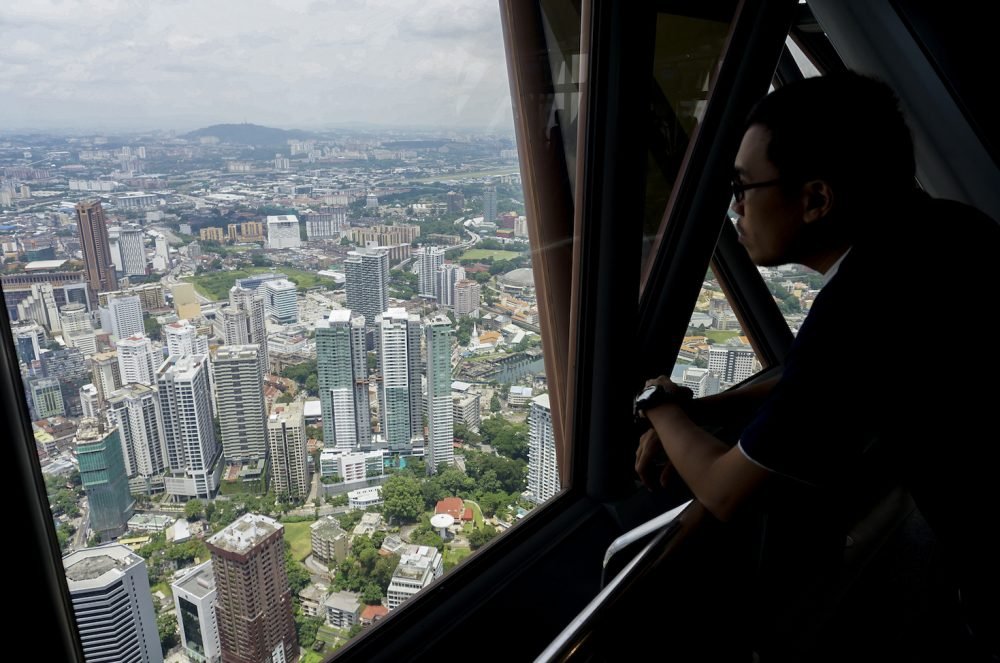 Observation Deck
You can see the view of the KL city through a binocular. They also had this souvenir shop if you want to get something to carry home. They also had a wall information about the tallest towers in the world.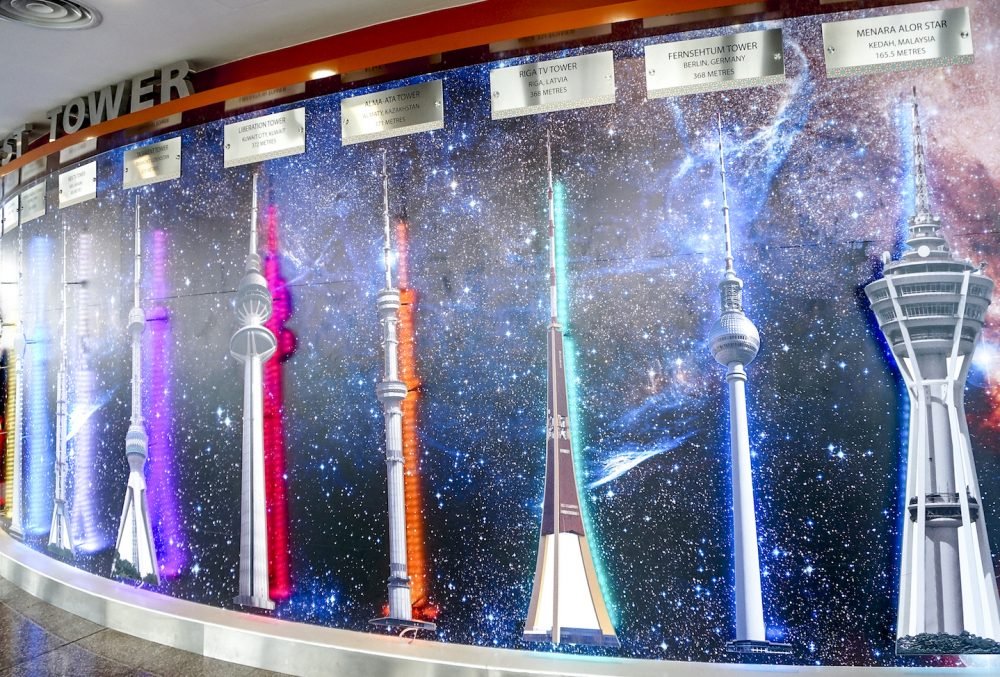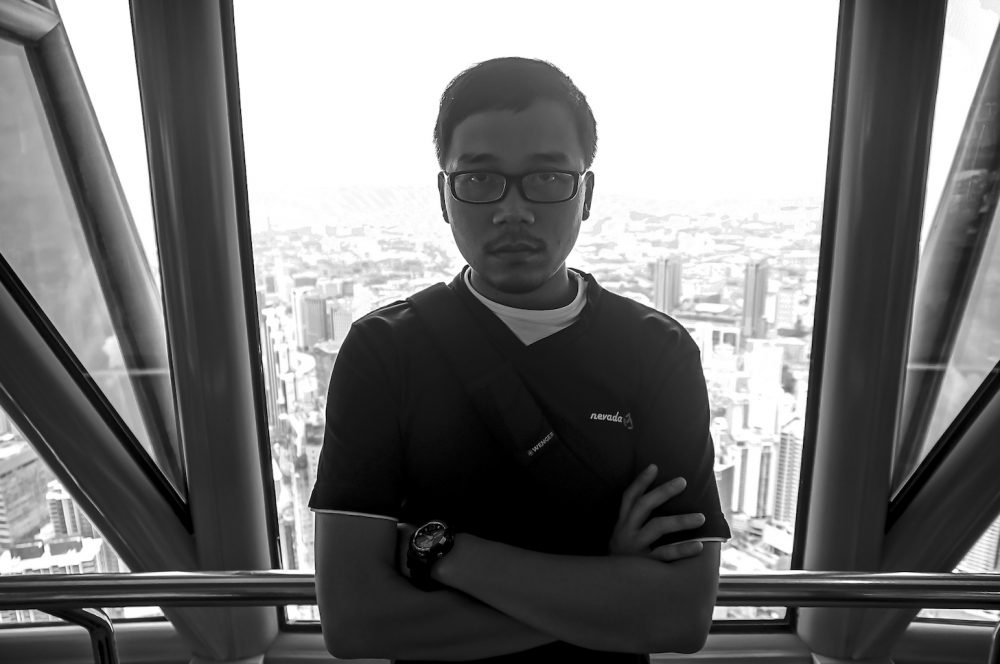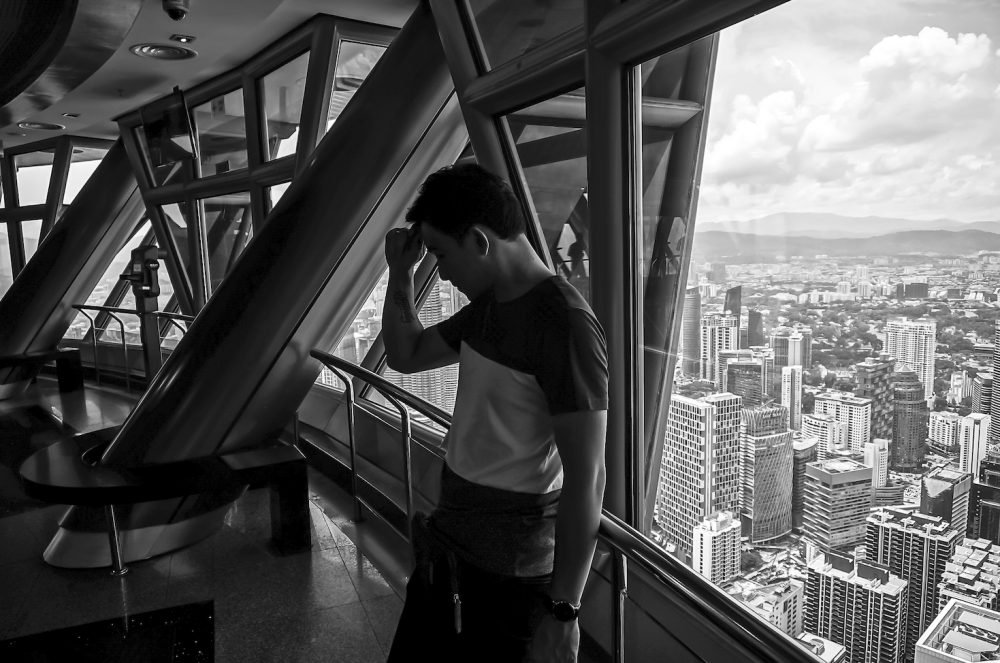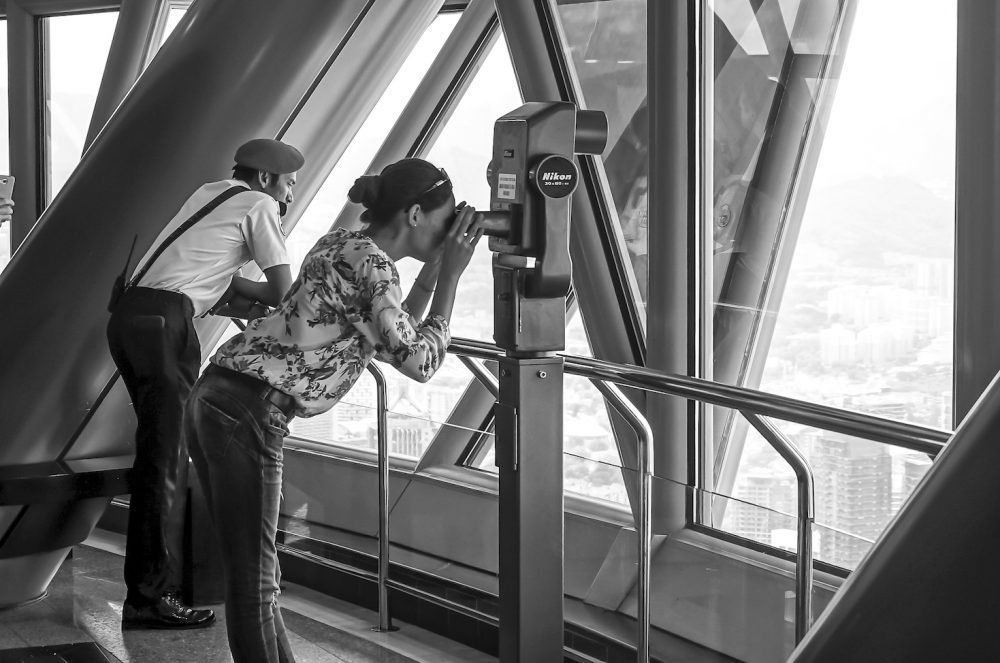 We spent 15 – 20 minutes on the observation deck before going to the blue coral aquarium. It's actually not much of a view at the blue coral aquarium, it's just a small place with some beautiful fishes. We only took 10 minutes looking at the aquariums.
This slideshow requires JavaScript.
Finish with the aquarium, then we book a taxi from the lobby to get us into the KLCC where we want to go to Aquaria KLCC. The taxi costs us RM 30. Why taxi? It's raining. We just want to go there in the most comfortable way.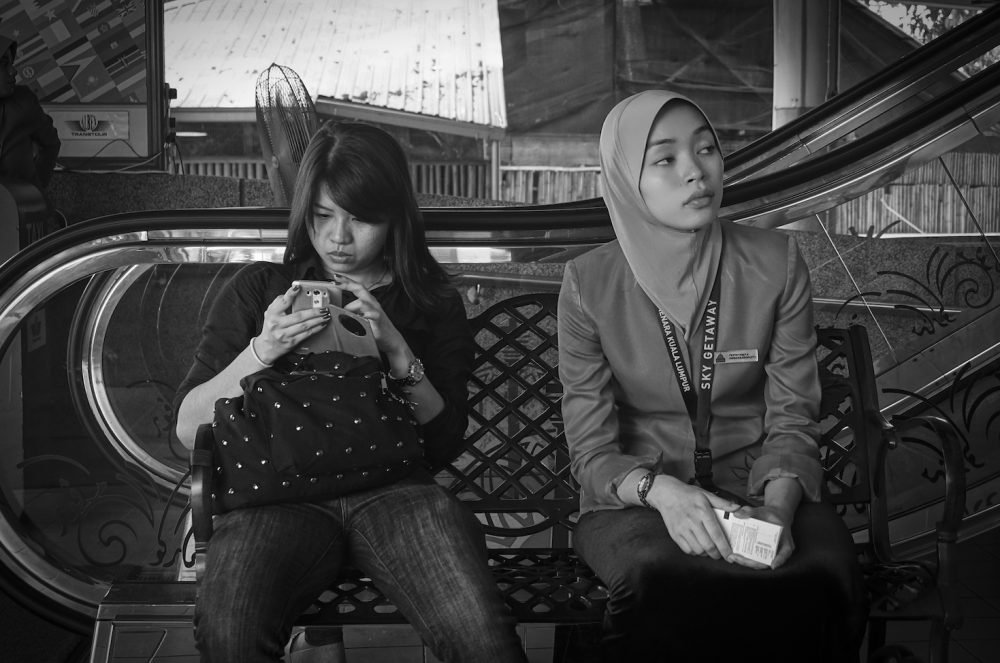 Aquaria KLCC
We arrived at KLCC for only 10 minutes drive. Straight to the Aquaria bought the ticket for RM 53 / person. I don't really have much to say about this place. If you ever been to Sentosa SEA Aquarium in Singapore, it's pretty much the same. It's big, it has a lot of marine life, walking under the water tunnel, and stuff.
This place suits children better. They also have some educational show of marine life for children depends on what hours. Check their official website for more info. Here are some photos I've taken. I bored as quick as I can in this place. I don't know what we're thinking.
This slideshow requires JavaScript.
As soon as we're exiting this place, we head back to our hotel feels like resting. We made a little stop here and there shopping before we finally walk back through Pavilion. It's raining hard and we stop here for a short break.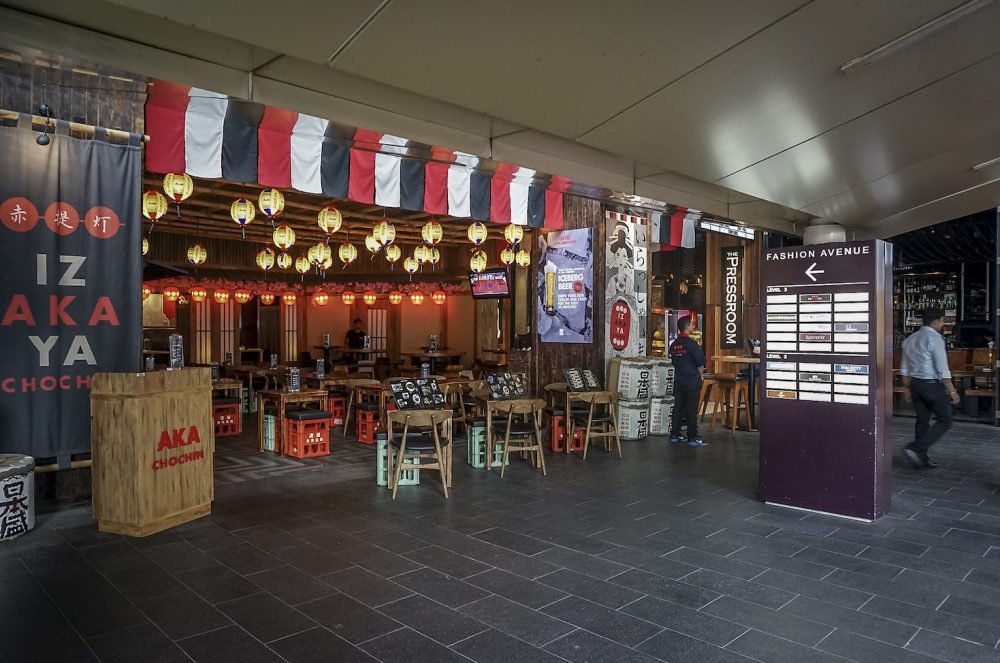 We tried the dessert from Hui Lau Shan, a dessert shop specialized in mango. Their food taste awesome, it is highly recommended. This brand is from Hong Kong by the way.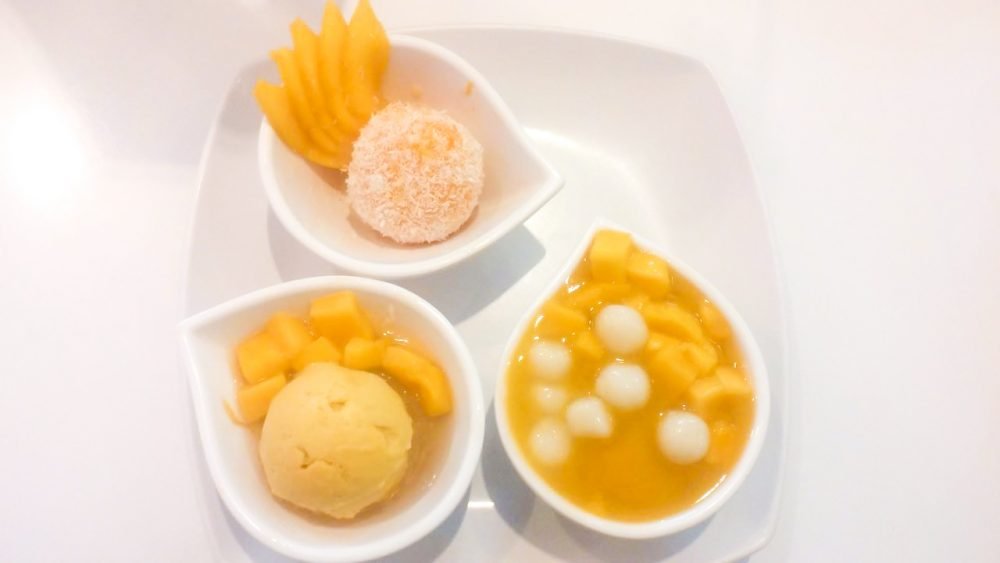 We spent RM 91.41 in total. Price range starts from RM 10. As soon as we heard the rain stops, we walk again. This time, checking places we're going through with our direction back to the hotel. We stop at Fahrenheit mall, sight-seeing around (not much to see here) and made our stop at KFC for another snack, spent RM 20.
Lot 10 Hutong Char Kwey Teow
We passed this place called Lot 10. The mall is not that big compared to Pavilion or KLCC, but it surely has a good place to eat, called the Hutong Food Court. Located on the lower ground floor of Lot 10 mall, it has a very good atmosphere, designed to look like an old Chinese village something, nice.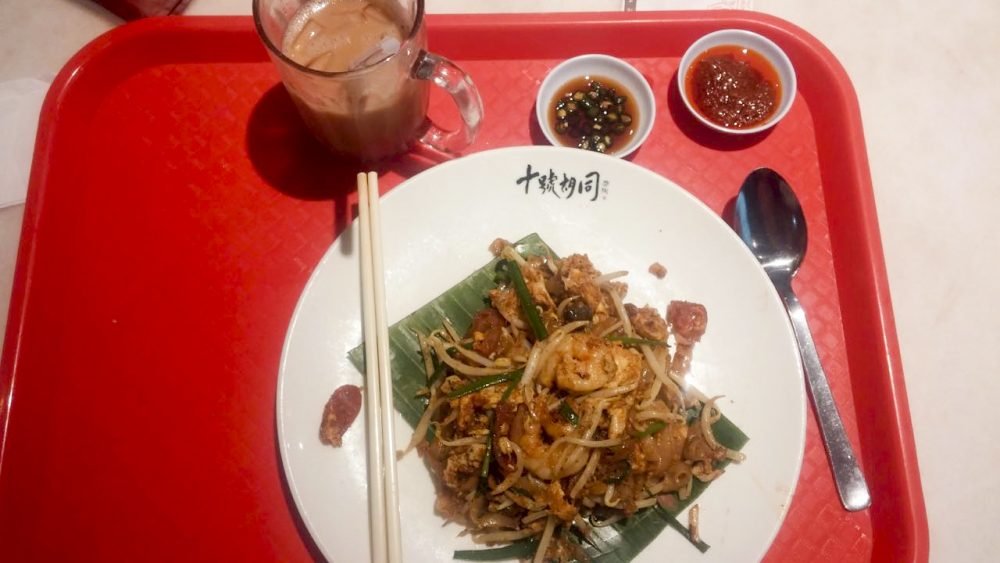 We had another food for total RM 87.70. They served mainly Chinese cuisine. Their taste? 1 to 10, I gave them 9. Price vary from RM 10 up to RM 30.
It's already 7 p.m. when we finally get back to our hotel and take some rest. We tried to sort things out for the packing before tomorrow morning we go to Johor Bahru.
We go back outside for some late dinner at 10 p.m. something. Where? Of course, Jalan Alor again, well it's close to our hotel anyway and you cannot enjoy Jalan Alor for only 1 night (I wrote it in our previous post before).
Jalan Alor… Again…
Along the way on Changkat Bukit Bintang to Jalan Alor, we find so many massages and reflexology on the streets. Price range from RM 30 up to RM 100+.
Almost every massage shop they have their employee to directly engage people on the street which made me a little bit uncomfortable walking through this area. It almost looks like a red district, well they said it used to be one. It's worse on the weekend because the crowds walking on streets are massive.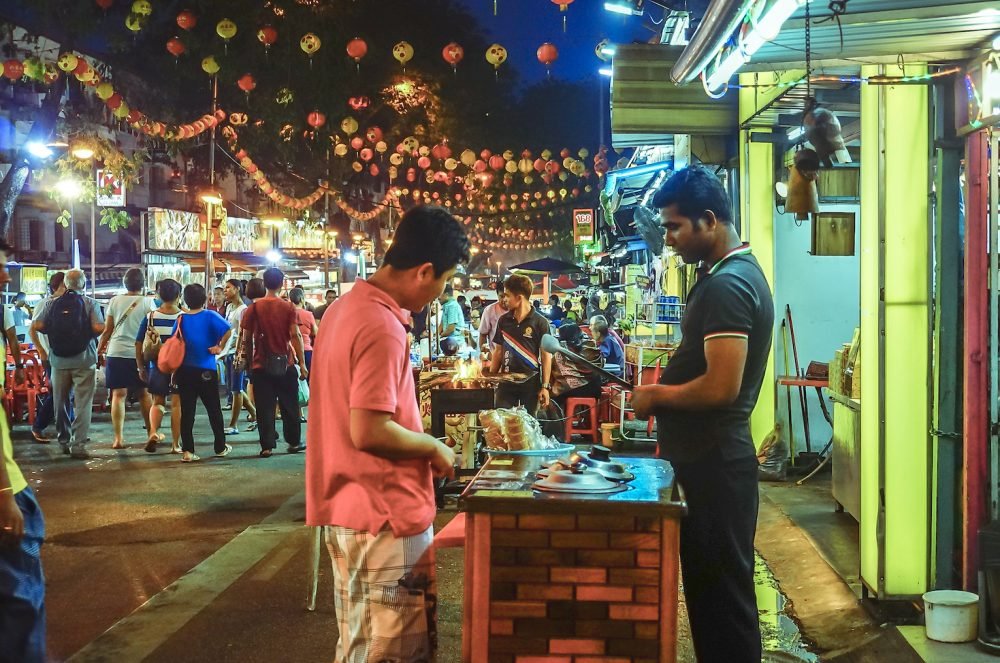 Tonight we go with different food than last night. We found a lot of Indonesian people here, speaking the same language in the Jakarta style. One group that I remembered, how they were so tacky to see another Indonesian in Malaysia.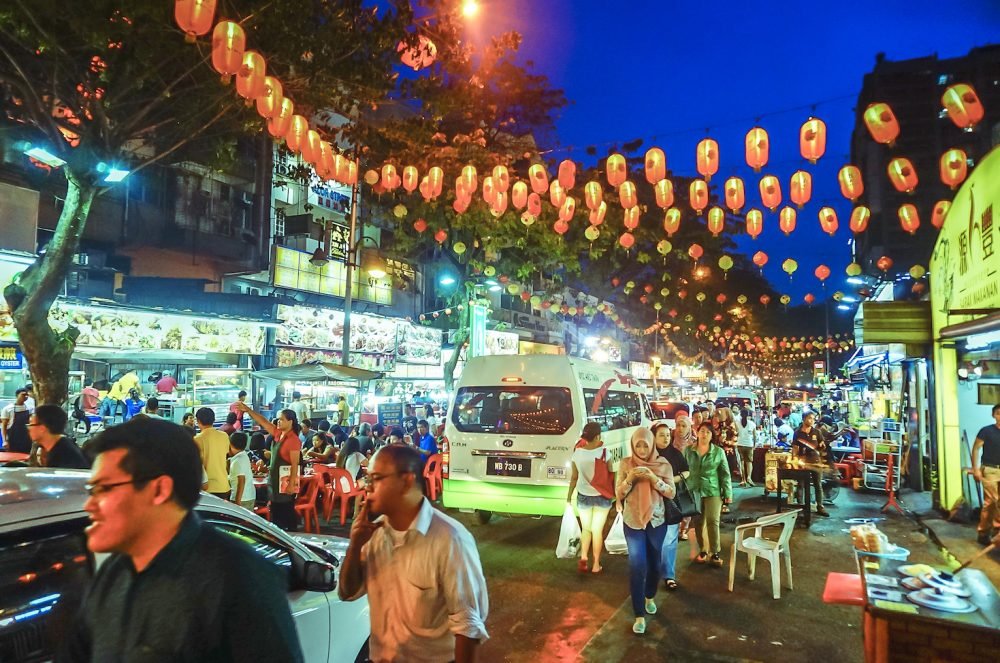 Tacky Tourists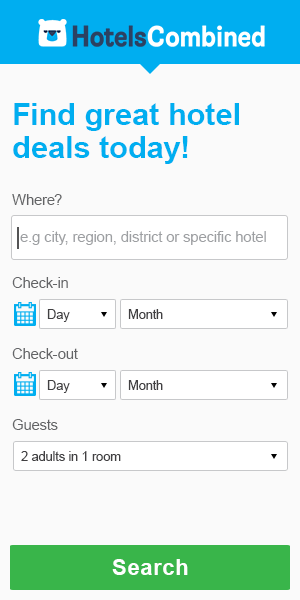 It's a neighbor, very close and short flight, cheap tickets, cheap places, and foods… I mean, it's not like somewhere special where you should be 'WOW' when you see people from your country (i.e. Antartica).
It's Indonesia and Malaysia, man! Like.. Everybody can go here. I hate this kind of people… Why is that? What they said makes me cringe.
They said :
"Yeh elah… Jauh – jauh ketemunya orang indo juga. Indo lagi indo lagi.."
If you're Indonesian, you must've known what kind of tone they used, more or less. In English, it would be like this,
"OMG.. We went this far just to meet another Indonesian people, again and again…".
And they said it in a cynical tone and cynical look. WTF? I'm only a few steps away from them, do they think I'm deaf or something? I think I want to reply like,
"Alah… Pergi cuma ke sini aja bangga, mbak… Berapa duit sih cuma ke sini mah.. Norak.. Ketauan ga pernah pergi ke luar negeri…". I will leave it in my language… =D
Please… If you're Indonesian and you're doing this, please…. Mind your attitude. So tacky, so stupid… It makes us Indonesian looks isolated and narrow-minded you know? So stop. You heard me, Indonesians. Everywhere you go, stay humble.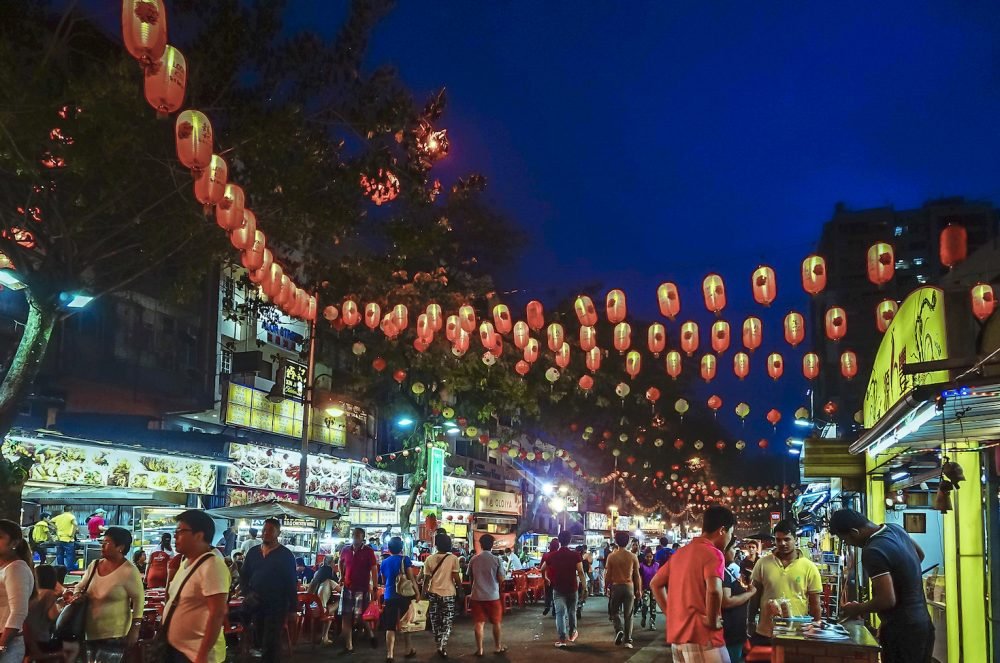 Costs Breakdown
On the weekend, the street was a little bit different. A lot of young people hang out on this street, and more people get drunk on Saturday night. I saw some men gets unconscious, some cannot walk, some even fell asleep on their chair. Like how many beers you had, bro? Anyway, this is the list of what we eat that night.
Roasted Chestnut = RM 10 (must try!)
Peanuts = RM 5
Dim Sum = RM 8 (RM 2 each)
Herbal Tea = RM 2
Fishcake (Otak – otak) = RM 5
Juhi (Fish snack roll) = RM 127.59 (for home)
Ice mata kucing = RM 4.50 (RM1.50 each)
BBQ satay = RM 21
We finished eating at almost midnight, but there's no sign that this place is going to close soon. We went another walk sight-seeing for the nightlife where a lot of expats hang around and drinking. Along the Changkat Bukit Bintang, bars and cafes are open up until 4 or 5 in the morning.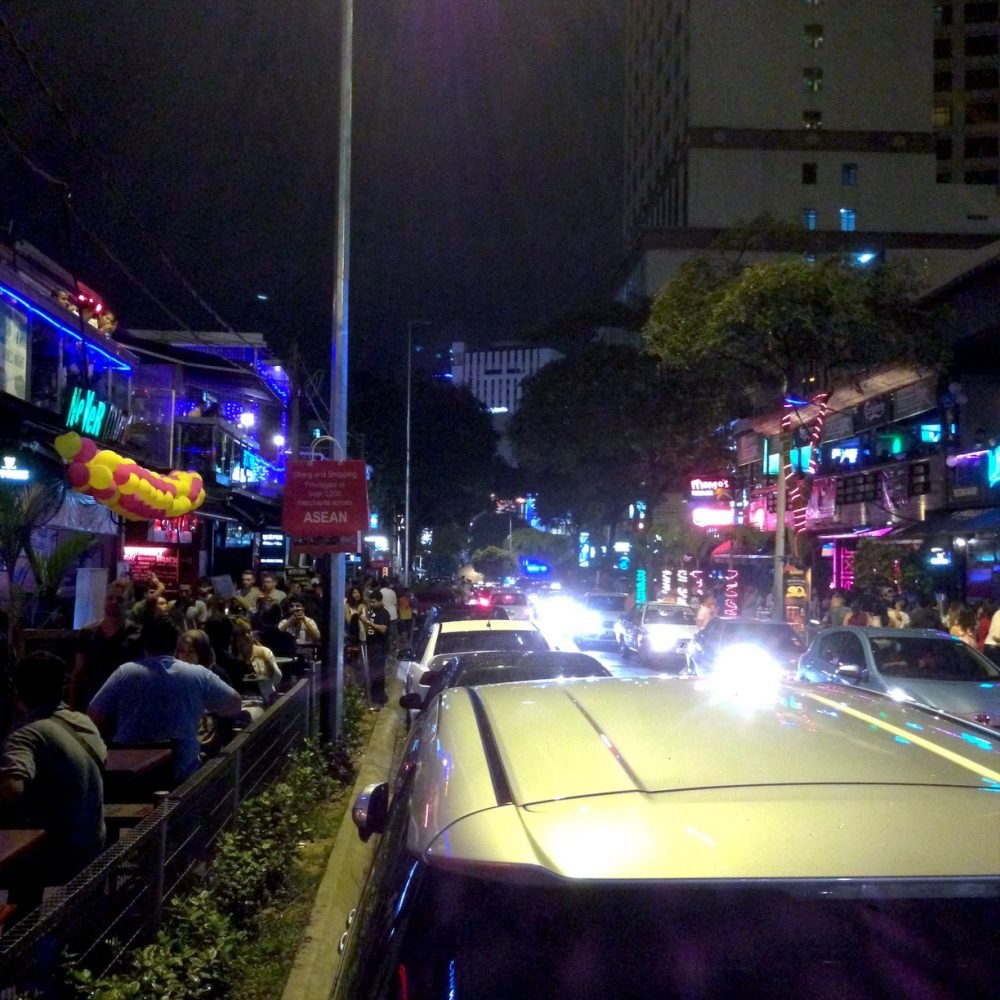 More Noodles
We had our last stop at a small noodle stall right across the street from our hotel with this old uncle and his daughter selling noodle. What makes us interested was how they have so many people eating there although it's not really looked like okay (too bad I didn't take any photo). We tried to order their noodle, and yeah they deserve it. Their noodle was very good and cheap for only RM 3 per bowl.
We bought some instant noodle for RM 16.85 for tomorrow breakfast at the convenience store across the street, it's the KK mart. I think this mart belongs to an Indian family.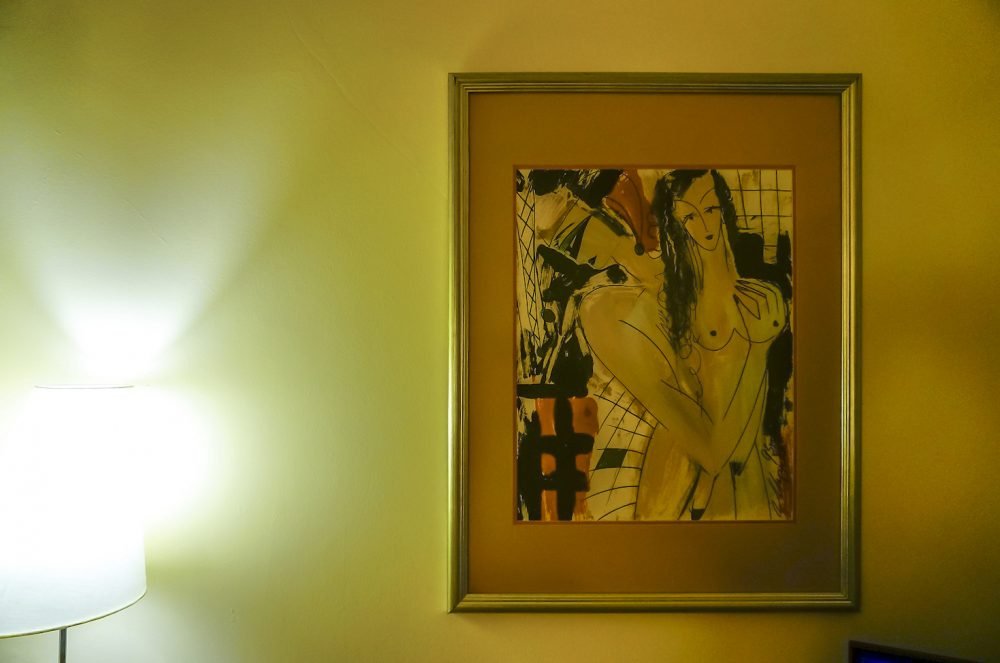 Call The Day Off With Happy Tummy
So that will be our last buy for the day. Wrap it up and then we're good to go to sleep. We packed our things neatly for tomorrow. Going to Legoland in Johor Bahru makes us excited. 2 of my friend are lego maniac, 1 of them lego enthusiast, so you can imagine their hype.
That's pretty much everything from our second day in KL. KL is nice, it's just us who didn't really make the most out of it. Should've done better next time.
What do you think about our trip to KL? How many things that did we miss out? Please let us know in the comment below. Don't forget to subscribe and share, thanks a lot! Until next post, bye…
---
HELP YOU HELP ME LINKS
It would be nice for me to help you with your bookings. Please use the links below to plan your next holiday, it will help me to keep sharing story like this.
---
Here's the map for my entire Malaysia trip itinerary in Genting and Kuala Lumpur :