On this post, I will try to share the trip from Mount Hermon to Mount Tabor where there's this Church of The Transfiguration. The one place that pilgrims always go. If you haven't read those previous posts about this Israel trip, maybe pay a visit to those posts will be better to understand, since it's a continuous journal.
It's only the second day I had my pilgrim trip in Israel, but already I am astounded with what this land offer as a view. From the hassle crossing the border through Jordan, sailing the Sea of Galilee on a worship boat, and experiencing the Mount Hermon. It was all felt surreal. I'd definitely go again someday.
Little Thailand in The Desert
After those amazing view from Mount Hermon, we went back down the mountain to have our lunch. This time, not the middle eastern food that I thought we will have. Apparently, Mr. Dani brought us to this Thai Village. Hearing the name from Mr. Dani makes me goes like,
Oo.. Really..? Thailand in the Middle East, huh?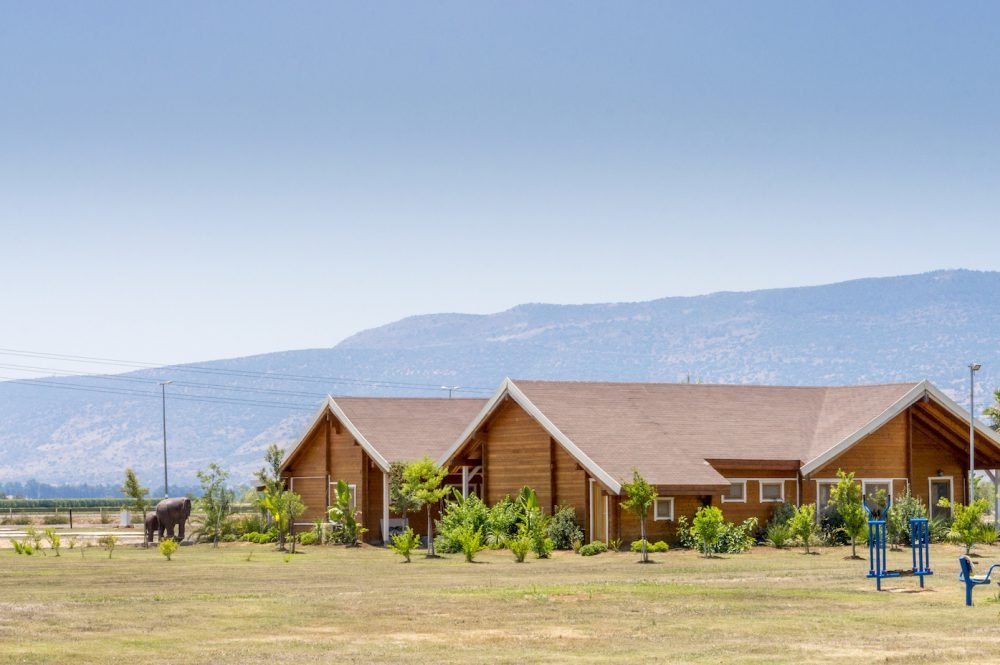 It took us 2 hours drive from Mount Hermon to this place. Thai village is located along Jordan river in Sde Nehemia (or Sde Nehemya, not sure which one). The area is surrounded by beautiful view in Thailand style. Turns out it was some kind of resort, I guess?
First Impression of Thai Village
It looks big and spacious from afar, I thought it's only a restaurant, but then I noticed some wooden houses placed like it's some vacation site. That's when I know it's a resort or hotel or kinda. They have 50 suites includes 2 room in each suite, bathroom with Jacuzzi, TV, fully equipped kitchenette, air conditioning, seating area and of course the beautiful pastoral landscape.
Outside the suite, there's a swimming pool, soccer field, volleyball court. Within this area, there are lots of attractions, such as jeep tours, bike tours, and again beautiful view. I bet the view is great at night, especially when the sky is so clear. Wonder how the stars look from this landscape. Their price is somewhere around ILS 700 up to ILS 1100 in high season.
It is really a family-friendly place, perfect for the family with children. Playground and nature in one environment, great feeling. Their automatic gate is kinda cool, it makes you feel like entering a very private property. Very neat and clean.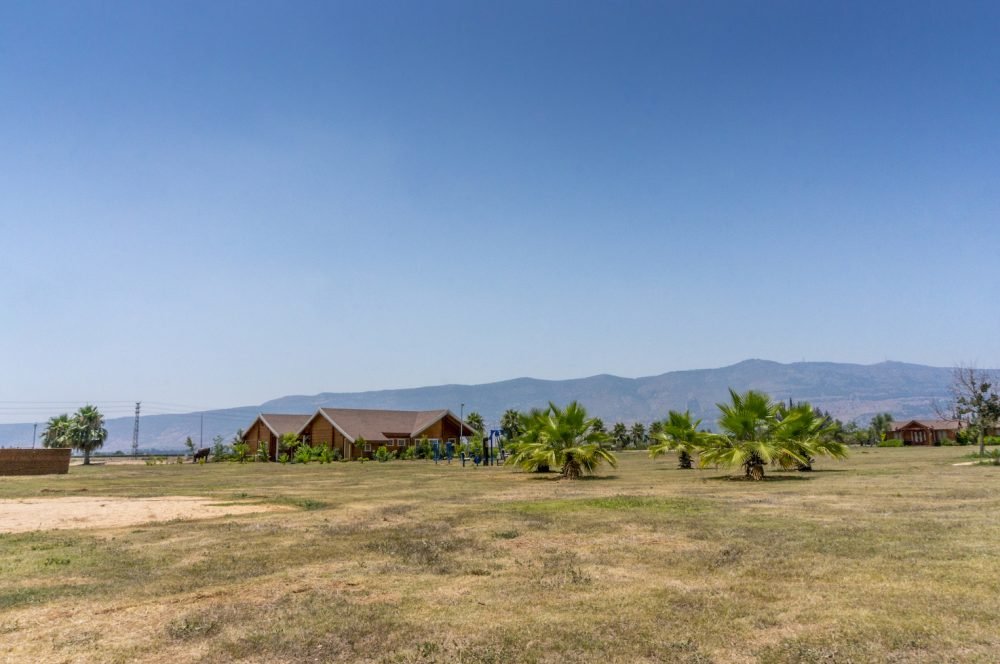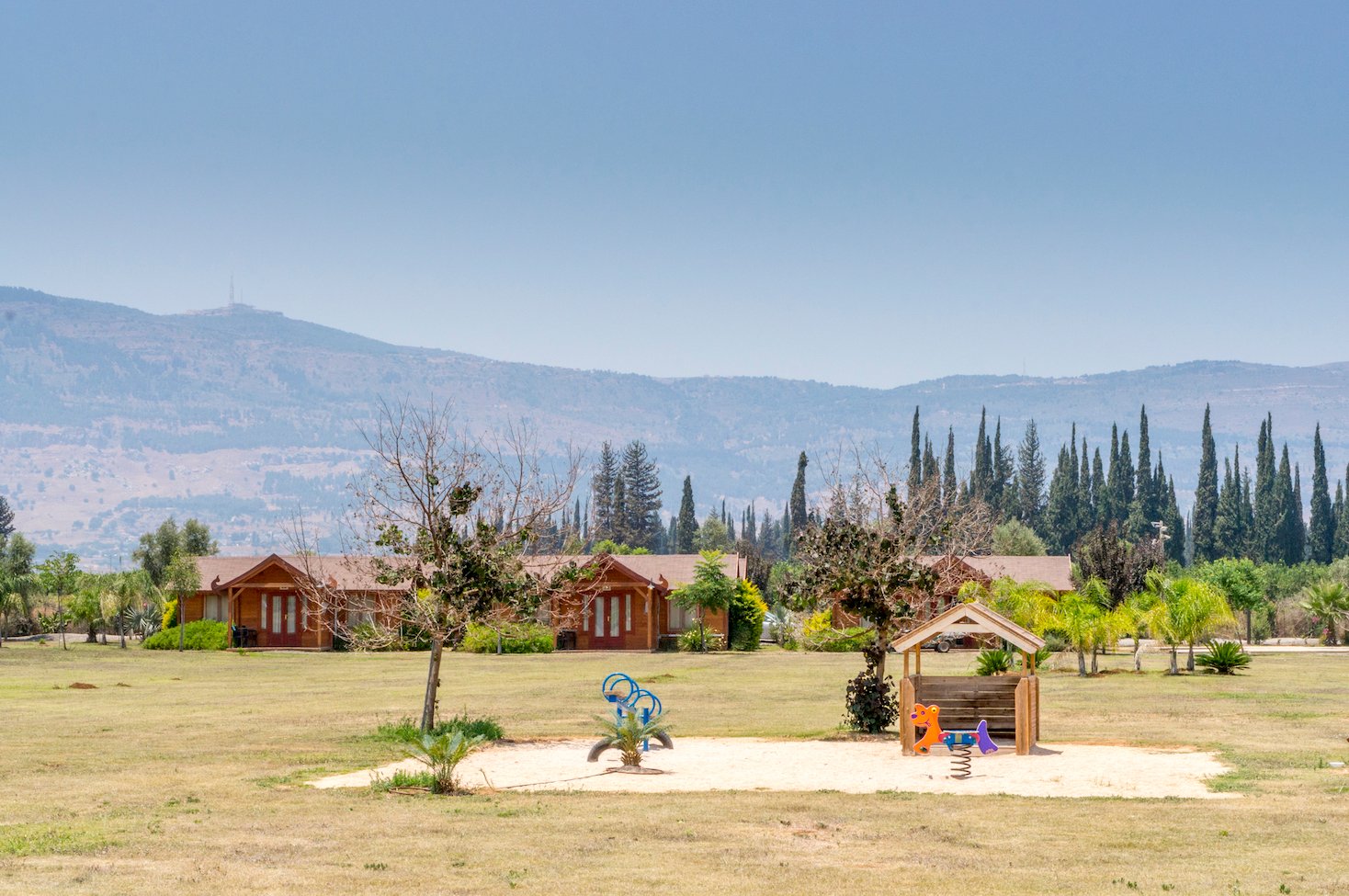 Buffet Lunch
One thing that stroke me from the very beginning was the peaceful feeling looking at these views. Surrounded by such a beautiful landscape, so wide. I would definitely stay here someday later. We had our buffet lunch for about an hour. You know the perks of having a buffet lunch with a group coming at once is that the queue.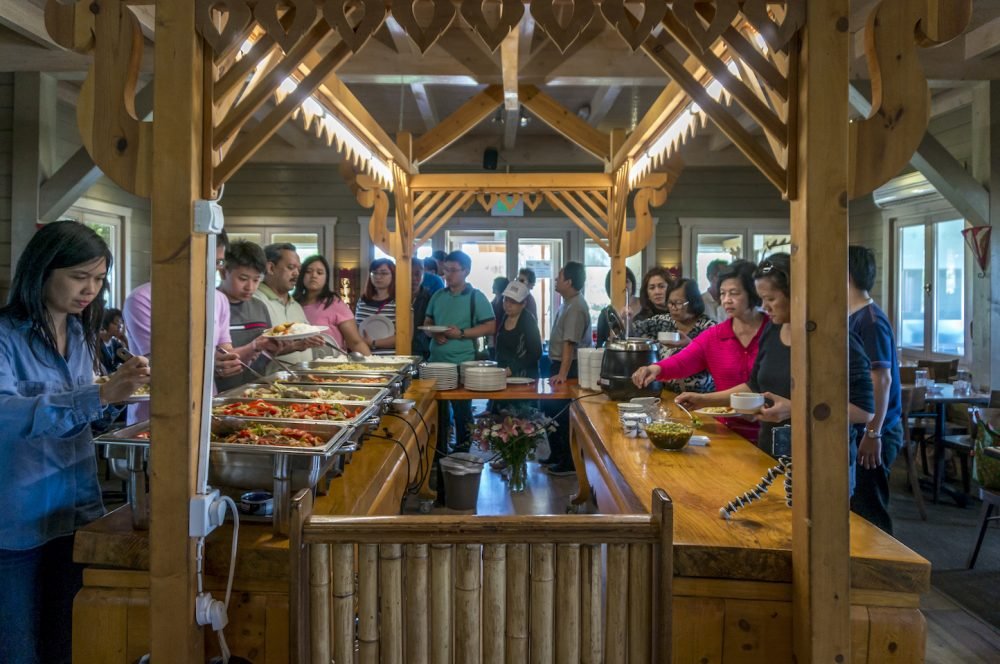 They only had this one center stall to serve the buffet. It's not that many options anyway, only 5 different main courses, 1 tom yum soup, and some dessert like coconut ice cream and pudding. How was it? Hmm…. I cannot say it's the best, but judging by the location, yeah ok…
Once you know the real Thai cooking, of course, you cannot compare this one. I even wonder how they define their tom yum soup. I'm a bit confused. I guess they had some adjustment to the sour taste Israeli can handle? That's considered as plain in my taste bud.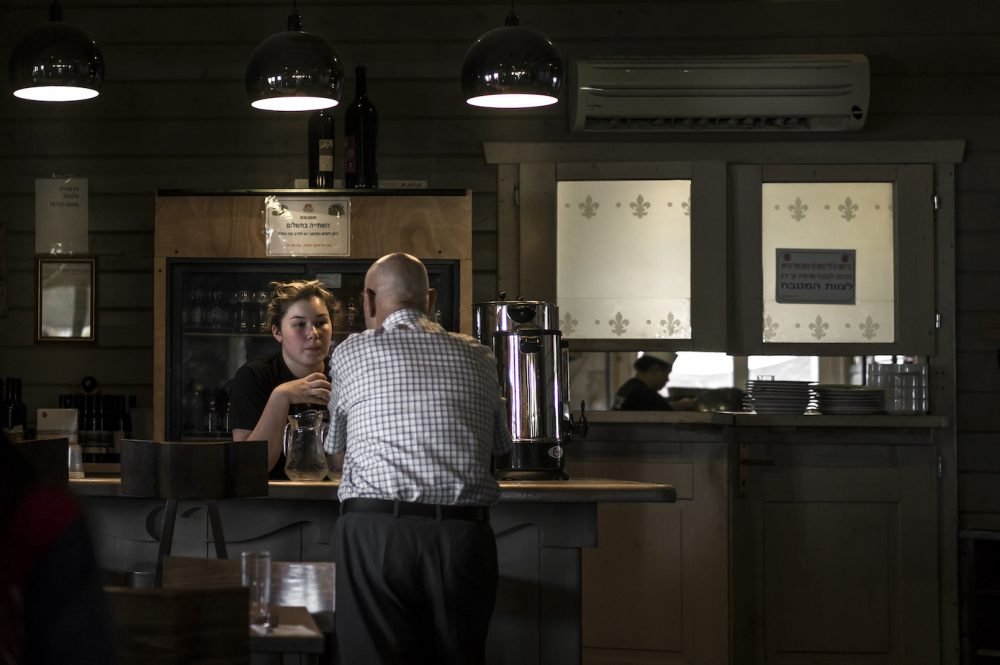 I'm trying to enjoy my buffet lunch, I'm starving anyway. So I just go for it. At least they serve the rice, something that I'm very familiar with as an Indonesian. The waitresses here are very friendly, they work fast and respond quickly to our needs.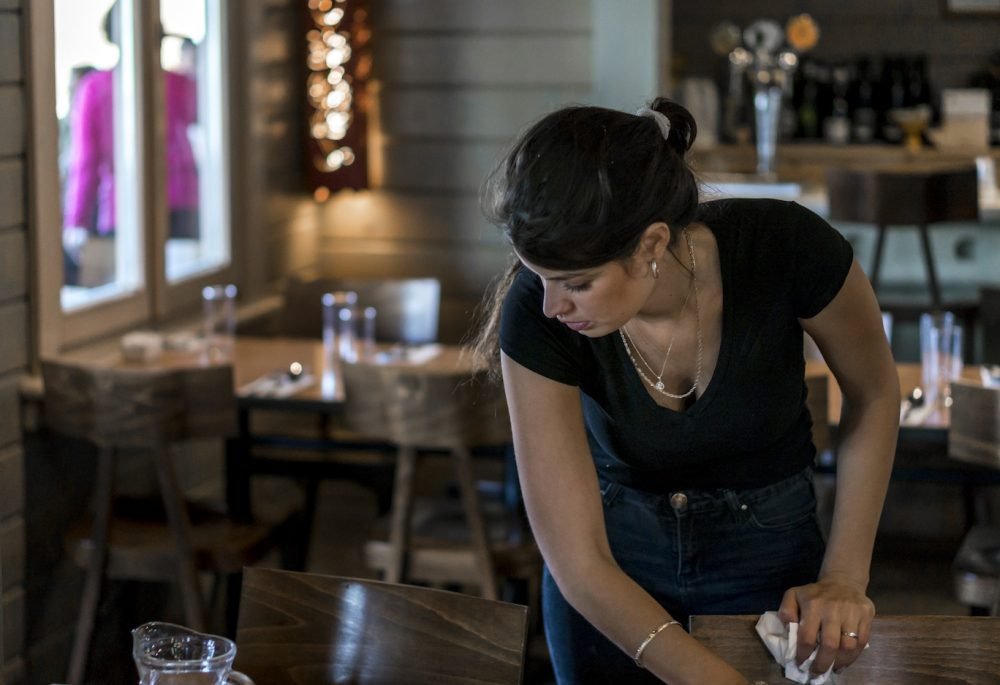 The Hungry Pilgrims
As people taking foods, the buffet is gone in minutes. They had to refill the tray once every few minutes. Wow, I never thought that my group was so hungry. Haha.. Looks like everyone having an extra portion for the next trip. I was sitting waiting for the queue from my group, I thought I will have the last queue to get the food.
I was sitting waiting for the queue from my group, I thought I will have the last queue to get the food, but then seems like another tour bus coming. And then loads of tourists walking in, suddenly it became a really long queue. Looks like this is a very popular place for lunch, lots of tour company brought their group here.
I recall there were at least 3 or 4 buses at the same time. The restaurant seems very crowded as it's not so big. We have to stick with the booking schedule because another group is coming. 1 hour for 1 group.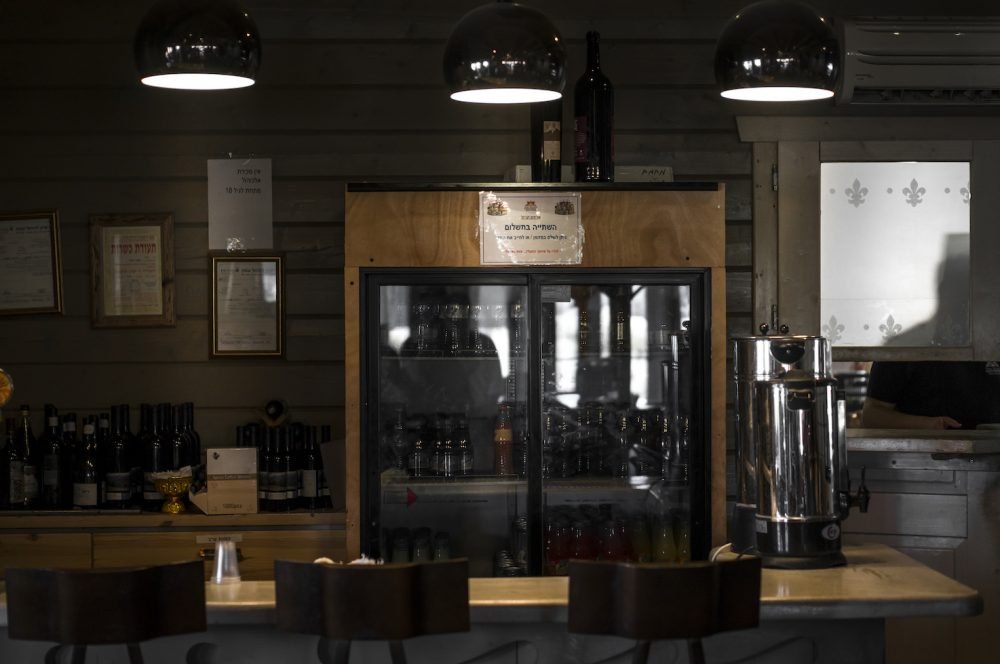 Some Tips
There are two things that I would suggest you to pay attention to. First, the dessert. Be the first person to have it, or grab it as quickly as you can once it came out from the kitchen or you'll be sorry.
With my group and those groups of people, every pair of eyes will be towards the dessert place before it shifted to the kitchen door. You know what I mean, once the tray is out from the kitchen with only 5 or 6 ice cream or as many as the waiter can carry, whoosh… It's gone.
It's like these people never had dessert in their life. I feel sorry for the waiter, he had a hard time serving them. Haha…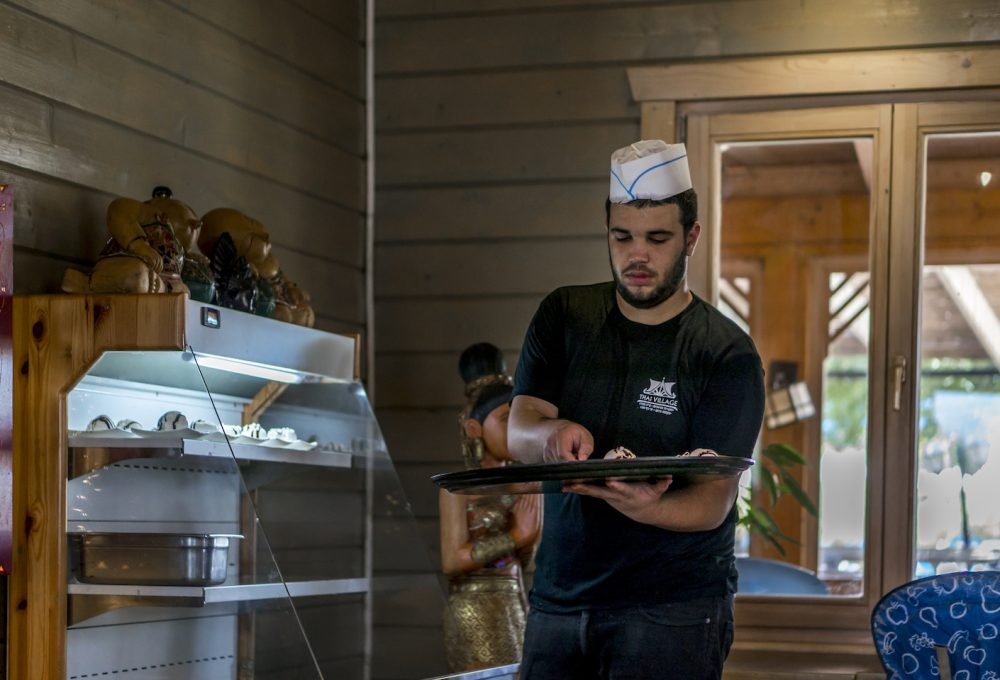 Considering the heat of Israel summer, that ice cream is heaven. I tried the dessert a bit and yeah it's very good. Cold, sweet, refreshing, the coconut ice cream is great. In this weather, it's definitely the match.
The second thing, the toilet. Well, I think you can predict what's happening. I don't have to share it, do I? If you can go earlier, go earlier. That's all I'm saying. Before everybody finished with their lunch. Or else, wait…………………………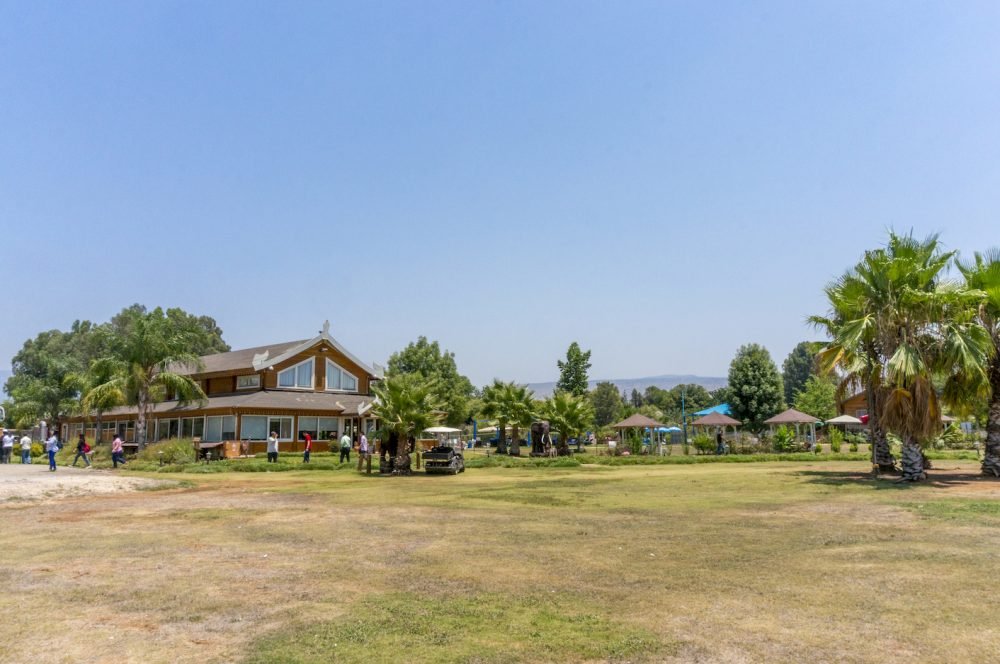 Our one hour is up, Mr. Dani had us back on the bus to continue our next destination, the Church of Transfiguration at Mount Tabor. Here's a super wide panorama shot of the landscape at Thai Village.

Next Destination Mount Tabor
Leaving with a full belly and good mood, of course, everybody was sleeping inside the bus while we're on the way to Mount Tabor.  The trip took about 1,5 hours. Let's just say everybody had a good nap including myself.
The next thing I know, I woke up to this shuttle station where we were waiting for a shuttle car (mini van) to carry us up there to the Church. They said the road is narrow that it won't fit our bus. So we had to change to shuttle cars.
It took about 15 to 20 minutes from the shuttle station to the Church. The road is pretty narrow, barely fit two cars passing. Along the road going up, you can see a beautiful valley, Jezreel Valley. It's a very beautiful view, with all the agriculture layout seen from this distance. Too bad, I cannot take any picture because I and mountain roads are not really a good friend. Carsick I am.
First Impression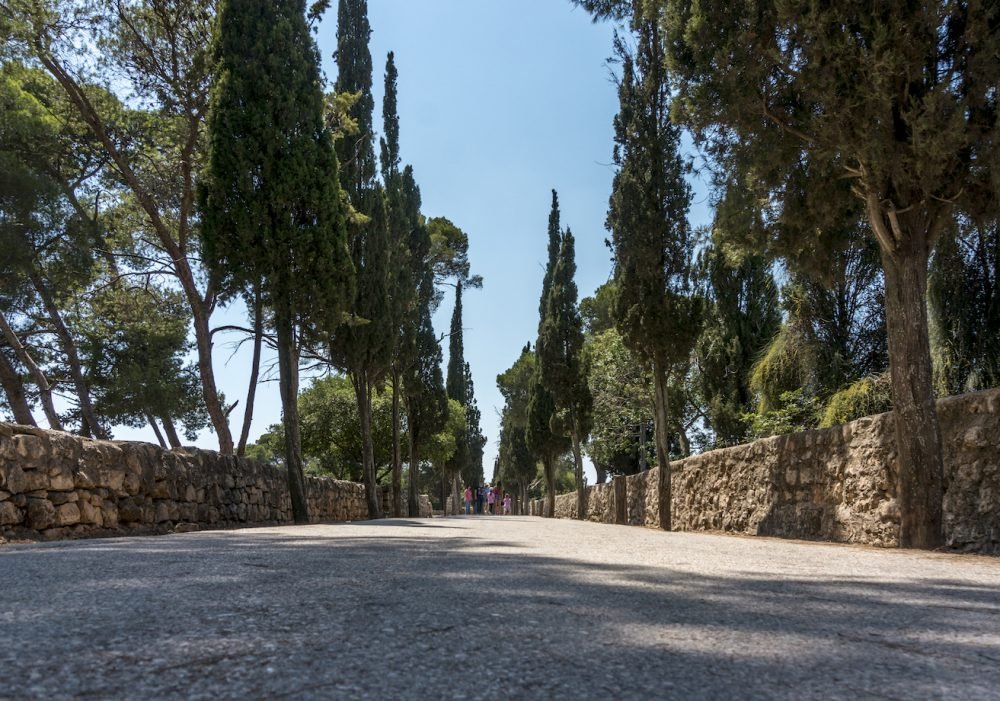 I managed to pull myself together, take a deep breath, it's time to see what this Church of Transfiguration looks like. The entrance from the parking area is nice, they had this tree along the way, very neat. It gives you a certain vibe before entering the church area.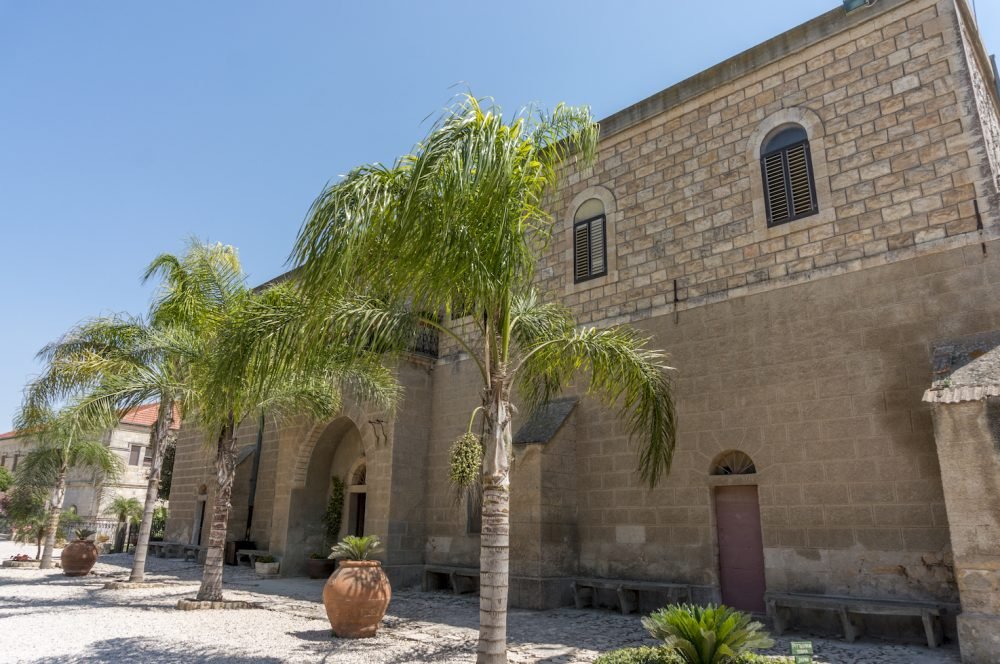 Walking towards the Church makes me feels like going through some sort of beautiful garden from ancient time. How the buildings look like, how they organized the plants, pot, flowers, even the palm trees. I personally love it.
You can see a row of trees with big branches and so many leafs that you can use to hide from the sun and walk towards the Church. Believe me, you better walk there, considering the heat, though.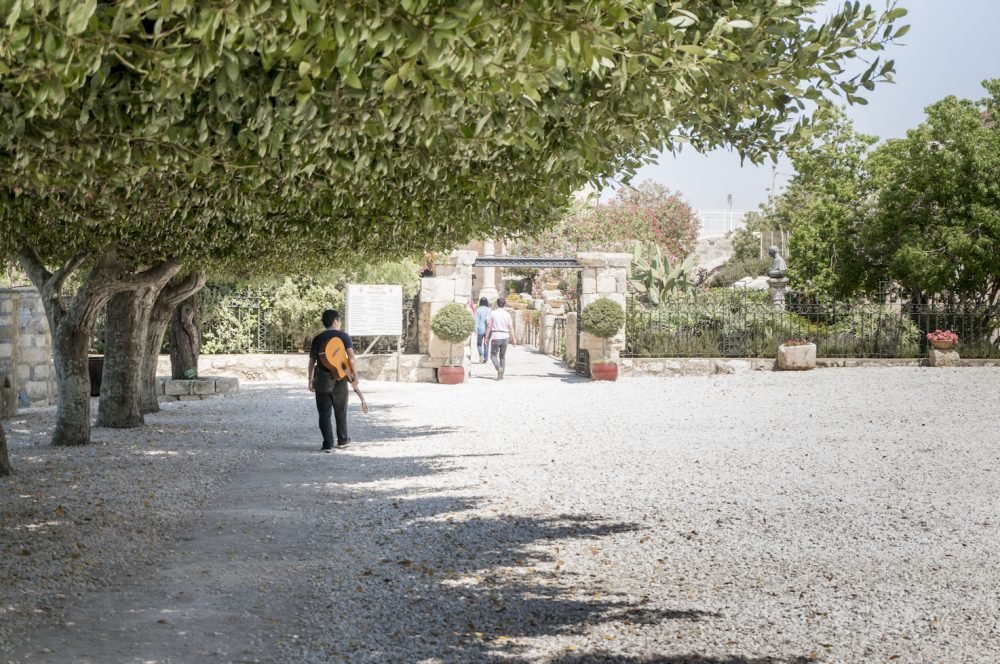 A Short Intro for The Church of Transfiguration
As usual, as we passed that gate and we can see the big Church building, Mr. Dani called us to gather at the left side of the church, there we found a small place enough for our group to had a little briefing.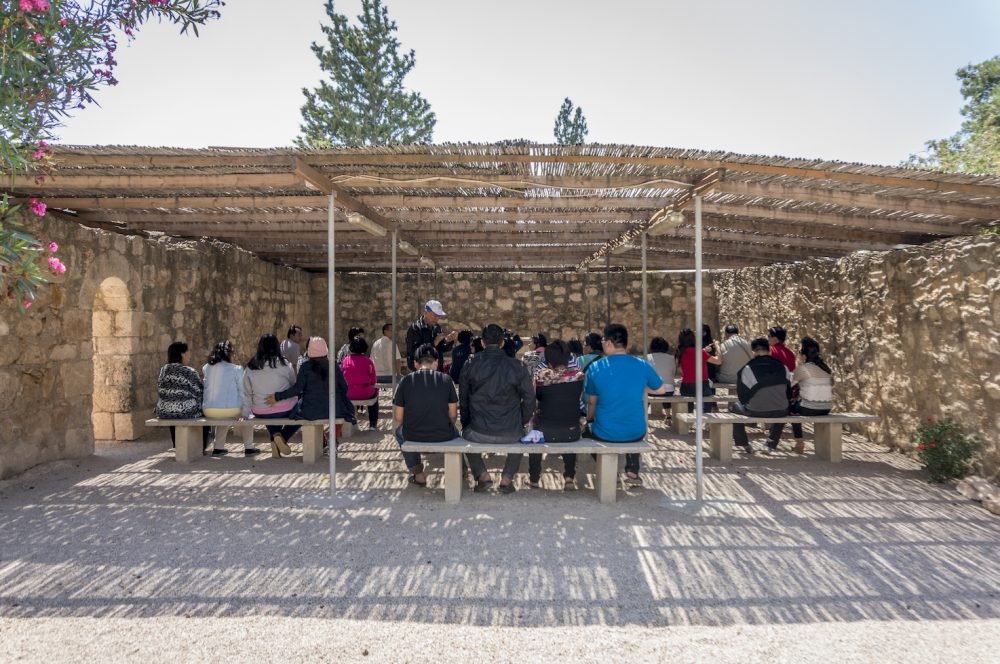 Trying to make it short, Mount Tabor (Hebrew: Har Tavor) is a hill rising 500m above the Jezreel Valley in the region of Galilee. It used to be an important fortress many times since ancient times. Judging by the view available, yes it is a very strategic place. You can have a very wide angle view from here.
This place has a very long story from the 3rd century BC. From Jewish, Roman, Armenian, Greek, even Crusaders, I've only remembered a bit of the story. It really was a long story. I think the briefing took almost 20 minutes. I can see how Mr. Dani tried to compress that many information into a brief non-boring history lesson.
Transfiguration?
In connection to Jesus story, this is the place where Christians believed that the Transfiguration of Christ happened. Thus, it's called the Church of Transfiguration. Although several mountains have been identified as the place where the transfiguration happened (i.e. Mount Hermon).
In 348, Bishop Cyril of Jerusalem wrote that he preferred Mt. Tabor to Mt. Hermon as the site of the Transfiguration, because it's closer to the center activity of Jesus.
As a result, by the end of the 4th century, there was a church on the site. By 570, three Byzantine churches are recorded as standing on Mt. Tabor, or perhaps one large church with chapels dedicated to Christ, Moses, and Elijah.
If you don't have any idea what is it Transfiguration of Jesus that we're talking about, click that bold link. Or to make it simple, it's when Jesus met Moses and Elijah on a mountain and He became radiant and called "Son" by God. (Matthew 17:1–9, Mark 9:2–8, Luke 9:28–36)
A Simple Beautiful Church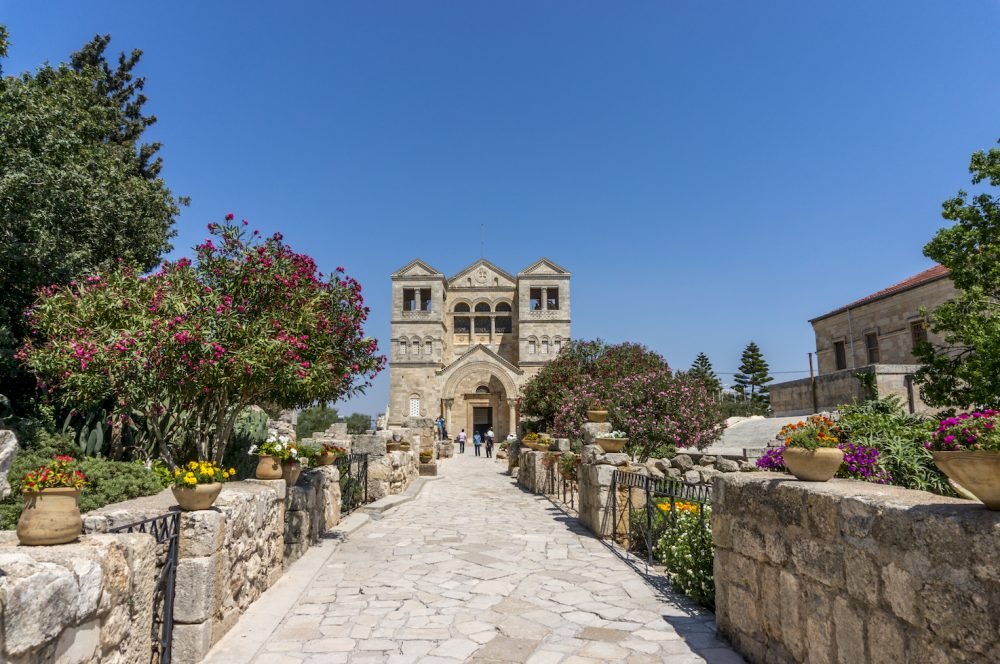 In 1924, the present church, which stands over the 12th-century church, was completed by the Franciscans, so technically now it's a Franciscan church. It's a ruin before, due to many 'attack' events happened back then until they found it.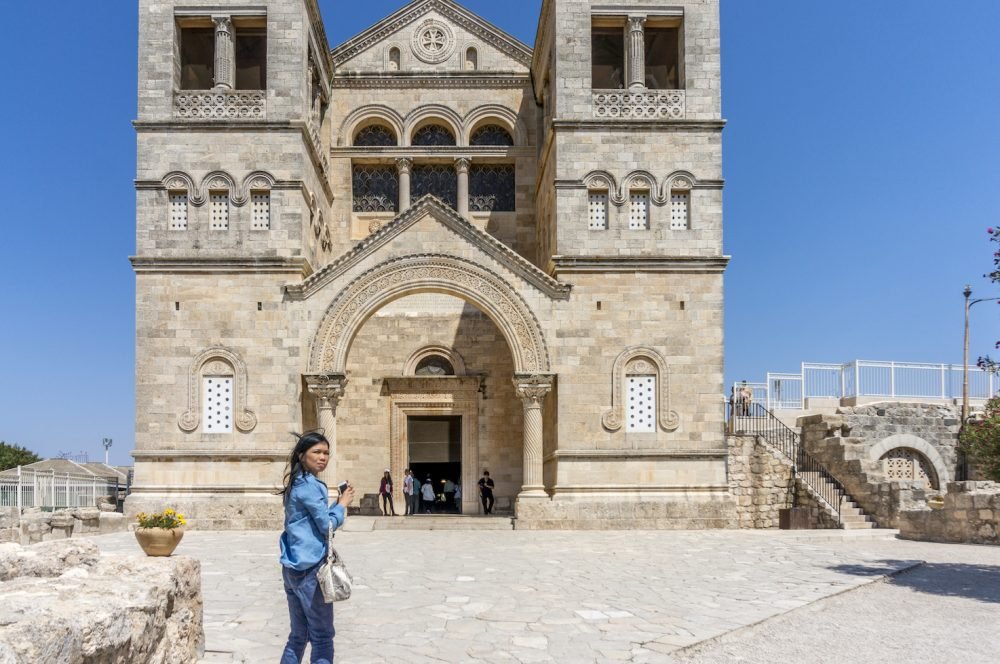 There were quite a lot of pilgrims and tourists that time. Inside the church, we had the permission to have a group prayer session. At first, I'm not sure if they really allow us to pray with guitar, I'm pretty much sure it distracting whoever comes inside the church. We're praying pretty loud, it's kinda awkward because before us it's really silent inside.
Finding Favour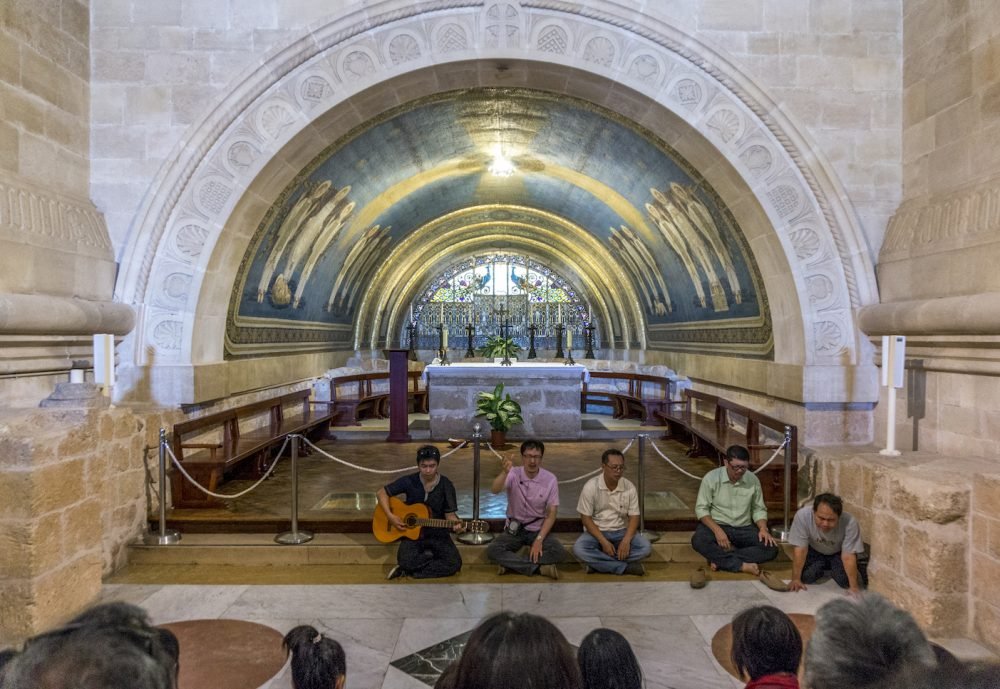 The nun allowed us to sit on the stair that goes to the lower middle part in the center of the church where there's an altar. Before it was closed with a queue line ropes, so kinda feel special to be able to access this spot, though. Thanks to the nun.
It really felt surreal praying and singing together in this church, awesome atmosphere. Our voices together singing songs such as "Hallelujah…" bouncing beautifully, thanks to the catholic architecture design of the old church building. I believe we attracted many tourists because I can see lots of people behind us sing along together with us.
Honestly, I don't know if some people who are praying before found us really annoying and inconsiderate for others. I bet there're some people think that way. We had that session for 20 minutes something ending with every one of us put our offerings in a basket placed on the altar in the picture.
It looks like we were way past our schedule by that afternoon. We should've left like half an hour ago. Mr. Dani told us to quickly get back to the bus because we still had one more place to go before they close for that day.
The Beautiful Valley of Jezreel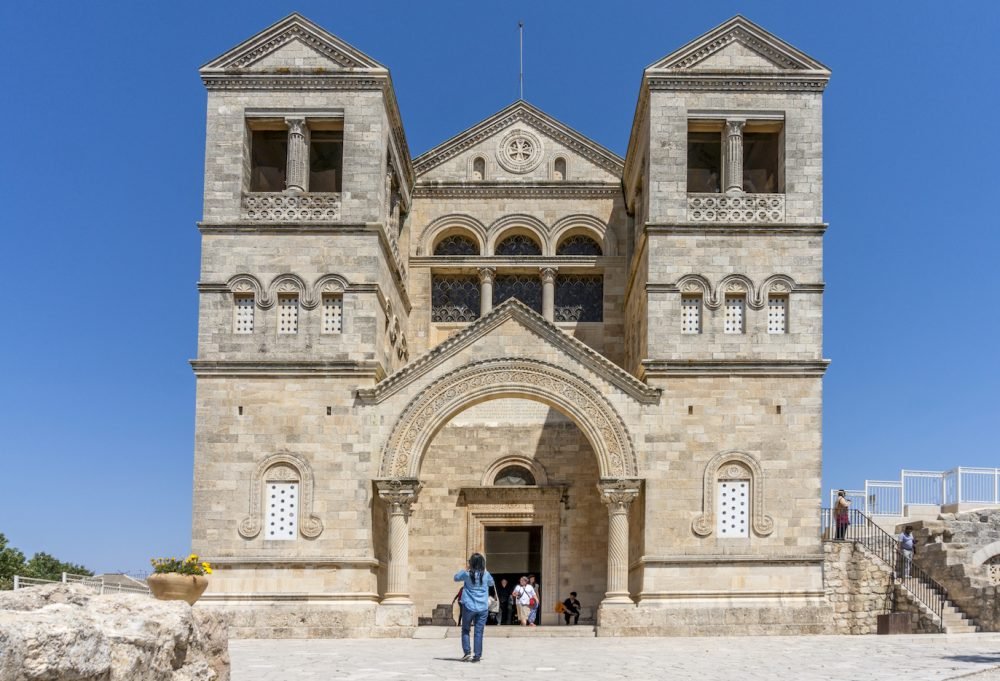 As we walked out from the church door, I took a little time to check out what is it at the right side of the church building. If you can see from the picture below, there's an access stair where people going up and down. Makes me curious, so I took a quick look.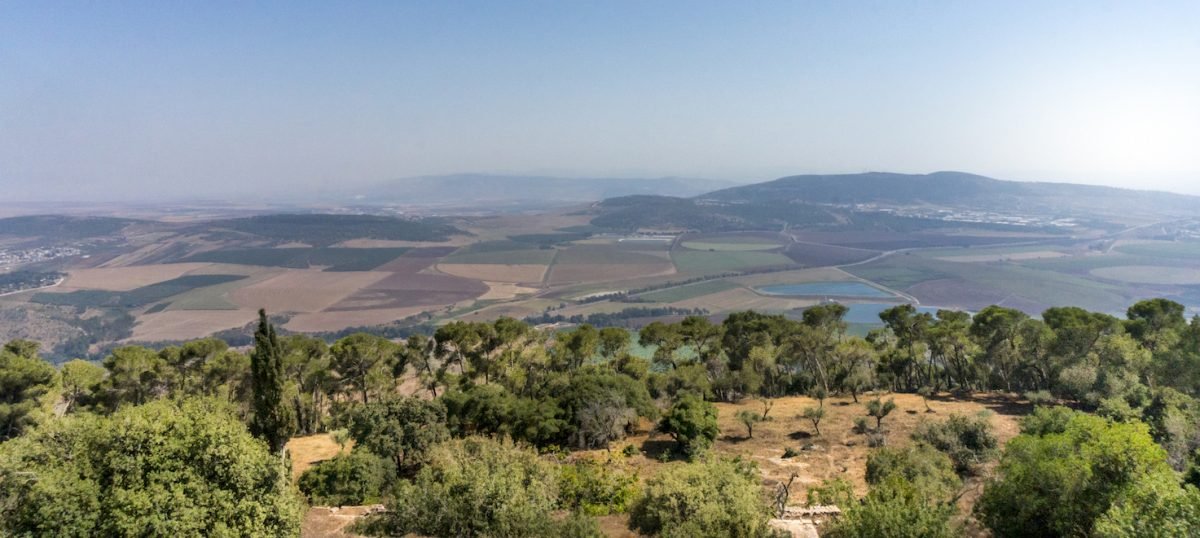 My first response was, "O, my God.."
Look at that…That was one super beautiful valley. I shot this with 16mm lens APS-C sensor, imagine if I shot with let's say 12 mm. As far as the eyes can see, that's what I can use to describe this. If only I could have a moment and take my time to think of the best shot.
I wish our briefing was 5 minutes faster. Or our prayer session a couple minutes shorter. Complain and complain, right? But you gotta do what you gotta do with what you have, even if it is just a very little time. I took one shot and one shot only because I have to take a turn with some people who occupied the best spot by the rail fences selfishly without considering many people wants to take a photo too. Sigh… Tourists…
Megiddo a.k.a. Armageddon
They said on a clear day, I will be able to see Megiddo. This southwestern part of the Jezreel valley also known as the Valley of Megiddo, where according to the history some greatest battle ever happened in Israel.
It makes my mind wandering around, curious by what really happened back then. This Megiddo Valley is what also known as Armageddon. According to the book of Revelation, this is the prophesied location of a gathering of armies for a battle during the end of times. Well, it's creepy enough for me.
I ran to catch up with them and we're going back to the shuttle station where Mr. Abraham is waiting. Next destination will be Cana, where usually pilgrims took their wedding vow renewed in the Church in Cana.
---
---
In Conclusion
I feel like today from Mount Hermon, Thai Village, and Mount Tabor we're really in a rush. It's a very short time to enjoy each and every place. I guess that's the perk of going with a tight schedule. I will enjoy one place at a time better if I can have more time. It almost feels like a race, y'know…
But everything went ok. I feel really really inspired by these great places, stunning wonderful views, and excited to what's coming next. I hope you enjoy this post. If you do, please support us by subscribing and share this with your family and friends. It's great to know that somebody somewhere read our blog. Your support keeps this blog running. Until next post then… Bye!
Here's a map for my itinerary that day :
---
Here are some of my affiliate links. These links help you to get the best deal while making your traveling easier as well as helping me get a small commission at no cost to you. It helps me to keep traveling places while pursuing my dream.