If there's one thing that Indonesia blessed so much with, it will be this beautiful island with amazing cultural life and beaches, Bali. I know there's a lot of things happened back then in Bali, where a lot of people lost their families, business, peace, and life due to the terror attack in 2002 and 2005. Many hearts shattered to hear that news, Bali as one of the well-known islands for its peaceful tourism destination, targeted with such terror.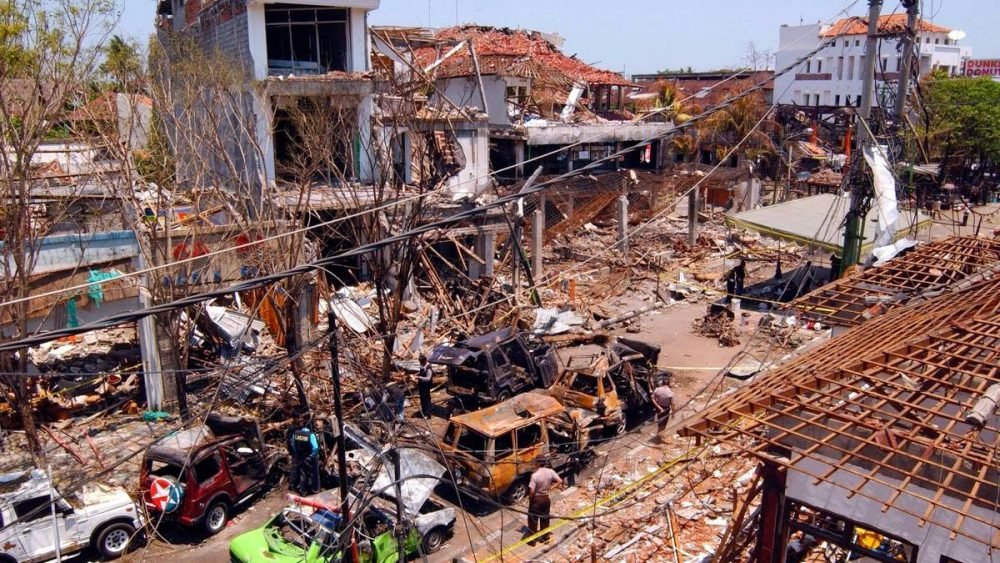 Bali now has recovered more than ever to it's best. It's always in the heart of Indonesian, and charming as always to foreign tourists. This island has become a favorite destination since 1980's.
No wonder, if you've been here, those beaches are definitely world class. Not only beautiful beaches, but also the cultural things that attract tourist into this place.
As Hindu become Balinese main religion in the island, it creates such a rich cultural inheritance. It is renowned for its highly developed arts, including traditional and modern dance, sculpture, painting, leather, metalworking, and music.
Ever since their tourism went up, it's now a major business here, almost 80% of its economy related to tourism industry. And now, Bali is one of the wealthiest regions in Indonesia.
Okay, that's enough short intro for Bali. You can read more information online,. So yeah, I was here with my friends December 2014 (yes, it's quite late, but I just want to share… Sorry, so busy..). Been a long time since I visit Bali when I'm still in junior high, that was years ago.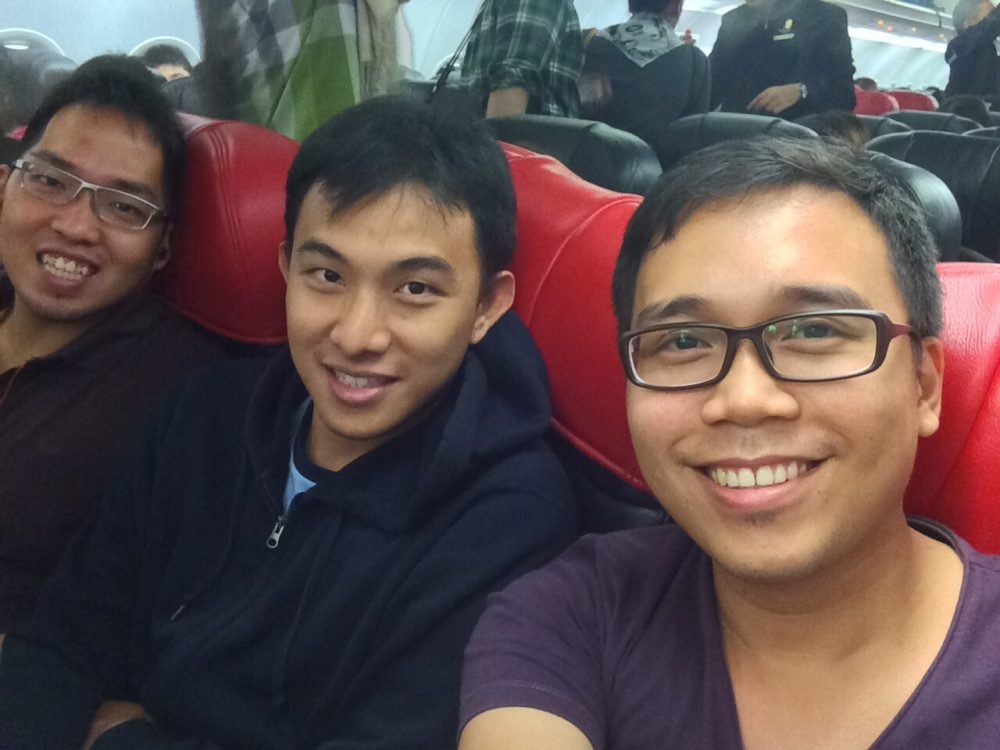 Last-minute Decision to Bali
This time, our trip was not planned at all. I guess we can brand this trip as a 'last-minute vacation that happens just like that'. If there's such a thing. Honestly, I was just surfing the internet for plane tickets, thinking that maybe there's some kind of promotion for the new year celebration 2015
Yes, it's December 26, 2014
You must be thinking I'm crazy enough to look for a new year vacation with only 5 days left to the end of the year. But hey, you might be surprised with what you can do last minute, we got a term here in Indonesia, "The Power of Kefefet". 
We stayed at Serela Kuta for 4 nights at IDR 2,700K. We arrived in Bali quite late at 00.25 in the morning. But the airport is still pretty busy. Checking out with baggage, we try to find a taxi.
But here's the one thing I hate about Bali, it's so commercial now (just as many other tourism destinations), that even the taxi drivers won't take us using a meter, even though we're locals, they still charged us very expensive, so we tryin' to find another alternative.
Then comes a guy who then offer us a transport service using his private car. His price was as high as the taxi, but then after negotiating a little bit, we got a deal for IDR 155K. Well, private car (MPV), straight to the hotel, not bad considering it's already really late at night.
Or you can use UBER.
You can actually get a better price with these drivers, depends on your miles. Ranging from 100k up to 300k. But if you're a foreign tourist, well they will charge you extra (of course!). Arriving at the hotel, fast check in, and straight to bed.
A Minivan All For Ourselves
The next morning, we had breakfast at 8, and ready for our driver to pick us at 9. This time, one of my friend arrange the itinerary spontaneously including the transport while in Bali. He's the one who went to Bali several times, so he knows this island better than the rest of us.
Our driver, Pak Made, ready at the lobby at 9 as promised. We're kinda surprised with the car, though, it's a KIA Pregio minivan with the capacity of 10-12 people, but there's only 3 of us. Well, it's a bonus I guess, look at that
Our driver, Pak Made, ready at the lobby at 9 as promised. We're kinda surprised with the car, though. It's a KIA Pregio minivan with the capacity of 10-12 people, but there's only 3 of us. Well, it's a bonus I guess, look at that spaceee..
Pak Made said we'll get this car for 2 days as it's the only car left for this high season. We're lucky there's still a car left. The deal is pretty good for 1,500K in total, that's 500K/day start at 9 am up to 8 pm. If you want the contact detail, you can ask me.
Hellow, Bedugul!
Moving on to our first stop, Bedugul. A mountain lake resort located in the centre-north region of the island near Lake Bratan on the road between Denpasar and Singaraja. This, of course, one of the most favorite tourist destination in Bali. I would recommend you to go early, it's better in the morning, fewer people. But of course, sunset offers you a better view here.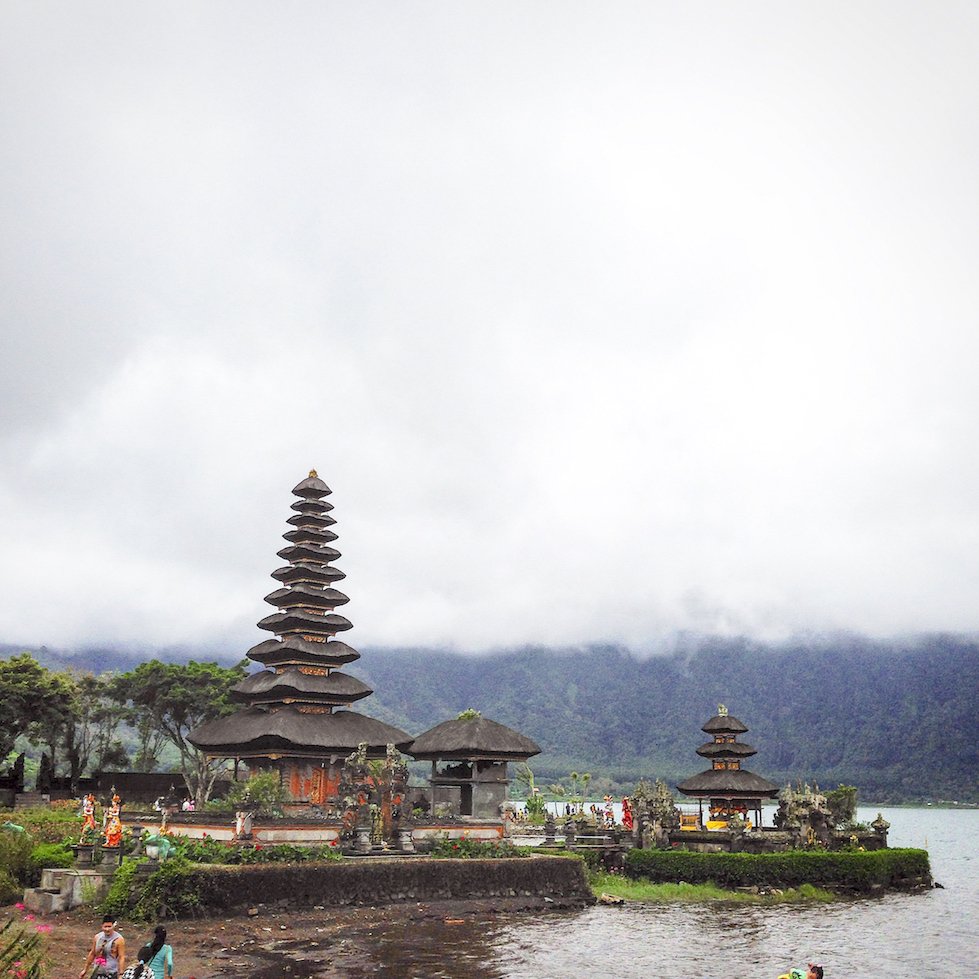 Bedugul enjoys a mild mountain weather due to its location at an altitude of about 1,500 meters (4,900 ft) above the sea level. Major sites in Bedugul are the Pura Ulun Danu Bratan water temple and the Eka Karya Botanic Garden. Ticket entrance for IDR 10K / person.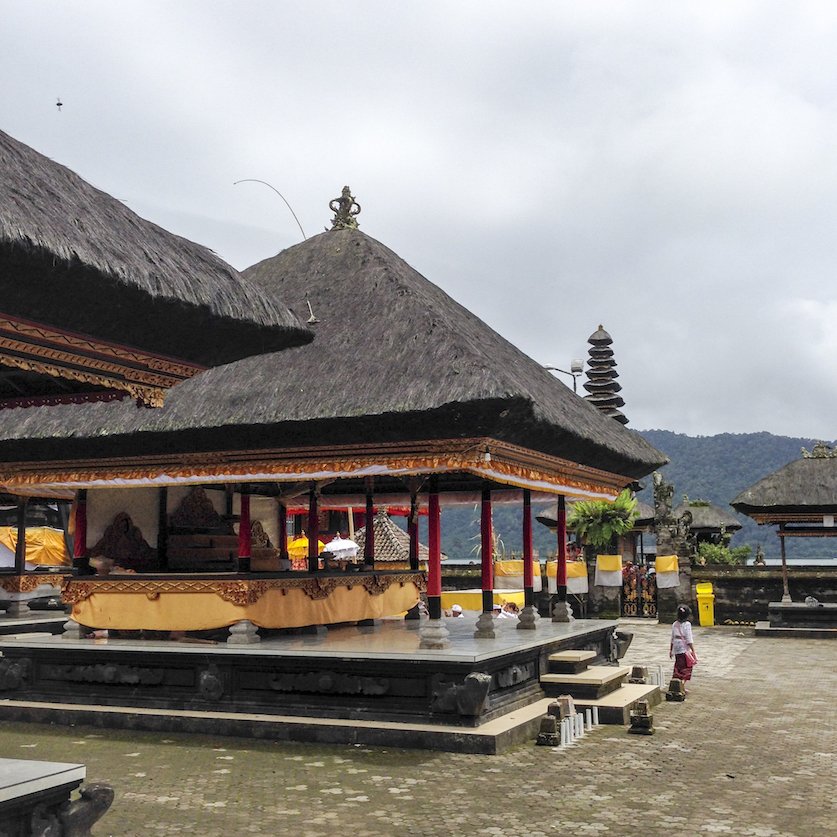 Built in 1663, this temple used for offerings ceremony to the Balinese water, lake and river goddess Dewi Danu, due to the importance of Lake Bratan as a main source of irrigation in central Bali. The 11 stories of pelinggih meru dedicated for Shiva and his consort Parvathi. Buddha statue also presents inside this temple.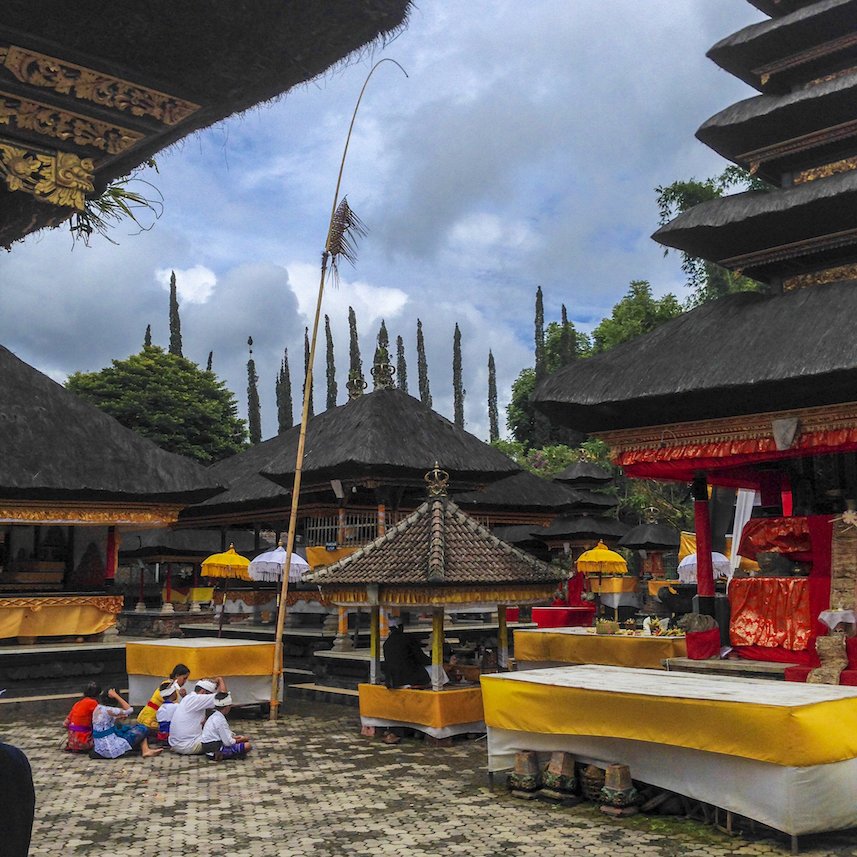 Bali Botanic Garden
The weather is actually really cloudy as you can see in the pictures. Well, it's raining season in Indonesia, not the best time to visit Bali island. Summer (May – September) is what I would recommend. We saw that there's a preparation by locals at the temple for some sort of ceremonial. Here, you can also check out the botanic garden. It's quite a beautiful place to enjoy, you can also chill at a restaurant cafe here.
At Eka Karya Botanic Garden (a.k.a. Bali Botanic Garden), you can spend quite a time exploring the garden. The garden is operated by Indonesian Institute of Science (LIPI). Established in 1959.
The garden's main collection are divided into several subsections: orchids (293 species), Balinese ceremonial plants (218 species), medicinal plants (300 species), cacti (68 species), ferns (80 species), begonia (200 species), and various aquatic plants. The garden itself is home to around 79 species of birds.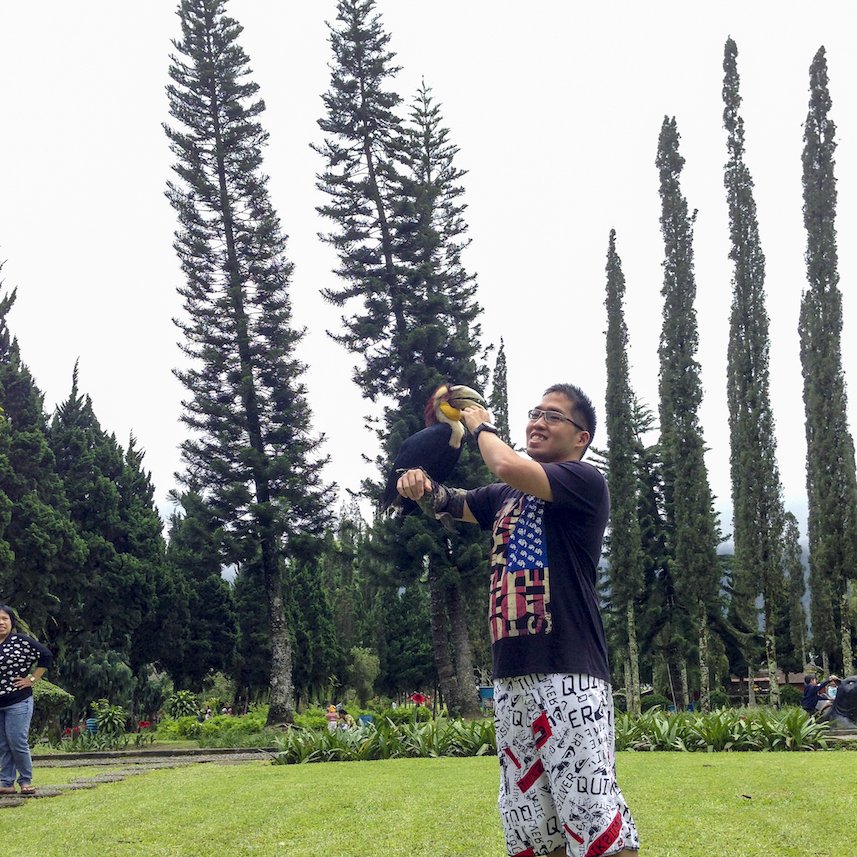 We took a photo of a bird, there's one place where this guy and all his animal collection available for photos. There's also snakes and other reptiles. The photo pricing from 50K-350K. They have a photographer ready.We spent almost an hour at Bedugul because it's started to rain. So we decided to proceed to the next stop. But here's a couple extra photos.
This slideshow requires JavaScript.
This slideshow requires JavaScript.
Hellow, Monkeys!
Next stop is what our driver recommend, Alas Kedaton. It's still in Tabanan area, which is not too far from Bedugul. Alas Kedaton is one of tourist attraction in Bali known for their forest and monkey (estimated population up to 1,800).
This place is maintained very well with the locals, it's a tradition not to cut trees or even harassing the monkeys there. A tradition that everybody should have in mind.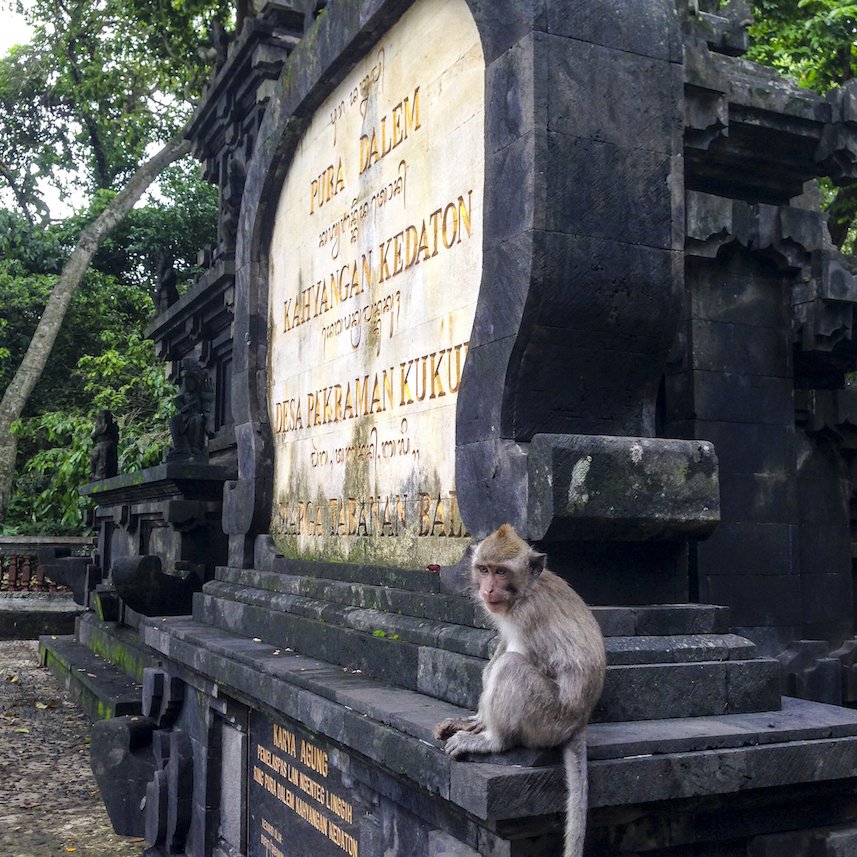 Little Did You Know
As soon as we get off from the car, walking to the entrance, a woman in traditional dress of Bali welcomed us. Now this is the kind of information that tourists should know. They will say that they can give you a guided tour around the place for free.
It's true, for free, well although tipping is recommended. But what comes in the end of the tour is that the guide will bring you to a local shop, usually, they will said that it belongs to their family, and they're kinda "force" you to buy something. I've heard worse story that the guide can be rude and force foreign tourists to buy something.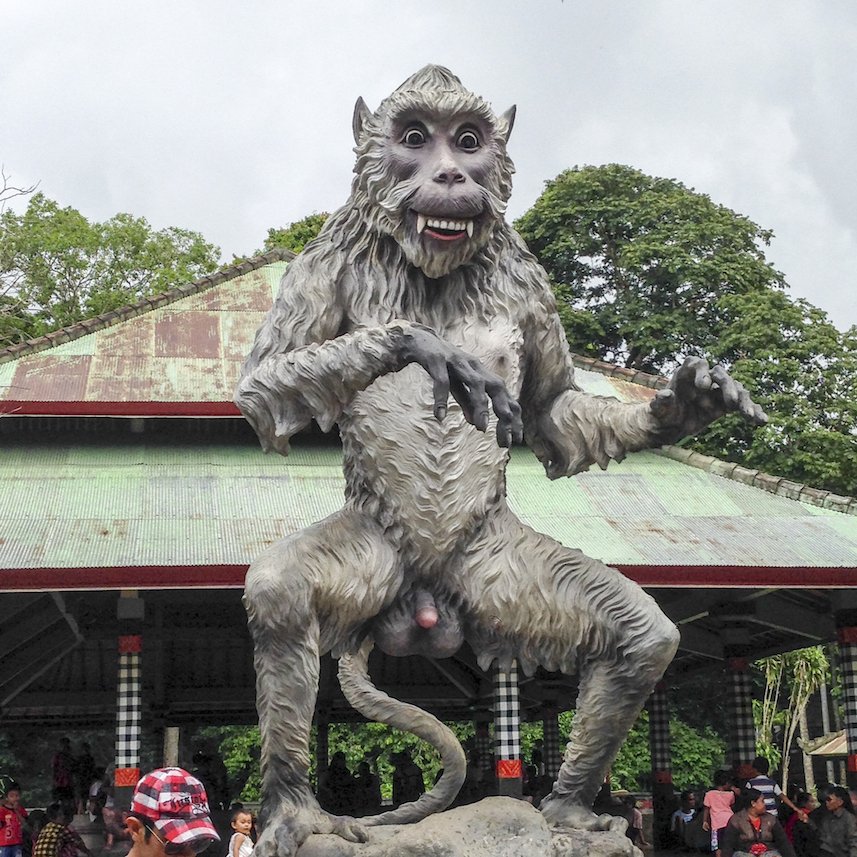 We paid the entrance fee for total IDR 35K. After some discussion with the guide, we agreed to let her give us a guided tour around the place. It's free, nothing to lose (we didn't know it leads to shopping). We walk in and many shops were closed, maybe because it's still quite early.
You will start to see monkeys as soon as you reach the booth that sells peanuts. Yes, they sell it for IDR 2,000 / pack. It really is expensive, peanuts should not be that expensive. Attraction specialty, right? Haha…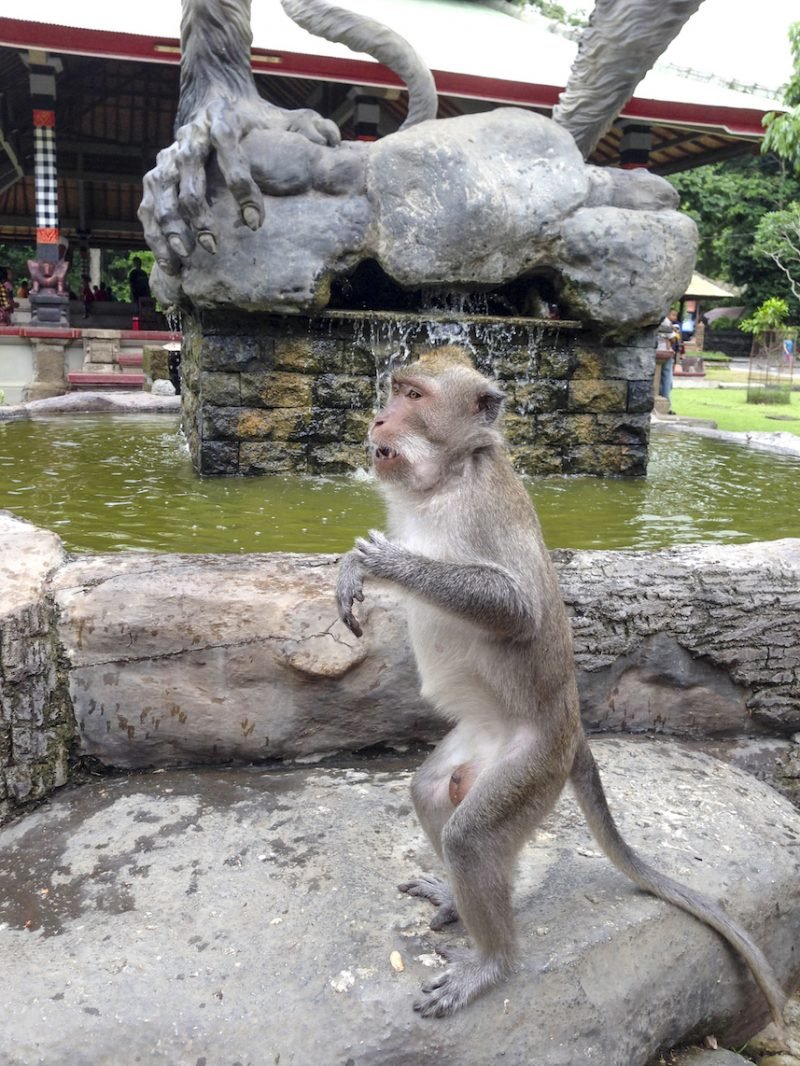 Tips With Monkeys
Of course with you buying peanuts, you'll feed the monkeys, right? Here's the thing… If you want to feed the monkey, you better be safe about your belongings. These monkeys are fast at stealing things. The guide warned us about our cellphone, bag, hat, glasses, etc.
I'm pretty skeptical about these monkeys, pretty much sure they got trained. These monkeys will gather around you trying to get some peanuts from whoever holds it. They can be pretty aggressive, though, just don't make a sudden or unnecessary move that can cause the monkey to be more aggressive towards you, just take it easy, if the monkeys started to climb up to you, take it as an opportunity to photo, and be still. Once the food is gone, they will leave you soon.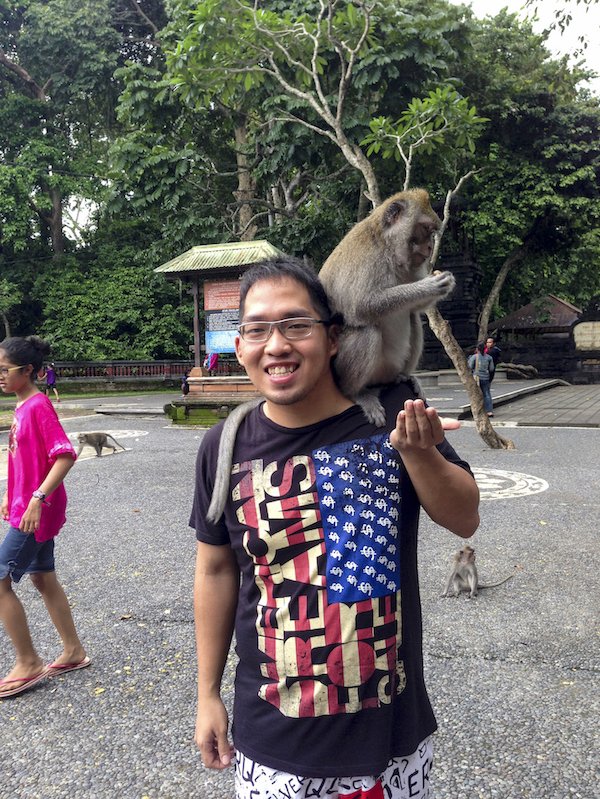 Our peanuts gone in minutes, those monkeys rushed in around us and some even took a pack. After some photos, we continued with the story from the guide. I like the surrounding, it's peaceful and chill, and of course many thanks to the cloudy weather. We passed the temple, looks really nice.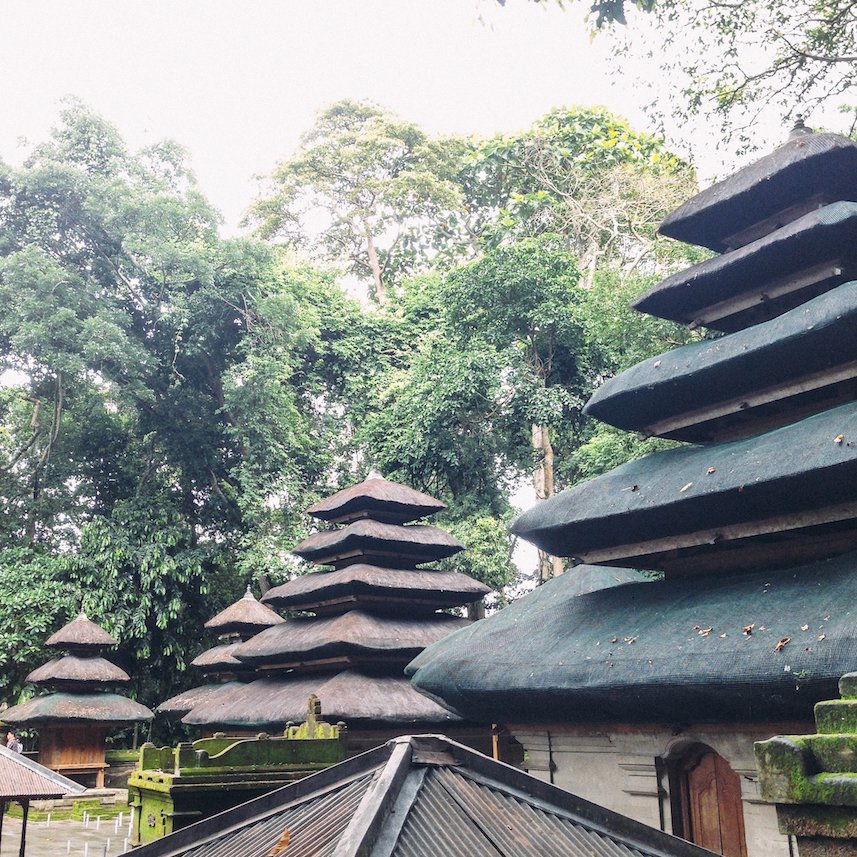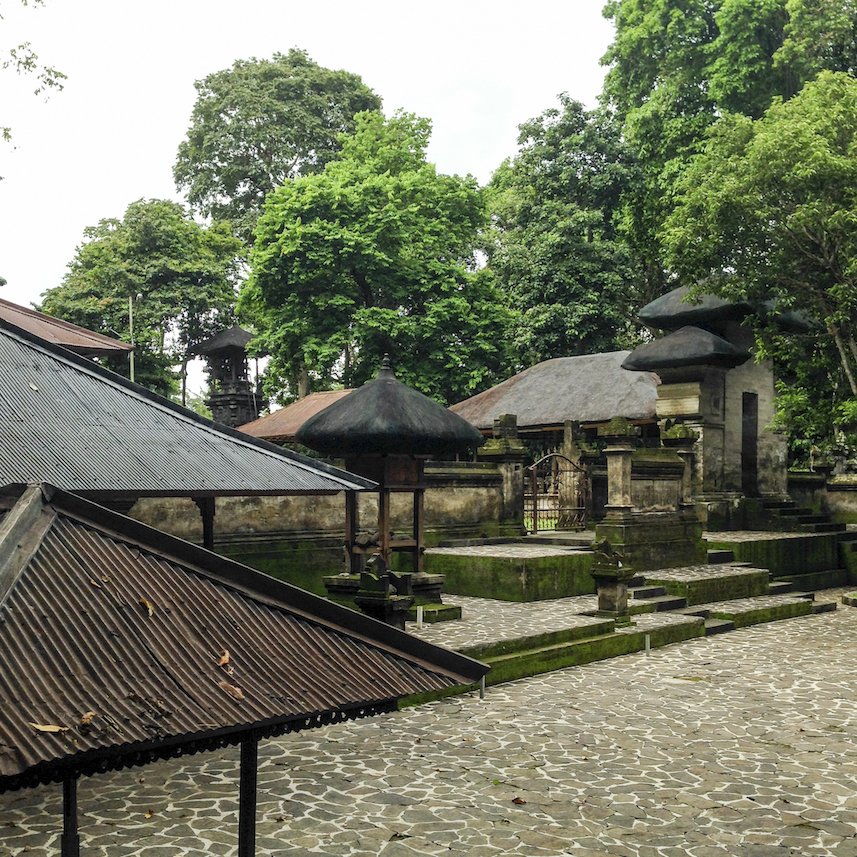 Photo With Animals
Having a guide is okay, but actually, I prefer to walk around by myself, that way you can explore more. This place is not that big, after some minutes walking with the guide, soon we end up in one place where there's a lot of food and taking photos with animals such as bat, snake, lizard, etc. That, of course, came with a price. It's not cheap though, for one session with a bat, we paid IDR 100K.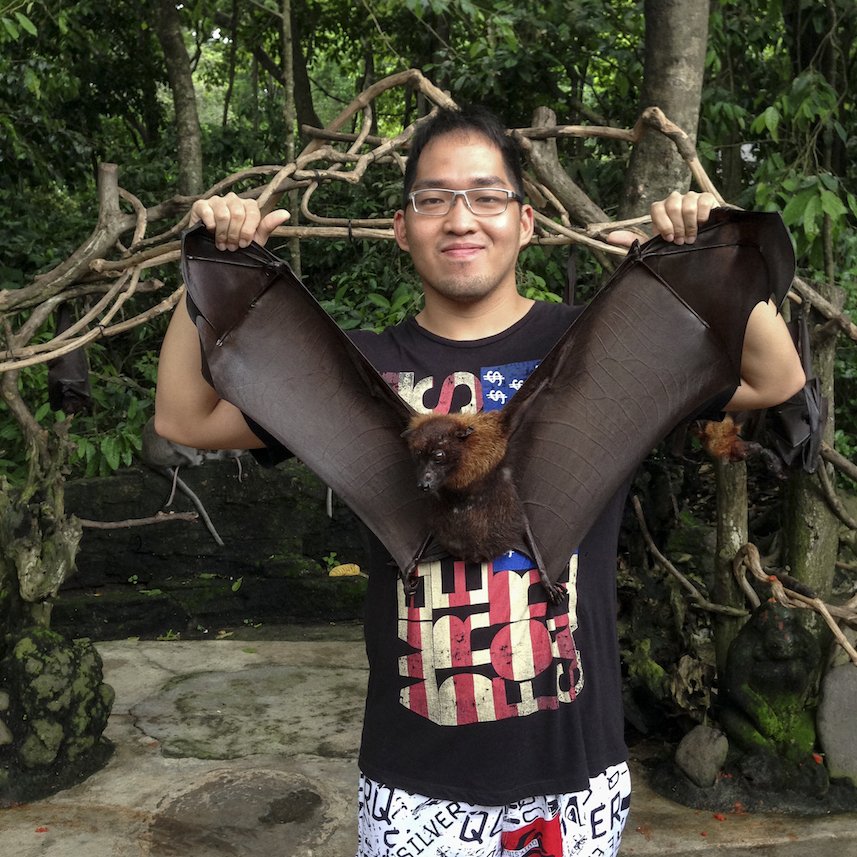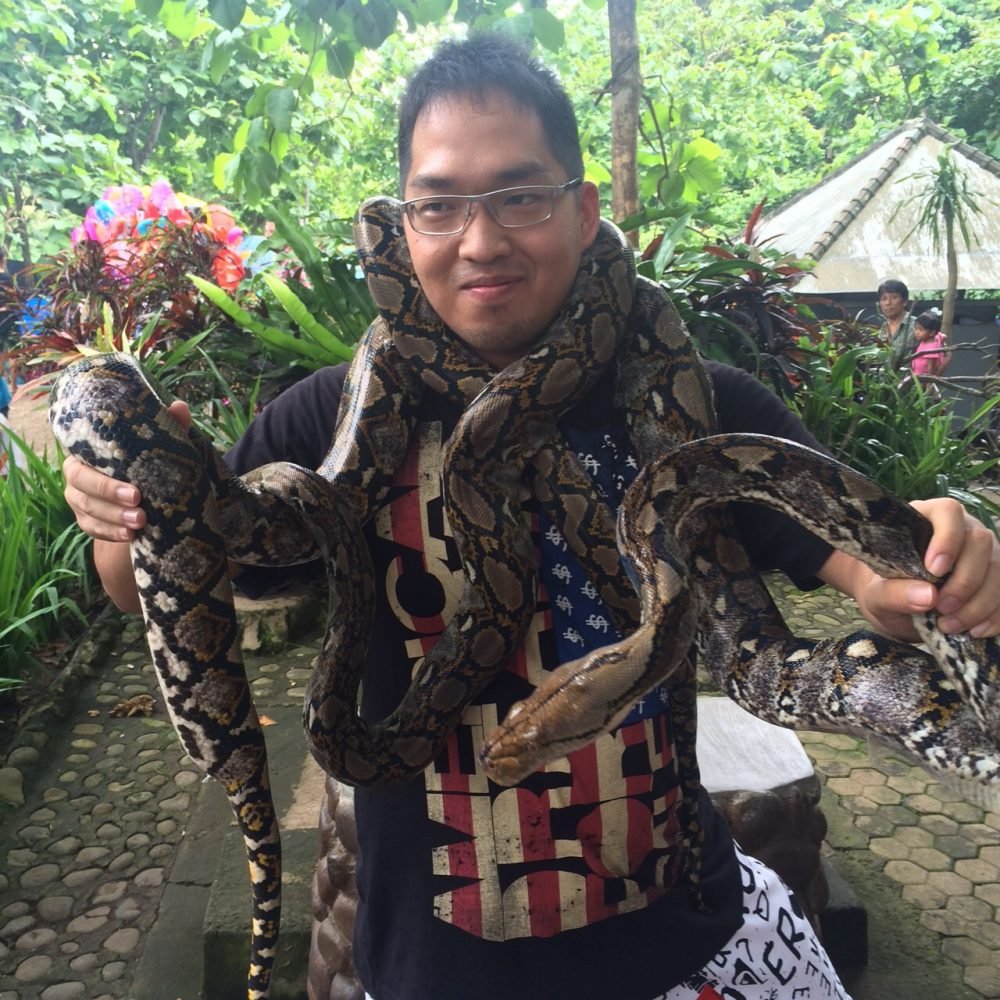 Done taking photos with animals, we soon guided to the exit, now it's that time I told you earlier where the guide took us to one of the shops. She said,
This is to help my family, the shop belong to my family, please buy something….. Bla.. Bla.. 
Of course, because she gave us a free guide, we tend to feel guilty if we didn't buy something, right? I think most of the tourists feels that way. We bought some clothes, spent IDR 60K. Not much, because there's nothing attractive enough to buy.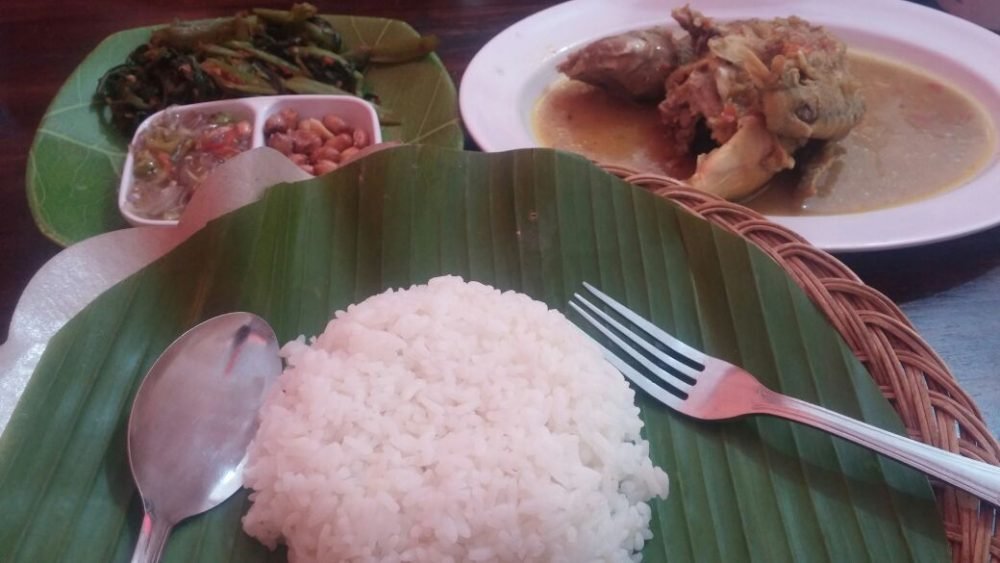 Hop on to the car, moving to our next stop, Tanah Lot. We stop for lunch at one restaurant selling ayam betutu, but that is shitty food, not the real ayam betutu. Ayam Betutu is one Balinese special food, it should be good. This restaurant (I forgot the name) just ruined it.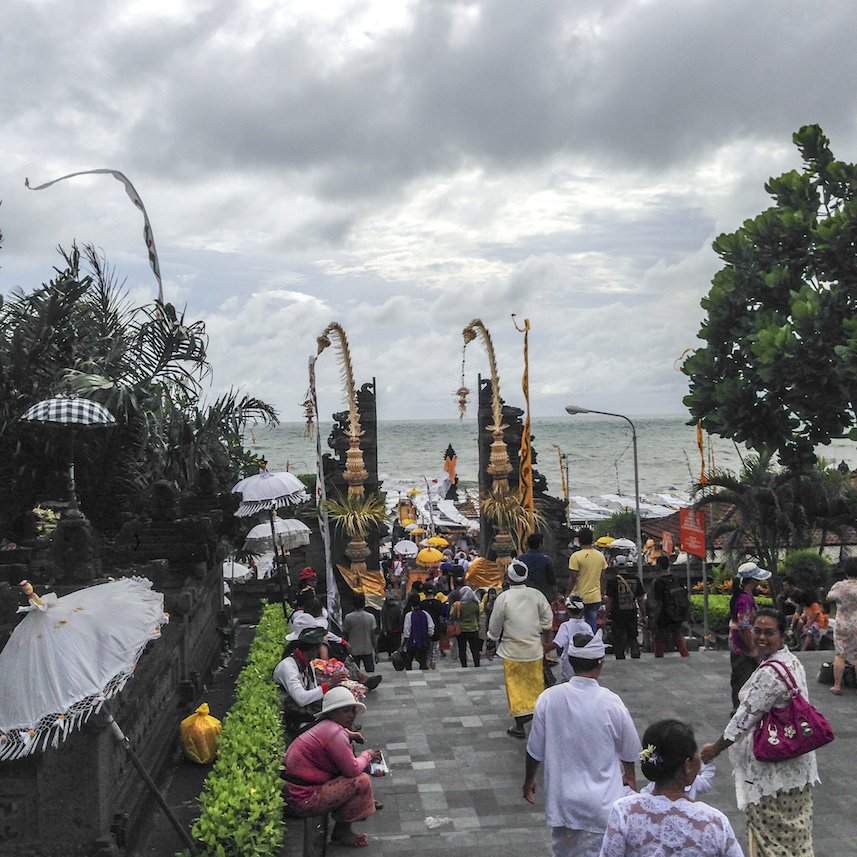 Tanah Lot…. Err…. What Happen?
Now Tanah Lot has become the icon for Bali itself. It is well known internationally and still until now one of the most sacred places in Bali. It's been around since the 16th century and has been restored with some modification because the rocks started to crumbling in 1980's. The restoration was funded with the help from the Japanese government. Another information about Tanah Lot here.
I would say, this time, my experience at Tanah Lot was not too pleasant. I actually regret how this place has turned into so much of a commercialized, overpriced place. Again, tourism influence to blame. I prefer the Tanah Lot back then when I was here somewhere around 1998-2000, way back. I can still remember how it's natural and looks authentic with all the traditional feeling when we enter the place.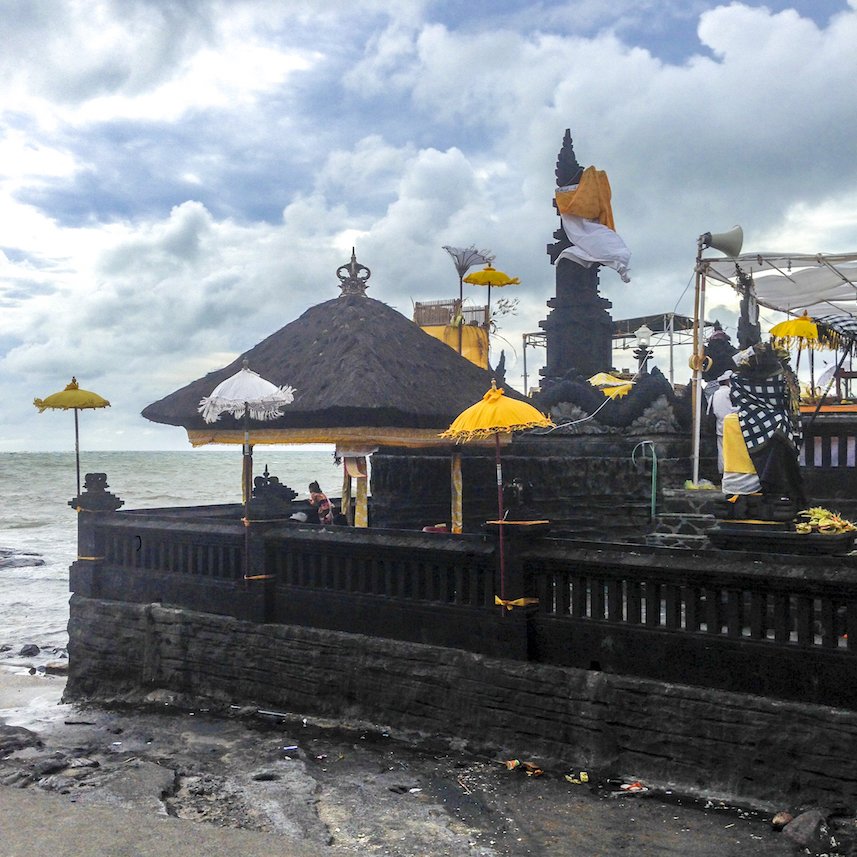 Now, thanks to the commercialized tourism industry, everything's ruined in my opinion. Not just you're gonna have to struggle with the traffic as a welcome, you'll have those shops along the entrance walk to the beach. Everything looks so ugly, it's dirty, advertising everywhere, oh man, what's happening… Even for a coconut, it's 25K. Entry for 30K.
Don't Be An Ignorant Tourist
Not just it's so commercialized, it's also very very packed. So yeah, it's not what we expected. Apparently, there's a ceremonial about to begin there. They put a barricade and sign that we can't enter a certain spot. I remember there was this stupid tourist ignoring the sign and step into the spot where they about to pray, and guess what? They kick him out.
Not literally kicking, nobody got hurts, relax… Maybe just his pride.
Sadly, it's a high tide, so we can't get down further. It would be nice if you can get down there. I remember playing around the coral back then. It's beautiful. We were trying to go to the corner where you can see the temple (Pura Tanah Lot). But, because of too many people, forget it. You won't be able to get a good shot anyway, too many people. I hate this kind of situation.
Chillin' Spot
Finally, we're moving to the higher ground, where you can access from the stairs right on the left side from the entrance. You will pass the souvenir shops, lots of penis shape wooden crafts. I don't know how was that supposed to attract tourists at this sacred place.
But I bought it anyway, just for fun. IDR 50k for 3 penis keychains, again, overpriced. There's this one coffee shop that sells Luwak coffee with the Luwak you can see in the shop. Price for 25k / cup.
This slideshow requires JavaScript.
Here at the higher ground, you can enjoy much better for the view. They open a lot of restaurant at this clifftop, which is again, ruining the authenticity of this sacred place. So we chose the place at the very corner of the cliff, right before Pan Pacific Nirwana Bali resort.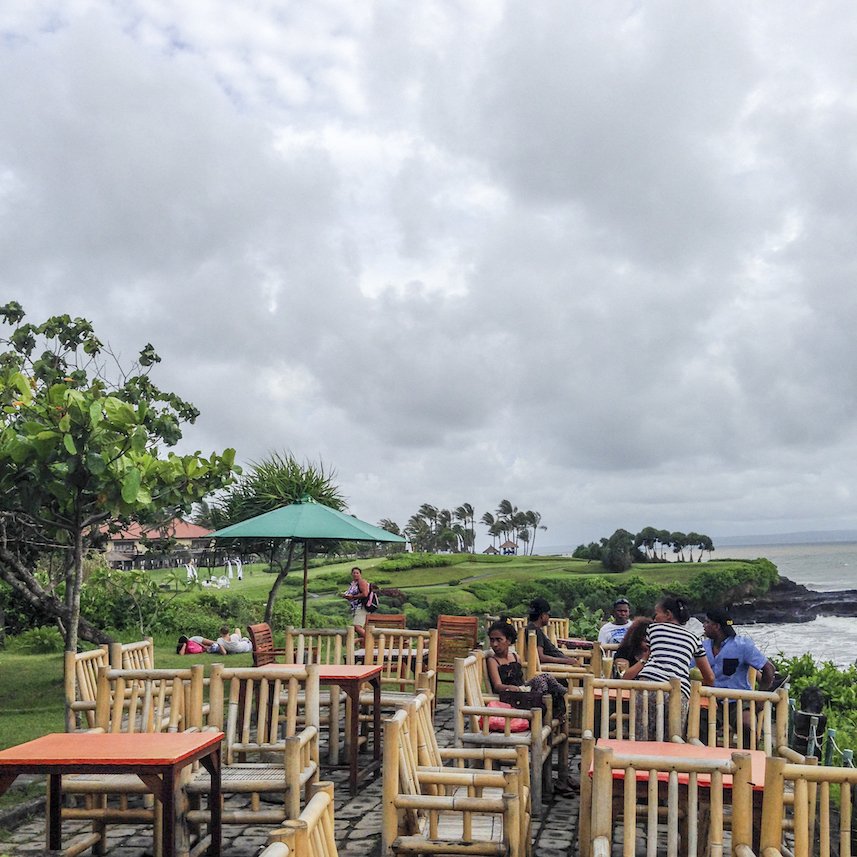 These places offer a great view, but the food….. Nah… Just eat elsewhere. It's only good to sit down and chill, enjoying the view, taking photos. We did chill here with french fries and drinks, costs us 100K. One thing that you must try here is the "Rujak", it's famous in Tanah Lot, costs 10K – 15K.
Too bad it's really cloudy, so we won't have a clear sky to enjoy Tanah Lot with. Actually, it will be nice during sunset, but because of the cloudy sky during the rainy season which happens to be all day long, we didn't stay until sunset. Better chance to go somewhere else. But at least I can get a better shot from this place.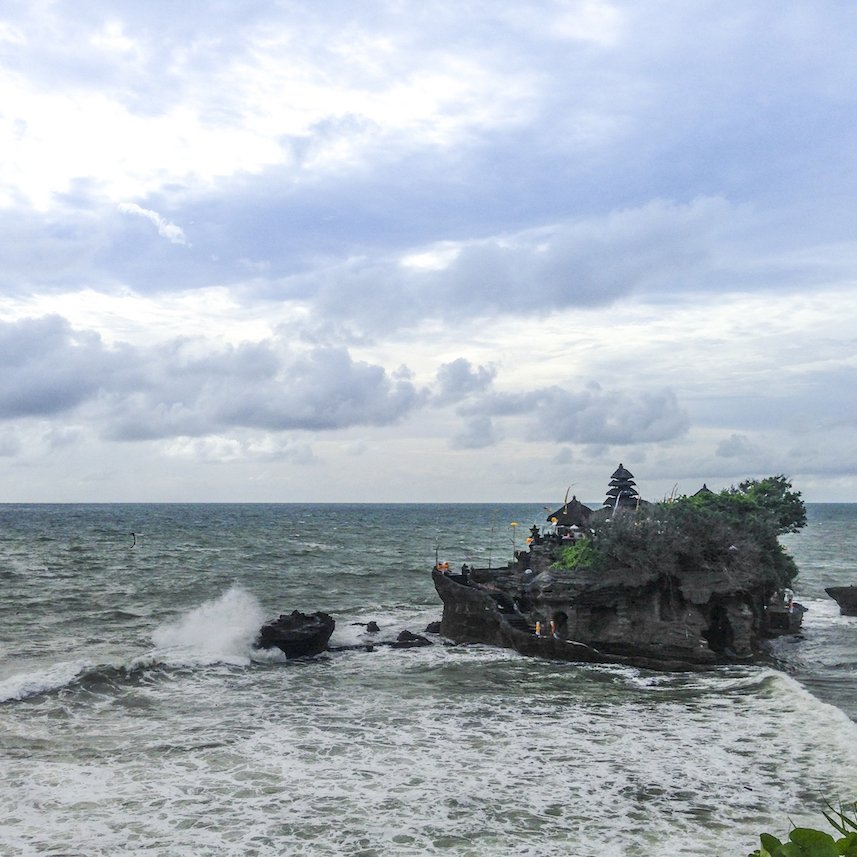 As soon as it starts to get raining, we rushed back to the car. Now it's time to jamming our way out, for almost an hour in the car. This time, we're planning to end the day and head back to the hotel for a night hang out at Legian.
Dinner Time
We stop by at Taco Casa for dinner. It's good, we spent 175K. If you like a taco and Mexican food, this is recommended. We dismissed the car at 7.30 pm as soon as we're back at the hotel.
Rest for a while, and we're back on the street. This time, we're trying some food, one of them the famous "Nasi Pedas Andika", it's pretty close to our hotel while walking our way to Legian. Around 40 – 50K / person. Rice and mixed menus. Try nasi jinggo, price from 4 – 5K, it's a mini portion of rice and chicken, fish, egg. Taste delicious. It's small so it won't make you full.
Bali Nightlife
It's 15-20 minutes walking from our hotel to reach the Legian street. It's one of the most favorite places for tourists who love to shop and party. Partying all night long is the everyday life here.
It's considered as one of the cheaper places in Bali, they said this is the backpacker's heaven. As much as it is true, I cannot see anything else but traffic, party, and shopping.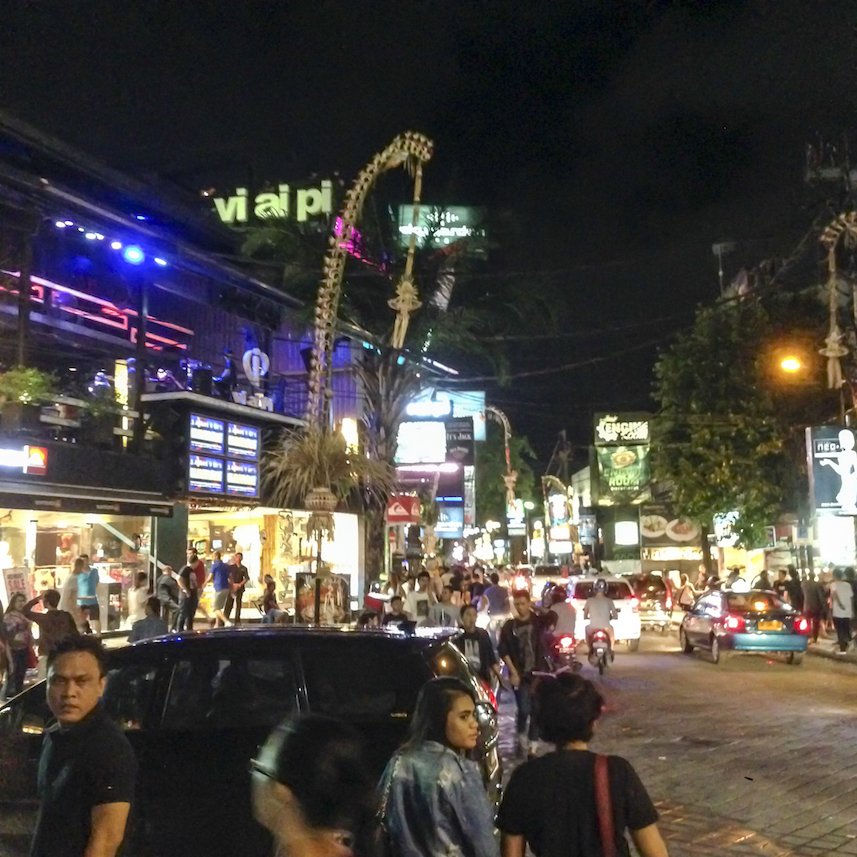 Once you see the traffic, meaning you're there. We can hear the loud music everywhere being boosted from their speakers, lots of open bar with tourists partying and dancing. Price varying from lower to quite expensive.
Remember to stay with clothes on, since a lot of places that won't take you in shirtless, pay some respect.
It's so much fun to walk down this street, with all the hustle and bustle of the cars and people. This street gets crowded at 1 -2 am, cooling down at 4.30 am. From shopping traditional items, fashion, massage and reflexology, beer, wine, restaurants, snacks, even drugs!
Everything you can get at Legian. Drugs? Yeah, there will be these guys offer you mushrooms, ecstasy, and many other kinds of stuff (drugs). I guess it's normal considering all the party happening here. Just remember to be safe, alright?
End of The Day
Enjoying Legian for about 1 – 2 hour, then we keep walking a long way to Kuta, sightseeing along the streets, looking around at Kuta Beach at night, eating ice cream, and then we took a taxi back from Hard Rock Kuta to our hotel for 50K.
Legian street is one of the best attraction you can enjoy at night in Bali, if you enjoy walking, then Legian street is for you. What can be dangerous is you eat a lot, party a lot, and maybe shop a lot, so yeah it can be unfriendly for your pocket. Just a tip, if you're going to party a lot, make sure you have that 1 friend who stayed sober or else you're screwed. (duh..!)
That's everything we did for our first day in Bali, my favorite was Bedugul & Legian Street. We actually go to the Legian street every night when we're in Bali. It's just so much fun on this street.  Back to the hotel, and we're ready for our second day!
Have you ever been to Bali? Share a thing or two with us. Don't forget to subscribe and share it with your friends. Thanks for reading! Until next time, bye!
---
USEFUL LINKS
Here are some of my affiliate links. These links help you to get the best deal while making your traveling easier as well as helping me get a small commission at no cost to you. It helps me to keep traveling places while pursuing my dream.
---
This is my itinerary map in Bali: