As much as we love to travel to Ho Chi Minh City, now double that feeling in Hanoi. Seriously, if you're looking for a nice, chill, and amazing food when you travel, this city in North Vietnam is your next destination. I'm sure that you will get the idea about how we felt in Hanoi. Yes, that Hanoi feel!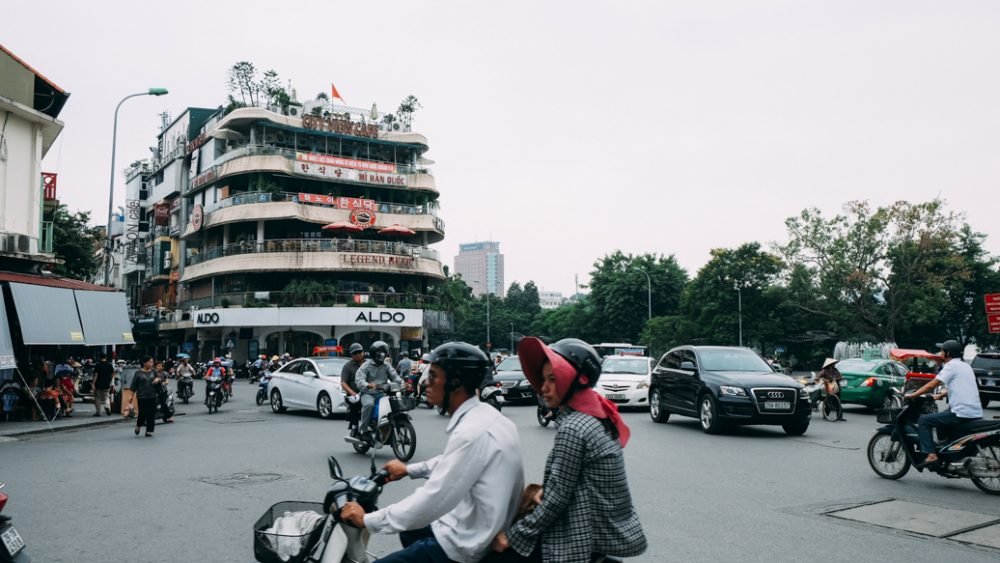 Hanoi is our second city in Vietnam, if you haven't already, please read our journal from Ho Chi Minh City. We're stranded at the airport because of the bad weather. So when we arrived in Hanoi, it's 1 in the morning. Thank God that our driver was still there waiting for us with his sleeping face.
We're staying at An Nam Legend Hotel in Hanoi. A nice hotel at a very strategic location, just minutes of walking from Old Quarter and Hoan Kiem Lake. Smooth check-in and nice room, a nice compensation for that exhausting delay. We will put this Annam Legend Hotel at one separated post. But you can enjoy the best price to book at Annam Legend, check it out.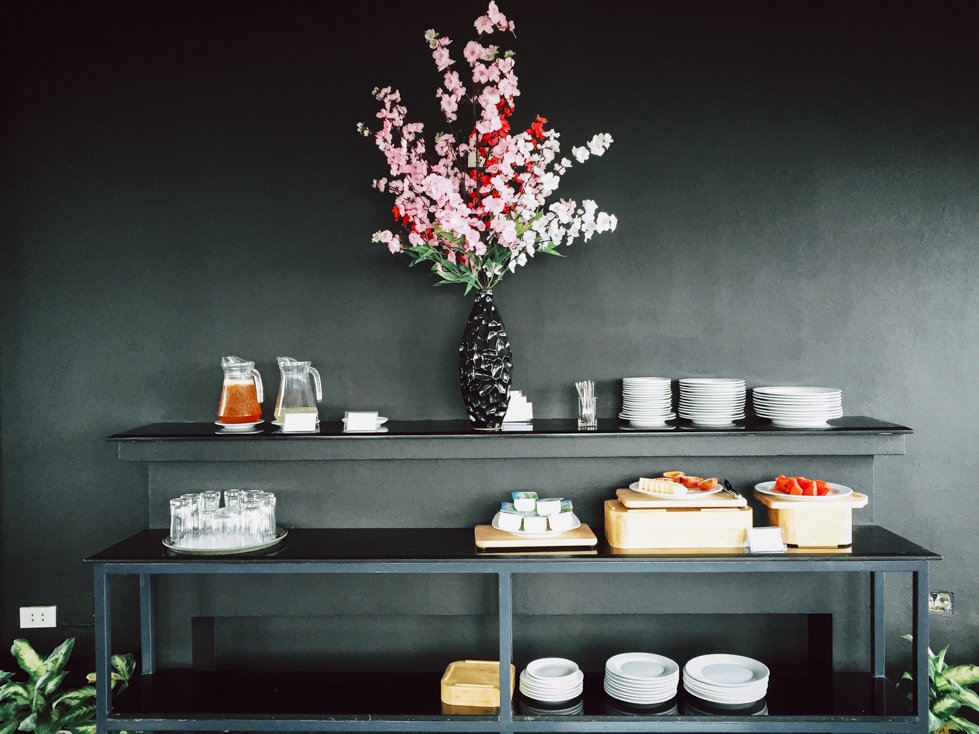 The next morning, we had a pretty nice breakfast from Annam Legend. We're eating a lot as per usual, a hungry Asian. To keep us energized while walking all day long exploring Hanoi. The weather has been quite gloomy since morning. Sometimes it's raining a little. So what we got that day is a gray Hanoi. It's good for walking around but not that good for taking photos.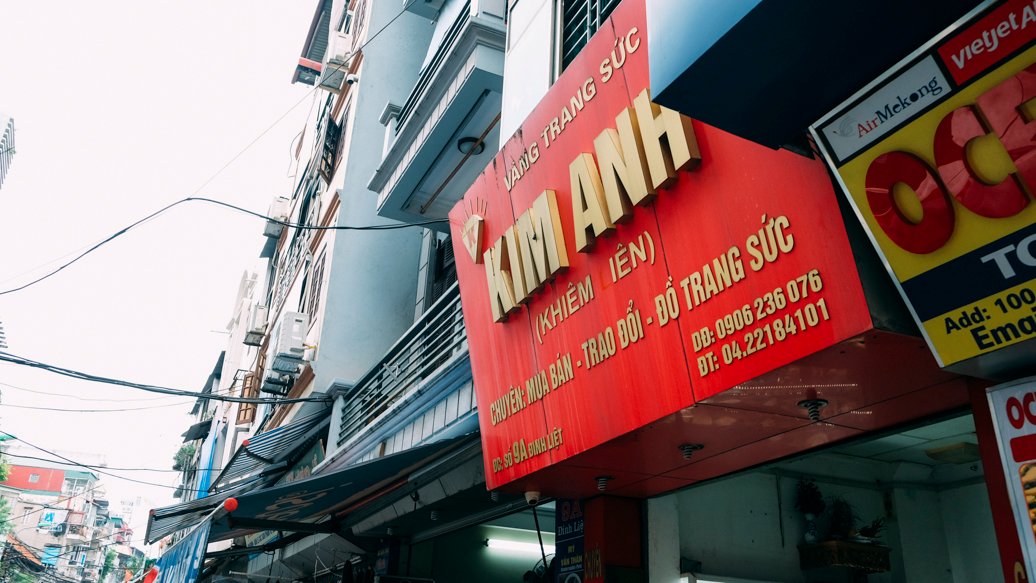 Our First Impression, That Hanoi Feel!
We're out on the street at 10 a.m., and the first thing we did was exchange our dollar. You can change your money not only at a money changer but also a jewelry shop. We did change ours at this store, the owner gave us a good value (USD 1 = VND 22,400). We tried this one shop selling tours and stuff before, but not a good price. So choose carefully.
I think I like to walk on Hanoi' streets. It still has the same Vietnam feels but somehow better than Ho Chi Minh. Yes, better. You know that mixed feeling when you visit a city, it's busy, it's packed, and you can say it's pretty unorganized, yet it's so chill. Feels like everybody is chill. 🙂
Hanoi is the second largest city after Ho Chi Minh City. It was the capital of North Vietnam, and now the capital of Vietnam after the North Vietnam won the Vietnam War. Hanoi has had quite a lot of names throughout history.
Hanoi itself means "River within / inside". When Chinese occupied Hanoi, it was named Long Biên ("Dragon edge"), then Tống Bình ("Song Peace") and Long Đỗ ("Dragon belly"). There are several others which mean "Big Net", "Eastern Metropolis", " Ascending Dragon", even to nowadays modern tourism sometimes nicknamed "Paris of The East".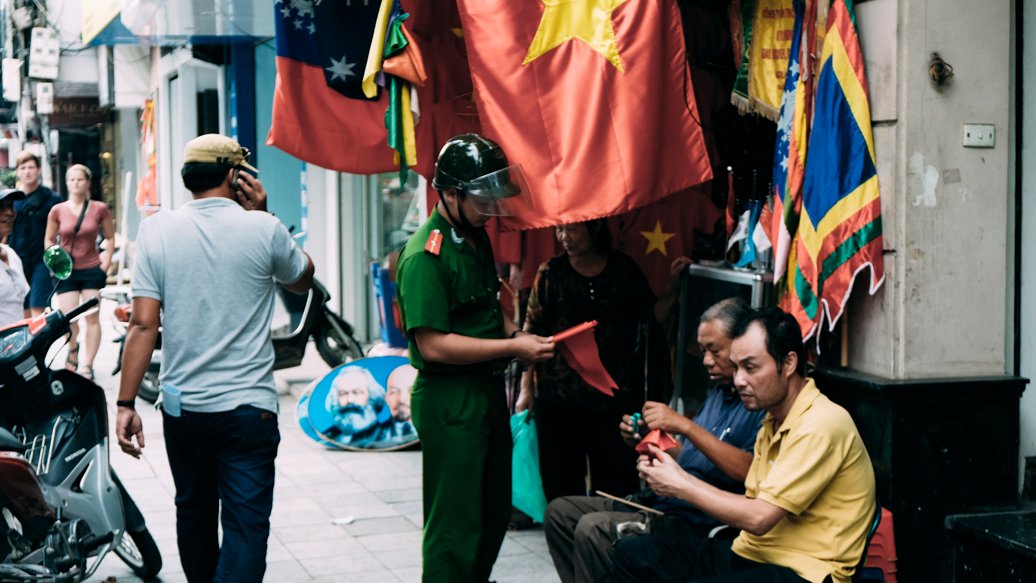 I felt somehow it's pretty similar with some area in my city, Jakarta. There are a lot of motorcycles everywhere. I think there are more people riding motorcycles here than Ho Chi Minh City. And definitely, I saw more women on a bike than elsewhere. Sometimes women with real woman dress, even with their traditional Vietnamese dress.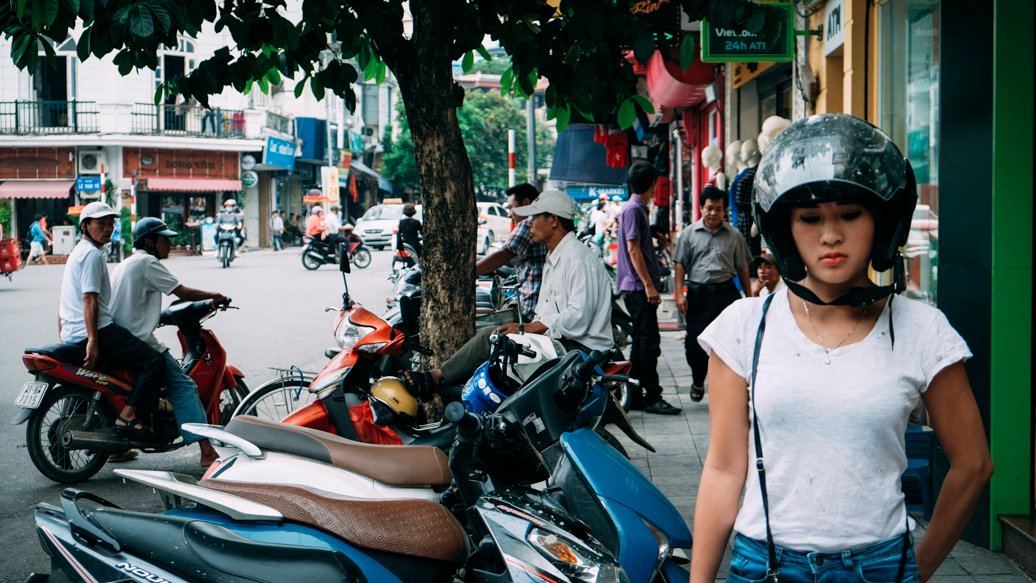 Ho Chi Minh Mausoleum
Our first stop in Hanoi will be their memorial site of Independence, The Ho Chi Minh Mausoleum. Located in the center of Ba Dinh Square, walking there took us nearly 30 minutes. Using google maps, I thought it's quite far to walk. But actually, it's not really.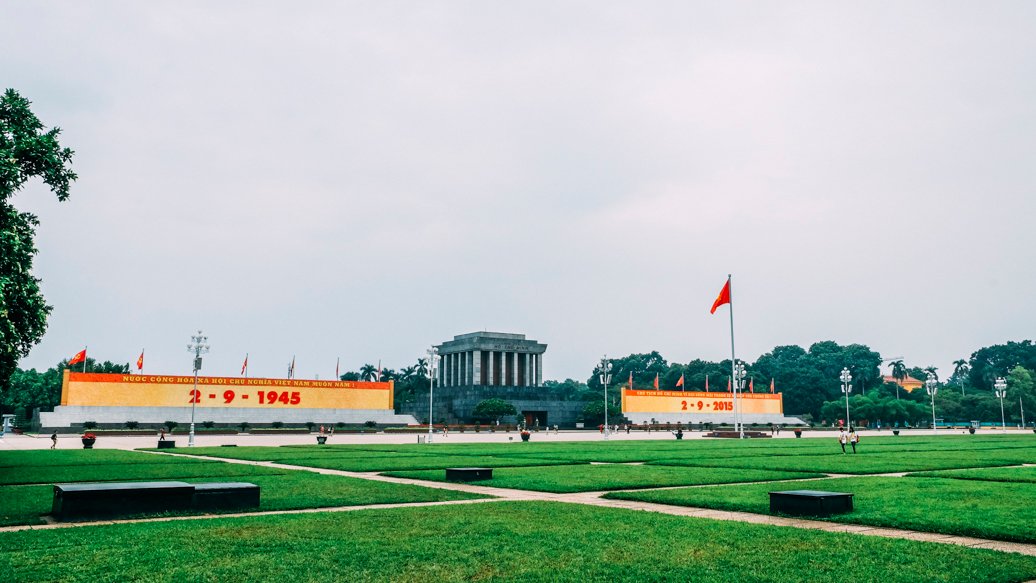 We had our first almost-scam in Hanoi. When we saw the Ho Chi Minh Mausoleum, we're kinda confused with where is the entrance. So we asked some men hang around the street there about where to enter. That man with his limited English trying to explain that it's now closed. We're a bit confused, is it closed temporarily for visitors or is it closed for visiting hours? Both questions he answered with "Yes, yes.."
Okay, now with that both yes, we decided to try to find the entrance ourselves. He keeps saying it's closed while at the same time trying to sell us his service to show us another place like I don't know what are those places, his English was just like from Mars. Of course, we refused, but boy this one is very persistent and pushy almost like he's scamming us. It's VND 300,000 / person for his service. Heck no!
Our face like,
Long story short, we walked away from him where he tried one more time to catch up while riding his motorcycle right before we enter the square. Thumbs up for his effort, but middle finger for his price. If you guys encounter this, walk it off.
Visiting Time Information
We obviously going here pretty late, it should be from the morning. If you want to see what's inside, you gotta go morning. They open on all days of the week except Monday and Friday. It's a free attraction.
Summer
7.30 a.m. – 10.30 a.m.; Tuesday, Wednesday, Thursday.
7.30 a.m. – 11.00 a.m.; Saturday, Sunday.
Winter
8.00 a.m. – 11.00 a.m.; Tuesday, Wednesday, Thursday.
8.00 a.m. – 11.30 a.m.; Saturday, Sunday.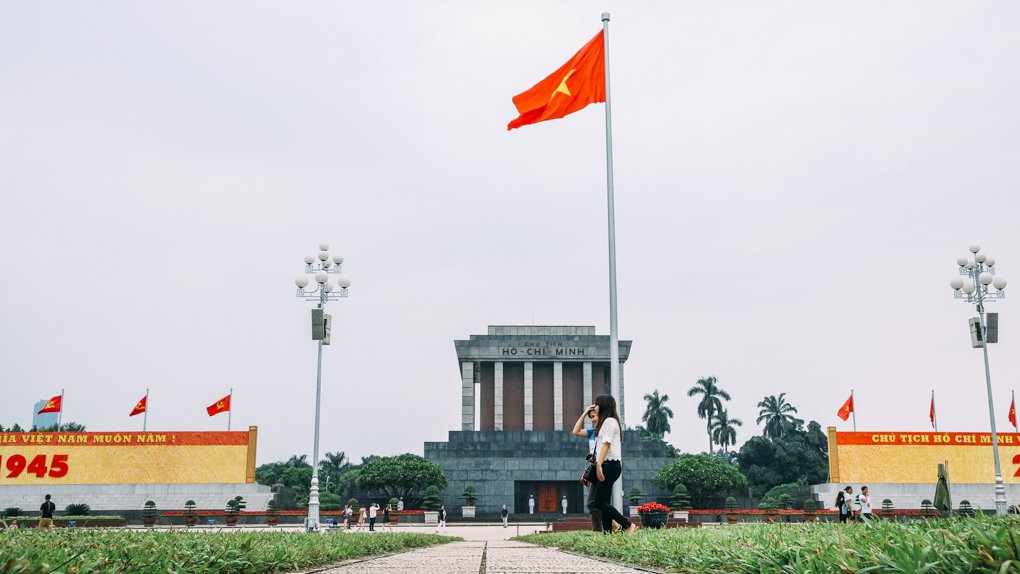 This building commemorates the establishment of The Democratic Republic of Vietnam. This is where Ho Chi Minh read the declaration of Independence on September 2, 1945. You do know that Vietnam was a communist country before, right?
It's interesting to know that this mausoleum was inspired by Lenin's Mausoleum in Moscow, Russia. But did you know that this very same building was ranked as the "sixth most ugly" building in the world by CNN in 2012? I mean, really?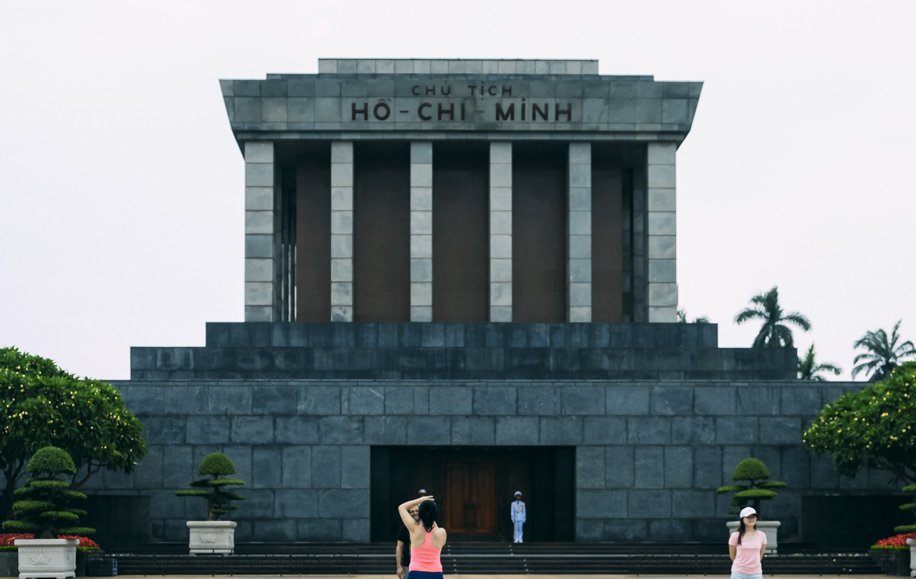 There is an organization under Vietnam people's army assigned to protect The Ho Chi Minh Mausoleum. You will see guards walking around patrolling the site. There are also some strict rules apply to visitors.
Dress properly; no shorts, no hats, no tank tops.
You're not allowed to bring anything inside.
No camera, no photography, no smartphone photos or whatsoever.
They say you are not allowed to put your hand in your pocket.
You see the guards in white uniform? They will change shift, so if you're lucky you'll catch them with their pomp and ceremony in Buckingham style.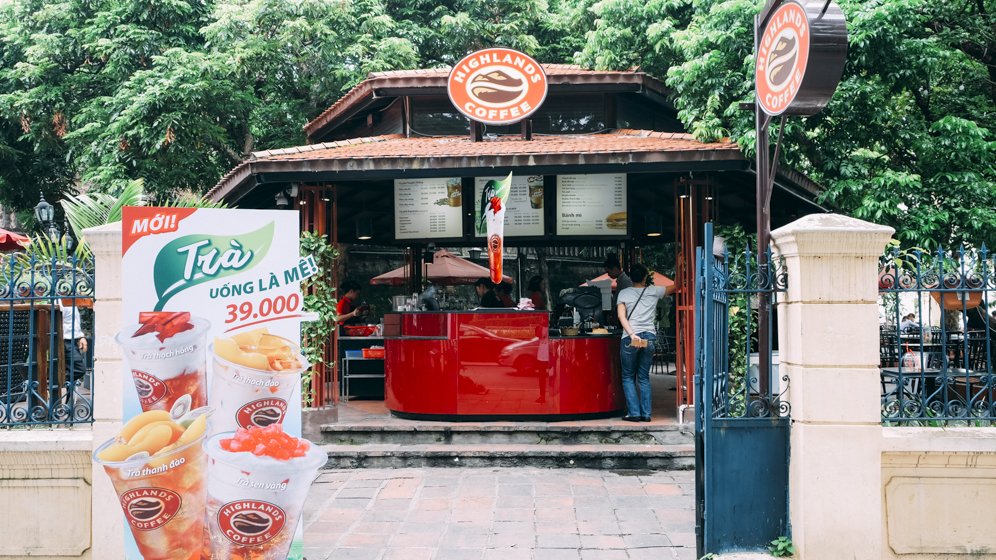 Afternoon Coffee Time
We're having a snack time with coffee at this Highland Coffee Flag Tower. It's the one attached to the Vietnam Military History Museum. We had their ice coffee, cake, and Banh Mi. Spent VND 167,000 here. I'm not sure if they taste really good or it's just I'm hungry. But yeah, they're delicious.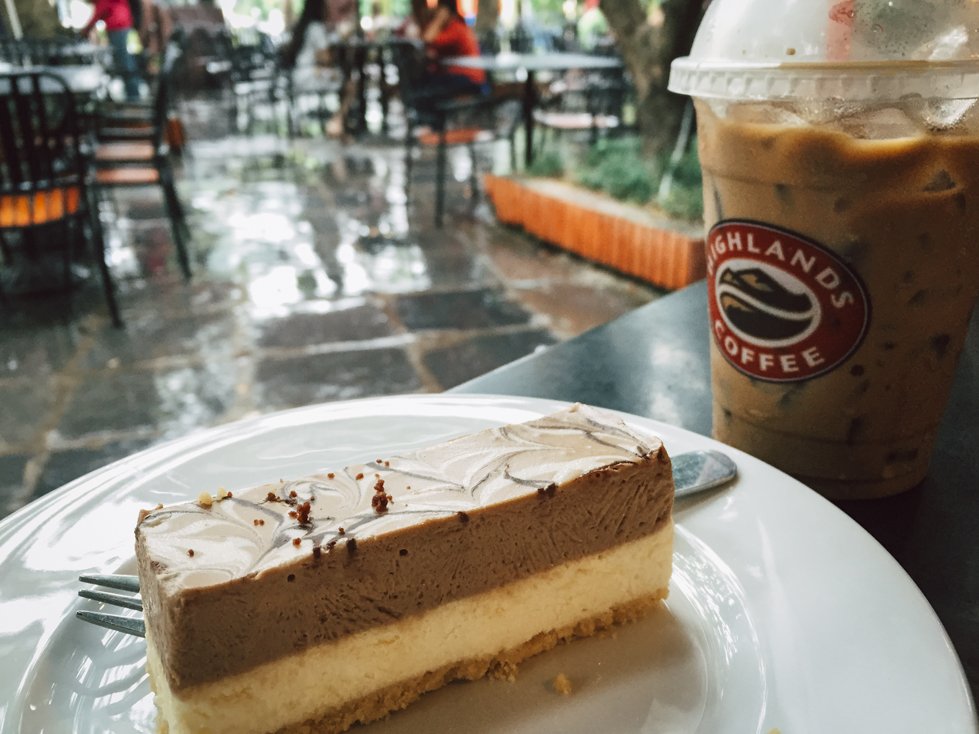 This outdoor part of Highland Coffee is actually a good place to hang out. Plus the rain, ultimate chilling place in Vietnam. 😂
Vietnam Military History Museum
We visit the museum next to this cafe, The Vietnam Military History Museum. It's one good place to spend your time. You can explore their small hexagonal tower surrounded with some kind of small fortress. There is some military equipment displayed. There are planes, tanks, and other war vehicles.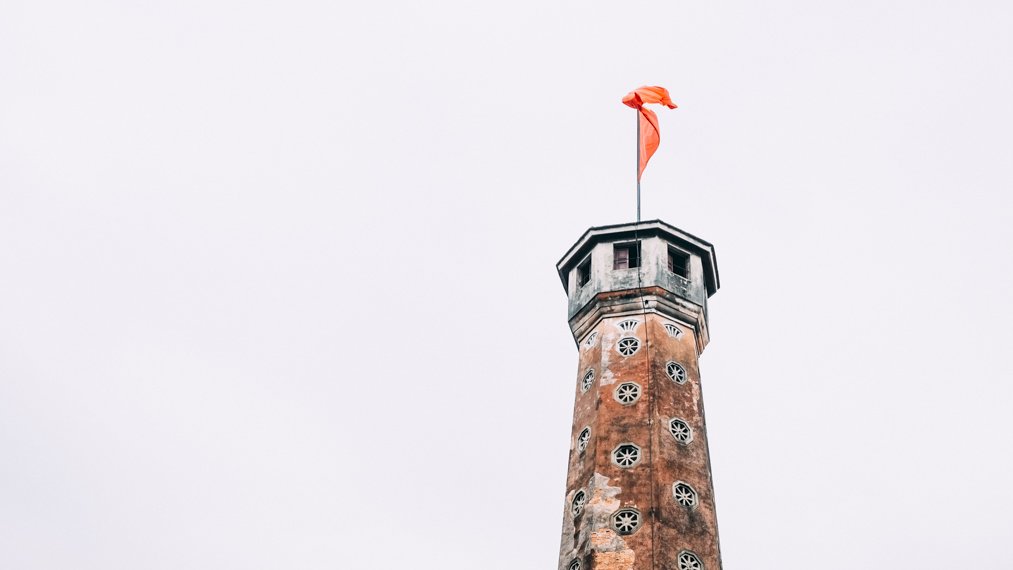 Across this flag tower, you can see their museum. They play the war movies inside with some items from war displayed in a glass box. Some photos to show you what it looks like.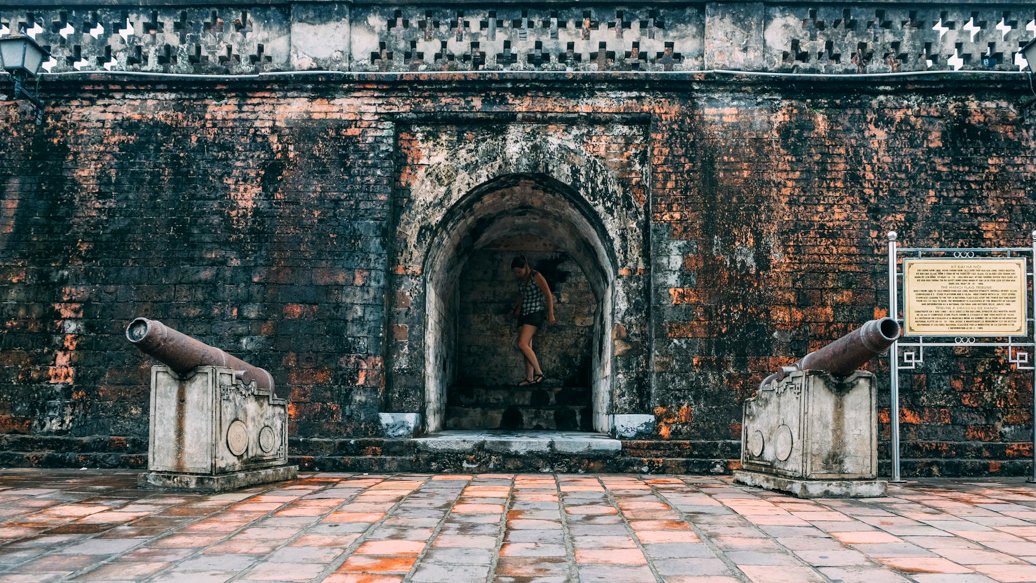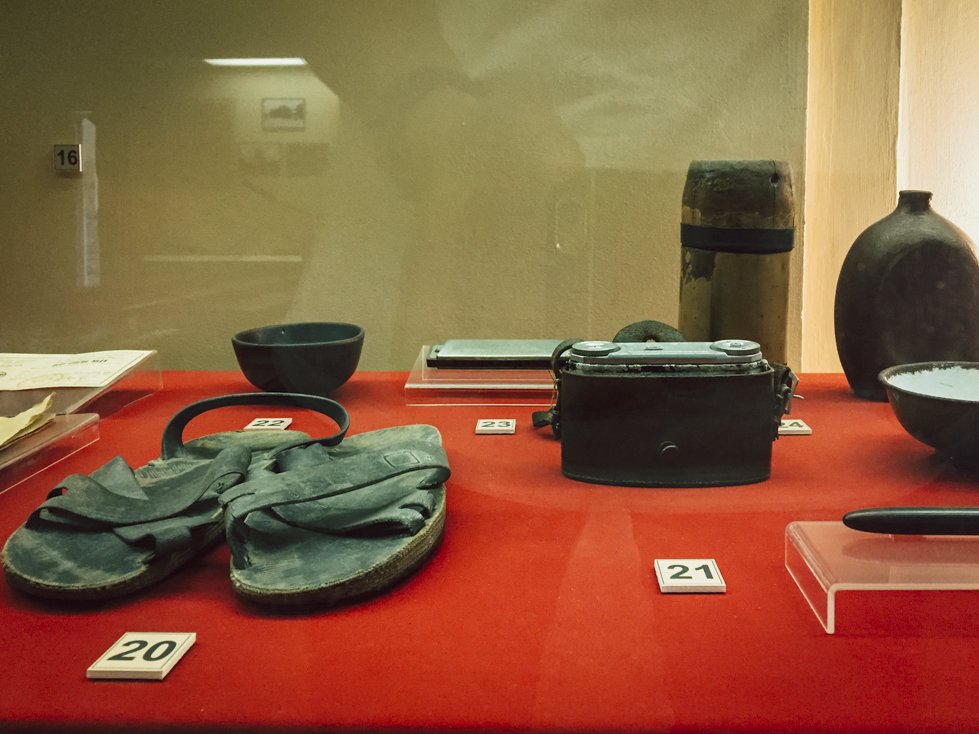 You can learn their war story if you're into it. Make sure you have enough time to read it all because these next places are also worth to visit.
Vietnam National Museum of Fine Arts
We continued our walk to visit the Temple of Literature, but because the weather is unfriendly at that time, so we made a stop at Vietnam National Museum of Fine Arts. This museum is located just 5 minutes walk from the Temple of Literature. Seeing this place, it seems like a good idea for us to take shelter.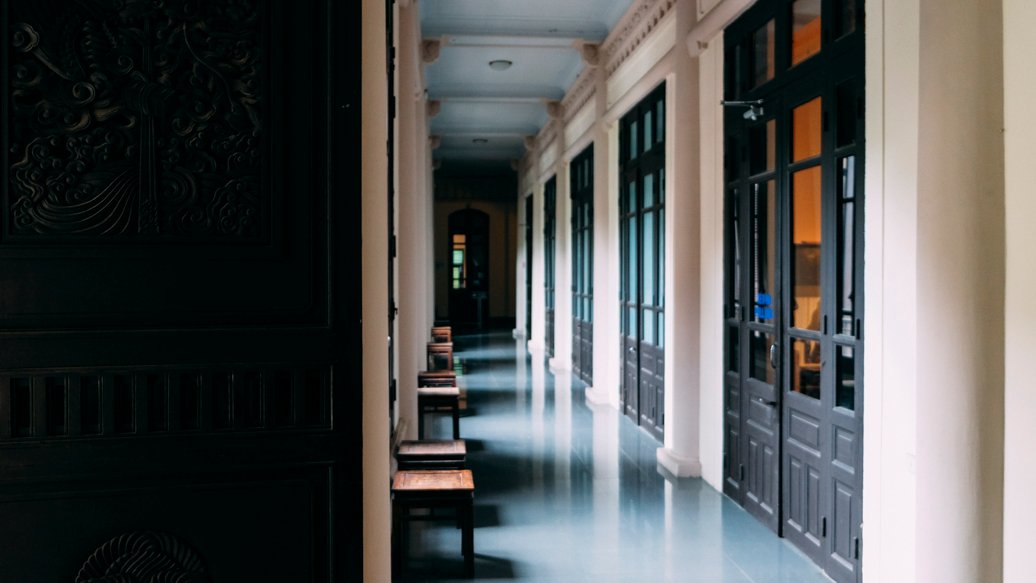 The entrance fee is VND 30,000 / person. This museum is showcasing Vietnam's fine arts from their history. This one in Hanoi is their primary museum, the second one is in Ho Chi Minh City.
Inside this museum, you can see a lot of paintings from the late 20th and early 21st century. There are also many sculpture arts, a lot of statues made from stone, iron, bronze, or wood. Although not a lot of visitors, especially foreign tourists when we visit, there is quite some noticeable Vietnamese youths doing their research or something.
Just note that it is pretty huge inside, we went from door to door, up to the second floor, back to the first floor, there are so many arts. It was also bloody cold with their AC full power. It needs more people inside. 🙂
Temple of Literature
After the rain stopped, we walked to what is known as Temple of Literature. Judging by the name I thought it has something to do with education or something. Apparently, I was right. It hosts the Imperial Academy, Vietnam's first National University.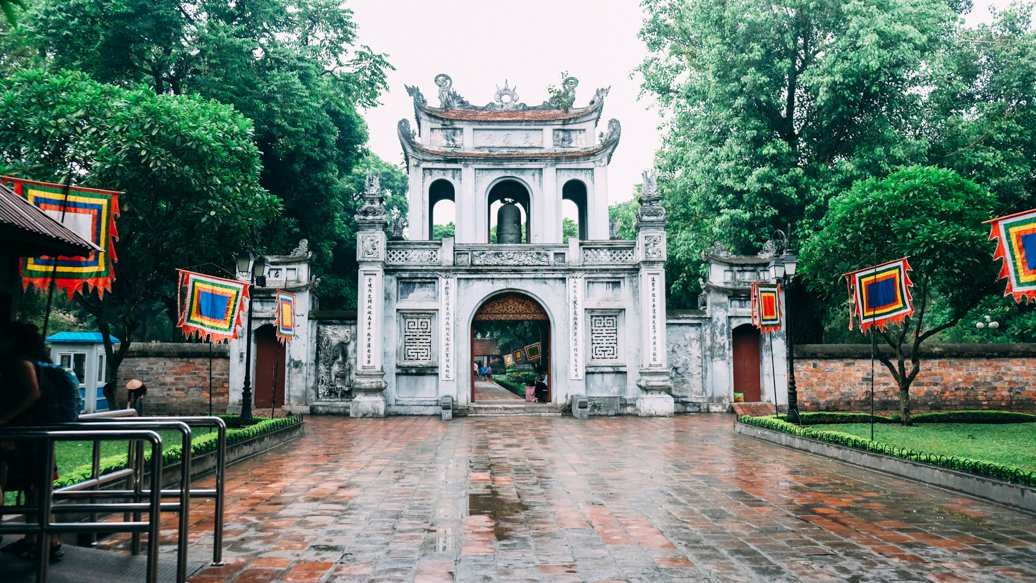 This temple was built in 1070 by Emperor Lý Thánh Tông. One of the several temples dedicated to Confucius as well as scholars. This temple layout divided into multiple parts similar to the temple at Qufu, Shandong. The various pavilions, halls, statues and stelae of doctors are places where offering ceremonies, study sessions and exams.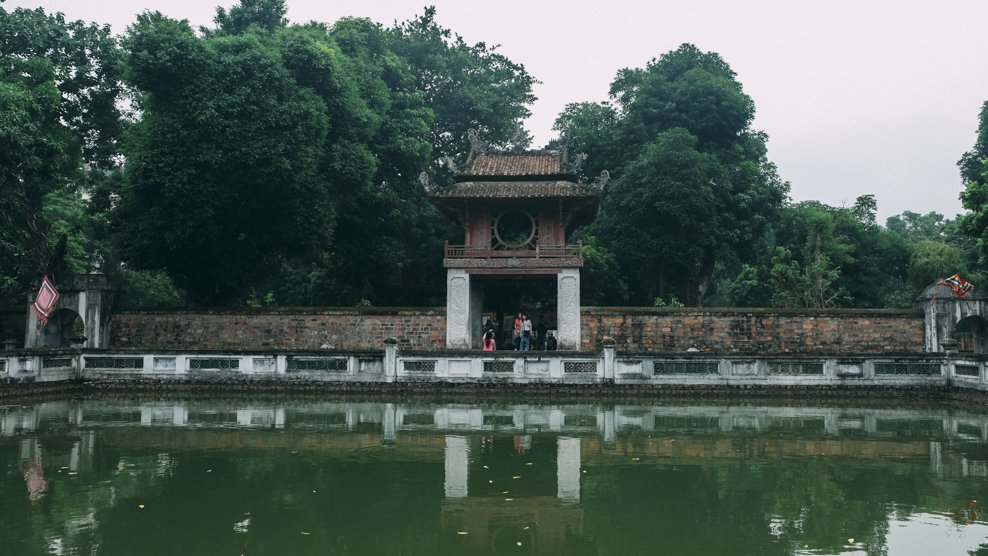 One impression about this place, it's like you're back to the old time. The garden, the small pond, the architecture elements from way back then, it felt so peaceful and green. The energy is positive here. Like I know what I'm talking about. 😂
The Entrance Fee is VND 30,000 / person for adults, VND 15,000 / person for children.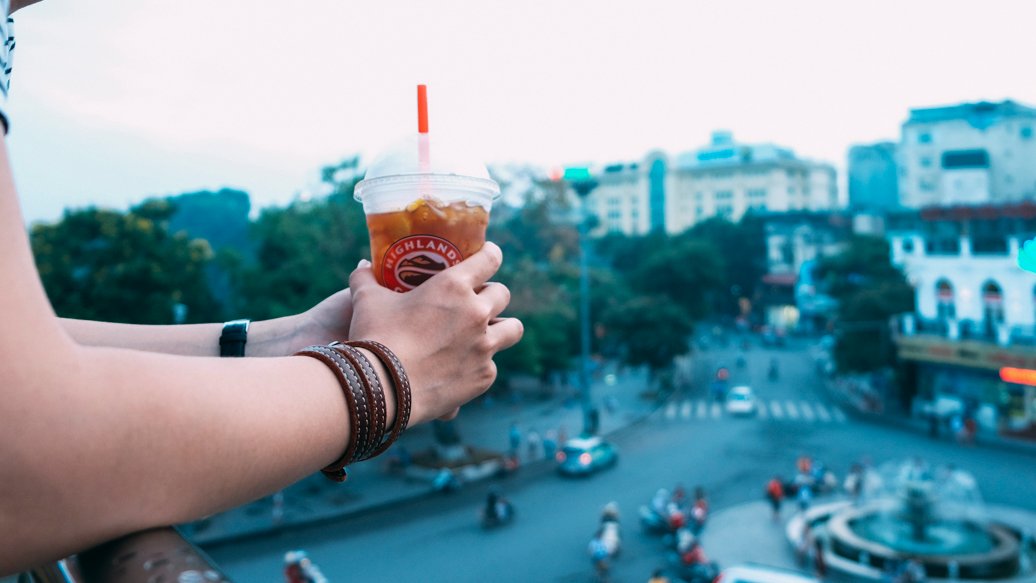 We Are Starving
We're going back to the Old Quarter where we planned to scout a little bit at the Highland Coffee there because it is located at a strategic location to do some night shot. So we're having an afternoon tea, but that is after we answer our stomach calling.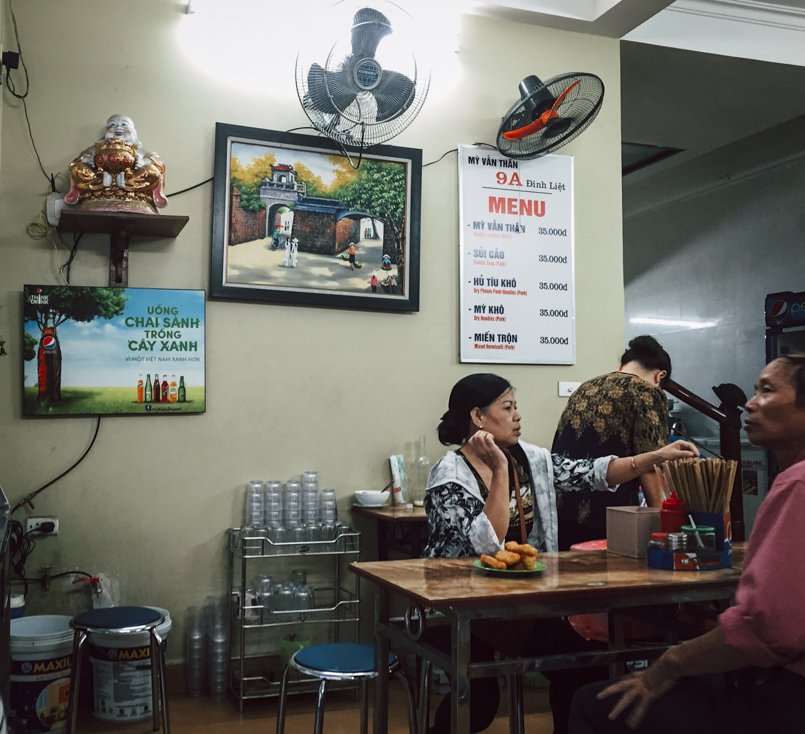 Because it's raining and the weather is kinda cool, so we want to get some soup. Just to warm ourselves a little bit. Luckily, we had one good very late lunch or early dinner.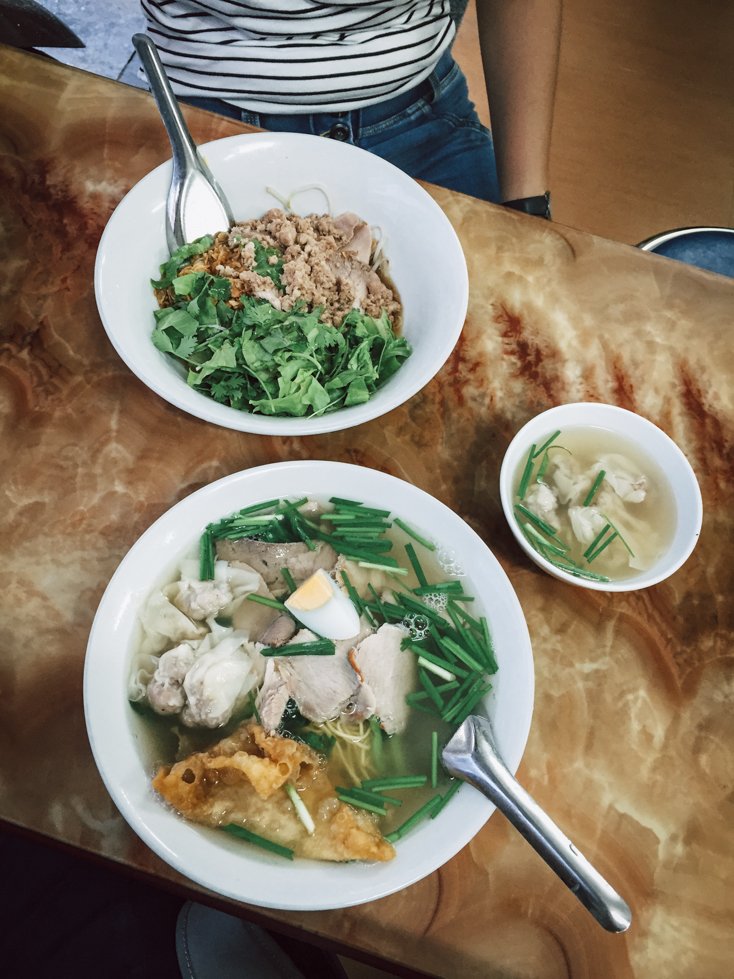 We also bought a rice menu mixed with meats and vegetables to eat at the hotel, costs us VND 140,000, which I just realized that it's way overpriced compared to other places selling rice menu. We also tried their street food, some snacks just to try what it tastes like. And here's when we got scammed. Again…
Sneaky Snack Scam
Once we're done seeing what it looks like from The Highland Coffee at Old Quarter, we're going back to our hotel. We saw some ladies selling what looks like a bread with sugars and some fried snacks. Out of curiosity, we go to one of them and choose some.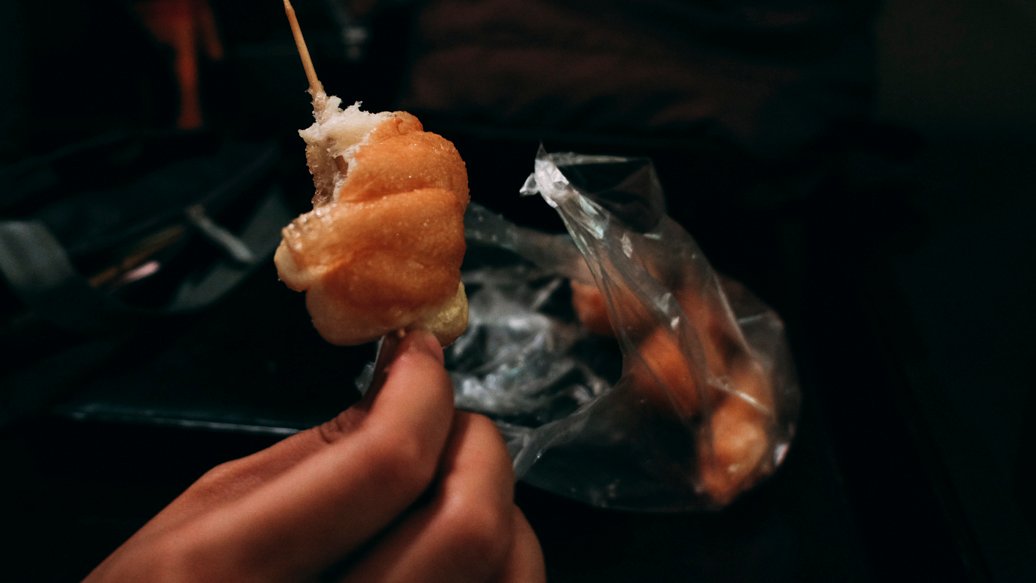 It's not like we're buying something from fancy snack shop or what, so I'm pretty sure these snacks won't cost much. But never have I been so wrong, these Vietnamese really need some lesson. We bought 2 bread sticks and 3 sweet potato balls, when I asked,
How much?

One Hundred Fifty…
Whoa, wait… What? VND 150,000 for just those cheap snacks? Hell no. This time I told her that it's too much, I will just cancel if she charged us that much. I asked once again, "So how much..?", this time it's VND 40,000. #lessonlearned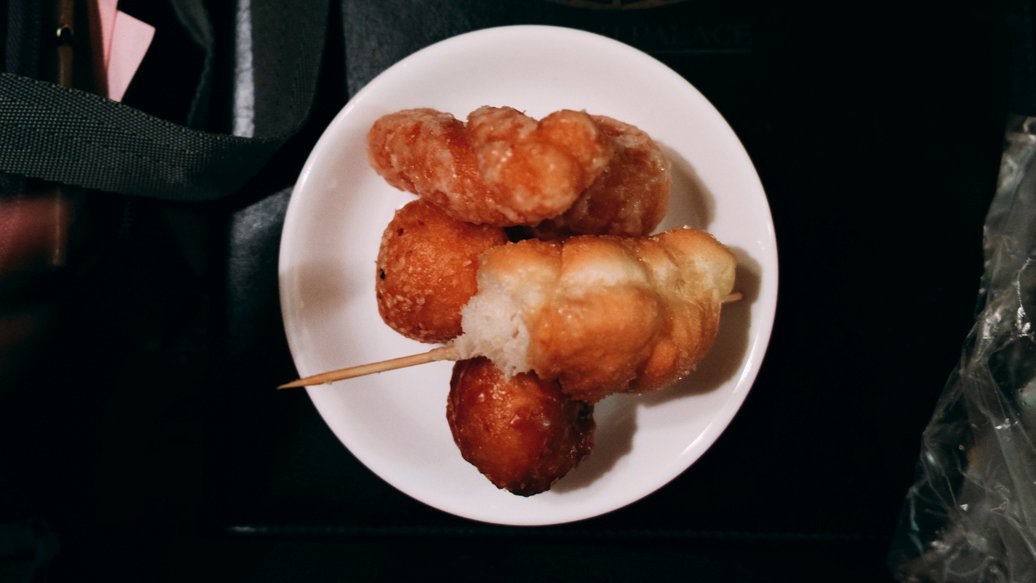 Vietnam is famous for tourist scams such as this. Once they know you're not speaking vietnamese, things change. So in my humble opinion, please be careful and don't forget to ask before buying anything from places that have no price tag.
Old Quarter at Night
We had a nap and a shower at the hotel just to refresh before we're back at this outdoor spot at Highland Coffee. One thing, though, this busy streetsaround The Old Quarter are really packed with activities, foods, tourists, motorcycles, basically nightlife. It's one paradise for you travelers who seeks view like this.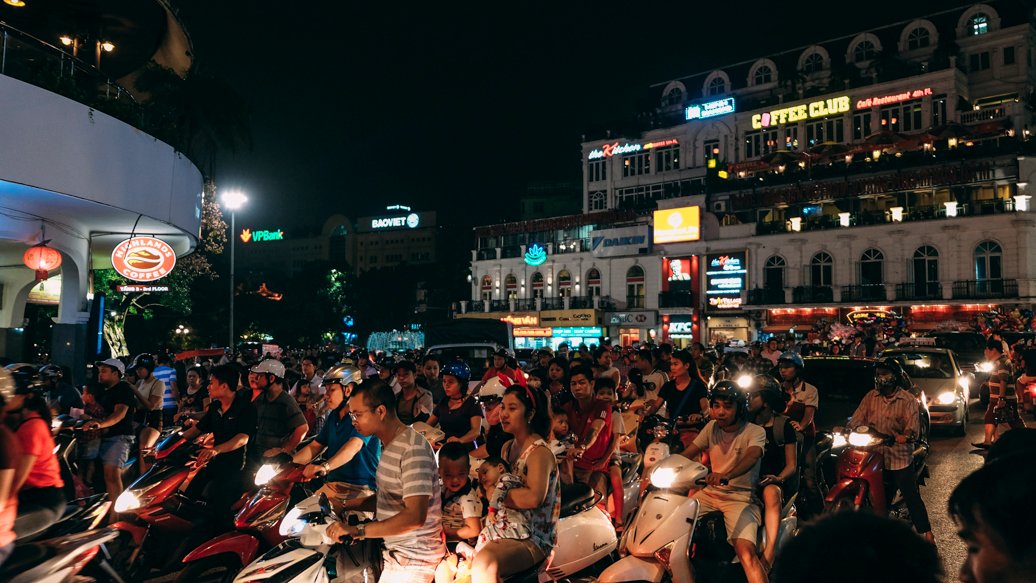 This area is the tourist hot spot in Hanoi. Surrounded with cafes, bars, restaurants, and hotels, no wonder it gets very crowded. That picture above is the one I took on our last night in Hanoi, which is weekend. During weekdays, it's still packed but much better.
We took our spot, buy some coffee, and here's some shot from that night. Just to relaxing the rest of the day.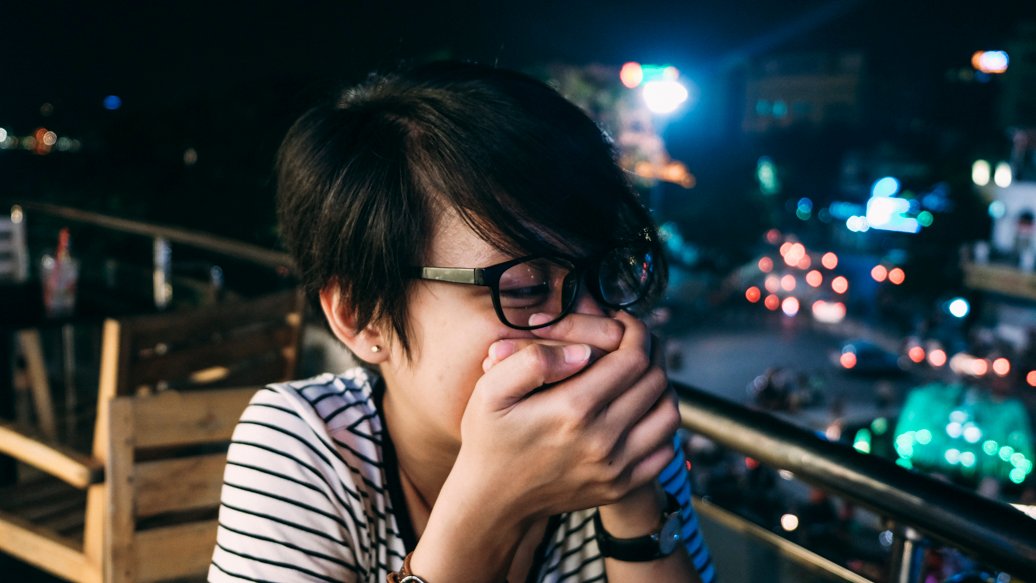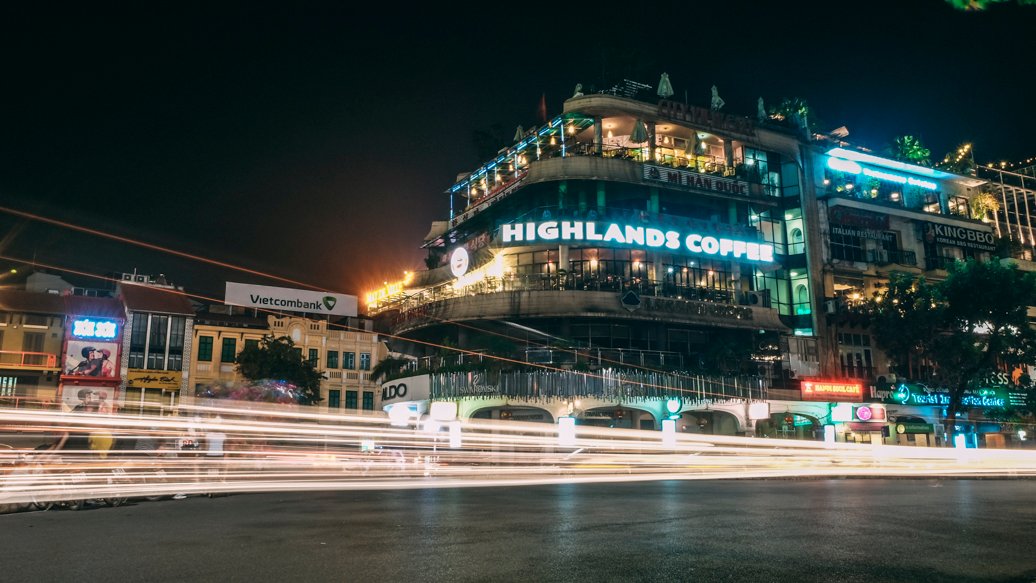 Second Day Dedicated to Ha Long Bay
Our second day was dedicated for one attraction only. That is Ha Long Bay. The ultimate destination in Vietnam that you should pay a visit at least once in your life. I know I may sound exaggerating this place, but it is beautiful. 🙂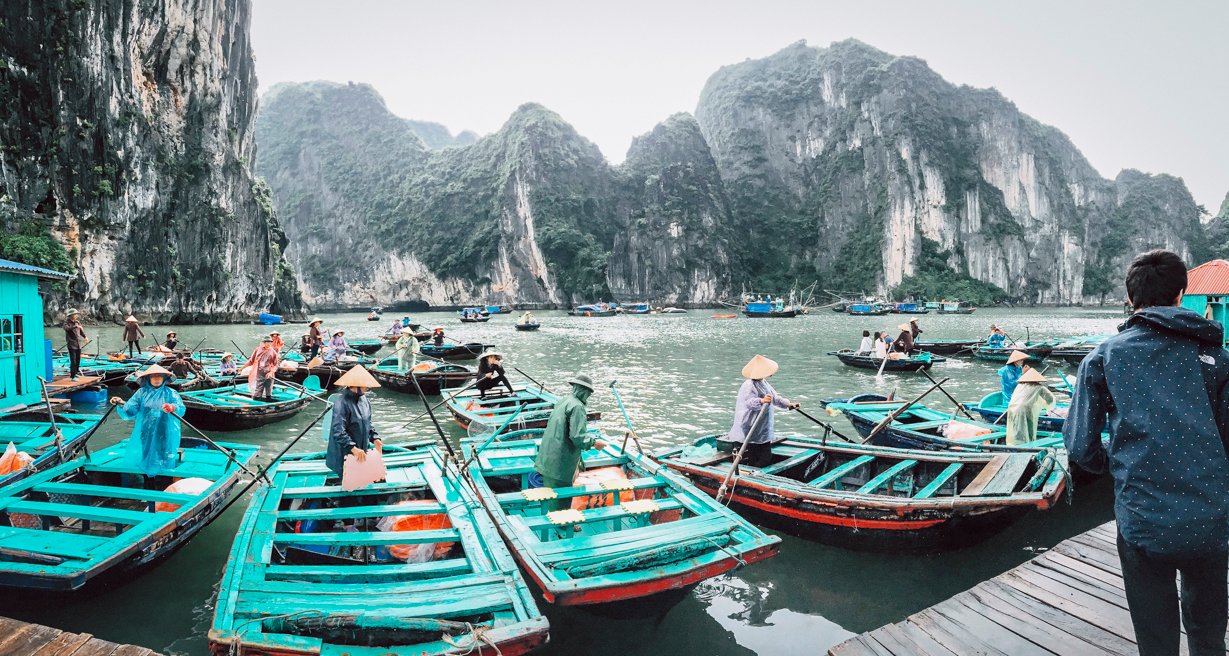 We will have another post dedicated just for Ha Long Bay. Stay tuned. 😉
We book our day cruise Halong Bay private tour for USD 52 / person. Tell you what, it's tiring but worth every penny. The trip took us 3 hours, so that's already 6 hours gone in a day.
That night after we got back from Ha Long Bay, we had two banh mi take away, as a snack for VND 20,000 each. We also had dinner before going back. It's delicious. Vietnamese food is amazing.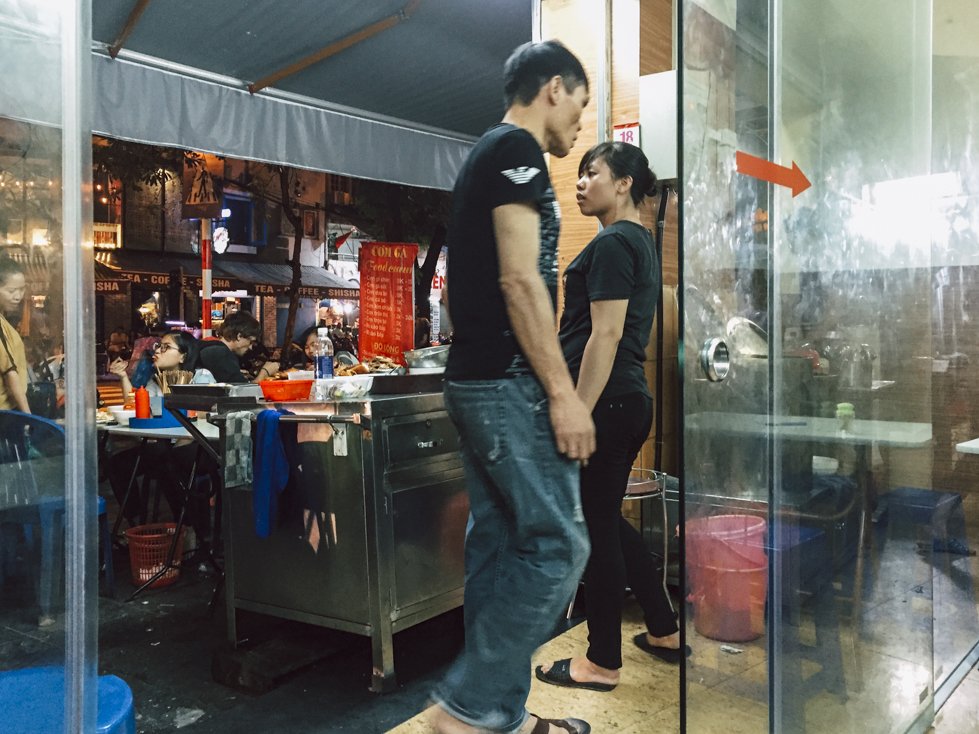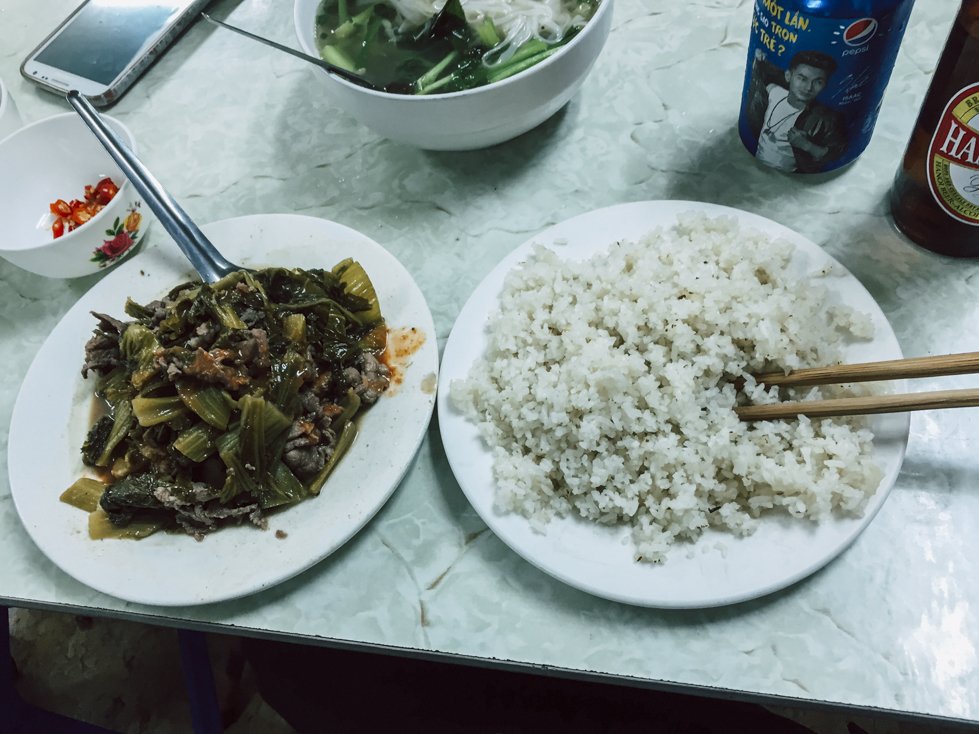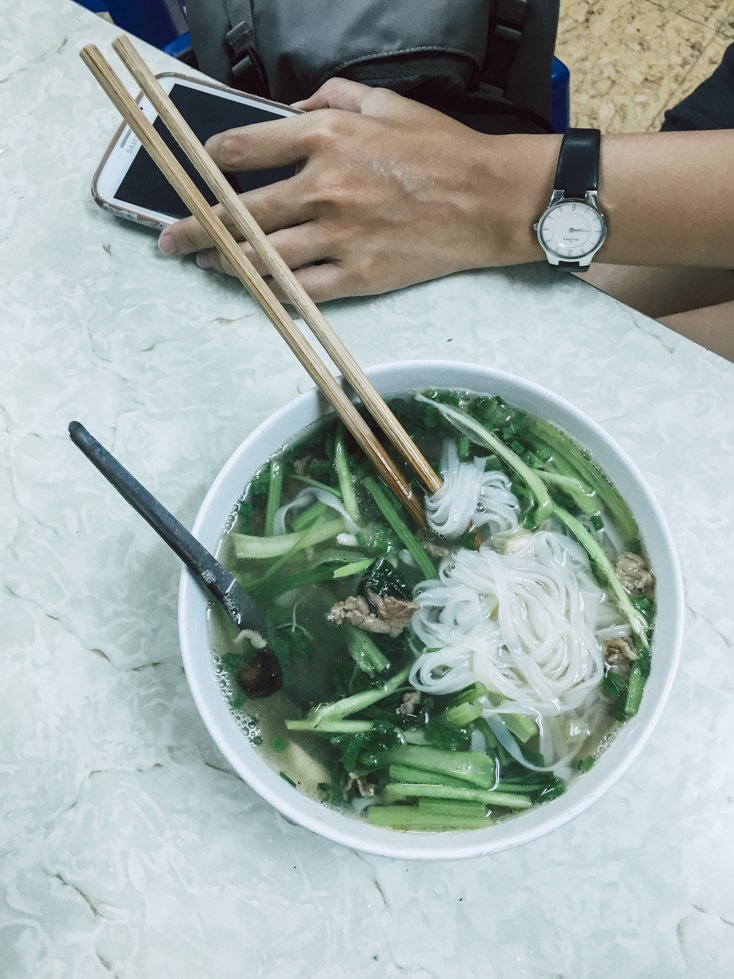 That's our dinner, what do you think? They actually taste very good. This place we're eating was packed with people. The Hanoi beer was alright, for you who wonders. Spent VND 130,000 here.
We also made a stop at one of the cafes we passed on our way back to our hotel. It looks cozy and they have yogurt, why not? Here's how it looks.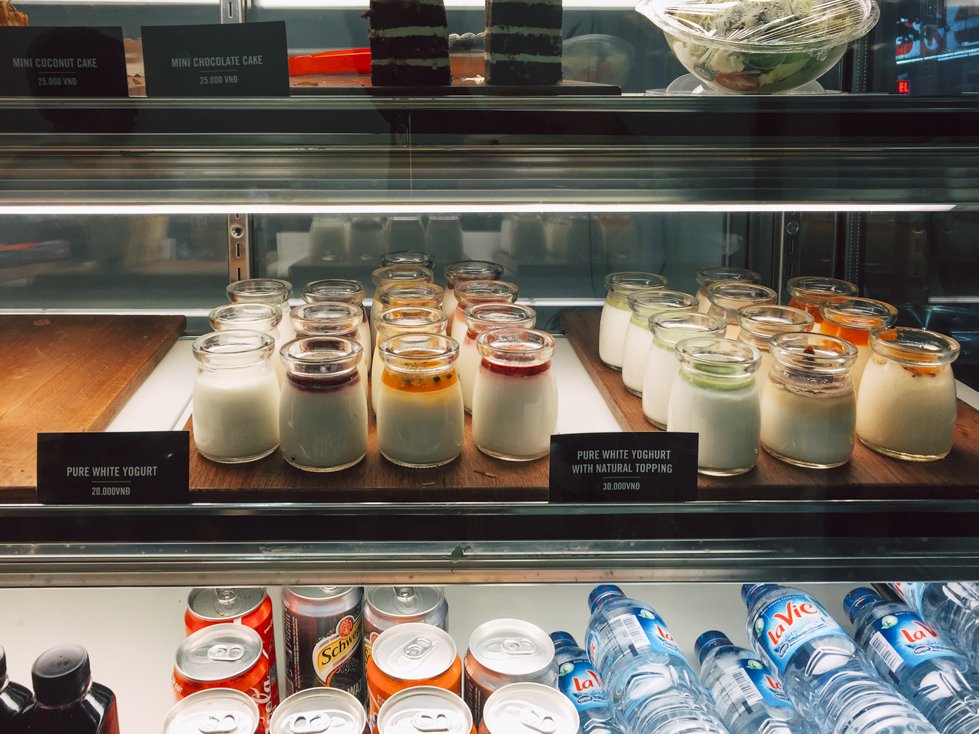 We eat a lot that night. In my defense, we also spent a lot of energy, you know… 😂
Third Day, Hanoi Chill Out
Our third day was spent in a pretty slow phase for our kind of travel. Usually, we always make the most of every second, every hour, every single day with the exception for the last day spared for packing and chilling before going back.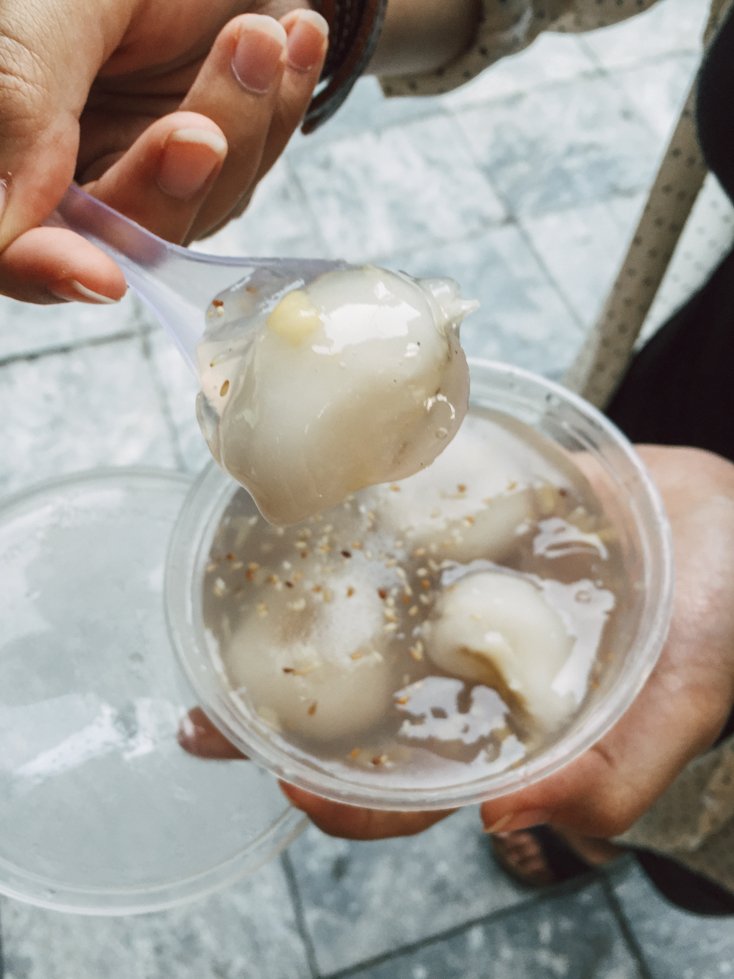 We only planned to walk around Hoan Kiem, Old Quarter, buying some stuff to bring home, trying foods, and taking photos.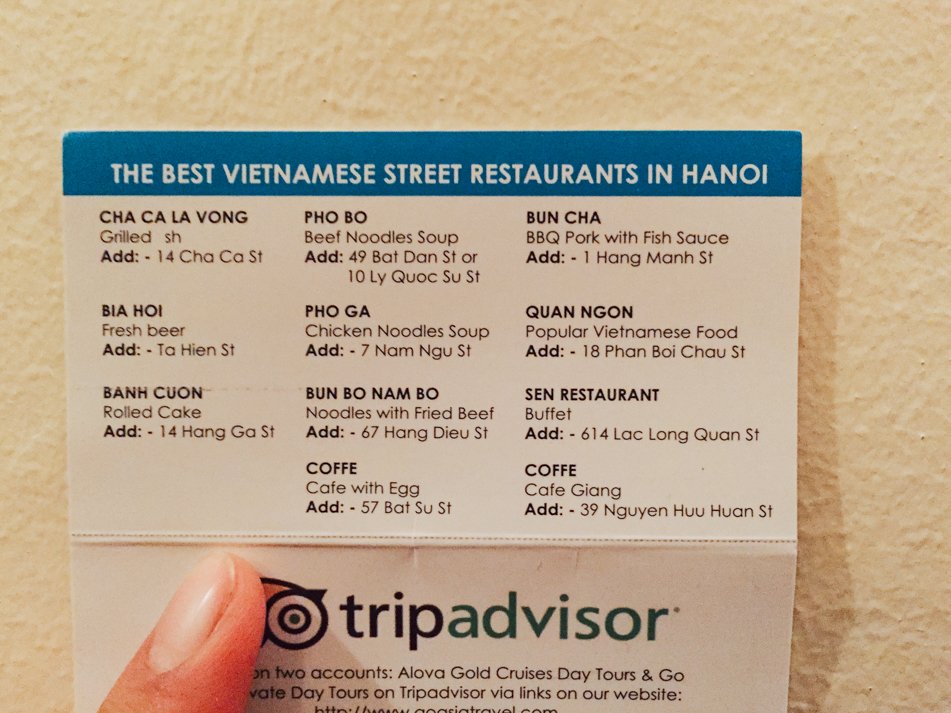 Our tour guide from Ha Long Bay Tour, Tom, gave us his business card with some recommended street restaurants in Hanoi. Since we only have one day left, we decided to try the Bun Cha and their Egg Coffee. Those two are famous in Hanoi.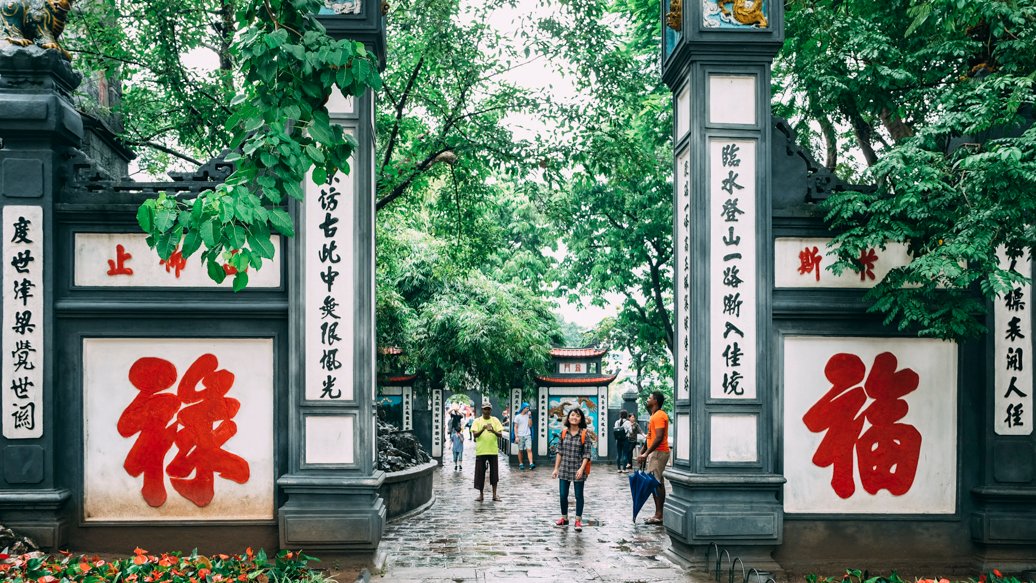 Ngoc Son Temple
This temple is located at Hoan Kiem Lake. Ngoc Son temple which means Temple of The Jade Mountain is the most visited temple in Hanoi. Sits on a small island on the lake with beautiful view surrounding.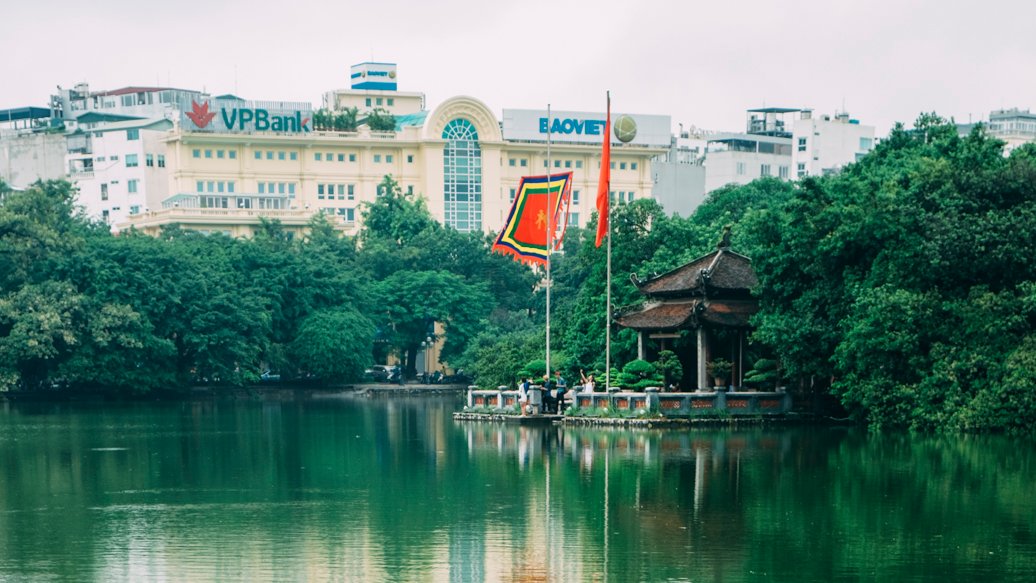 This temple is dedicated to General Trần Hưng Đạo, a Vietnamese general who defeated the Mongols in the 13th century. Also dedicated to a Confucian and a scholar. Entrance fee to this temple is VND 30,000 / person.
The view in this temple is beautiful especially with the Hoan Kiem lake. From the bridge, the temple, and the lake, they're all a perfect combination. Not to mention the weather is gloomy. 😛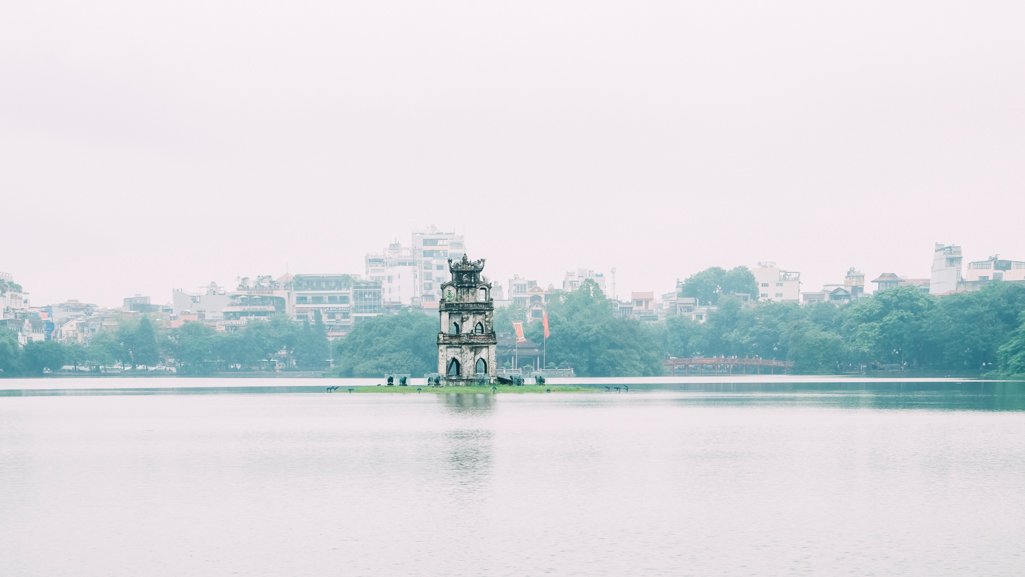 We had a great time sight-seeing this temple, a lot of people come praying at this temple. It's old and authentic. Great for taking photos.
We're also wandering around the lake, it's quite huge. One time around the lake could cost you 30 minutes. We saw a lot of families with their kids, seniors, and even people running or doing sports here. I think the atmosphere at this lake is what really support and attract people to come here.

Theft Alert!
Looks like it's a nice chill hang out spot, even I as a tourist, just want to do nothing here, just be there and enjoy. But be careful with theft possibilities here. We got one guy tried to steal our phone, hers to be precise.
We're walking near the lake, where this guy who sold newspaper came really at a close distance from Steffia. He literally trying to grab anything from her pocket, her waist pack, before trying to get his hand on the phone which in Steffia's pocket. Luckily, the phone was stuck in her pocket and that guy immediately walk away when she realized that he's into something. Wow, really, Vietnam? 😠
There are some report that says the Hoan Kiem Lake is one of the area that many theft happened. Just be careful with your stuff. Be vigilant, stay alert.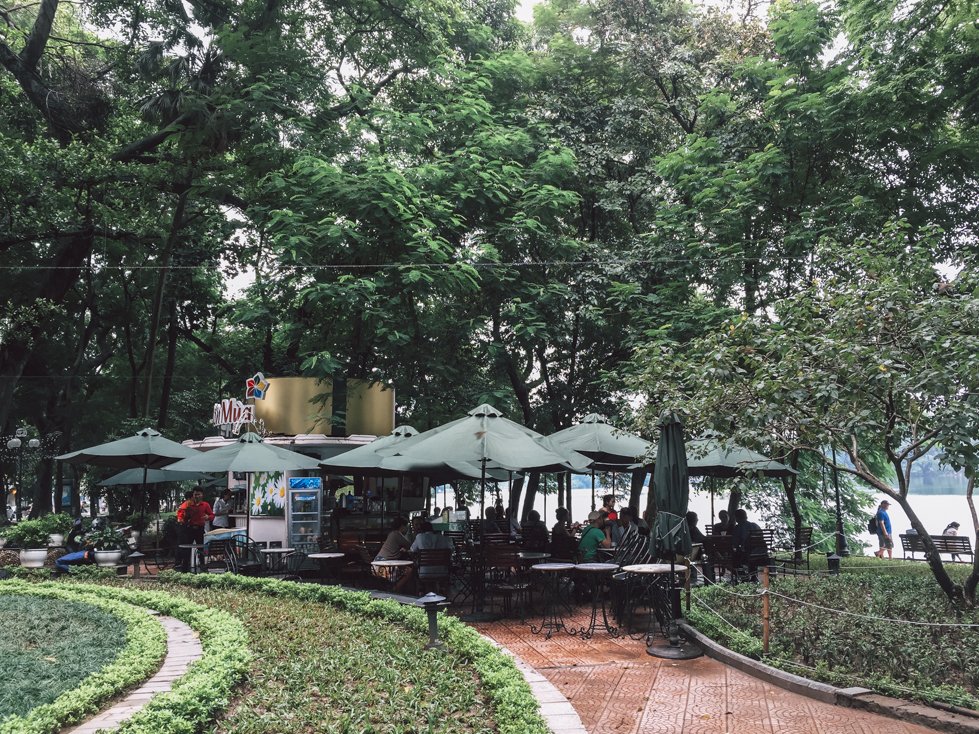 We're having a short break at this cafe just at the side of Hoan Kiem Lake. A lot of tourists and locals enjoying their afternoon here with coffee. Again, it's a great atmosphere by the lake, why not.
Lunch Time Bun Cha Dac Kim
As I mention earlier, I think food in Hanoi is better. This one is by far one of the unique and delicious food we ever tried in Vietnam. Bun Cha is a grilled pork served with noodle. It is originated from Hanoi. We tried the one written on the card from Tom.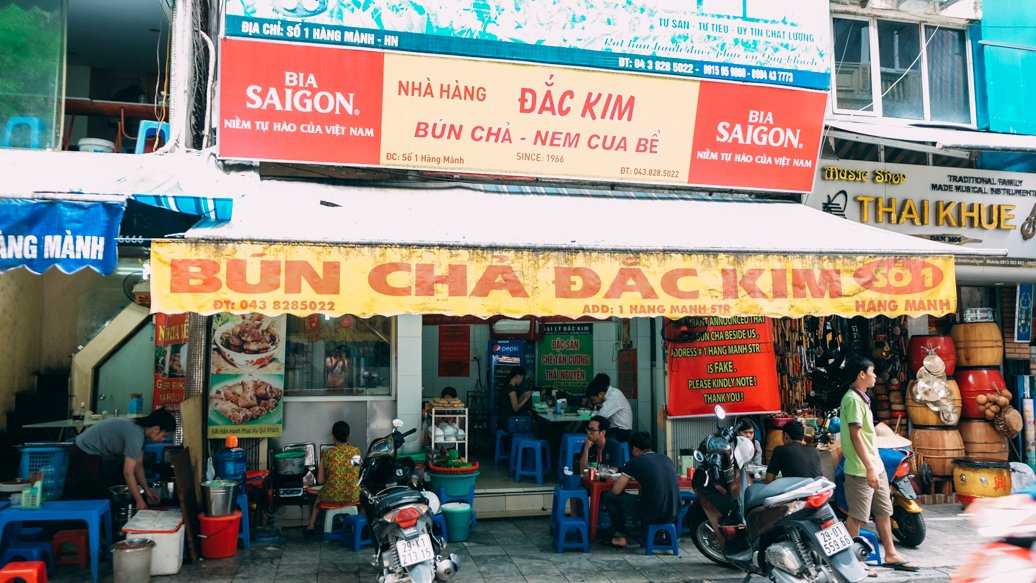 Bun cha is served with grilled fatty pork (chả) over a plate of white rice noodle (bún) and herbs with a side dish of dipping sauce. We enter the restaurant straight to their second level. It's pretty small in there, so watch your step.
Note that there are two Bun Cha restaurants here, they are next to each other. Tom did tell us that the original one, the better bun cha is the one next to the corner one. To make it easy for you, it's the yellow one, not the blue one.
They even had warnings placed all over the restaurant, some can be seen from the street telling people that the one next to them is FAKE. Loud and clear! We spent VND 195,000 here.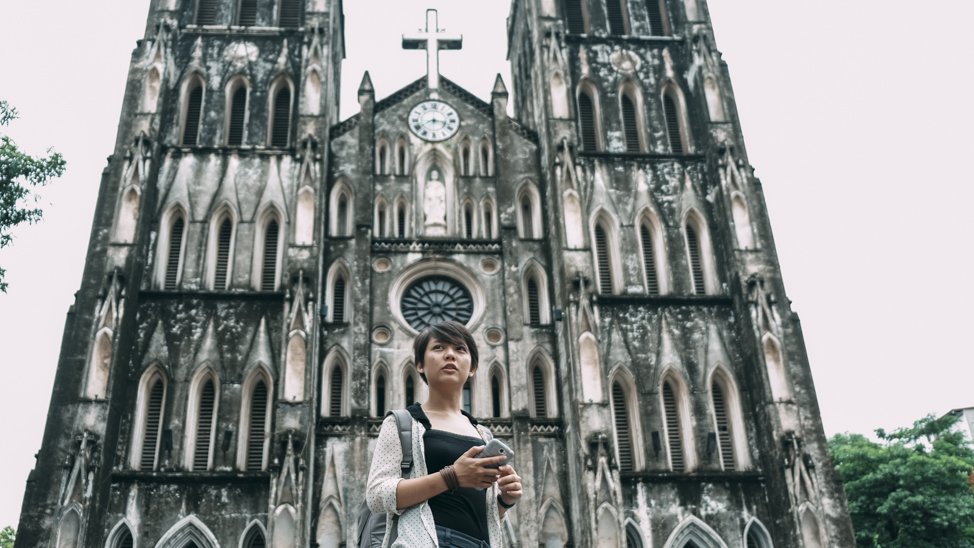 Saint Joseph Cathedral
We visit this Saint Joseph cathedral after we're full with Bun Cha. This is the oldest church in Hanoi. One of the first structures built by the French colonial government in Indochina. Built in 1886, nowadays this Catholic church serves almost 4 million Catholics in Vietnam.
Located at the central Nha Tho street, in Hoan Kiem district. It still conducts several masses daily, while on Sunday, the mass conducted at 6 p.m. The church architectural inspired with Notre Dame de Paris.
We didn't go inside the church because we're both wearing shorts at that time. They won't allowed you without proper clothing. We even saw an old tourist couple sitting on one of the benches outside the church, but still within their area, got a gentle reminder from the church staff (I guess?).
Basically, he's telling them not to do something too romantic within the church area. Looks like the wife leaned her back to the husband while they're holding hands, kinda hugging or cuddling. So yeah, you cannot do that here apparently.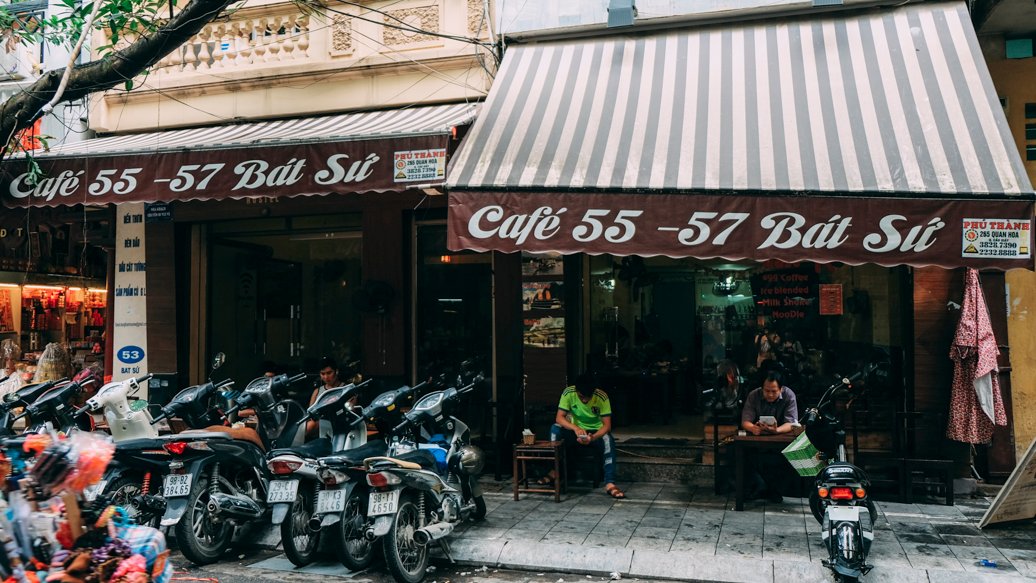 Coffee Break
We walk to this cafe at 55 – 57 Bat Su street to have a cup of coffee. Egg coffee is a thing in Hanoi. You should try this if you love coffee. It's a Vietnamese coffee made with egg yolks, sugar, condensed milk, and robusta coffee.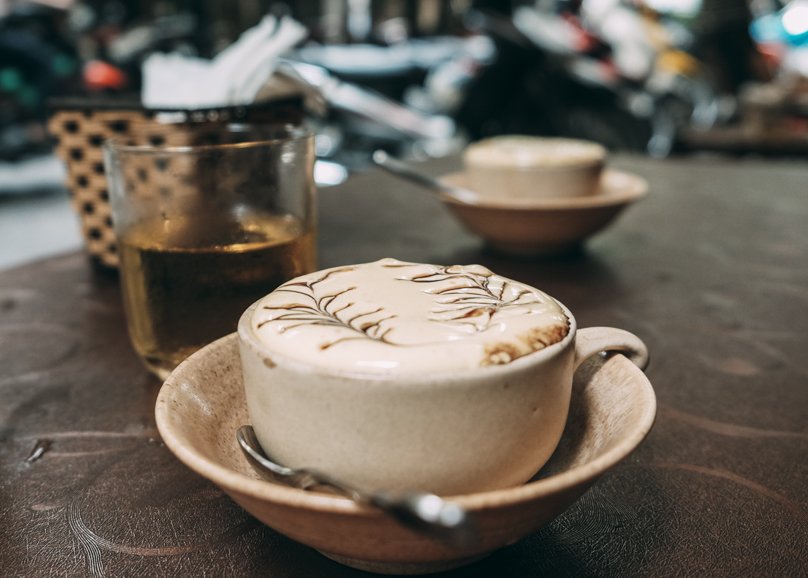 The drink is made by beating egg yolks with sugar and coffee, then extracting the coffee into the half of the cup, followed by a similar amount of egg cream, which is prepared by heating and beating the yolks. It looks like a tiramisu cake and the texture is also similar, in coffee version.
After that coffee break, we felt our stomach really full. And the effect from that coffee starts to kick in. We need a release. If you know what I mean. 😂
So we're going back to the hotel while taking some photo and sight-seeing around Hanoi streets.
It's really one satisfying afternoon for us to explore Hanoi streets. They are unique, oddly attractive and great for street photography. You gotta love the atmosphere there. Maybe we will make another post about Hanoi street photography, maybe… 🙂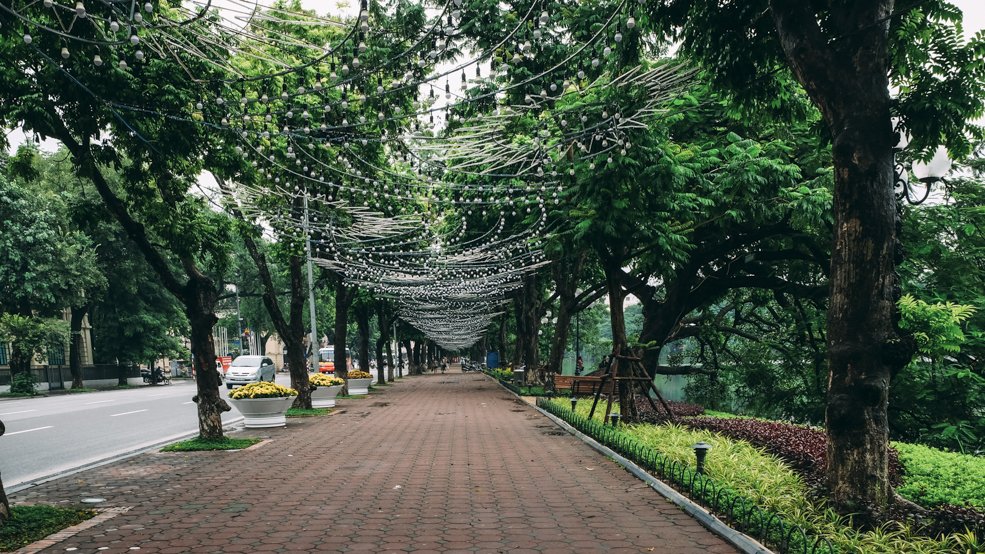 Right Before It's Dark
We went to this one mall in Hanoi called Trang Tien Plaza. It's a shopping center located in downtown Hanoi near the Hoan Kiem Lake. This plaza constructed in 2002 when Vietnamese people celebrated the liberation of the South of Vietnam.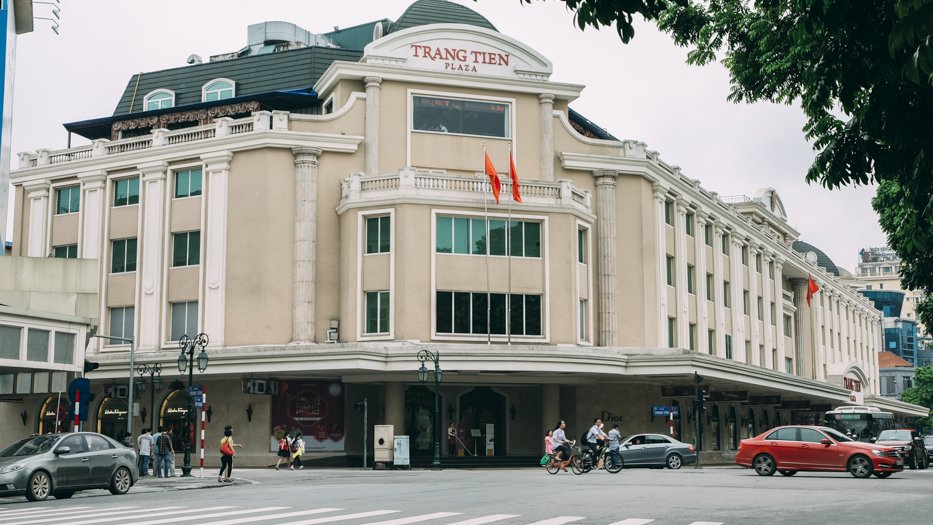 There's not much to see inside. Even for shopping. The plaza is not as large as I thought, it's quite small. Even the food court at the top floor is small. We barely find anything interesting inside. 10 minutes later, we're out.
We're having another dessert near Hoan Kiem lake. There's a pretty famous restaurant by the lake side, called Thuy Ta. They sell ice cream which looks like a famous one. Lots of people buying their ice cream, so being as tourist as we are, we bought them. Delicious as an ice cream can be.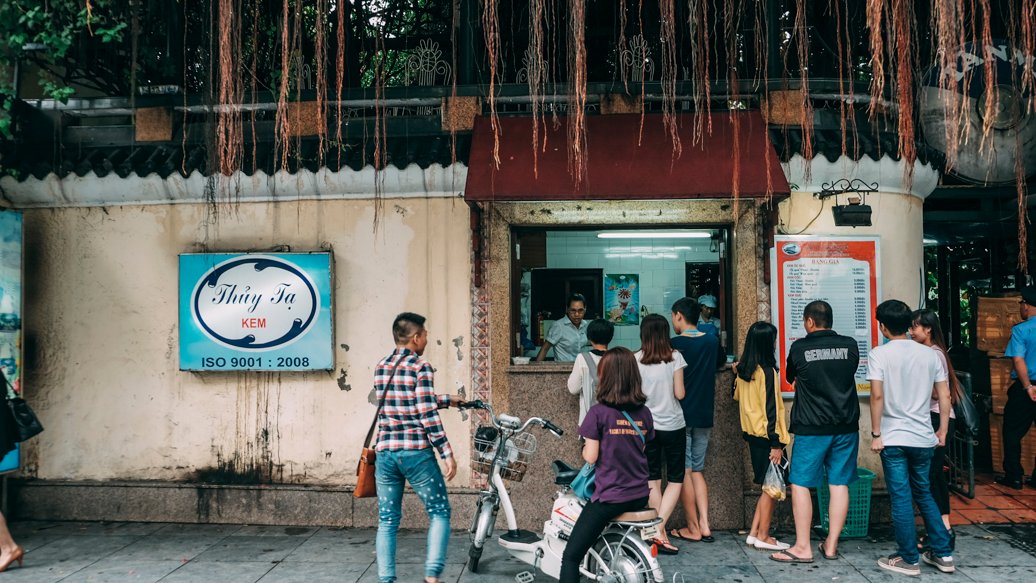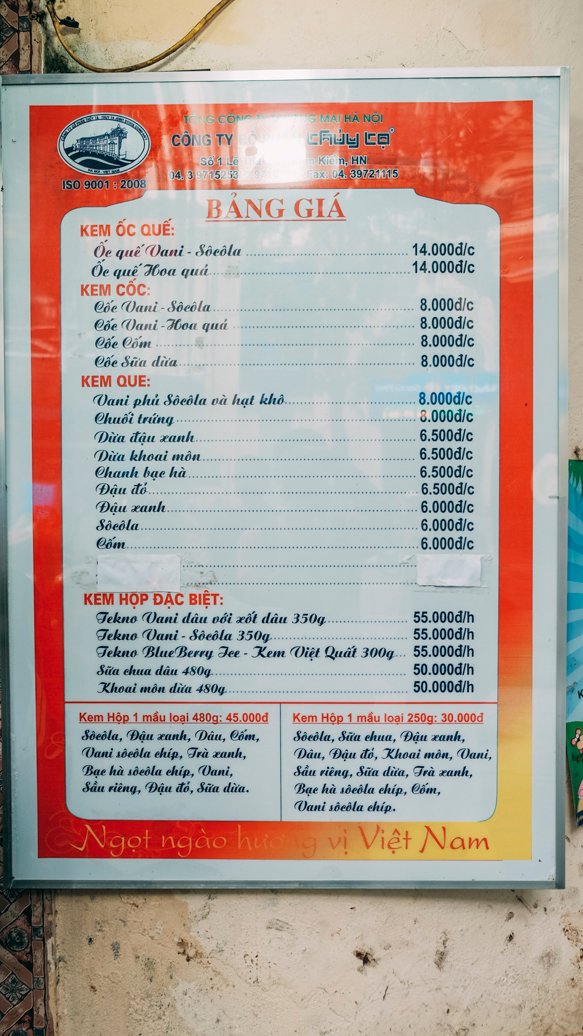 Last Night in Hanoi
After resting for a while at the Hotel, time to fill the stomach again. God, we're eating a lot today, aren't we? Maybe it's too much, we need to stop; said no traveler ever.😂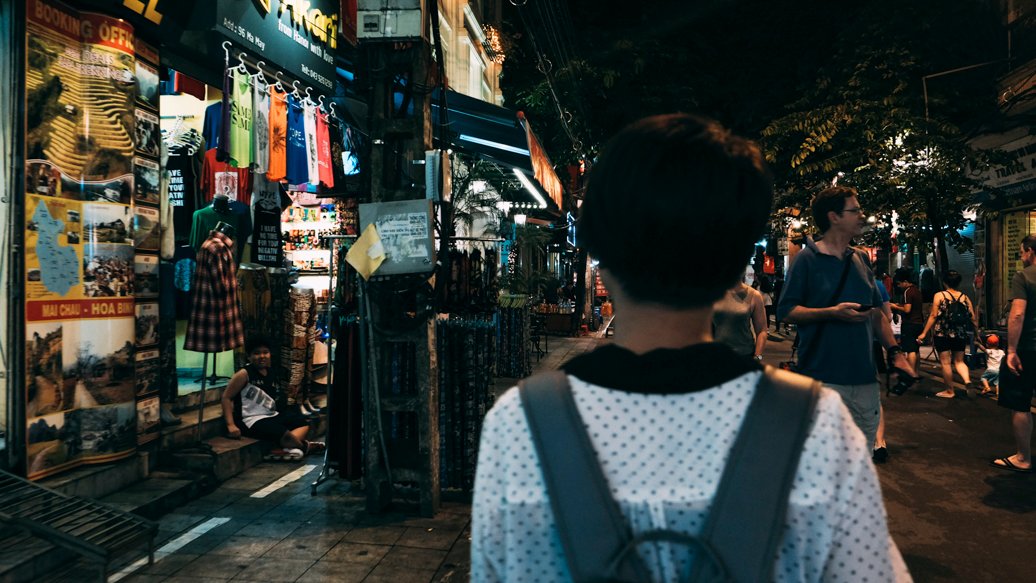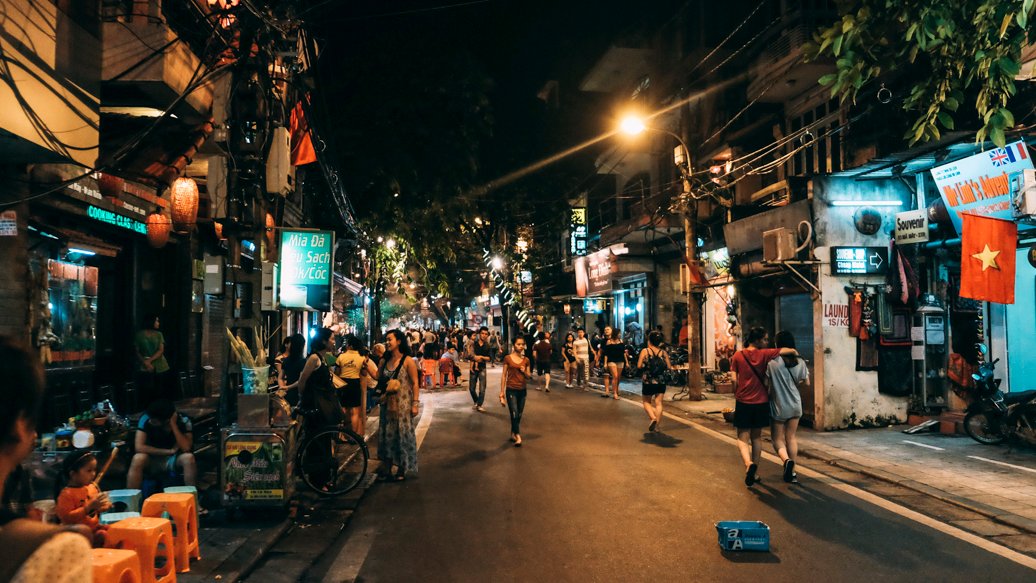 That night seems like they're closing some street because of some night festival or something. Or maybe it's what usually happen on Friday night, people hang out on streets eating and drinking beer.
We saw a local street theatrical performance, something about Vietnamese story. The actors dressed in full makeup, which I think beautiful for some picture. Have a look 🙂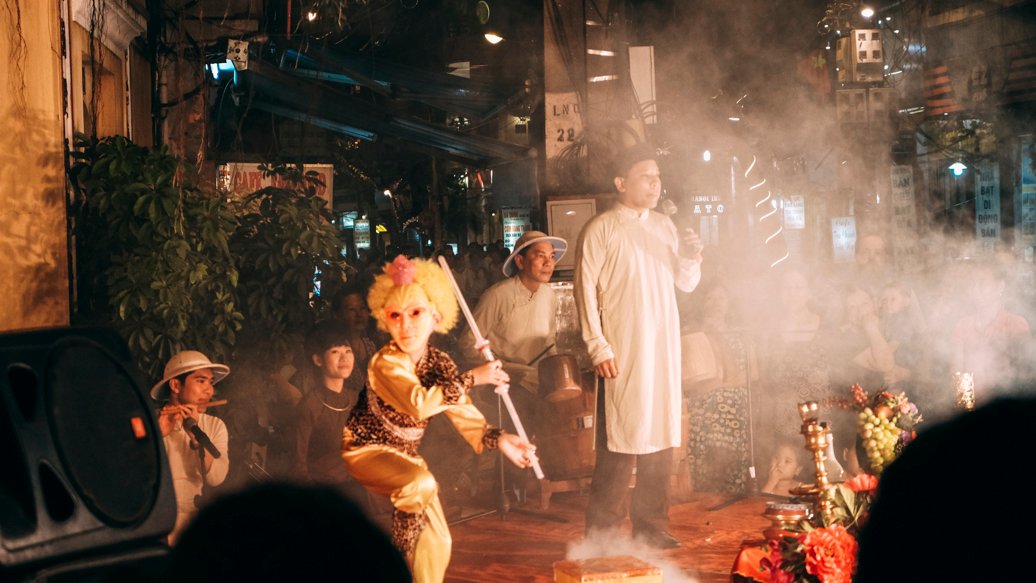 There are a lot of restaurant in this street, Ma May street. Many of them received USD for payment to make things easier for tourists. But each restaurant has their own currency exchange rate written on the menu. Pay attention to what you're paying. Some restaurant charges pretty high.
Tasty Barbeque For Dinner
Our choice for dinner that day fell to this grilled beef restaurant. It has a lot of people eating, of course, we gotta try this food.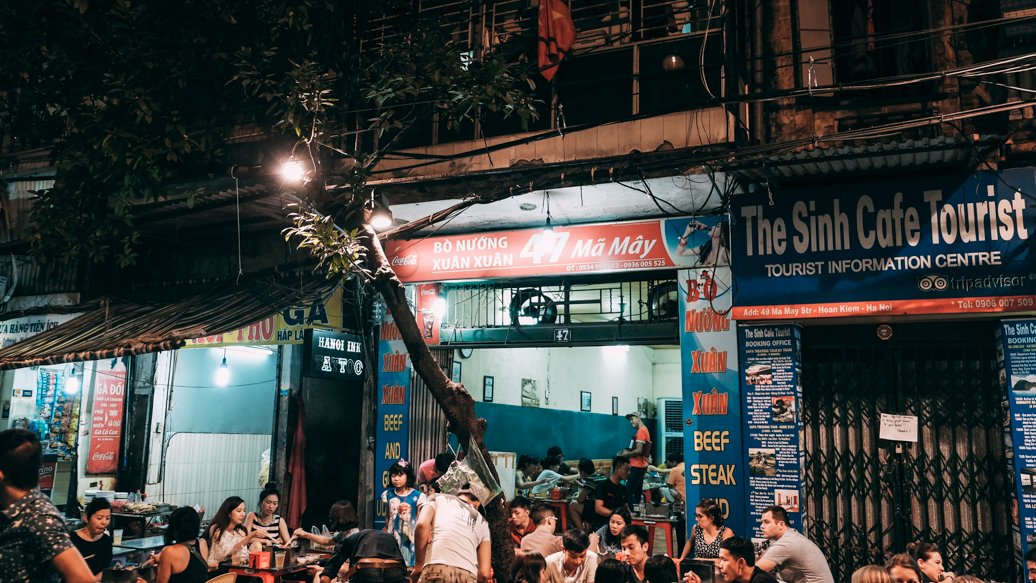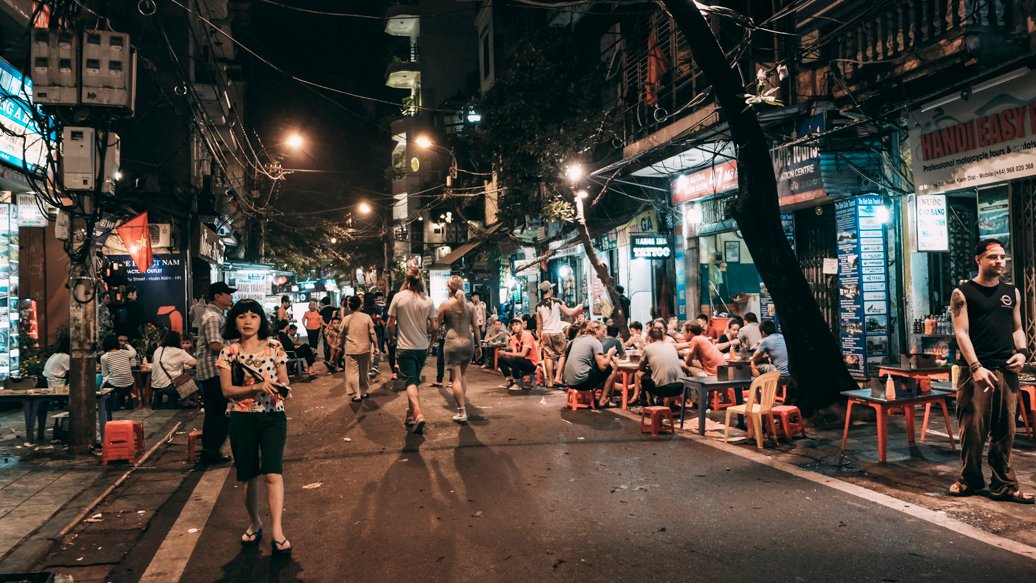 Because they're pretty occupied and no seats left outside or inside, they got us another seat which is way inside where you have to get to literally a different house and go up to their second floor.
Like most Vietnamese street restaurant, they are lack of space. A proper space for a restaurant. This restaurant is more like a house turned into a restaurant. But, there's a reason this place is packed with both tourist and locals. This is why.
We ordered the beef and the pork set. They only sell three kinds of menu; beef, chicken, and pork. How it works here basically they prepare you the meat, the oil, the spices, the sauces, and the foil as well as the iron box with a paraffin. They help you to lit the fire and then let you grill your meat on your own preferences. They will change the foil with a new one once in a while.
From 1 to 10, I would give the food 8, the price 8, and the experience 10. I think I get it why there are so many people eating here. It matches the culture to hang out, having a beer, eating grilled or barbecued meat which you do yourself while spending a good time with your friends. Spent VND 220,000 here.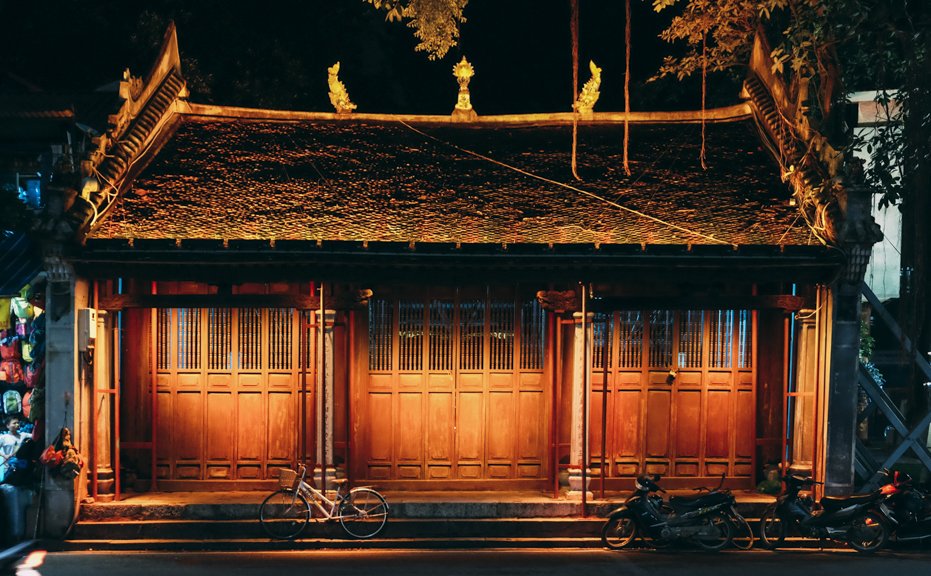 Hoan Kiem Lake At Night
We spent our last night in Hanoi with walking around Hoan Kiem lake, again. It's like we could never have enough of this lake. At night, Hoan Kiem lake turned into a very crowded place packed with tourists and locals hang out here. People really looks like enjoying their night walk here as well as we do.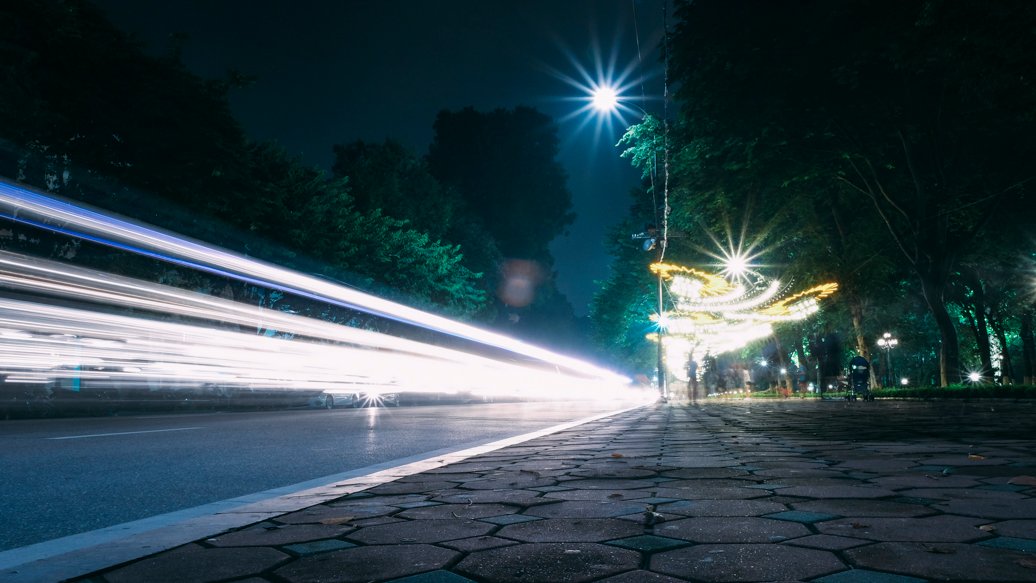 This is really a good way to spend our last night in Hanoi. The view of the Hoan Kiem lake illuminated with lights decoration at the sidewalk of the lake and the city lights really enhanced the mood. The pagoda at the center of the lake has some kind of little light show. Look for yourself;
Day 4, Good Bye Hanoi
The next morning, our last day in Hanoi, unfortunately. Grateful for the experience in Hanoi, really oddly satisfying. We booked a private car to airport from the hotel. It's not the best price, but it's acceptable for us. We paid VND 350,000 for the car.
We had a great time staying at An Nam Legend hotel. Thanks to this Vietnamese lady, Jenny. She's been a great help for us with all the information we need. The kind of service we would like to recommend to our readers.
And this will be the end of our Hanoi travel journal. We're flying to Singapore from Hanoi. But that will be posted on another travel journal. We hope this post sharing our traveling experience in Hanoi could be a useful help for your coming trip to Vietnam. Don't forget to check our travel journal from Ho Chi Minh City.
Give us something in the comment below if you like this. Don't forget to subscribe to our newsletter. Until next post!
---
Disclaimer
Thanks for reading! Check these links below if you want to get some deals on your next trips, as well as we will get something in return to keep us on track. 😉
---
Here's our itinerary map when in Hanoi: