In the recent time, I've been curious about a city in Malaysia called Ipoh. If I got questioned 'why?', it would probably because of our visits to both Penang and Malacca back in 2015. Those two places left quite a memory especially when we're editing and curating stories for both famous cities which designated as UNESCO World Heritage.
I remember once when I was doing my research, a photo of Ipoh as a featured image on the main page about the city on Lonely Planet's site. That was a picture of the very popular Concubine Lane. Here's our version.
That instance, I have Ipoh visually stored and labeled as authentic in my brain. I must plan a visit. Long story short, we had the chance to go here last year, December 2016. Gotta love the experience. The only thing we regret was not having enough time to visit some places we marked on our list.
Ipoh is Malaysia's fourth largest city located on the west coast of peninsular Malaysia. As the state capital of Perak, Ipoh developed into one of Malaysia's main cities because of the early 19th-century tin mining boom. This city also served as the second administrative center after Kuala Lumpur during the British colonial era.
This city divided into two parts. The old town and new town. The old town is west of the Kinta River, while the new town is east of the river. Ipoh new town part built by Yau Tet Shin around 1908. He is a tin miner in Ipoh. This new town part was developed to mirror the old town only better laid out for streets and housing.
Packed our bag, get our camera ready, and airport here we come. We book the earliest flight from Jakarta to Kuala Lumpur, arrived at KLIA 2. It was 6 in the morning.
A Pre-Booking Mistake Right Away
Alright, now this is kind of embarrassing. But, here's the thing. We're supposed to board the train from KL Sentral to Ipoh by 10.38. Now we're landing at KLIA-2 at almost 9.40 something. The trip from KLIA-2 to KL Sentral took approximately 1 hour. I don't know what happened to us when we made the purchase for train ticket online. Let's just say we're delusional that time.
So yeah, with all the landing, gate, immigration, lines, etc, time shows 10 past something. We took it slow as we know we won't make it for our 10.38 train. Bought a bus ticket to KL Sentral for RM 12 / person.
Still feeling stupid, we're waiting for our train to depart at 3 p.m. Might just grab lunch as well to kill some time. We fool around KL Sentral a little bit, we've never been here before anyway.
After some wasted boring afternoon, then finally it's time to board the train. The train platform looks pretty cool actually. The train was a bit late. And then there we are sitting on the train trying to enjoy the gloomy afternoon view from KL to Ipoh.
It took around 2 – 2.5 hours from KL Sentral to Ipoh Railway Station. We tried to fell asleep along the way. But I only manage to get about 30 minutes of a power nap.
Arriving at Ipoh
We arrived somewhere around 5. Got off the train and had a beautiful view where the sunlight was about to set and illuminating the train platform and station beautifully, already that Ipoh feels. Check these pictures out.
Alright! Now it is time for us to unleash our travel-beast mode and satisfy our wanderlust to explore this city.
Nope… Just kidding.
We're tired, just want to find our hotel first and rest. All this because of that one stupid mistake.
Good thing that we had our first pre-booked hotel just 5 minutes walk from the station. That was on purpose. And yes, our first hotel, we booked 4 different hotels for our 6 days trip. Why?
Because we can. Yeah.
We walked from the train station passing the Ipoh Town Hall, the memorial Birch Clock Tower, and the Sultan Idris Shah II Mosque. Nice view it is.
Container Capsule Hotel
This is where we stayed for the first night, Container Hotel. I gotta say, though, I seriously think this is one of the best deal you can get when traveling to Ipoh. With only RM52 / night, you'll get a very strategic location, pretty comfy bed with relatively enough space to move, and a nice decent place with cool ambiance.
I was kinda skeptical when looking at this place online, but given the positive reviews, I'd like to give it a try. So we did. No regret at all, recommended. More details about this place will be on another post, alright. Will give you guys a review, patient.
Surprise Night From Ipoh
We gave ourselves a good 2 hours of rest, kinda. Took a shower and then trying to go get some dinner. We thought it's gonna be a wild night for us to eat this and that.
But oh boy, never have I been so surprised. Instead of a 'nightlife' or something, it's more like almost an apocalypse. It's only 7.30 something, but it's already like 2 in the morning.
We were like: What the heck? Where is everybody? 
We tried to walk around the block only to saw pretty much the same thing, no one's around. Until finally we found this restaurant just the next block from Container Hotel. There we had our first dinner in Ipoh.
Here we had the famous Ipoh local dish, the chicken, and beansprout. This Lou Wong restaurant proudly claims to be Ipoh's most famous purveyor of the local specialty chicken and bean sprouts. I give my thumbs for our dinner tonight.
Feeling full, we took another round of night walk trying to scout some location to shoot for sunrise. We walked pretty far, though, until we crossed the bridge to the New Town (East of The Kinta River). Going through a night market at Jalan Laxamana real quick, before finally, we decided to just get back and end the day.
Day 2: Show Me What You've Got, Ipoh!
This morning we woke up at 5.30. I thought we're late for catching a sunrise. But then, it's still very dark outside. Even the blue light came around 6 something. Just to know, the sunrise here in Ipoh is pretty late, around 7 a.m. local time. You can have extra 'snooze' time, lazy ass.
I know that's a controversial thing about getting up that early while you're traveling. Most people would say,
We're traveling, dude… This is a holiday… We're on vacation… R u serious?
But, if you're like us, a travel photography enthusiasts, you don't want to miss out the sunrise. The soft light, especially the blue light casts on the sky is your 'game-up' travel photos. Trust me, give it a try, wake up early and just walk around in the city you're traveling to, it's different.
Another thing I like shooting when sunrise is there will be fewer people, quieter, and there's just no activity yet. Sure you can also have beautiful lights at sunset, the difference would be the city with people and their activity.
Our First Ipoh Coffee: Sin Yoon Loong White Coffee
Walking between alleys, capture some moments, street arts, and lights from sunrise, that's just one good refreshing morning. We did this while walking to have breakfast at Sin Yoon Loong Coffee Shop. One of the famous local coffee shop in Ipoh, considered to be the first one to produce white coffee in Ipoh.
Many things we want to have from Ipoh, their white coffee is on our top list. You might be familiar with Ipoh's White Coffee. How was it? It was very good, just as people said. You should try.
The place already pretty packed with people when we arrived, it seems everybody here enjoying their breakfast very much. This is very interesting as a culture. A coffee shop like this called 'Kopitiam' in Southeast Asia especially Malaysia, Singapore, Indonesia.
The Kopitiam Culture
This 'Kopitiam' culture heavily influenced by Chinese especially Hakka people. Kopi is a Malay/Hokkien term for coffee and tiam is the Hokkien/Hakka term for shop. It's more than just having a cup of coffee. It's a tradition to bond with family and friends while having coffee and have that 'coffee shop talk'. You gotta feel this is a 'thing' here in Ipoh.
We had to wait for a table for two, no problem. There are some things that you need to know about Kopitiam culture or things. So you won't be blank about it. It's normal to wait for a table when having breakfast like this at a Kopitiam, as they are usually very limited in seating due to their family run business using their own house as a coffee shop.
Another thing is that kopitiam owner mostly only sells coffee and drinks, maybe also some complimentary 'Kopitiam snacks' as well (such as poached egg, beancurd, toast, etc). They usually rent out their space to other food stalls vendor. It is a common thing you saw like chicken rice, noodle, soups, foods.
Hmm… I really talk a lot about this Kopitiam thing, I should stop here. Anyway some Kopitiam terms to know;
kopi = coffee

o/oh = black (coffee) / without milk (tea)

peng = iced

kosong = Malay for "zero", meaning without sugar

'c' = with evaporated milk

teh = tea
We ordered coffees, toast, poached eggs, char siu noodle. Some kaya puff for snack on-the-go.
Another Street Art Hunt!
Full tummy surely boosts the mood. Now, we're off to another treasure hunt. By treasure hunt, I mean looking for some famous street arts to snap. Yep, it's also a pretty popular thing to do in Ipoh. If you haven't already, I made a special post dedicated only to street art hunting when we visited Penang.
There are 7 street arts mainly sought by tourists, which also done by Ernest Zacharevic himself. Just like those in Penang. Ah, feels like a Deja Vu. Wandering Dejavu…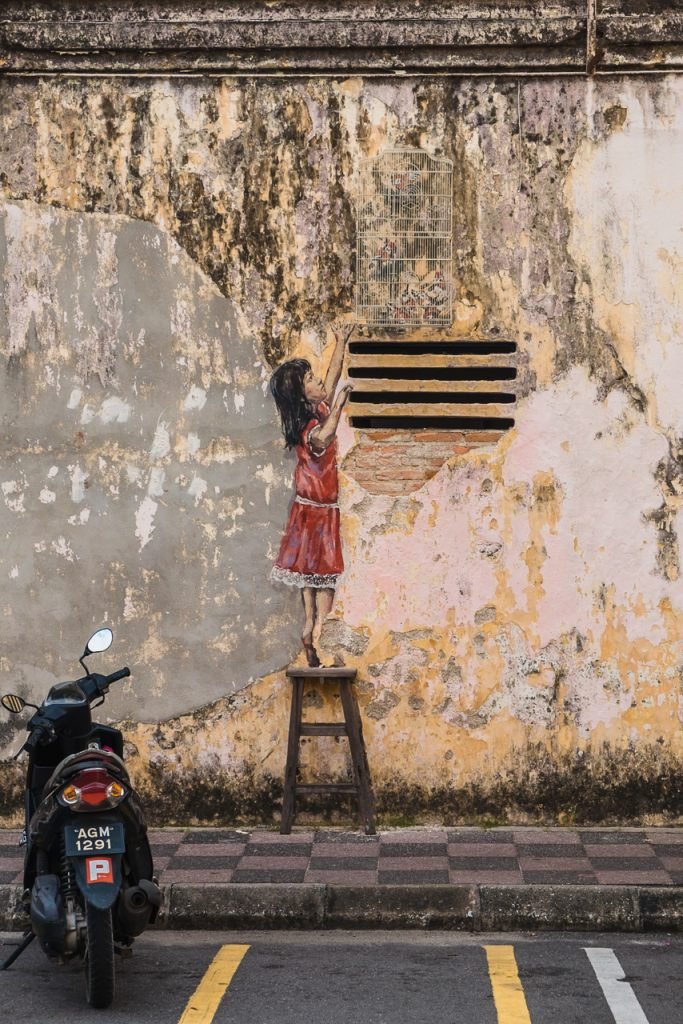 Here's a map of Ipoh murals by Ernest.
We really into our hunting that we just realized that we had to go back to check out before we know it. It's always a fun thing to do capturing those street arts. Maybe I'll do another one just to show some murals we captured, not just those belong to Ernest. There's a lot of other murals too in Ipoh.
Second Hotel: M Boutique Hotel
As I mentioned earlier up there, we stayed at 4 hotels for this trip. For this second hotel, we ride an Uber from Container to M Boutique. It's really cheap, like dirt cheap. Costs us only RM 4! My goodness…
First look at this hotel, dannggg… It's still Christmas mood, yeah? Totally Christmas, this hotel got more Christmas theme decoration than my church. Most churches, actually.
I'm gonna give you a review of this beautiful boutique hotel on another post. You're gonna love it, ladies. It's just so instagrammable. Listen, have your boyfriend ready with cameras. Lol!
Meanwhile, upon checking in, we immediately took pictures of our room for review purpose. Then, we're off to our pre-booked session at Han Chin Pet Soo. Malaysia's very first Hakka tin mining museum.
Han Chin Pet Soo: Top Attraction in Ipoh Old Town
This is one of the top things to do in Ipoh if you're looking online. Of course, we pick that as our itinerary. Note that you're gonna have to make a reservation first and receive a confirmation email to be shown on site with prints or on your phone.
The email specifies your booked numbers in the group and passcode. For more details, you can visit this site to book.
The house contains everything about the story of The Hakka Tin Miners Club. Originally built in 1893 founded by a Chinese man named Leong Fee. This house was some sort of exclusive VIP members only for Hakka tin miners.
They can have lodging, meals, even play mahjong here. On the private tour around the house, you'll be guided to see stories from the Hakka tin miners and the way they worked and lived back then. I found it ok, but not as hype as "The Best" attraction in Ipoh.
Every Monday they are closed unless it is a public holiday. Here are their schedules every day:
Session 1 :

09.30 a.m. – 11.00 a.m.

Session 2 :  

11.30 a.m. – 01.00 p.m.

Session 3 :

02.00 p.m. – 03.30 p.m.

Session 4 :

03.30 p.m. – 05.30 p.m.
If you're not into Chinese culture or history, you're not gonna have a great time. Save your 90 minutes and go elsewhere. There's no admission fee, although they clearly mention they think it is appropriate for you to donate some amount of money. They even stated how much (RM 10 for adults, RM 5 for children). Well, let's just drop that money, alright. It's for the upkeep anyway.
Ho Yan Hor Museum and Tea House
This museum just right next to the Han Chin Pet Soo. It's blue, you could not miss it. As we're done with Han Chin Pet Soo, it seems that they're closing. One guy opens the door to let in the last family queueing. We thought it's okay as we're not putting Ho Yan Hor on our list today anyway.
But we tried our luck by knocking on their door. Guess what? They let us in, just the two of us, last two. That's a very nice of them. So yeah, the young man let us in and gave us a short introduction.
"Welcome to Ho Yan Hor Museum. This is the museum …. Bla…. Bla…. "
It's basically a museum which tells the story of Ho Kai Cheong, an entrepreneur that started this whole tea business from scratch. This man was kind of a legend, he got so many talents inside him. You should read about him here in the museum. What an inspiring man. It's a very popular herbal tea product, though. You can find it at stores in Malaysia.
Once they gave you their intro, they'll let you explore the exhibition inside. Just listen to their warning, this place is basically an old house restored as a museum. Careful with things and the wooden floors upstairs. The exhibition held on both the first and second floor.
When you're done, you'll end up going down the stairs right to the lobby where the entrance is. Then, you'll be given a free sample of their herbal tea. They sell it based on color just to remember it easier.
There are three kinds of tea:
Green: Original Tea; if you got sick, fever, cold. Or to maintain your health.

Blue: Night Tea; helps you relax and get a better sleep at night.

Gold: Premium Pu-Erh tea; refreshing effects and antioxidants for your body.
Given a free sample, yeah that's one great herbal tea. It tastes mild, smooth and smells good. I love herbal. That Chinese feeling when you smell that herbal mix, right?
They even gave us a free two pax of the Blue tea. I guess the lady that serves us knows about my insomnia problem, just by looking at my face, to be specific, my obvious eye bags.
A Very Late Lunch
Something's wrong that time, we felt a very intense uncomfortable feeling on our body. Particularly on our stomach area. Oh yeah, we haven't got anything to eat after breakfast! D*mn, we're starving.

How come we didn't really felt it before? Probably because we're just too focused on our itinerary. Yeah, we're kinda rushing from moving hotels, taking pictures, seeing attractions, etc. We just didn't have the time to eat yet.
So we're walking passed the famous concubine lane again, to find something to eat. Found a group of people seems like shooting a movie or what. Lots of crew and cameras along the lane.
Our choice that afternoon fell on Thean Chun restaurant. Just two house next to the Lou Wong restaurant we had last night. They seem to be closing soon, so we hurry to find a table. Of course, there's a wait, tourists are everywhere, but thank God we got it.
We ordered a Kai See Hor Fun (Chicken Kuey Teow Soup). It is what they're best known for. Some iced coffee and kopi O for drinks. Again, it's dirt cheap, you know? We spent only RM 19 in total. Their kuey teow only RM 4.
Met Someone From Home
Upon eating, we met with a middle age Indonesian lady who works at this restaurant. She noticed us talking in Indo, so she engaged with us. It's nice to see someone from home country while we're traveling, right?
Turns out that she's also living in Jakarta, then moved to Bekasi. She's been working here for more than 20 years. She must be missing home. We gave her our card when suddenly she asked whether we had a job vacancy or some connection to give her a job in Indonesia. Boy, she really missed home, I guess?
Finished with our late late lunch, we're walking back to M boutique hotel. Trying to get the food down, kinda full. It's a little bit raining along the way. But it was a nice afternoon walk.
As we pass the streets, we noticed that shops and restaurants are closing. It's sort of familiar when we're in Penang. It's not even 7 and everybody's gone. Like walking in a remote city.
Well, lucky for us we're gonna spend the night at a beautiful hotel, though. Excited about that! But first, we took a nap before going out again for dinner. We didn't plan to go far anyway, just gonna try that Old Town White Coffee "Grand" in our hotel. That fancy look, interesting.
Old Town White Coffee "Grand": A Fancy Kopitiam
Yes, we had our eyes upon checking in toward this fancy look restaurant located at the corner of the M Boutique hotel building. If you know or familiar with Old Town White Coffee brand, this is their upscale brand. That's what their "Grand" for, to sell you more expensive food.
Shortly after a nap, we ate here. Ordered a fried wanton noodle and seafood hor fun. Just to be concise, I don't think the food was great, it's really not what I expected with that fancy place and "grand" name behind it. Worth it? Nope, I don't think so.
However, one thing about this place, though, the atmosphere. This is quite a beautiful restaurant with all the lighting that set the mood just right. It's good for a coffee and chit chat, but not for eating. Spent RM 49 for both our foods and drinks.
Just before we get back to our room, we spent some time to enjoy the ambiance in the lobby. It's just too good to not photographing it. Took a good 1 hour just to play with our cameras and snap here and there with all their beautiful decorations. We'll have it on another review post about this hotel. Meanwhile, consider this a tease.
To Be Continued…
Alright! That will be the end of our second day. I think I'm gonna do two to three posts about Ipoh Journal. It's just too many things that I want to share and not making it too long for one post. I can, however, packed it within this one post. But, we're gonna have to cut a lot of stories, which I don't feel like to for this Ipoh trip.
Stay tuned for the part two of this journal. Hope you guys enjoy this content. Meanwhile, if you haven't already check out our last post comparing Penang and Malacca. Leave something in the comment below if you ever been to Ipoh. See you in the next post, bye!
---
SPONSORED
Thanks for reading! Check these links below if you want to get some deals on your next trips, as well as we will get something in return to keep us on track. 😉
---
This is the map showing all the places we've been as well as those we canceled to visit due to our traveling time. Hope it's useful.