Crossing the border by land to Israel was really quite a story. Despite everything that happened, we're finally made it. When we crossing the border, I got a friend of mine questioned of her belongings while passing through the security check. Well, not sure "questioned" is the appropriate word. Maybe…. "Interrogated" better to describe how intense the situation was.
I purposely mention some points as a disclaimer on the previous post just to make it clear that these series from the Middle East are personal stories from a pilgrim trip. I also provide the information about the tour company of which given us the service, how much it costs and how I will curate these stories with some of the pilgrimage perspective.
It's insanely hot once I get out from the building to find our bus. My skin definitely can feel the burn immediately. Trying to walk under the shadow and start loading my bag on the bus plus helping other bags as well. Thank God for AC and wifi in the bus, feels like heaven already.
Call me drama king, but it was so good to feel AC under that sun. I am sweating like I'm just taking a shower. You should check your travel destinations for the weather just to be prepared. I found this site very useful every time I go somewhere new.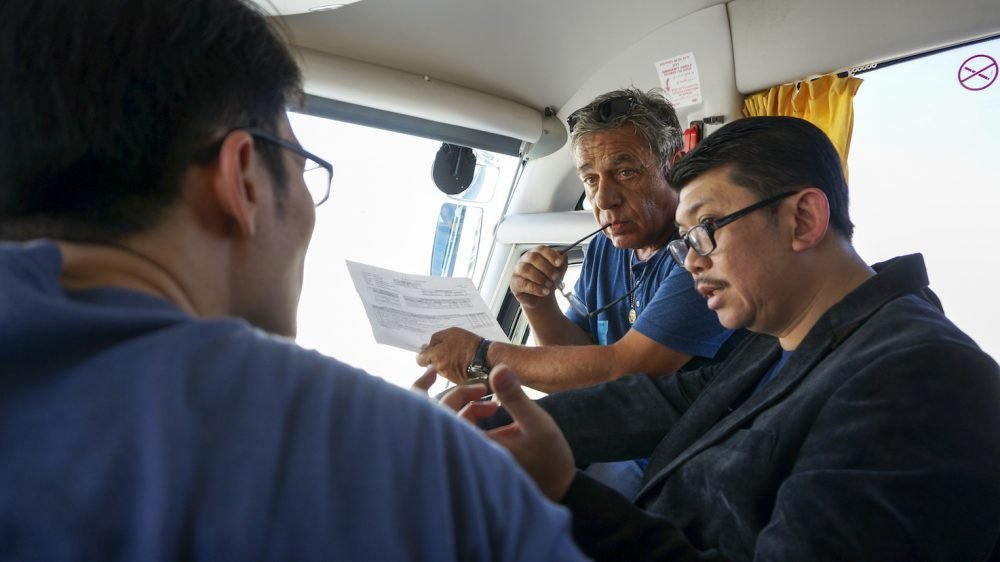 Change of Plan
As soon as everybody on board, the local guide, Mr. Dani together with our tour leader and pastor (pilgrim, alright..?) having a discussion. They kinda change the itinerary on the spot to adjust with the local situation and for a better chance to cover as many places as possible. Several minutes later, we're good to go. Change of plan it is.
Right after the bus starts to move, so with Mr. Dani made his move. Grab the mic and this voice of him reminds me of Morgan Freeman, you know, the "God" voice? Yea, that kind of voice. Thick, heavy and hoarse type of voice.
He introduced himself and our bus driver Mr. Abraham (He is old, like over 60 y.o. something). Mr. Dani made a quick introduction for both of them and the company before he made his first ice-break. Because of his voice, when he talks in deep-low-serious voice, things kinda feel intense in the bus. He surely know this, so as soon as someone opens a snack to eat, he made a serious face and tell that someone  "
Because of his voice, when he talks in deep-low-serious voice, things kinda feel intense in the bus. He surely know this, so as soon as someone opens a snack to eat, he made a serious face and tell that someone  "do not eat inside the bus…. It's prohibited". Oh boy…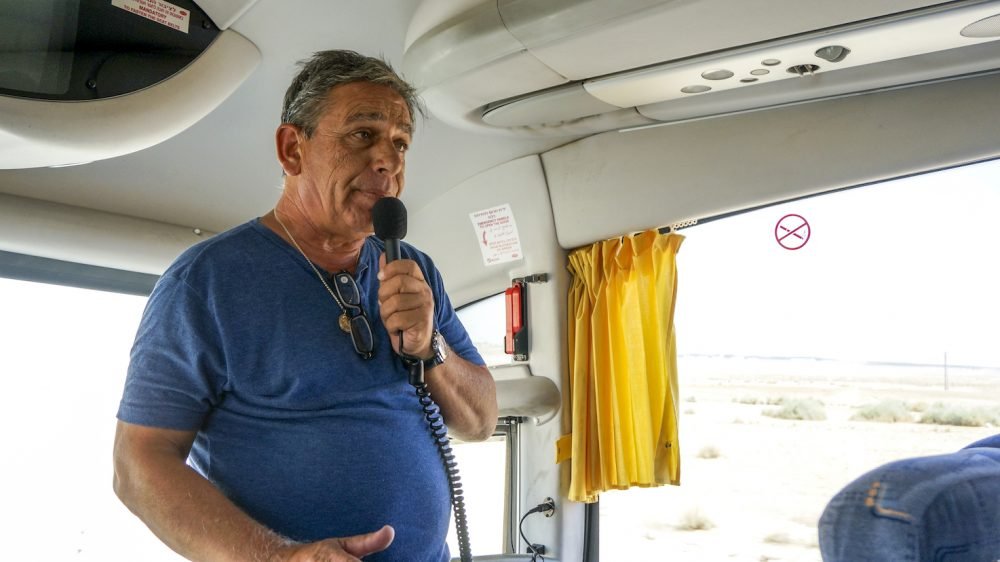 Of course, things go quiet inside the bus including our guide and pastor. Before finally, he broke that silence with a laugh. For God sake, Mr. Dani… That was really good.. Lol!
No.. No.. It's okay if you want to eat, please eat.. Please.. I know you guys ladies and gentlemen are very hungry right now. But please keep it clean, otherwise Mr. Abraham will not be happy with you guys.
I still thought he was joking about that Mr. Abraham happiness has something to do with the bus stay clean. Guess what? Turns out it was true. Our bus driver was very strict about the cleanliness inside the bus. No joke. But I think everybody else still thinks that it was a joke.
Mid-day Lullaby from Mr. Dani
That short intro from him at least can really melt the level of awkwardness after that crossing the border thing. I noticed that his skin is really dry, just as the brief that we had earlier before back home. We were told to prepare for the extreme weather in the middle east, very hot and dry because we're traveling in July which is summer. July and August are usually their hottest temperature of the year.
I suggest you bring a lotion or moisturizer or whatever to keep your skin hydrated. A little warning for your lips, nobody likes a crack on their dry lips, right? It hurts, bring a vaseline or something. I got mine already on the second day.
Mr. Dani starts with his routine which is a short brief about what we should know while being in Israel, what rules apply to us as a tourist in his country. What we will see for the next couple days with him, what we should not do while being there, some restrictions, some guidance, basically that kind of stuff. Before finally he started with the intro of a little bit Israel's history.
By the way, he's speaking Indonesia fluently to us. But that deep hoarse voice of him, mann…. Effective for sleep, very much.
ETA for Tiberias 2 hours, enough for anybody to fall asleep inside the bus. But I do pay attention to his story. Not because it's really interesting but because I was sitting behind him on the second row, so he often looks at me while telling stories, it would be not polite for me to just fall asleep like that, wouldn't it?
I just have to endure his story. So I took a shot while we're passing the road where I can see Jericho to my left side where he gestured his hand to.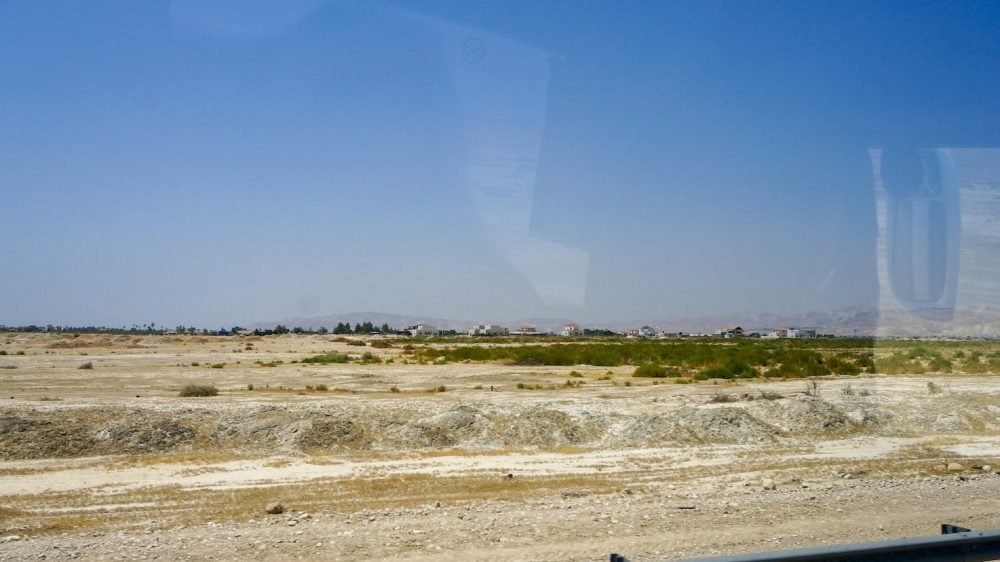 Seeing this two lane road (looks like their highway? Route 90 according to the google map) feels like I'm in the middle of the 19th century where most of the view dominated by yellow sands and some desert plants once in a while. The road was so empty, like maybe 1 car for every 3 to 5 km.
I thought maybe because it's not really where life happens in Israel, it's still very close to the borderline, where I can see literally the border fences along the highway. Mr. Dani points his finger to our right side showing us that we can see the land behind that fence is Jordan.
History Crash Course
As we can see on the map, Jordan and Israel are neighbors. There's a lot of things happened between them. Mr. Dani tried to explain how Israel and Jordan can achieve such a peaceful time like now compared to Israel and the other Arab countries.
Back then, Jordan used to be the enemy of Israel from 1948 the Arab – Israeli war (where Jordan / Transjordan join forces with Syria, Lebanon, Iraq, Egypt, and of course Palestine), 1967 the Six-Day war (Israel versus Egypt, Syria, and Jordan), until 1994 where the peace treaty signed.
It is such an interesting story to follow because I think that's one of the major reason why middle east was known as the "Hot" zone or conflict zone. I even still doing some research about what's really going on here after I come home. And yes, worth every article.
I did some research before, but mostly just about places on the itinerary and Israel in general. I recommend everybody who wants to travel to do some research about the country history first to have a better understanding of the culture, the people, and the nation itself.
I found some short duration video last year which I think pretty good and simple enough to help us understand a little bit about Israel and their war.
That's a pretty interesting history, right? Find out more about those wars, tons of articles you can find online. Those stories really hypnotizing everybody inside the bus, slowly but sure one by one fell asleep. I know exactly when he said, "Alright… Seems like I have to stop now, nobody listening anymore." Lol!
That's when everything goes quiet and then I too fell asleep. The last words from Mr. Dani were, "I know you guys are hungry, we'll go straight to Tiberias to eat the famous St. Peter's fish". Yep, that famous fish used to known as the fish that St. Peter caught when Jesus told him to spread his net in galilee.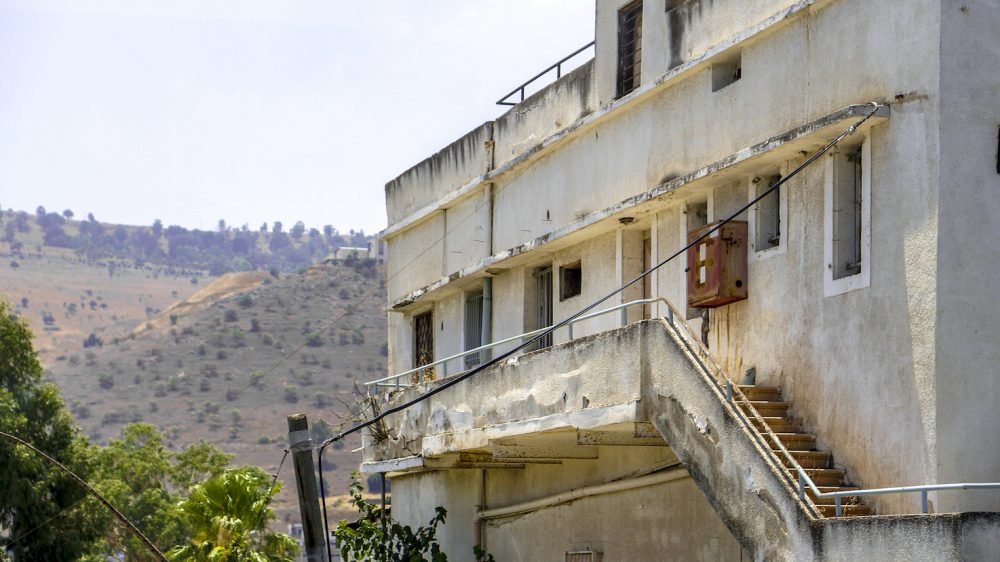 First Impression of Tiberias
For the next one and a half hour, Mr. Dani woke us up. Here we are about to enter the city of Tiberias which I can see houses and hotel or even motels that looks pretty much like a house. This city named after the Roman Emperor Tiberius around 20 CE. Also well known for its hot springs for thousands of years. I like this city a lot, kinda mixed between a very chill western tourism city yet considered one of Judaism four holy cities in Israel along with Jerusalem, Hebron, and Safed.
I like this city a lot, kinda mixed between a very chill western tourism city yet considered one of Judaism four holy cities in Israel along with Jerusalem, Hebron, and Safed.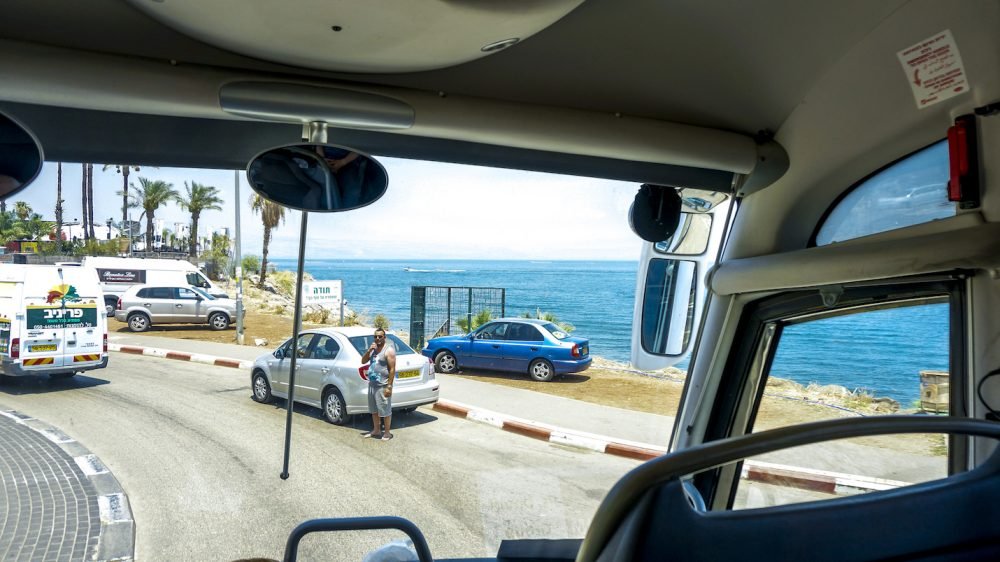 Just look at the photo above, I'm not sure that guy is a tourist or local. This city has been a tourist magnet for a long time, thanks to that beautiful lake Kinneret (or Sea of Galilee).  Tourism is one of the major important economy roles for this city.
From the famous lake itself, the Kinneret crossing (open water swim race held every September annually), hot springs, even to the pilgrim things such as Jesus Trail (40 miles long pilgrimage hiking trail route) plus many historical and religious sites in this city.
Our bus stuck for quite a traffic jam, because it's weekend and that tomorrow is a sabbath day. A holy day where all jews use it for resting, so yeah the holiday vibe is strong once you enter this place. The more we get closer to the lake, the more traffic we met. This chill vibe really attracts local and tourist very well. I can see people doing water sports on the lake. Awesome feeling!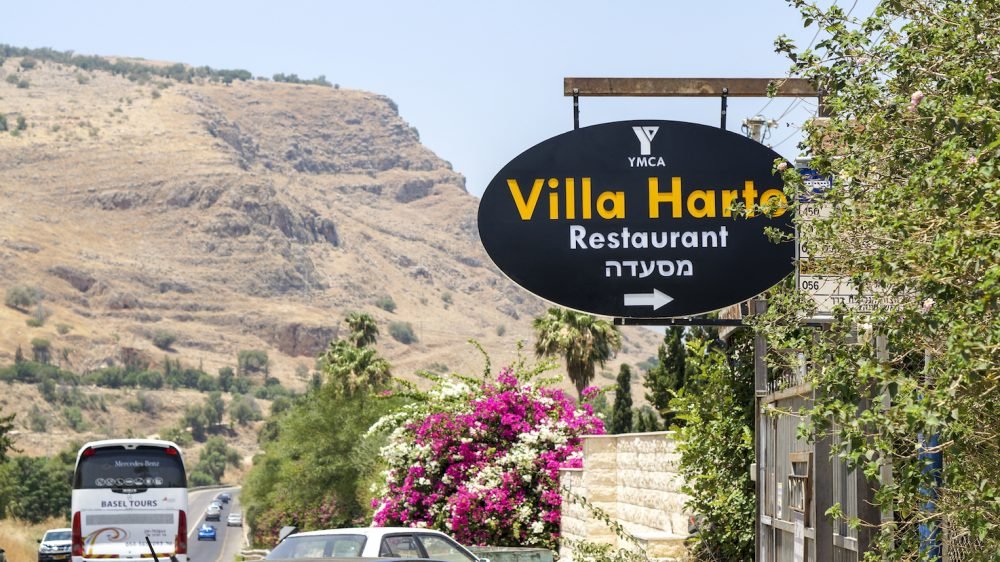 That Famous Fish of St. Peter
Struggling for a while with traffic before we finally made it to our first food in Israel, the St. Peter's fish at Villa Harte restaurant (reported closed now on google map). Apparently, it's also a place to stay, and they got chapel too.
Check out their site. I'm not staying here, just stopping for a lunch which Mr. Dani took care of the booking and the payment. From the information I've ever read, this place serves St. Peter's fish at quite a high price. Here's what it looks like.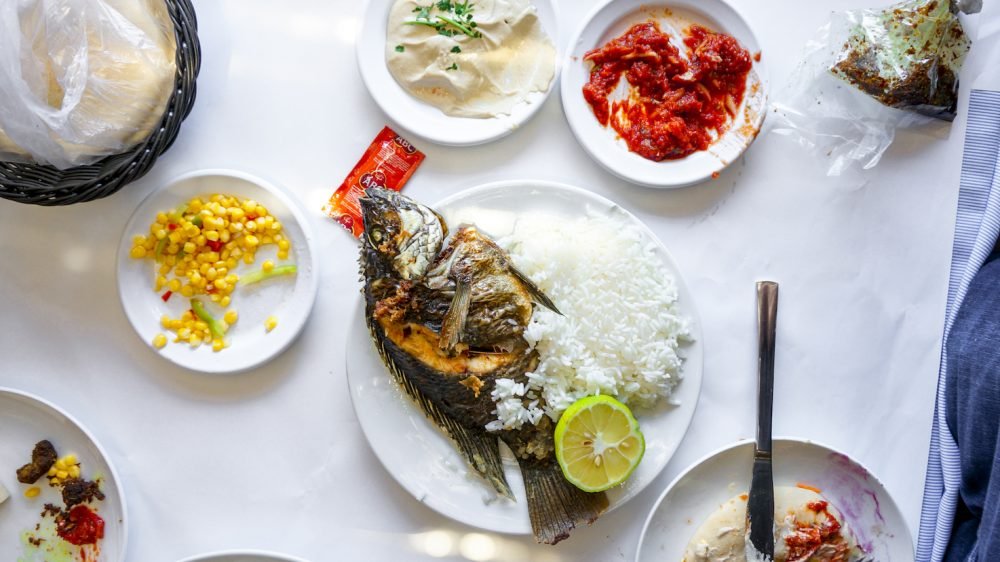 Don't mind the chili ketchup sachet with ABC label on it and the brown thing on the top right corner. Those are some "elements" needed for some of us Indonesian people who doesn't really fit into the middle-east style of cooking. Judging by the look, yeah it's a fried fish.
They start to serve you with a salad, a local bread (pita bread), together with the dressing which I believe what they call hummus. Tilapia baked with tahini sauce and topped with olive oil, coriander, mint, basil and pine nuts (and sometimes also with fried onions) is a specialty of Tiberias.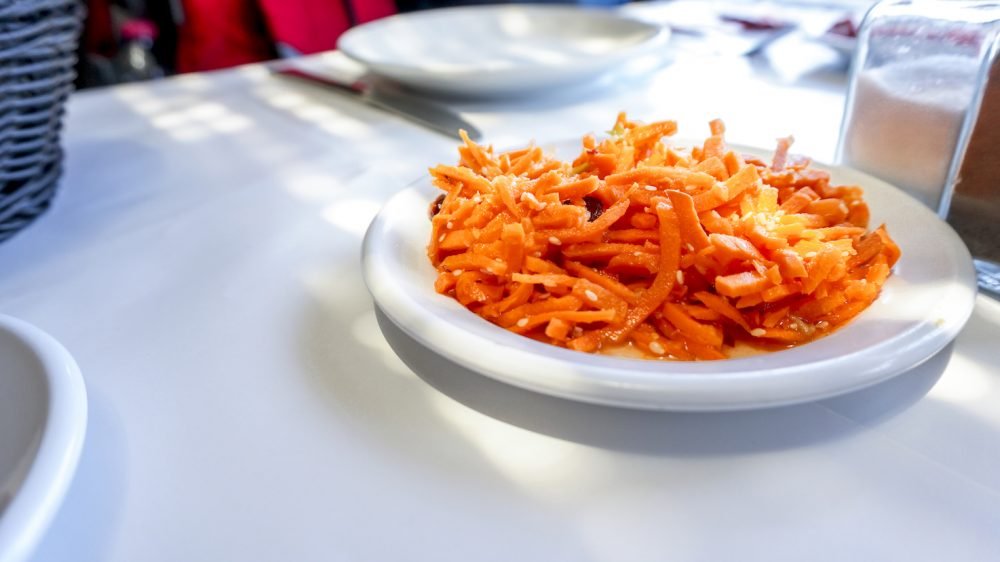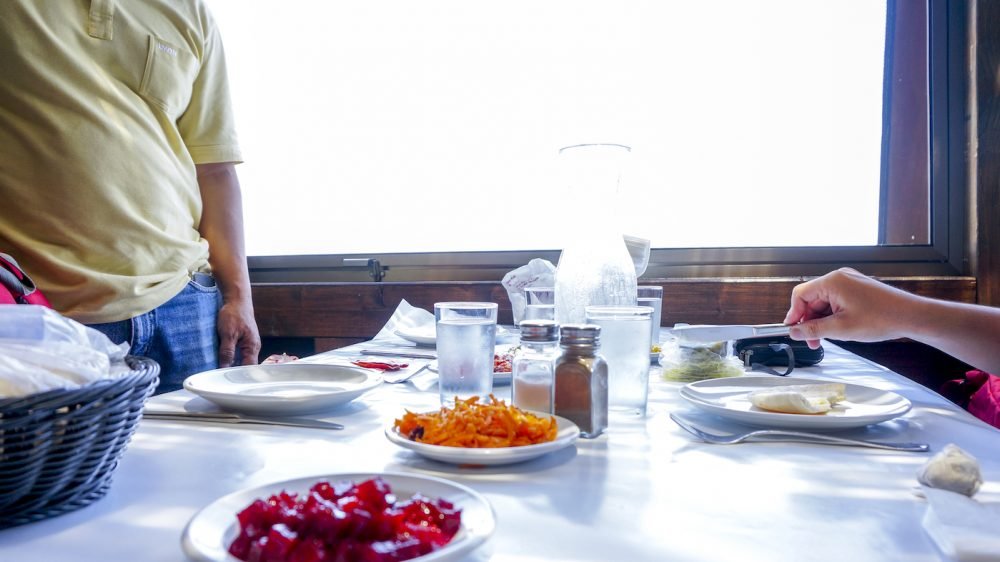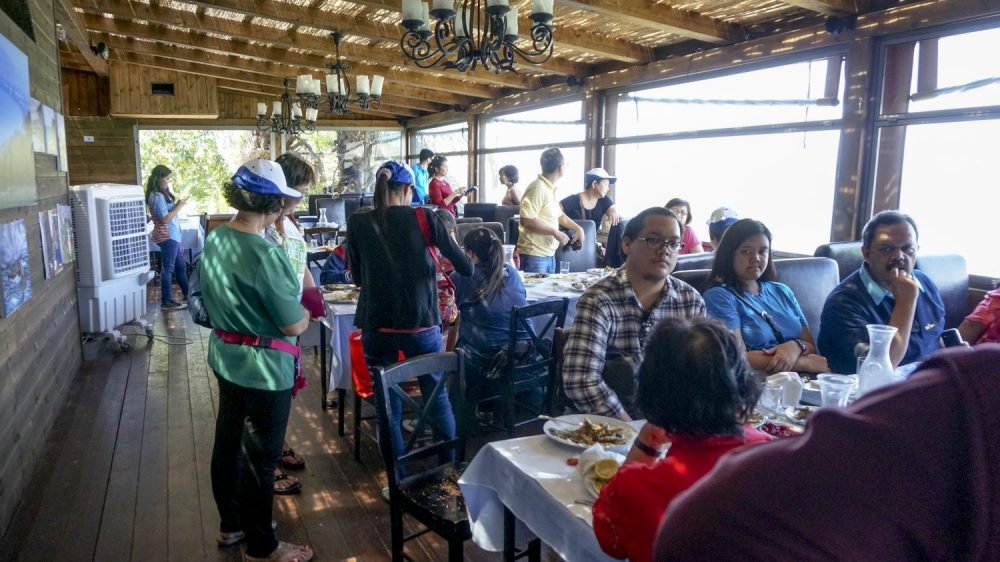 How's the fish? Well, to be honest… I was more attracted by the appetizer rather than the fish itself. The fish was okay, but nothing that special that will make you go like "I will eat this fish again in the future". We had the same fish from the same Tilapia family called "Mujair" in Indonesia. It's fresh, it's okay, it's big enough, what else I can say?
A Little Tour
While I'm waiting for others to finish their food, I had a chance to do some short sight-seeing around this area. It was surely one bloody hot day, so the lake was kinda "quiet"? I can see some people just lying under the trees by the lake enjoying sand and sun, while some do sunbathe, I hope they didn't get burned, though.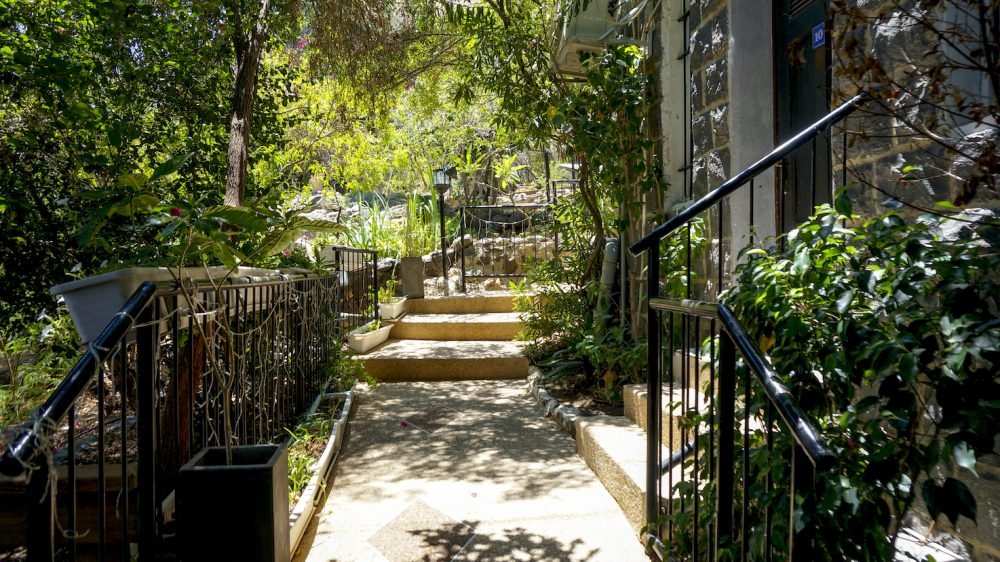 A short walk outside the restaurant will bring you to their garden, which is pretty small but still nice. Even those greens cannot really help with the high temperature outside. If you follow the stairs going down, there you will find the access to the lake where there are sands and trees for people to chill.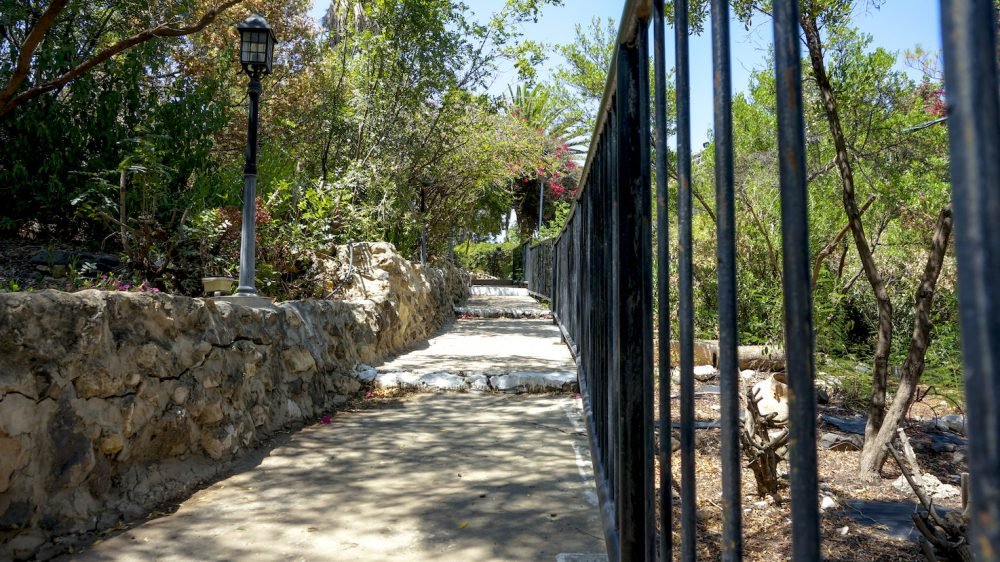 I walk down until I can see the lake, it's about 3 minutes walk. I met some tourists sitting on the beach chair, some with their surfing board. There's jet ski too, awesome place.
Not so far from the restaurant you can see this chapel, small chapel but located nicely right at the side of the lake as its view. I didn't go in, don't know if I can get in or not. But here's how it looks.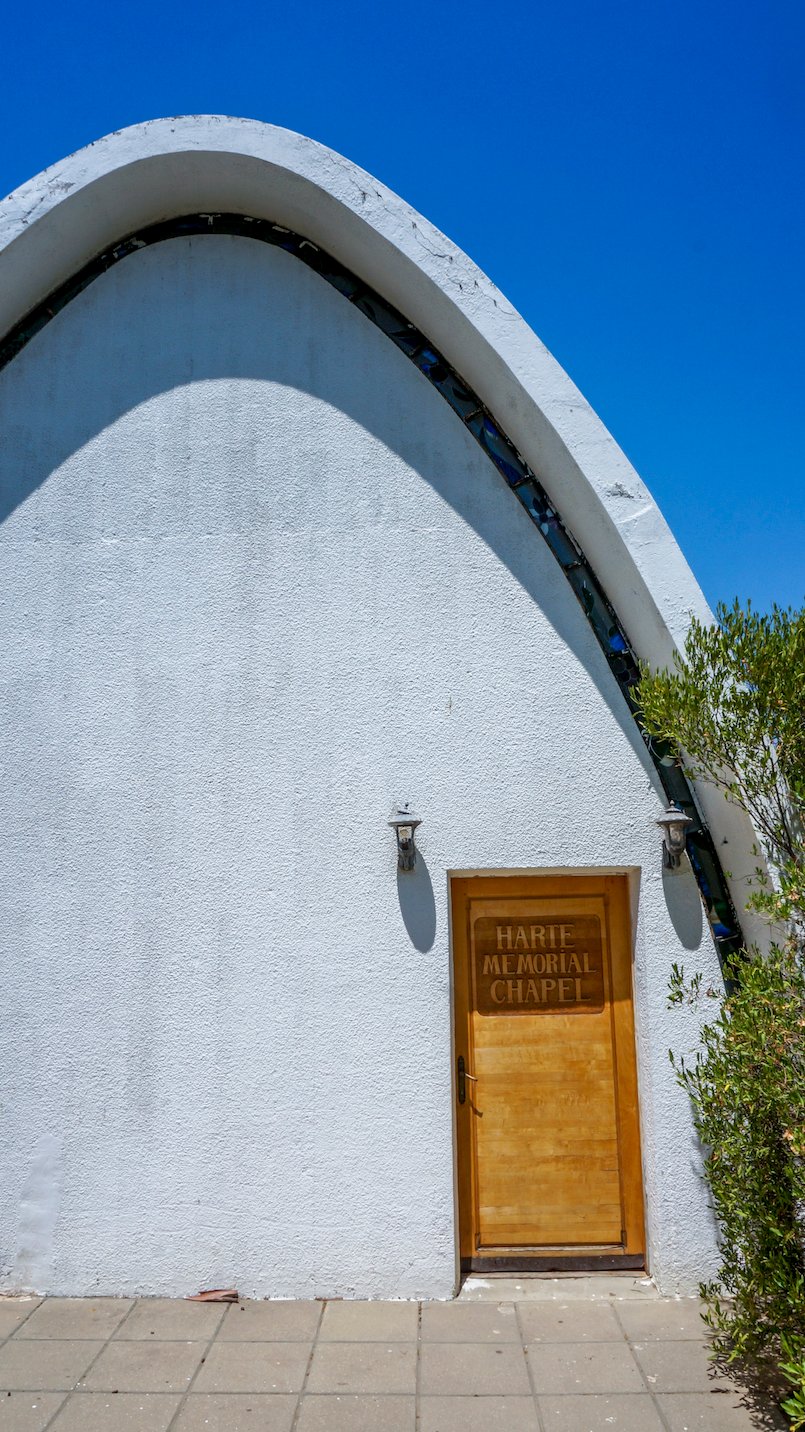 Right before I walk further, I remind myself not too drawn into my own world. Haha… This is a group tour after all, so I need to pay attention to stick together. Just about time when they leave the restaurant and get on the bus. I guess goodbye Villa Harte, nice to visit you. St. Peter's fish? I don't know, you should try yourself.
This first impression from seeing Tiberias for the first time and eating St. Peter's fish, I would say a nice intro. But I'm more excited to share the next places that I saw which will serve more stories in this pilgrim trip.
What do you think about this city? Got any comments about this place? Please share with me, I would like to know your experiences. Thanks for reading and don't forget to share. Until next post, bye!
---
 USEFUL LINKS
Here are some of my affiliate links. These links help you to get the best deal while making your traveling easier as well as helping me get a small commission at no cost to you. It helps me to keep traveling places while pursuing my dream.
---
Here's my itinerary map in Galilee :