Although Penang is considered one of the South East Asia's gems for its rich culture and history dating back from the colonization era, it is also considered a highly commercialized and touristy area. Since the tourism has gone up within this city, lots of hotels, hostels, and homestays appear. This is confirmed even by locals from Malaysia whom we had talked to.
 If you read our Penang travel journal, which I hope you did, you'd know where we stayed. Of course, like many other times we travel to one place, we did a little bit of research if not more about where would we stay. Sometimes, well actually a lot of time, we always put the number one thing into our consideration; location.
You know the saying; Location… Location.. And location…
That's when we choose Chulia Mansion among many other hotels or stay in Penang. This hotel has a very good location, just a few meters from Chulia street night hawkers stalls. A short distance from the hype of hunting street arts across George Town and to many other tourist attractions in the city.
Judging by the name, of course, they are on Chulia street. The main street for tourist in Penang as well as the busiest street. Everything tourist related are available on this street, from a convenience store, cafes, bar, street food, restaurants, budget stay, home stay, hotels, laundrettes, et cetera.
Thou shall not worry about food
You can even found a motorcycle rent just across the street from the hotel. There's subway too, you know, just around the corner to the left from the hotel. You know that subway, right? The popular sandwiches.
First Impression
Once we get down from the bus at Chulia street, we had to walk a few meters from the bus stop to the hotel. It shouldn't be a lot of effort, but since Penang is super hot that day, we looked like sweat-man walking. But thanks, to whoever invents air con, the lobby literally felt like heaven. It's a great looking minimalist design as well.
They got their hotel designed and decorated with some sort of avant-garde style with a very light and minimalist touch of modern art. It's a genius design for the lobby, makes it feel and look much bigger once you enter with that high ceiling as your first encounter inside.
They claimed they have won many awards since they open in 2014. As a three star hotel, they got quite some facilities; which they also put on their website as follows : 5 floors and 53 rooms, a spacious rooftop garden and bar with relaxing music and an extensive view of George Town, plants at every corner and side of the hotel, furnished only with the finest, most exceptional amenities available. 😄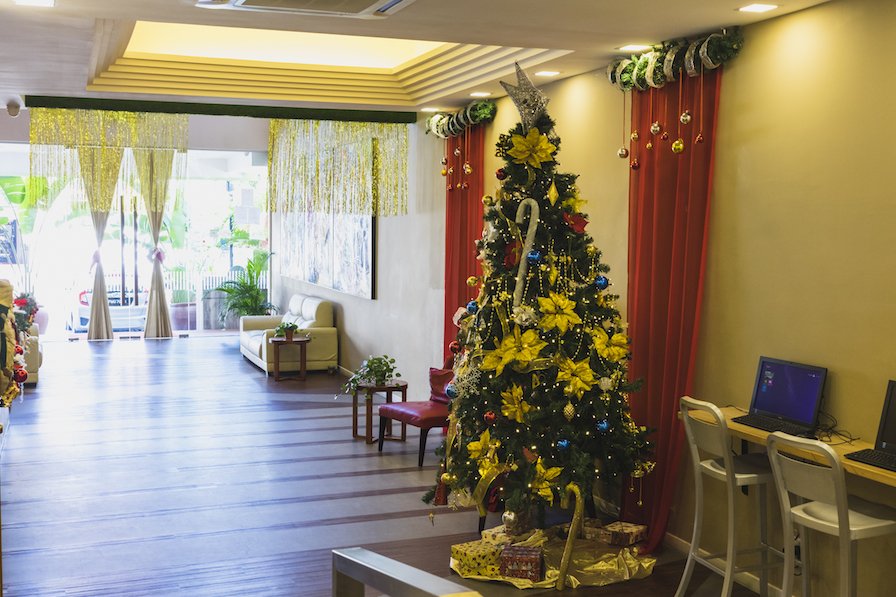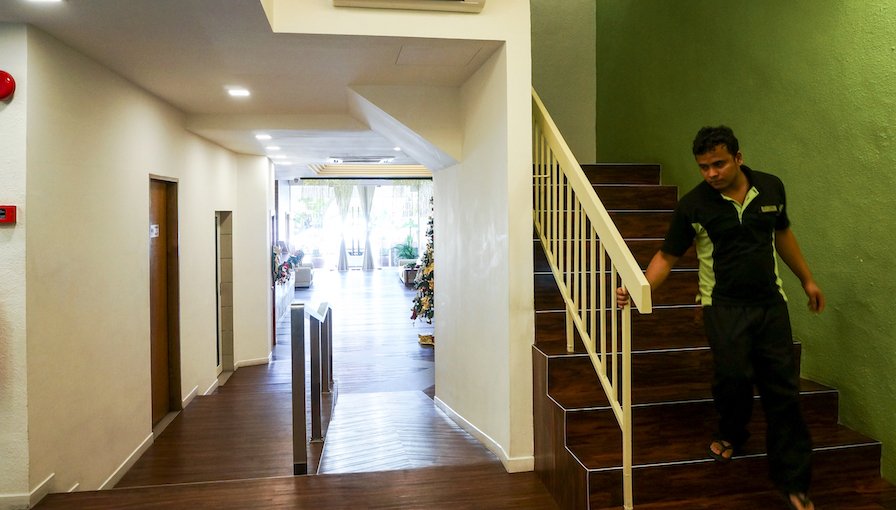 I must say, this hotel is quite vibrant in color, from the first impression at the lobby, you'd notice that. They have 3 types of room; superior twin, superior double and deluxe twin. We chose a superior double room for a total IDR 1.492.332 for 3 nights. That seems legit for us that time, considering when we booked it.
How's The Room
Once we got our room key, we go up with an elevator which quite small but still okay. What we found upstairs is quite spacious access to the room, I honestly thought it would be a small space, given the size of the building from outside.
The room has enough space, enough lighting, enough colors, enough amenities, but not quite enough window. Flat screen TV checked, one green chair checked, one green wall checked. To make the room look bigger, they put a mirror close to the door. They replace the cupboard with an innovative one, borderless wooden thing as seen in the photo below. Two bedroom light at each corner, nice.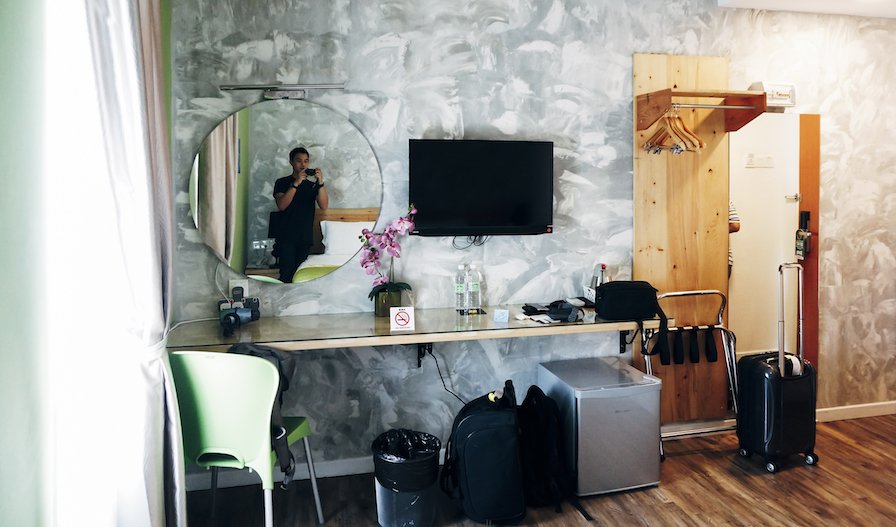 They considerately put an extension for the electricity socket which is something that I really appreciate, nice. We're pretty happy with what we got for that price. As long as it works for you, right?
The bathroom is nice and clean, that is correct. Appreciate the little extra space in the bathroom, really makes things easier. Water heater, checked. Nice warm shower in the morning after some cold night always made our day. The AC is somewhat strange, either too cold or you only got like a fan. Maybe it's just us.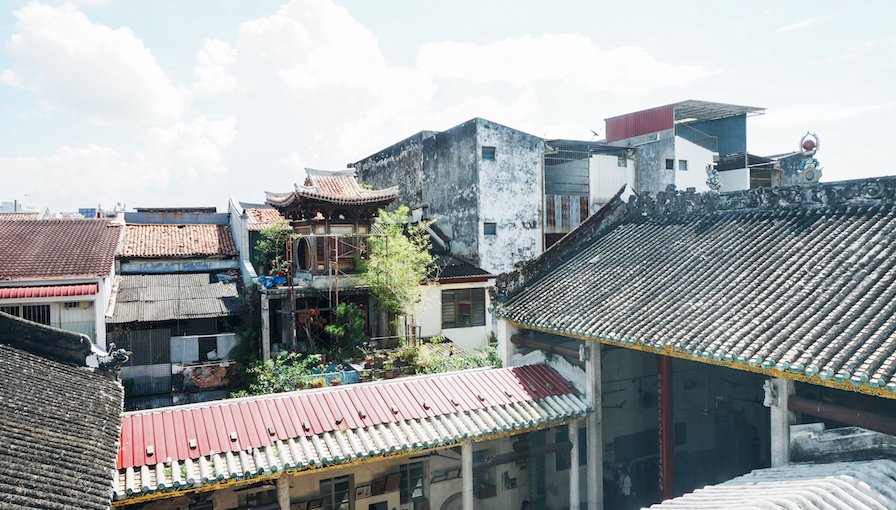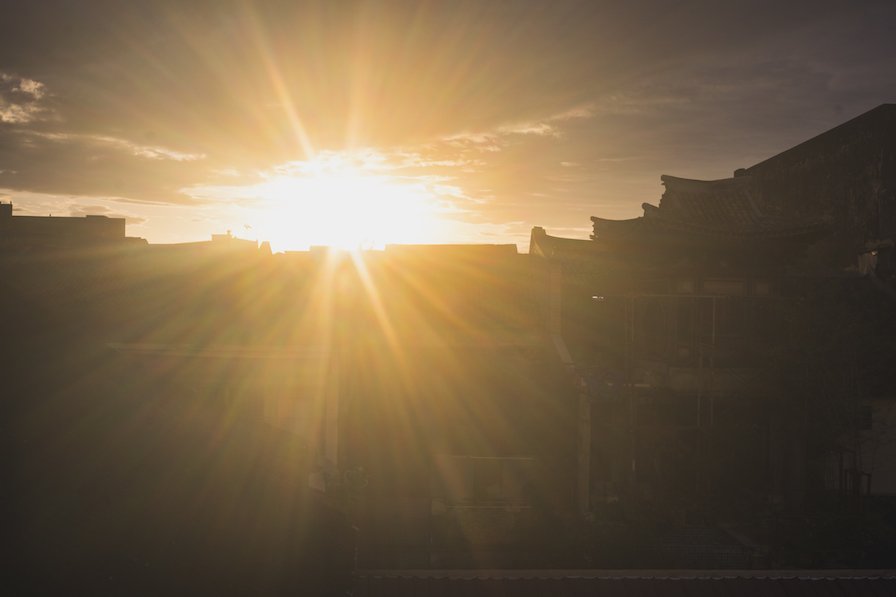 Roof Top
They have a roof top on the 5th floor. An open deck where you can enjoy the view of the hotel surrounding. And for you who wants to enjoy some drinks at night or even afternoon snacks, they got you covered. Jacuzzi are available as well, though you might have to share with other guests.
Best to check out these photos:
Best Part : Breakfast!
I must say, this is the best breakfast for three-star hotel we've ever stayed. Something that I strongly remembered until now. It's beyond my expectation as a hotel guest to have those breakfast with that price.
The restaurant is not too big, but the food is packed. The buffet has more options than I can eat in the morning. Start with the main menu such as curry, fried noodle, rice, etc. In the middle table, they have a lot of appetizers and desserts to choose from.
In the corners another menu for bread, croissants, dim sum, etc. and of course coffee, tea, cereal, standard breakfast thing. You can have ice cream too, just look to the semi-outdoor part of the restaurant. Best breakfast ever. We wanted to make sure we taste everything, but we can't.
You can even ask the chef in the kitchen to made or cook something for you if you're not into the buffet available. We asked for egg benedict and scrambled egg which was deliciously prepared. Huge extra points for the breakfast! Happy tummy happy travel. 👅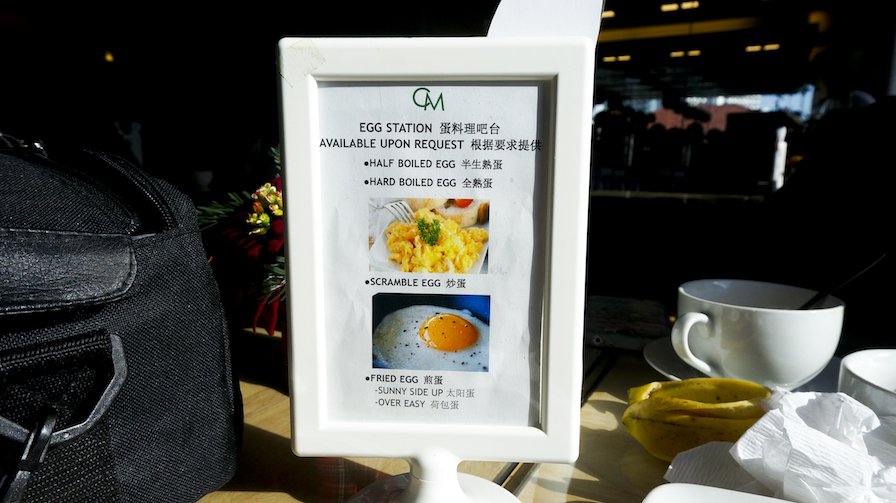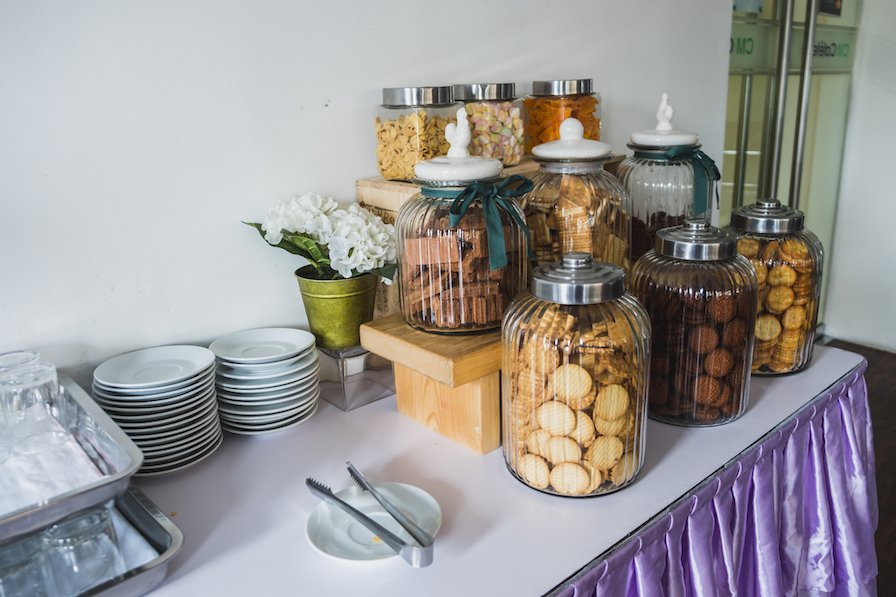 Night Hawker Stalls
If you are a food lover, you will be happy to stay at this hotel. With just a short walk, you will find the famous Chulia night hawker stalls. Delicious street food, char kwey teow, kwoay teow th'ng, pho pia, and many other delicious street foods. Give it a try, champ!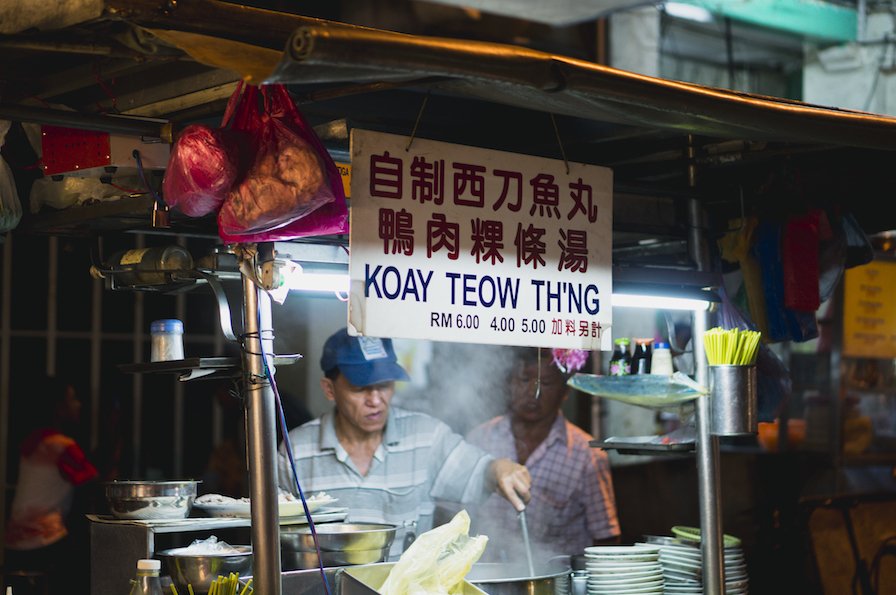 Our Conclusion
Hmm… With this, I would say… I'm more than happy when considering what I got versus what I paid. Nice room, good facilities, great location, and superb breakfast. I did say breakfast many times, right? It's just successfully impressed me, given the price.
That would be our opinion and review from this Chulia Mansion. Of course, you can get many cheaper options to stay, or even the better one with a relatively more expensive price. But, whatever works for you. Check the price for Chulia Mansion, great location, great price, and great breakfast.
Be sure to check our other posts from Penang; such as street art hunt in George Town, some top places to visit in Penang, a culinary journal, and of course our Penang travel journal.
Thank you for reading this review, don't forget to subscribe to our mailing list. Share this with your friends if you find it useful. Until next post then, bye!
Tips: Buses to Chulia Street include Rapid Penang bus 10, 11, 101, 104, 201, 202, 203 and 206.
---
SPONSORED
Thanks for reading! Check these links below if you want to get some deals on your next trips, as well as we will get something in return to keep us on track. 😉
---
 Here's the map location of Chulia Mansion: