When you hear about Jordan River, this one event must've comes up in your mind. It's where John The Baptist baptized Jesus and the sky open with a sign of a dove coming down upon Him, plus the sound from heaven. Well, that event believed to have happened at this baptism site, Yardenit.
"In those days Jesus came from Nazareth of Galilee and was baptized by John in the Jordan. And when he came up out of water, immediately he saw the heavens opened and the Spirit descending upon him like a dove, and a voice came from heaven; 'Thou art my beloved Son, with thee I am well pleased." Mark 1:9-11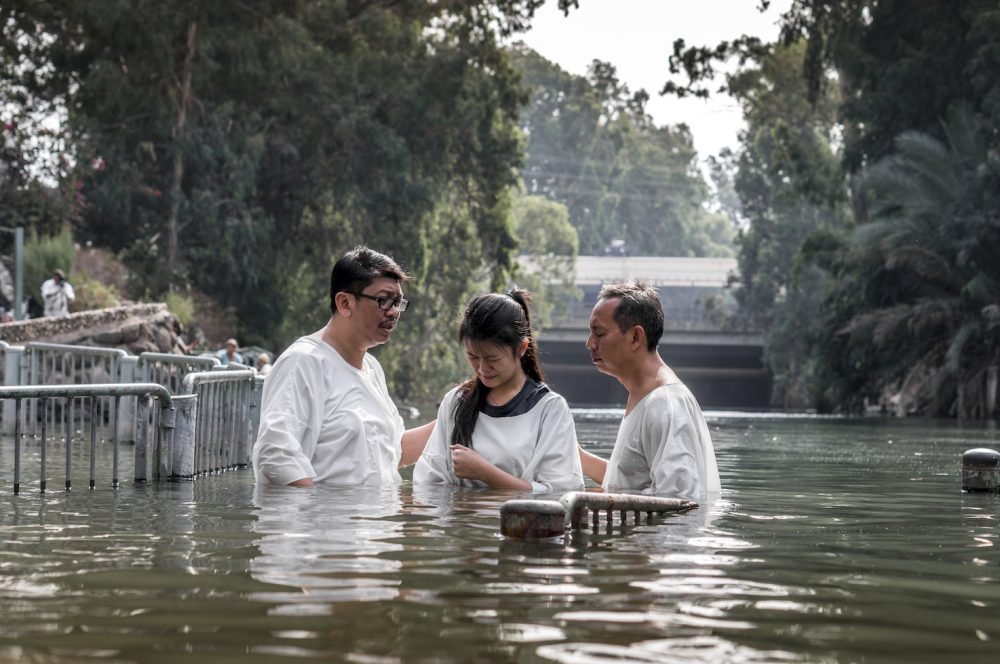 This baptism site is located at the southern tip of the Sea of Galilee. As it is written in the Bible that Jesus came from Galilee to the Jordan River. Although, there 's some history to be known.
According to some, the Baptism of Jesus took place in Qasr el Yahud, north of the Dead Sea and east of Jericho. For centuries, Qasr el Yahud was the most important baptism site for pilgrims, and monasteries and guest houses were established near it.
Al-Maghtas in Jordan shows the earliest religious structures connected with baptism or religious baths on the Eastern part of the Jordan, but reverence shifted to the West bank after the Muslim Conquest.
After the Six-Day War Qasr el Yahud fell under Israeli occupation. Due to military activity and excavations, the Israeli Ministry of Tourism established Yardenit in 1981 as an alternative pilgrimage site. Yardenit became the first regulated baptism site on the Israeli side of the river.
Our Third Day in Israel
Our third day in Galilee when we finally checking out from where we stay at Emily's Inn, a nice place to stay. Had my last breakfast buffet at this hotel before finally rushed in the bus to go to the baptismal site, Yardenit.
The ride was about half an hour to this place. It's considered as one of the most famous sites to be visited by pilgrims. They said they have more than half a million visitors every year. Christians and also non-Christians.
Baptism at Yardenit
Yes, as it is a pilgrim tour (read my disclaimer on this post), so we're about to have a baptism at the Jordan River right on this site. I can't really cover much about this place. since I myself got baptized on this site, so I don't have my camera with me all the time. But still, I can share something.
It's usually a must-do list when you have a pilgrim tour in Israel. People will expect to have a baptism at the Jordan River. Many Christian pilgrims stop at this site and perform baptism ceremonies, normally in small groups and accompanied by the group's pastor. This place is charming, magical, and should not be missed.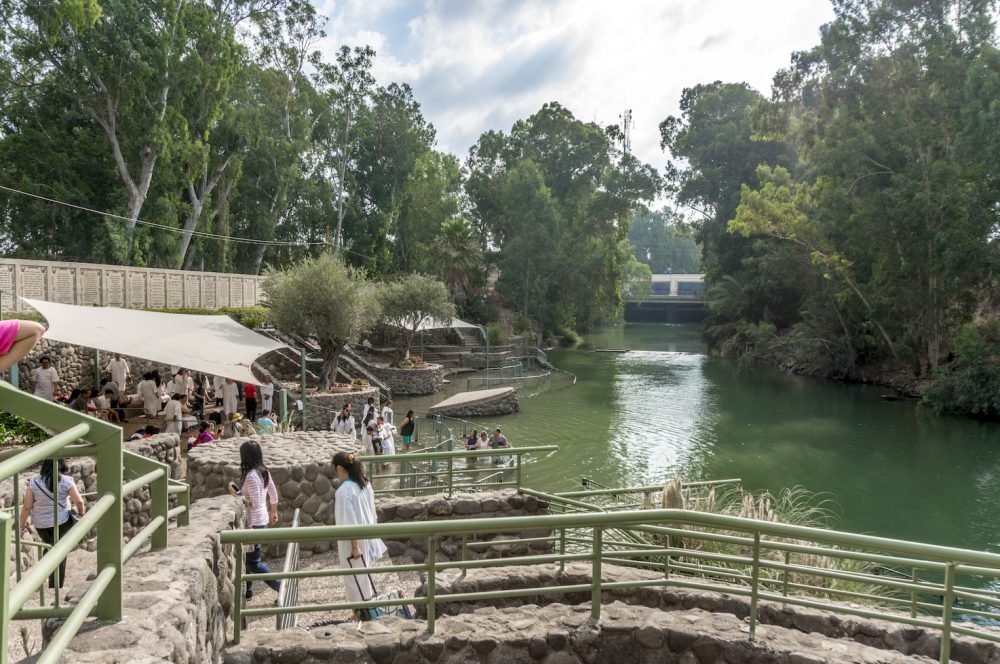 Prepare Your $
Once I arrived, they had prepared this white long baptism robe placed before you enter the site. You can rent the robe for US $10 (baptism kit rent, robe, towel, including a ticket to enter and exit the changing room) or buy it for US $25.
Although the entrance is free, but the use of their facilities are not. So you might want to check out for how much to use their facilities. If I'm not mistaken, a shower, changing room, and toilet use they charge you for $2.
That photo above was taken from the access stairs just in front of the changing room. Even though we came early in the morning, there are already some 2 groups performing baptism with their pastors. One of them came from Europe.
The first feel entering this place, peaceful. Nice and well maintained, green and clean, did I mention peaceful? 🙂 Love it.
Pre-Baptism Session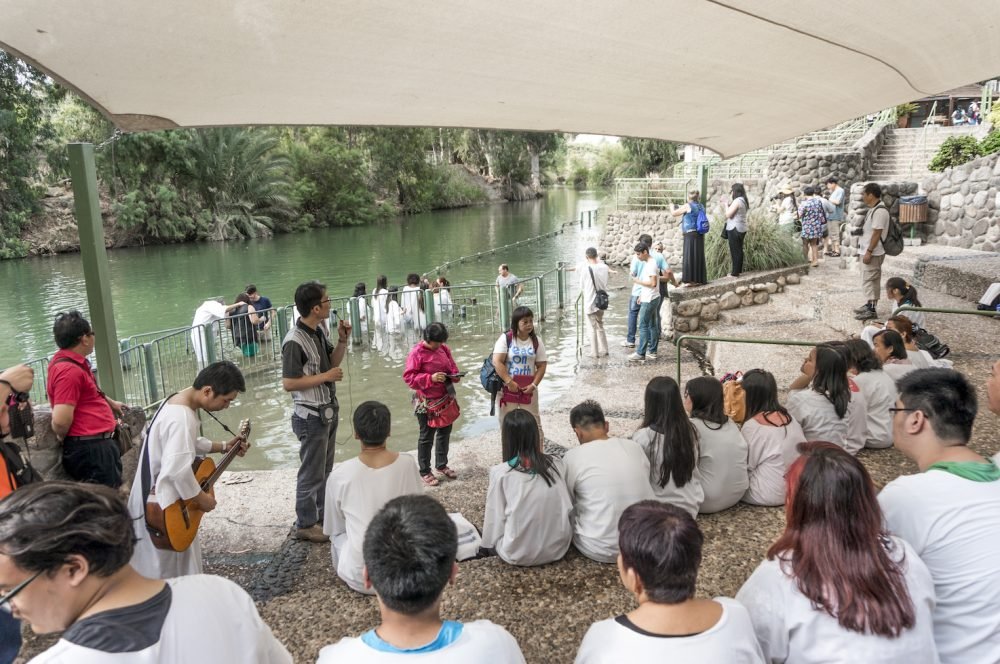 Not everyone gets baptized. So after those in our group got changed, some of us who's not gonna have baptism help to documented and look after our belongings. And because there are other groups as well, we had to get in line and wait for about 15 minutes before we finally can sit here and get started.
A short 15 to 20 minutes of singing and some messages, we're told to get into the water. Awesome, finally I can feel the Jordan River. Haha…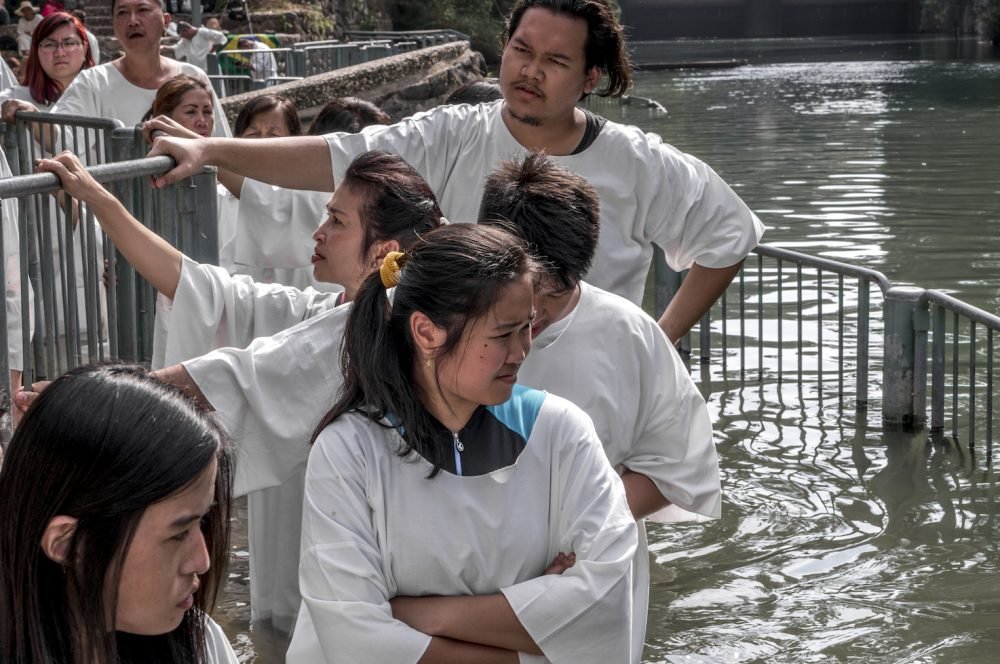 Free Fish Spa
Clean heart, clean feet..
Once you get into the water, you will notice two things immediately. First, the water is surprisingly pretty cold. The temperature is not as I expected. Second, there's a lot of fish that will crawl and bite your feet. Relax, they're not dangerous.
It's that small fish if you ever had a fish spa. The kind of spa where you soak your feet in the water and small fishes come and eat your dead skin, therefore your skin replaced it with a fresh new skin. I know I'm not describing it accurately, but you get the idea. Have you tried before?
Yes, they bite but it's tickle. The deeper you go, the more fish bite you, which means it will be very ticklish. For you who are very sensitive to ticklish things, bear yourself. One tip, keep moving your feet so the fish will stay away from your feet. At least it helps me to concentrate and took this shot.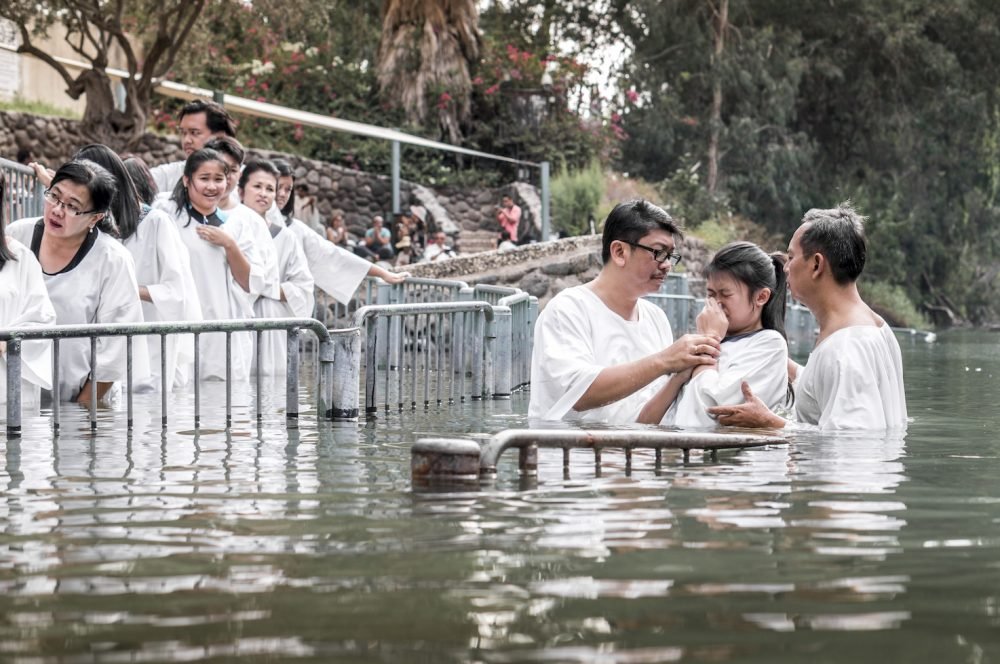 Pretty Busy But Still Peaceful
As we're all waiting for one by one to be baptized, I noticed this place is getting more and more visitors. A lot of people waiting to use this baptism site in turn. As you might notice from the photo above, there is another group perform baptism next to ours.
So yeah, things started to get busy, crowded and noisy. People praying in a group, some took pictures, some took videos, some listening to their group leader or pastor for a baptism brief.
But out of the hustle and bustle, still… It is different once you're in the water. Peaceful… I keep writing it, am I not? It was the only feeling that I had once I got in the water.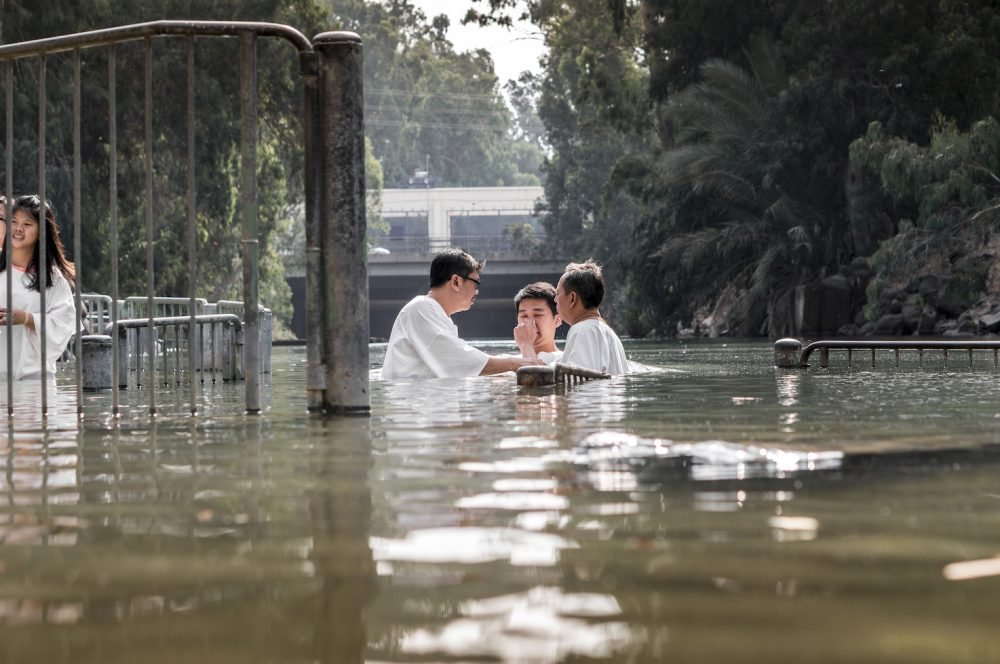 I had a couple shots while I'm waiting for the baptism. Tried to go low in the water with a camera and knowing that it's not an action waterproof camera, it's scary. But I just had to. Using the 50mm lens, quite nice. By the way, it's very slippery in the water, so mind your steps.
The Joyful Africans
Right next to us, in a close distance, a group of Christians from Africa also performed a baptism. I can tell from their language, African accent.
Now this African group, they were loud. I mean, like very loud. Their method of baptism is a bit different from any other groups. Different in a good way, at least from my perspective.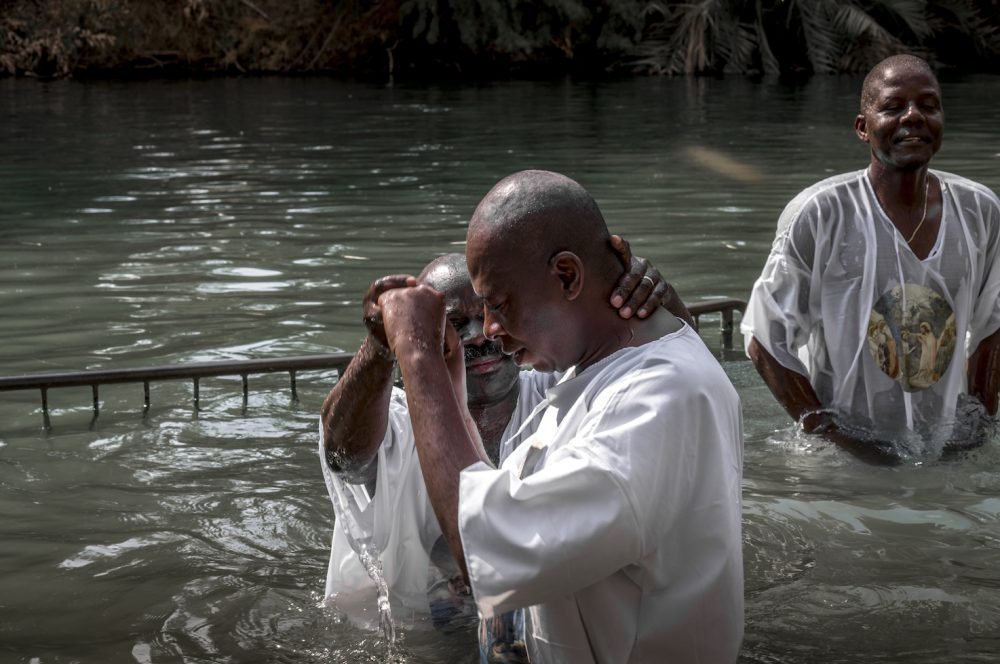 Usually, groups had it slow and quite and sacred kinda things, before they drown in the water. After they're coming out from the water, some will celebrate it with singing praise songs, laughing, and other joyful things.
Not with this group of African, they had it like a party from the very beginning. I like their spirit, tryin' to keep it up all the time. They had the best supporters for the day, I guess. They were like a cheerleader squads on Redbull effect. Especially the women. Everybody dancing, singing, such a lovely moment. Our supporters? Nahh… 🙂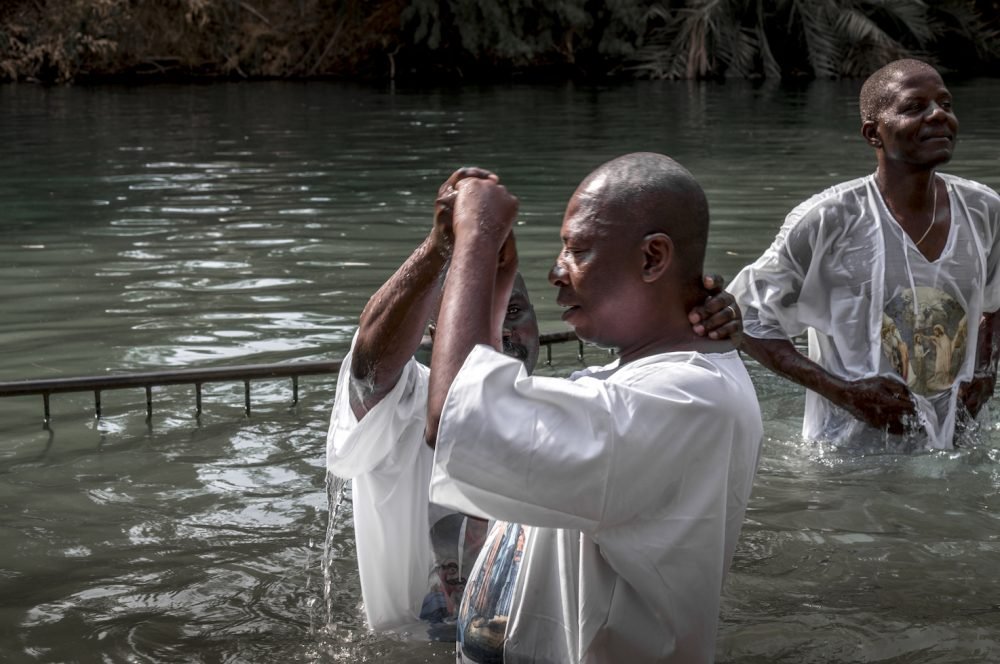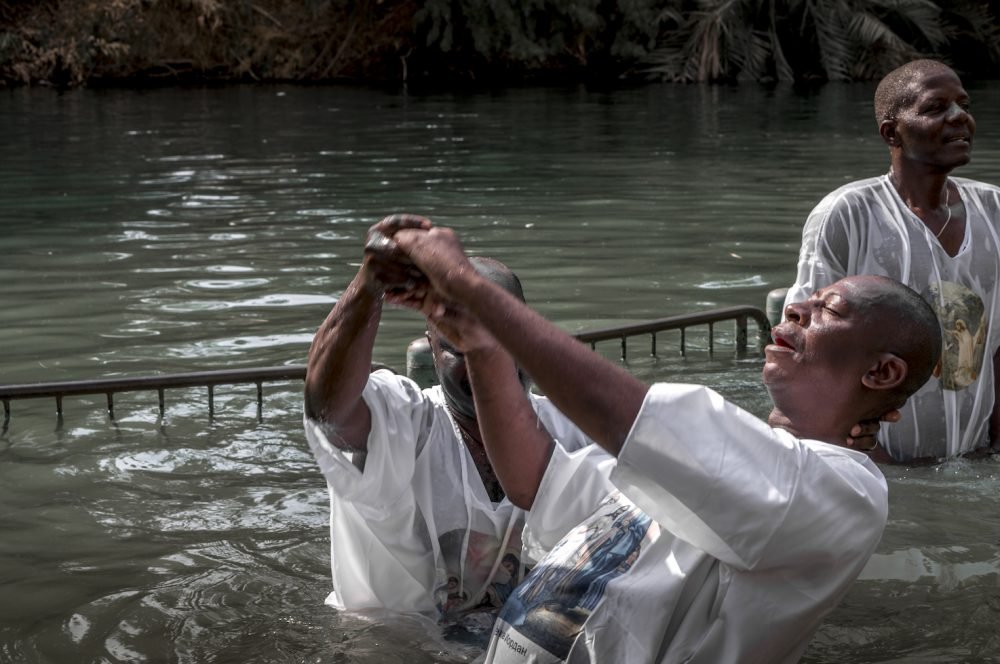 If you wonder what is baptism, why they do it and stuff. Well, here's a short explanation. It is a Christian belief to be baptized as a symbol that we drown the old life and reborn again as a new creation as we emerge from the water. The old life has gone, the new life has come. Sort of.
Every group had their own ritual of baptism, each according to their church. Amazing to see so many people got baptized here. Once we are done with our group baptism, there was a little surprise in the end. I will show you in this picture below.
Surprise.. Surprise..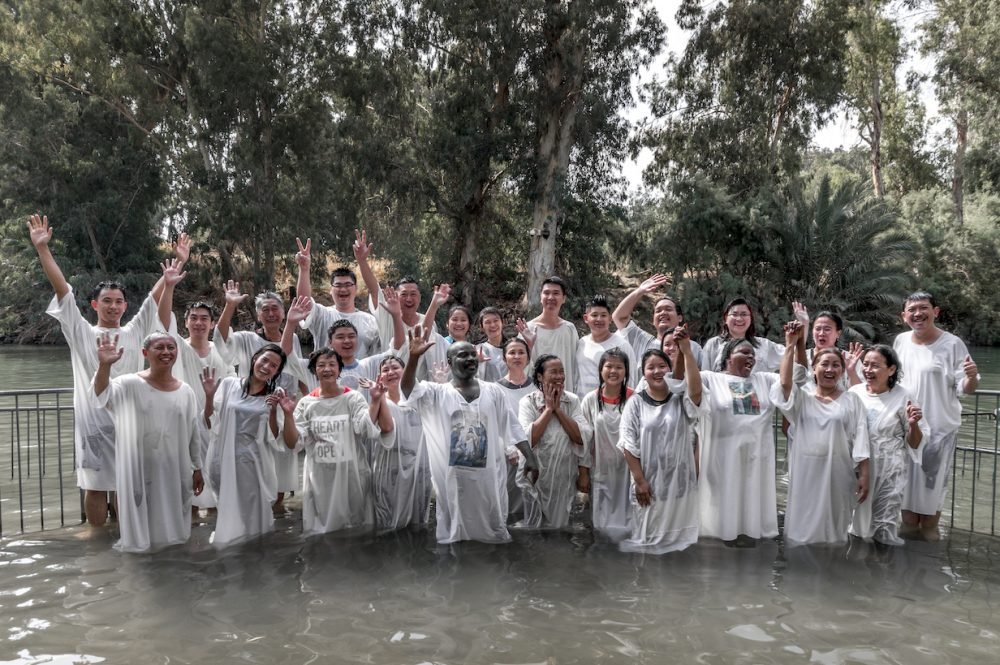 Never had I imagine, I had a black pastor for a moment. Lol!
Each group usually took a group photo together after the baptism session in the water. So we gather in the middle, and out of nowhere this African pastor that was next to our group performing baptism to his church group before, posing there right in the middle with us. Bam… There he is, with one of his members. (Can you spot? It's a she..)
Moments are not to be wasted, right? Everybody seems to be happy after baptism, so yeah, why not take a photo with him? Plus, he's kinda very confident with his smile. What a funny pastor. We had several photos with different pose with him. He never ran out of style. 🙂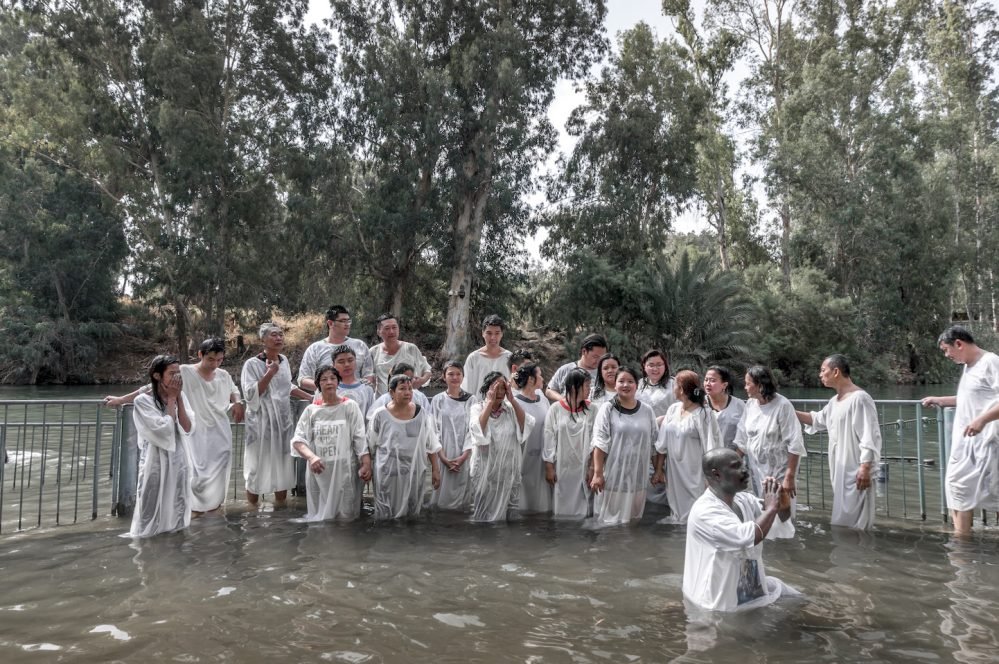 So many shots, but he still won't leave us alone. We have not take a proper group photo for us, so kinda ask him to leave politely and let us have our 'clean' shot. So he walked away. And this is our 'clean' group. Lol!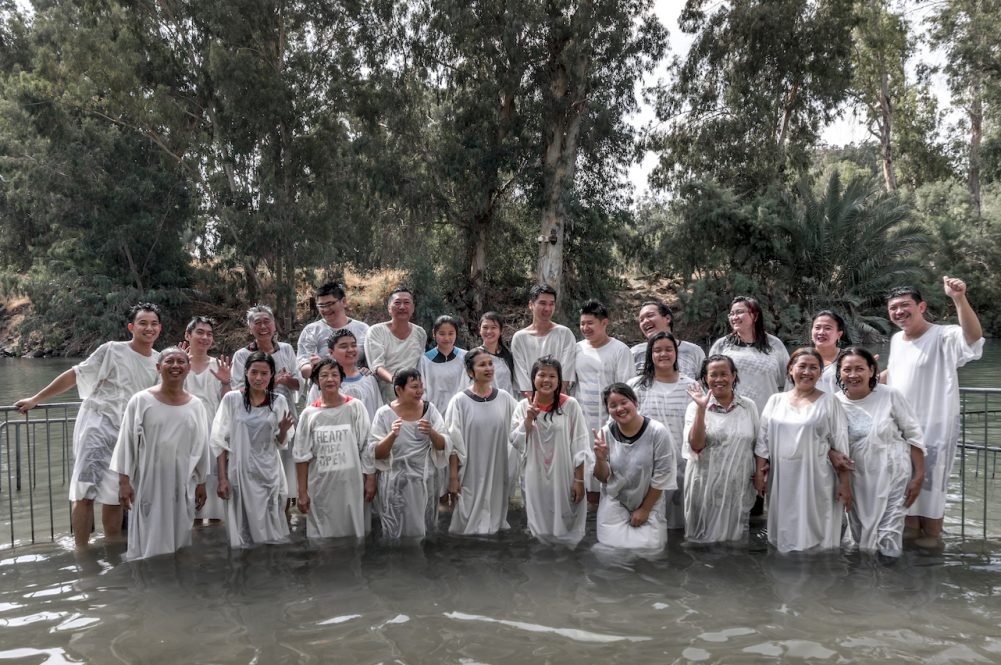 Wrapped up the session, now time to get change. The downside of this place, so many tourists that didn't have awareness of people having their religious moment of baptism. I saw a lot of tourists kinda 'annoying' if it is a proper way to say it.
They get really close to the group and took pictures like nothing should be considered. The management that runs this place should think of a way to let groups having a private moment for baptism. Maybe one or two group at a time for one section.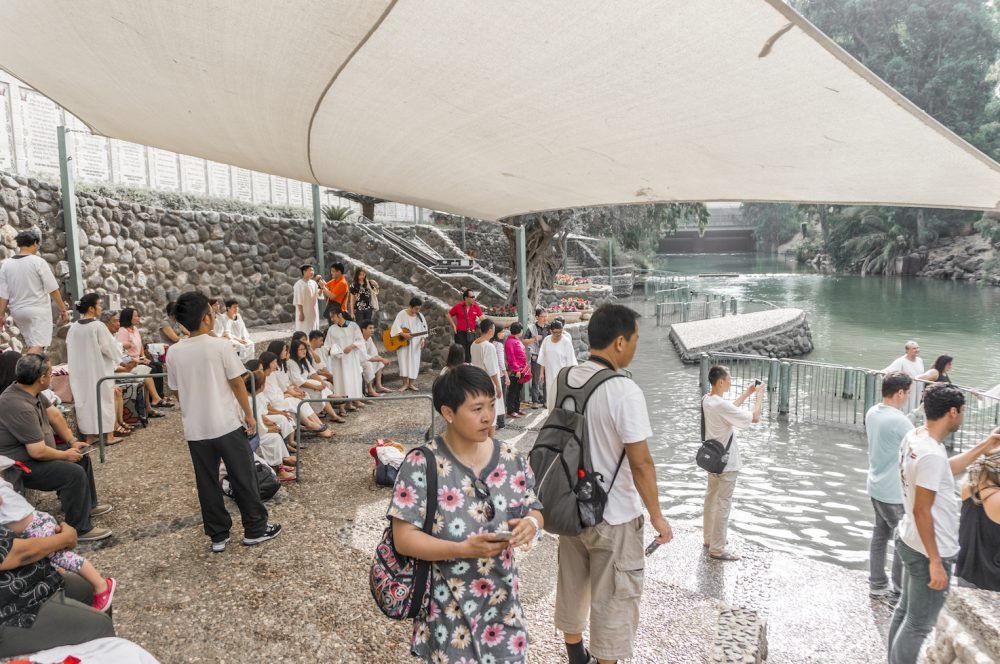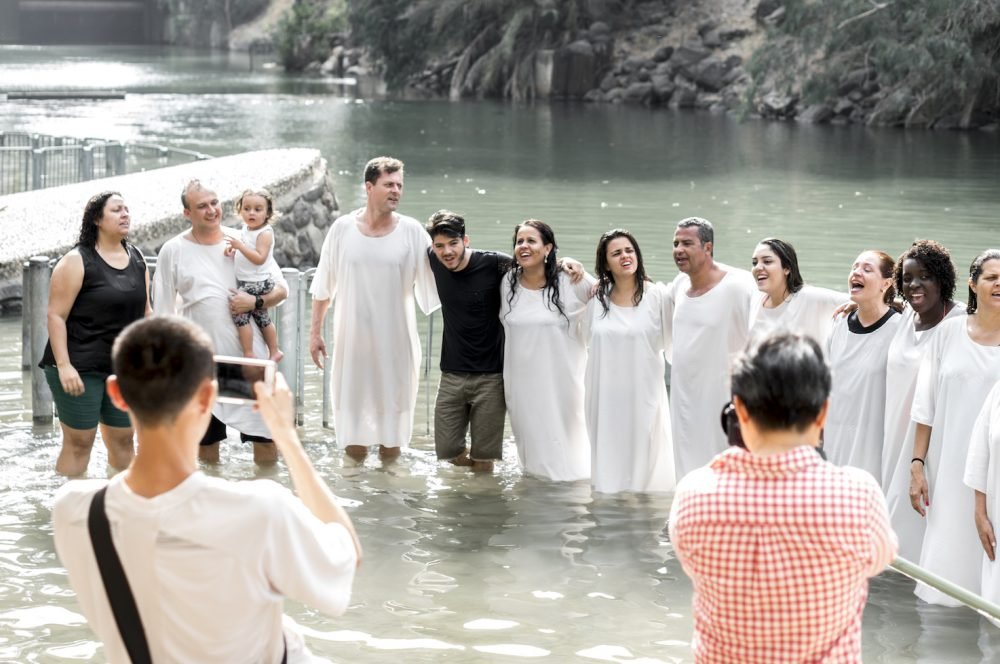 More Information
Pack my stuff and get to the changing room, even the shower had a queue. Look at how people started to coming, it's a good choice to come early in the morning.
Once you're done don't forget to return the robe and towel if you rent it, just leave it in a basket inside the changing room. Take it home with you if you decided to purchase it for $25.
You can also buy your baptism session on DVD for $50 (I didn't buy it, that price is what I remembered if I'm not mistaken). They had a camera (sort of CCTV) pointing and recording to every baptism pool. Don't expect it to be a good quality. I wouldn't recommend you to buy it, it's not like you can see yourself clearly. It's more like a CCTV footage. It's way too expensive for that quality.
On the way to the exit, you will pass their gift shop. It's quite a fancy shop for souvenirs. They have a lot of things from all over Israel. But honestly, it's quite pricey, though. I wanted to buy a unique set of keychain made from olive wood, but I hold myself when I found out how much.
Conclusion
So that's everything I've got from this place. I know it might now be an interesting story for some people as it has more religious aspect. But for you who claim yourself not a religious person, still, I would say try to visit this place.
You can find more information on their site. Do check out their FAQ section. Information such as they provide 20 baptism pools, what if you come with a large group of more than 40 people, priest on site, shopping there, etc.
Thanks for reading! I will start to share about Jericho on the next post. That's where we're heading next after Yardenit. Check out some of our previous posts from Galilee, enjoying Mount Hermon, and much more.
---
Useful Links
Here are some of my affiliate links. These links help you to get the best deal while making your traveling easier as well as helping me get a small commission at no cost to you. It helps me to keep traveling places while pursuing my dream.