As I have written the previous post about Macau trip, in this post we're going out to see how Macau nightlife goes. But first continue from the last post, after arriving at The Venetian, we're gettin' really hungry while we're trying to check in. Unfortunately, the queue to check in was quite long, so we decided to go get lunch.
The first restaurant we see, that's what we chose, it was Old Neptune Restaurant. We ordered as fast as we can, I myself had this char siu (Cantonese barbecue pork) with rice and soup.
We had this one friend to order for us since he's the only one who can speak their language, and surprisingly it's quite hard to have a conversation in English at Macau with their Cantonese accent. So I gave up and let my friend speak. Here's how the restaurant looks and how they serve the menu.
I know, maybe it looks quite plain and not that pleasing to the eyes, but don't get it wrong. It's actually a very delicious char siu. The pork was tasty and sweet with a soft texture and delicious sauce, of course with the properly cooked rice, Chinese know how to cook rice, right? Plus, the portion is really big, and they gave you a big portion of white rice, I think it was enough for 2-3 person, seriously.
So after finishing our lunch then comes the bill. Total of HK$ 1.348, so that's about HK$ 193/person or USD 20 something. Expensive? Yes, what do you expect? It's a restaurant, inside The Venetian, in Macau. It's kinda shocking to me considering the kind of menu that I ate. But hey, better get used to it, Macau is not cheap, no, they're not. So much for a lunch, eh? But I kinda like the way they serve us, very quick and fast response too.
---

Useful Tip

Here's one useful tip, here in Macau, as it is in Hongkong, you don't make them wait too long for taking your order, especially when you're in a less expensive restaurant, since they will easily get pissed for that. (Yes, there's no such thing like customer is king for Chinese.. Lol). I remember this one guy from a restaurant in Hongkong, an experience that will not be forgotten.

*spoken in chinese, translated to english for this post.

My Friend : Sir… *calling a waiter to place another additional order

Waiter : ……. *busy with cleaning and taking notes and stuffs while moving very fast

My Friend : Sir… Sir… *calling again and keep repeating with louder voice up until 5-6 times

Waiter : I hear you! Can't you wait? I'm trying to do some work here! I will attend to you soon! *grumbling (literally talking to us in a loud tone, or yea… yelling.. Hahaha!) We're shocked, but we're kinda understand.

I guess it's in their chinese culture, that hard-working culture, they really take their time seriously when they work. Better for you to say to the waiter to come back later after you're ready to place an order.

And get used to some harsh sound of dishes being washed or even stacked, they did it hardcore! The noises, my God.. But I guess that's what makes it even more exciting, right? To see such people dedicated to their work. Fast, efficient, organized, what a view.

I quite enjoy to watched the chef preparing noodle, it's like a dance, you know? Amazing.
---
Checking In Finally…
Soon after we finish our lunch, we're back in line for checking in, took about 15-20 minutes for us to finally able to get the key, leave our bags to the porter, and go to our room. It was a lovely room, we booked the family suite, very spacious and well designed. For more story about the room and the Hotel, check this blog post about The Venetian.
So finally after quite an exhausting day, we decided to take a nap before going out at night to enjoy the Macau City.
Ready for Macau Night Life (Child-Friendly)
Shortly, we're ready to explore the city. Coming down to the bus stop in front of the Hotel, it's not gettin' better, it's even more crowded than this early afternoon. We made our way to the exit door and find a long queue for the bus. Mind your belongings while queueing, better be safe than sorry.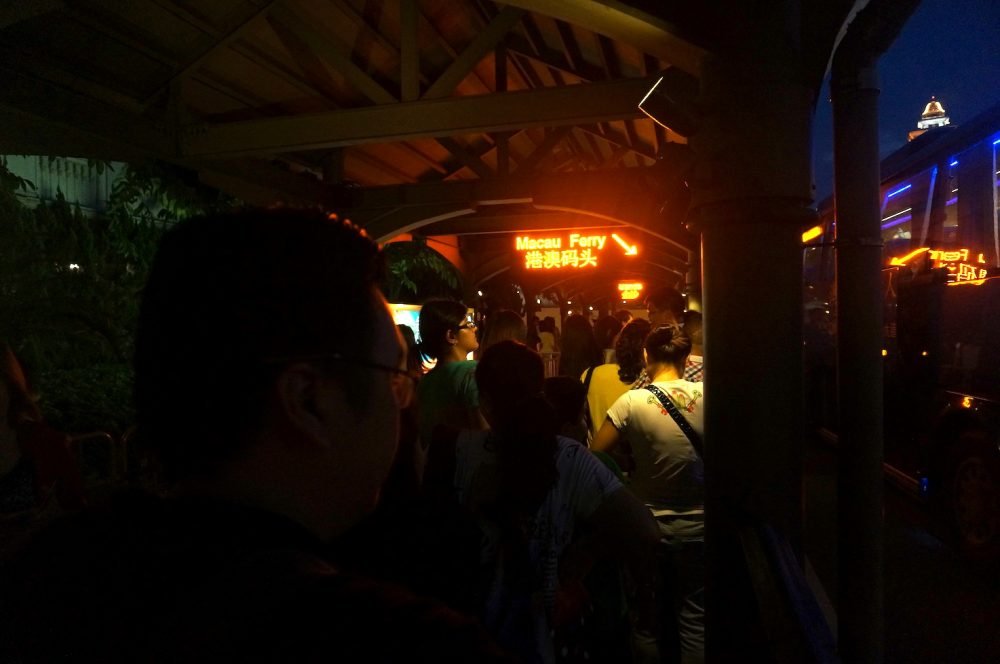 After 15 minutes, we're on the bus! Finally! We took the bus to the Macau Ferry since the bus to the casino that we want to go are not available from this place. So we need to exchange bus at the Macau Ferry Terminal. The bus was comfortable, they provide cool lighting inside, proper seating, and free Wifi! Yes, these buses come with free Wifi, a working one… Great, another reason to love this city.
This slideshow requires JavaScript.
After some minutes of enjoying the city light from the bus, we made our first stop at the Starworld Casino.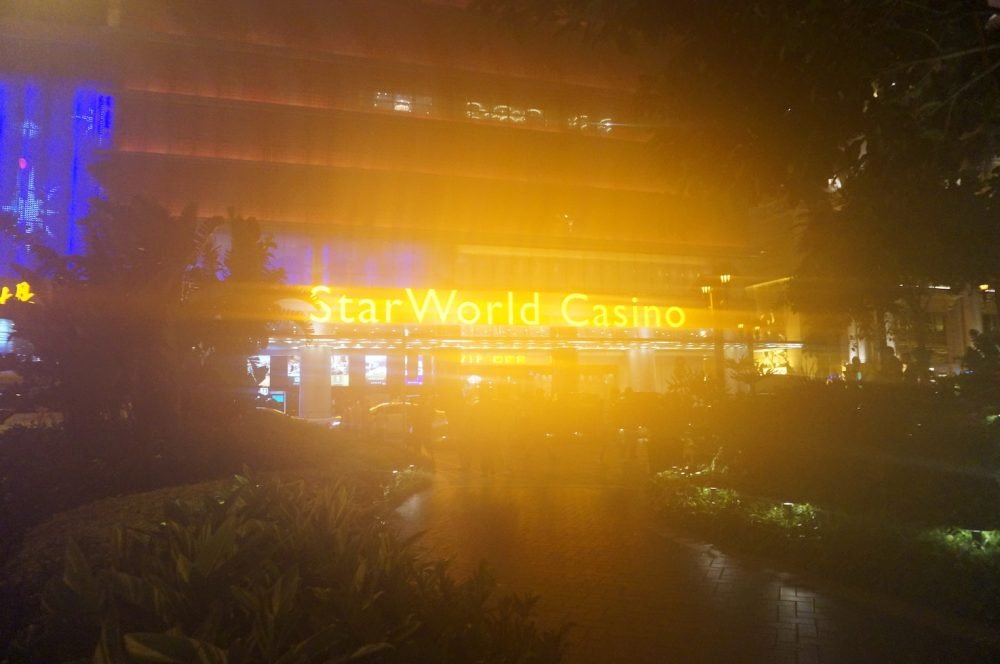 Casino Entertainment
But we didn't really enter the building, we're just stopping by and walk our way to the Wynn, to see some show they serve. The show is about the Shio or the Chinese Zodiac. It was quite a fabulous 3 minutes show, the golden elements they put inside is really amazing with such a craftworks. I personally like the way it looks.
This slideshow requires JavaScript.
After watching, we took a walk inside The Wynn, enjoying their luxury interior. You will see a lot of branded store inside every casino, so don't worry if you like to shop, you won't miss a thing here.
Satisfied with window shopping, we proceed to look at the fountain show in front of The Wynn, this hotel provides many things to see, friendly for families with kids. The fountain show took about 1 minute. You can see the picture as I use it as the header of this post.
Satisfied with the fountain, taking some photos, then we stroll off walking around passing the Grand Lisboa, some stores located just within the walking distance. Quite a view to walking downtown of Macau at night, you know.
Somehow it's just plainly beautiful with all the casinos light up the night. Casino here, casino there, a heaven for gamblers.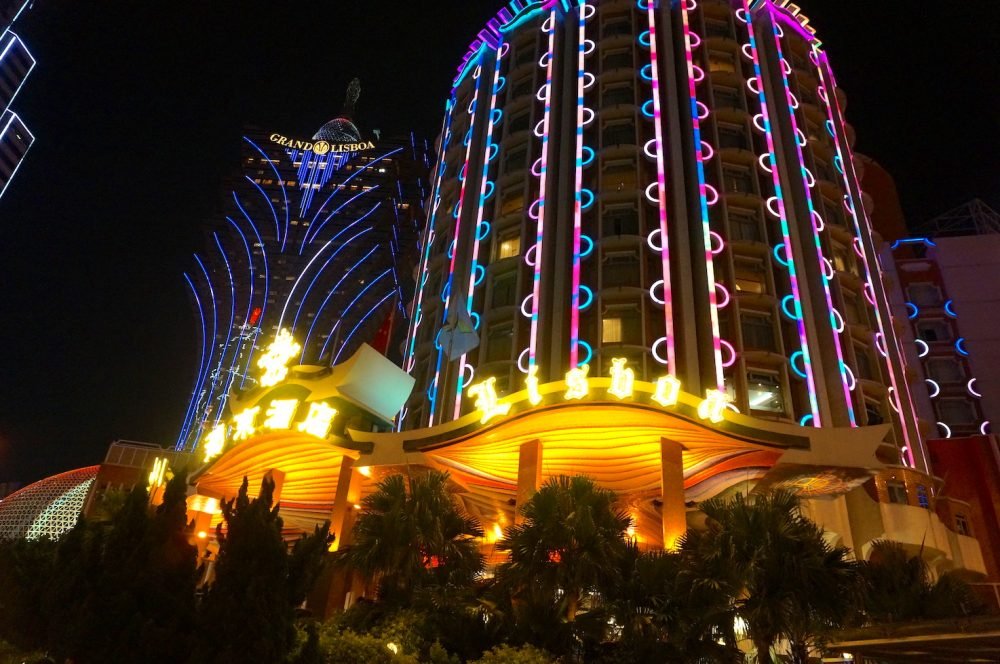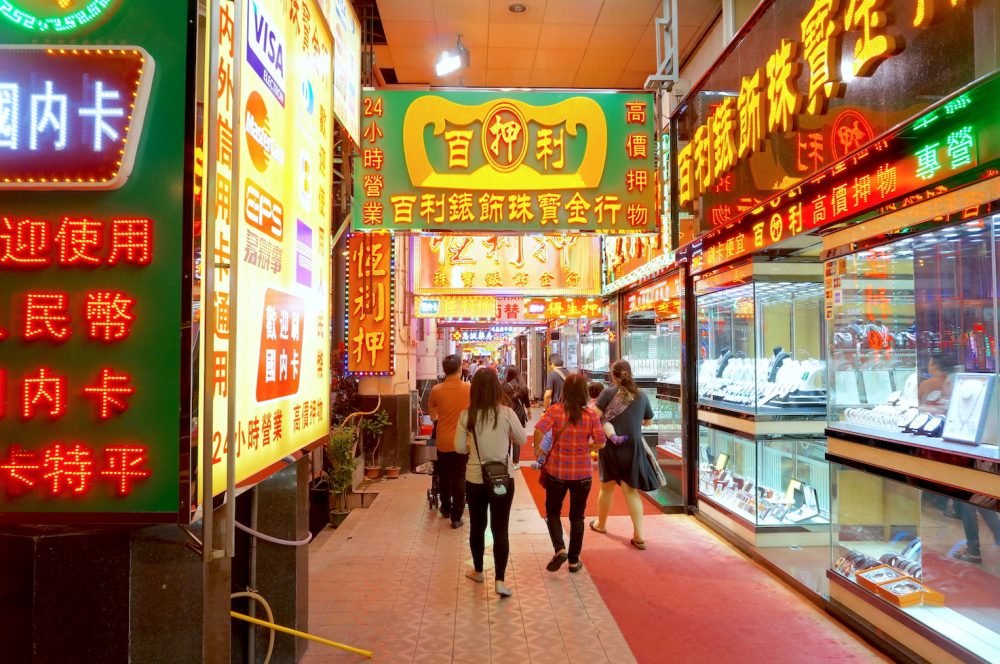 First Dinner in Macau
10 minutes of walking, finally we found ourselves a restaurant that we feel like to eat, Fong Fong Kei Restaurante, a seafood restaurant.
This slideshow requires JavaScript.
Honestly, this restaurant is good. They serve a very fresh seafood, that you can pick your own choice of live seafood before you go to your table upstairs, or you can have the staff to pick for you.
The service was really nice, quick and kind. We ordered 4 menus, I enjoyed the shrimp so much, it's so fresh. Well, as you might guess, it is quite expensive, we spent HK$ 2,041 this time, it's about USD 210 something.
Macau oh Macau, we're out of our budget already, haha! But it was because of the bird's nest that we order, 4 pax for HK$ 206,80 each. Hell yeah, that's one good bird's nest that we had. Love it.
---
---
At The End Of The Day
Finally, after filling up our stomach, we go back to our hotel, exciting to enjoy the casino time tonight. Three of us going down to enjoy the casino right at midnight, that's the best time to hit the casino, it was very crowded and money everywhere. An atmosphere that surely drawn you to gamble.
Take a note that there's some restriction to enter the casino, like a proper outfit, no children, no outside food, and drinks. And then, there we spent our night together.
As you know, the most popular on casinos, the blackjack, and the Da Xiao. These people are crazy heavy gamblers, on some table, I saw this Arab dude, placing his 30k just like nothing. Macau it is!
Sorry for the blurry image for the casino, just want to give a look inside, but did it in stealth mode since it is not allowed to take pictures inside the casino. But, of course, I will take pictures. Haha!
This slideshow requires JavaScript.
Well, that's everything from day 1 of my trip to Macau. For the next day, we saw some of the famous UNESCO heritage sites in Macau, check this post if you want to read my next experience exploring Old Macau. Book your flight to Macau, or simply use the search box below.

Here's an itinerary map from my journal, timeline according to the story.
---
If you need help with Macau, these links below will help you to settle things down before going. As well as it will help me earn commissions at no cost to you. You get the deal, I get something in return.
---