You probably heard it somewhere of this ad, "Malaysia truly Asia". Malaysia is one of the culturally diverse countries in Southeast Asia. Located partly on the peninsula of the Asian mainland and partly on the northern side of Borneo, which is Kalimantan – Indonesia, my country.
Malaysia has considered as one of the richer nations in Southeast Asia. It's true somehow this country perform well with their economy and development. Actually, it's still a mix between a modern world and a developing nation.  in the recent years, this country has become more popular with the uprising travel destinations such as
In the recent years, this country has become more popular with the uprising travel destinations such as Langkawi, Penang Island, Malacca, Genting,etc.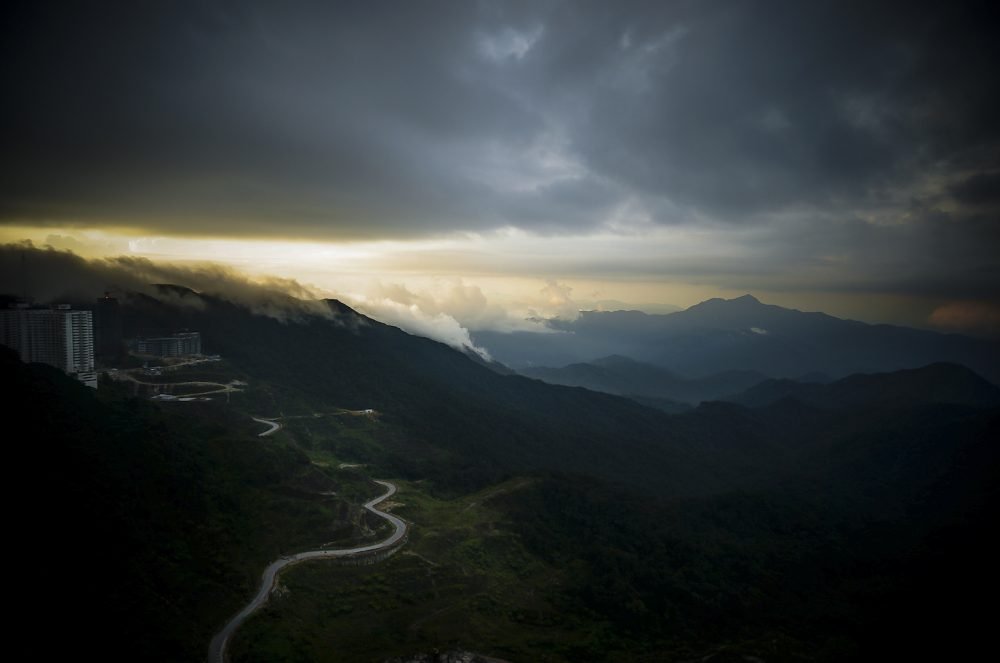 Not So Much of A Plan
These friends are not really a planner, haha.. Trying to be spontaneous, huh..? Well, maybe you should not, planning your trip mostly let you get the best travel experience.
Our trip, this time, happened with a very little planning. So yeah, no plan, just buy and go. It was March 2015, we felt like going somewhere and the choice fell on Malaysia.
There are three things that actually becomes our point of interest, those are Genting, KL, and Legoland. Which I will try to break down into several posts. We went from April 23 – 27, so that's 5 days, minus 1 day for transit in Singapore as we're going back home.
---
---
Flying Malaysia Airlines
We chose Malaysia Airlines for our departure flight. I know that may sound crazy, how come we still fly with MH after all the incidents that occurred both in April 2014 with the missing MH370 and the plane crash of MH17 in July 2014 after being shot down near the Russia-Ukraine border.
It was a sadden news and break many hearts of the families. The news going viral with those incidents. Since those two incidents, the ticket price from MH was going really really cheap, if you checked those prices, like 'wow' cheap. I even got questioned by this one Malaysian client of mine,
"Wah, you mau terbang sama MH? Tak takut mati lah?"

(Speaking in English, it would be like this : "You're flying with MH? R u not afraid of death?". 🙂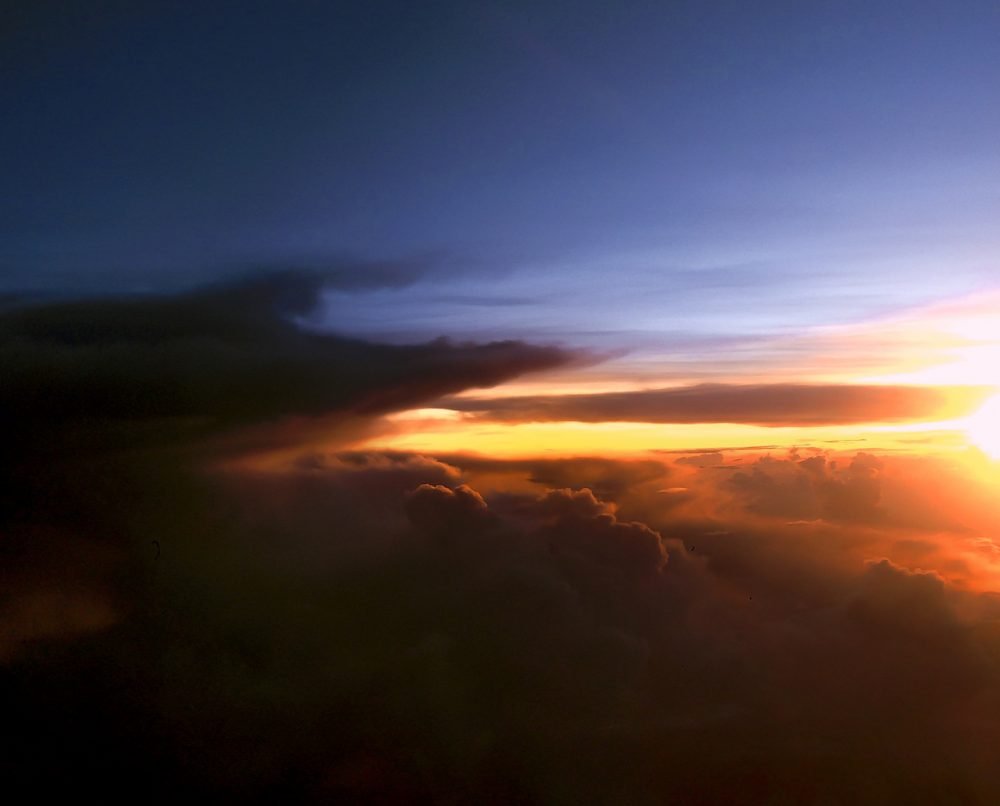 Hey, nobody wants to die, no airlines want accidents, no families wants to lose someone. It's unpredictable and for us, it's not about the airlines. I believe MH always doing their best for the safety of their passengers. Despite all the negative voices and those overwhelming news, we decided to stick with MH.
Flight Costs Breakdown
We got a pretty good deal for our flight;
base fare of IDR 590,000
the tax for IDR 150.000
Total for IDR 740.000 / person.
(That time MYR 1 = IDR 3,200) 
That was a pretty good deal, right? That's so cheap considering that MH is not a budget airlines. They rank 18 in 2014, and 24 in 2015 according to Skytrax.
We got a large baggage capacity, breakfast in flight, entertainment system, more room for our feet and more comfortable seats rather than going with budget airlines.
But nowadays airlines goes even crazy with their ticket price, you can get as low as IDR 300K depends on when you're flying. Compare and find the best possible price for a flight to Malaysia. For Indonesian, check the flights here.
We bought ticket home with Lion Air (This airline got a really really bad reputation amongst Indonesian nowadays). Price for IDR 620.300 / person from Singapore to Jakarta.
---
---
Hotel Costs Breakdown
For the hotel in Genting, we stay at First World Hotel, which I think it's kinda good and kinda not. Booked for IDR 332.760 / night, we book 2 rooms for 2 nights (which is a waste, later I will tell you why).
We also booked the Alpha Genesis hotel in KL for IDR 541.105 / night, also book 2 rooms for 2 nights, that was pretty cheap.
Then we booked the hotel in Johor Bahru for our Legoland trip, we chose Double Tree by Hilton. It costs us MYR 296,59. Booked only 1 room for 1 night.
And finally the Legoland ticket for RM 132 / person. Finally! We're set and ready to go.
Landing in KL
We arrived at KLIA at 7.40 local time and went straight to check out through the immigration to get our baggage, then bought sim cards for RM 23, we chose Digi provider. They have a data package for tourist, 7 days data, etc.
We tried to find the bus station in KLIA. At first, it might be confusing but it really is not at all. Just ask the information desk at the airport or a map / poster / information anywhere at the airport. Note that there's two airports, KLIA and KLIA 2 (used to known as LCCT). We went straight to the bus counter, we took an elevator and cross the building to the bus counter, not too far. You may check the info
We went straight to the bus counter, we took an elevator and cross the building to the bus counter, not too far. You may check the info here.
We didn't buy the bus ticket online. We should, though. I recommend you to book online, you can find a better price, often come with a promo or discounts. There are many sites to buy the bus ticket in Malaysia, but I recommend busonlineticket.com.
As soon as you get inside the bus terminal, there will be some (mostly) Indian guys trying to sell you tickets from their bus company. We bought Aero bus tickets for RM 35/person. Waiting about 15 minutes for the bus to arrived and another 10 minutes then we're off to KLIA2 before finally, we hit the road straight to
Waiting about 15 minutes for the bus to arrived and another 10 minutes then we're off to KLIA2 before finally, we hit the road straight to Genting.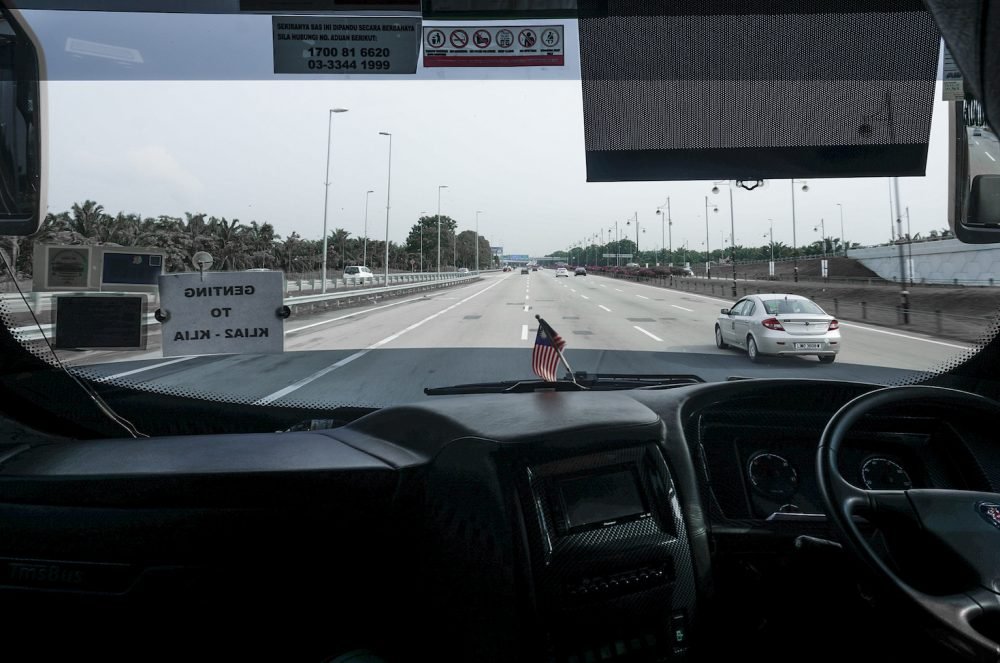 Genting, Here We Come
It took us about 2-3 hours before we arrived at Genting area. There's some traffic jam on the highway because there were some road works. The bus itself was very comfortable in my opinion, the seats are comfortable, can be leaned all the way back for a comfortable nap. There were only 10 to 15 people if I'm not mistaken in the bus, so yeah the bus was empty.
The bus itself was very comfortable in my opinion, the seats are comfortable, can be leaned all the way back for a comfortable nap. There were only 10 to 15 people if I'm not mistaken in the bus, so yeah the bus was empty.
Now this trip is quite long so I fell asleep until I felt a bit dizzy because the road seems to be zig-zag in mountain style. Never forget your meds. The scenery of the hills and mountain are quite nice, enjoy the view very much.
I notice the temperature drop as soon as we get higher, the elevation of 1,740 meters (5,710 ft) will surely make your ear 'different'. You can also go here with cable car, from RM 6 up to RM 10. Now I wonder why didn't we go try that cable car? (D*mn stupid…).
It is the South East Asia's longest and fastest cable car, spanning 3.38 km through 100 years old tropical rainforest from the base station at Gohtong Jaya to Resorts World Genting. You should try it definitely, I heard from friends that it is great.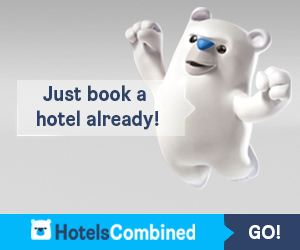 Do Your Research
Another thing about the importance of planning your trip is to find any information update for the place you're going. I noticed that there were constructions happening here and there. Apparently, they're developing this place for a better tourism. And their Theme Park was closed for renovation until the end of 2016. (Speechless…)
The good news, Twentieth Century Fox World theme park is coming up soon. The first from Twentieth Century Fox and the first in the world. Well, let's check it out when it's open.
The bus dropped us at the upper station where we exchange for another shuttle bus straight to First World Hotel. There are several buses going to different resorts. Just follow the instruction from the staff.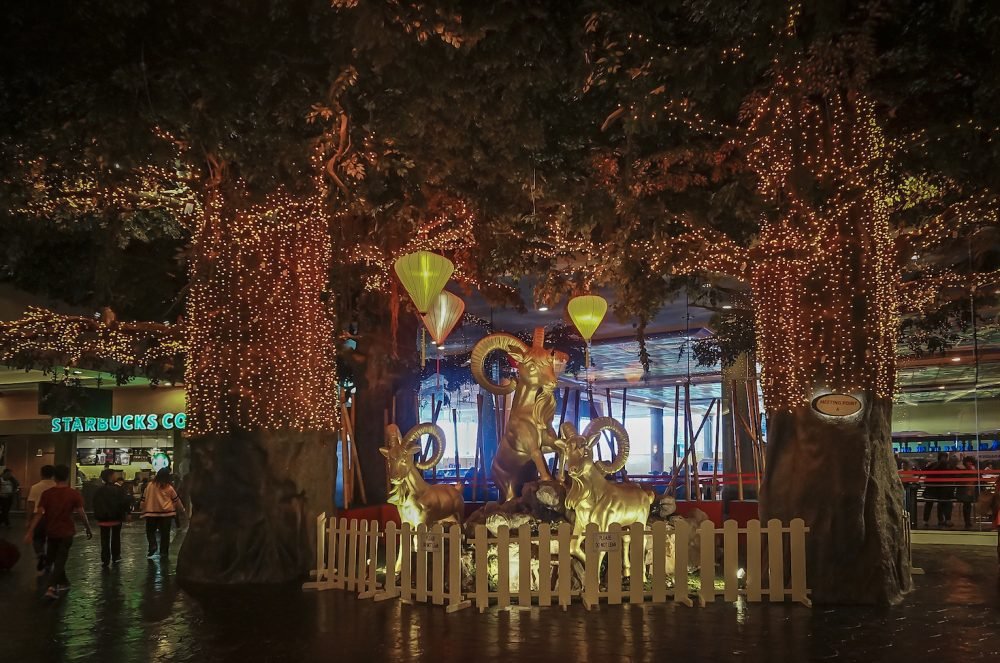 Finally, First World Hotel!
It was actually pretty cold, somewhere about 18°C (65°F). We're welcomed with quite a huge lobby and nice decorations. Check it out. This hotel was the world's largest hotel in 2015, with 500,000 square feet of an indoor theme park and connected to First World Plaza. Food, shopping, theme park, casino, hotel, you name it.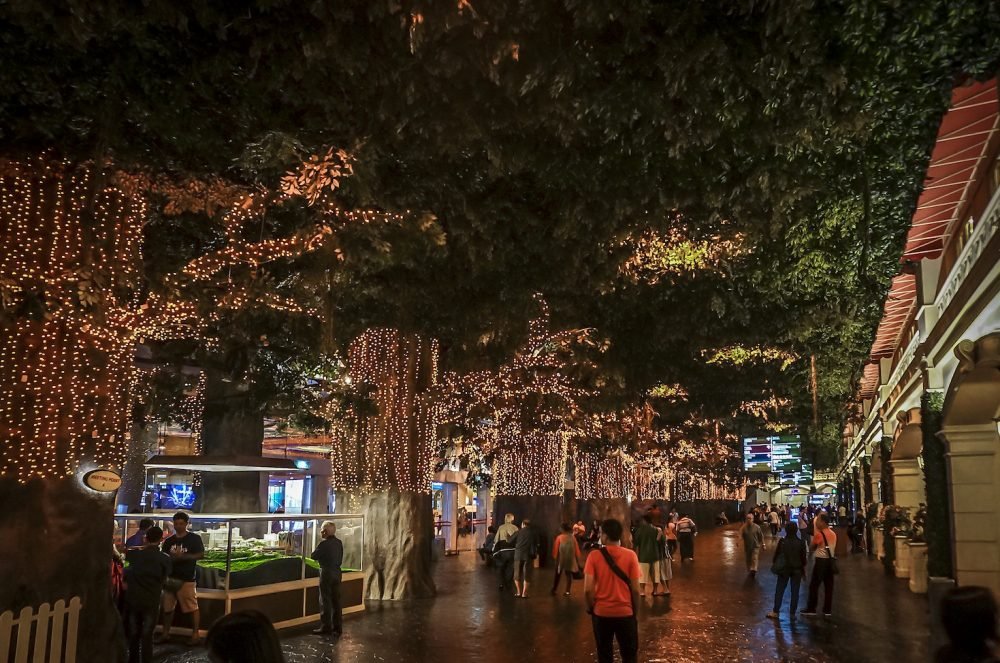 Checking In
There's a sign showing us direction for getting around. It was quite a lot of people when we've arrived. Everybody seems to be waiting for check-in time. The lobby was really big, and there's a lot of seats too for guests.
You know what, I think it looks like a bus station or a police station or pharmacy with those people sitting and waiting like that. There's a lot of check-in counter, I think there's up to 30+ (wow, …).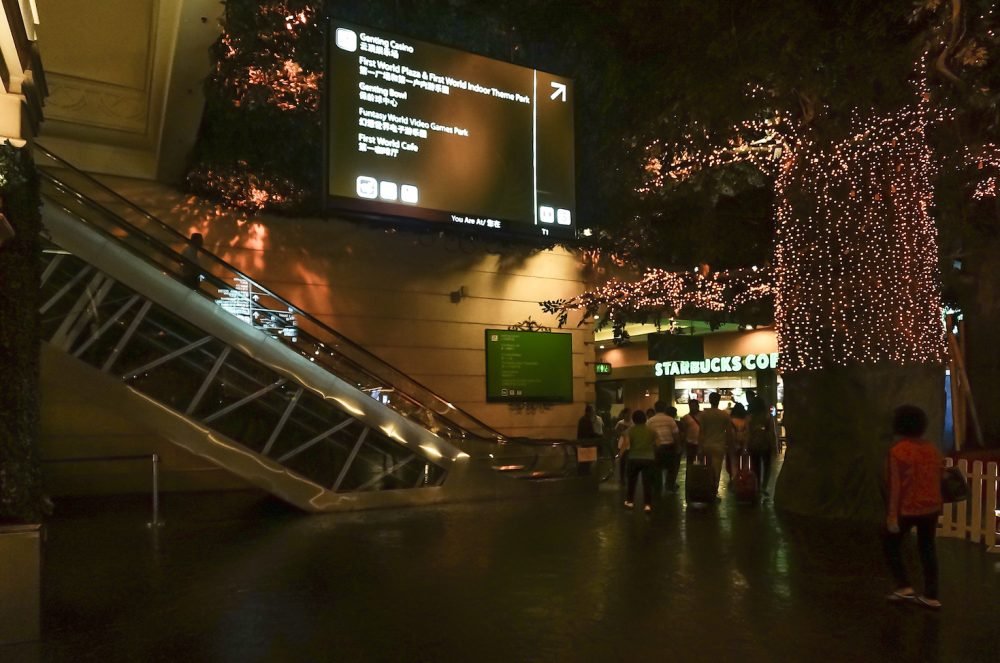 We're not able to check-in until 3 pm (check out time 11 am, by the way…), which is lame. That explain why those people sitting, a lot of them. We put out baggage at the baggage counter, then we go find something to eat. It's noon already and we're hungry.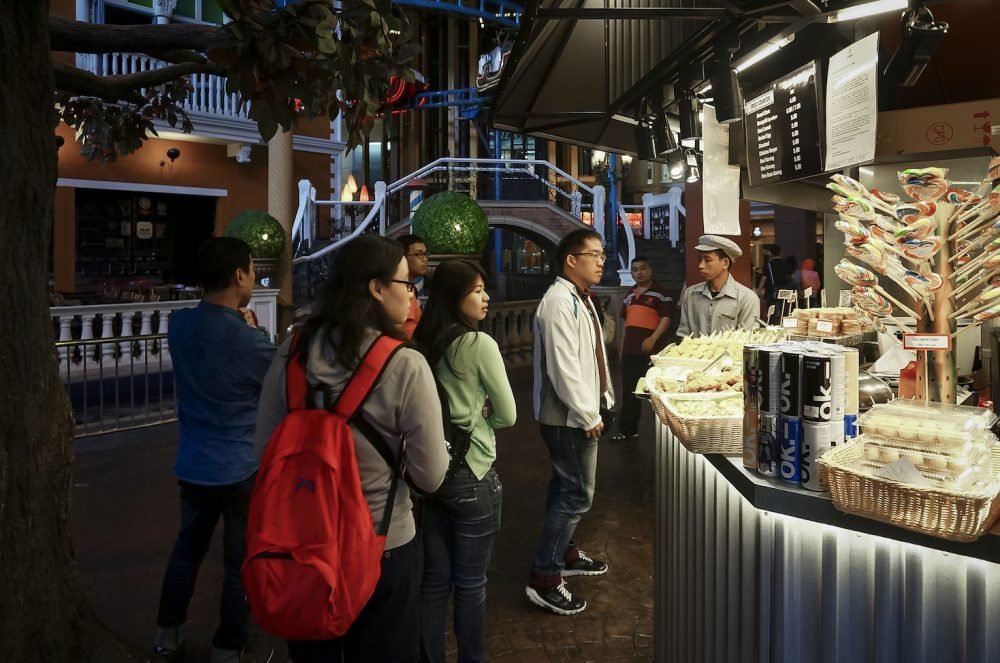 First World Plaza
We're going to the escalator which took us to the mall, and we found some restaurants but they're all seem to be pretty occupied. So, we're looking around and find snacks. Not bad as an appetizer.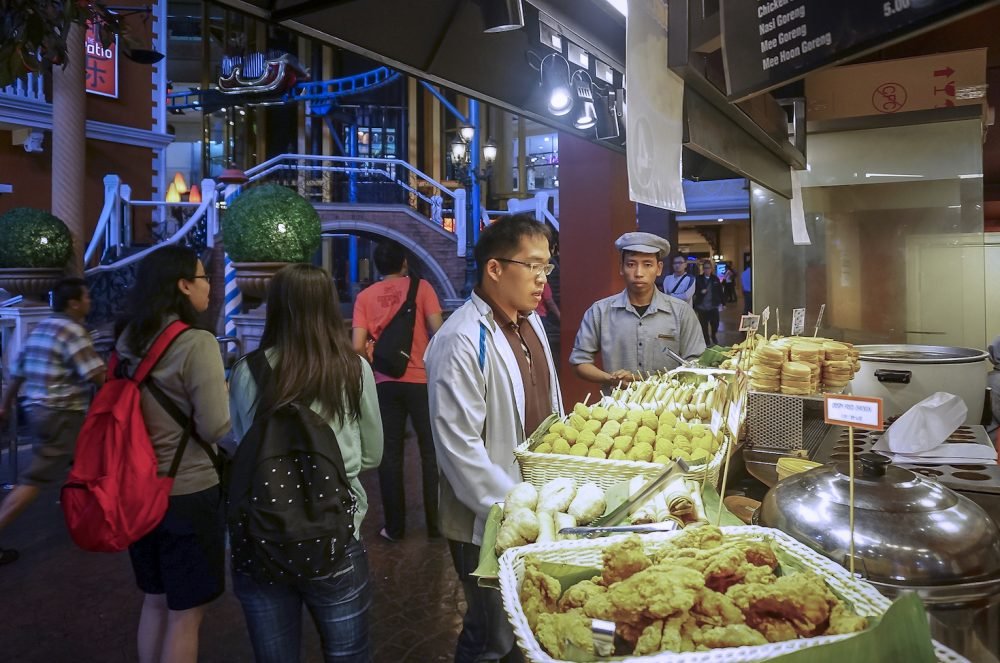 Bought some snacks for RM 13. And we're going around to the 3rd floor where we found a food court, not too many people, but still pretty busy. There we had our lunch. Price range from RM 10 to RM 20 something. Honestly, the food was not good.
Finish with our lunch (Total for RM 106.7), we're wandering around this plaza. There are some entertainment and things to do here, such as bowling (glow in the dark bowling, check 'em out), cineplex, theme park, haunted adventure, also Ripley's believe it or not museum.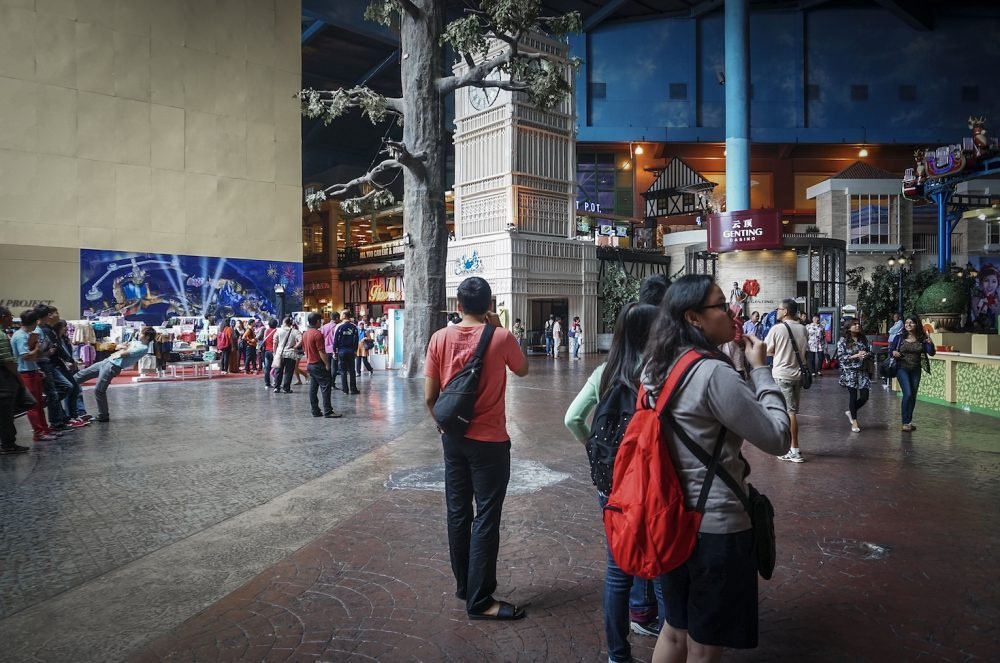 Explore More
There will always somebody or a group performing something to entertain the visitors. To keep them 'busy' and not feel bored soon enough. Of course, you can take pictures with these entertainers.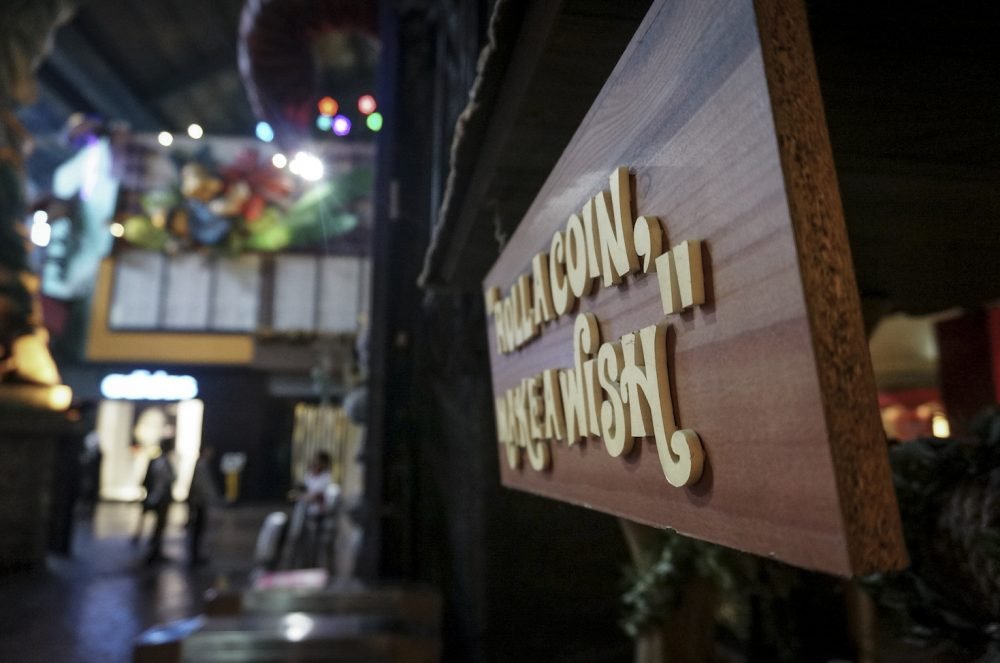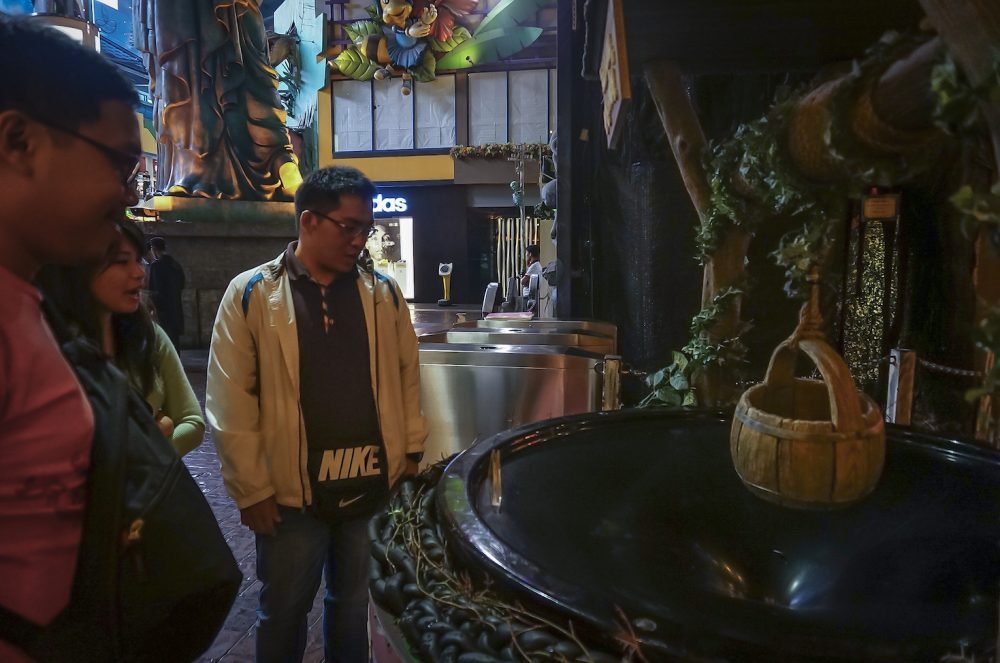 This wishing well, I can get quite some money if I collect those coins. There're a lot of coins people throw away in this well, also in the mini canal where you can ride a boat.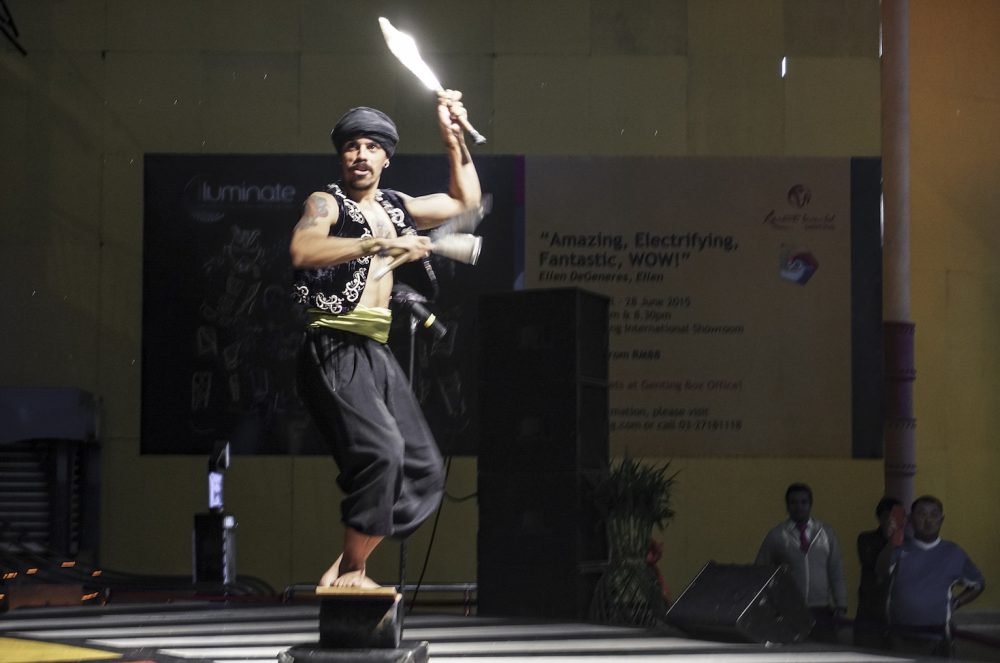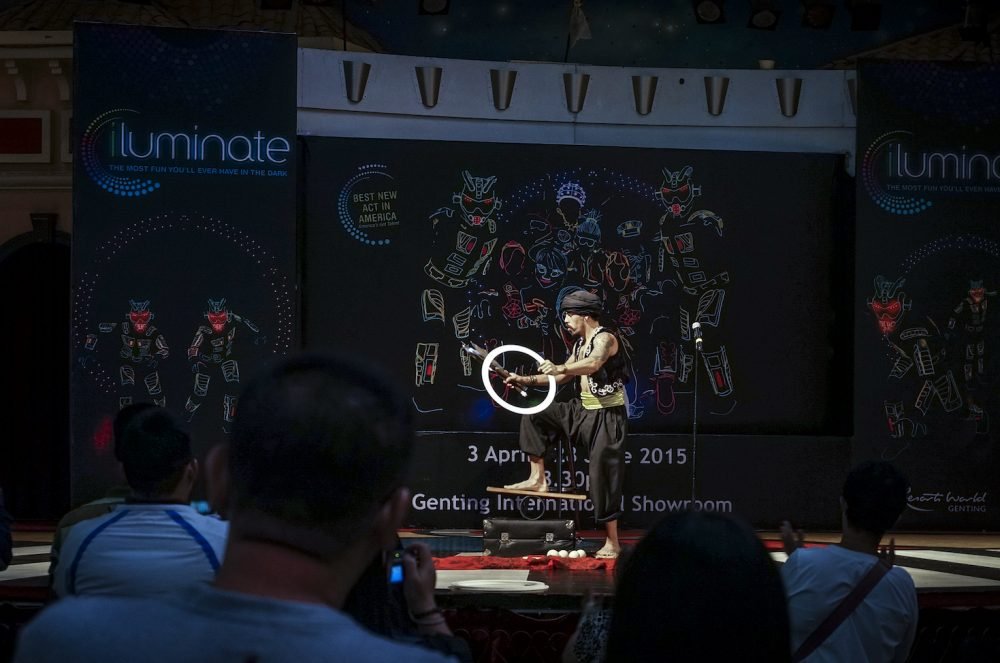 This place called the Times Square, where there are usually some performance or show for entertainment. When I was there, this guy performing something dangerous with his blade, dagger, and other sharp stuff. Like I said, to keep tourists 'busy'.
I don't think their entertainment is good, I feel bored already. So we continue with our walk, as you can see at the information desk just in the lobby, these buildings are connected all the way until Maxims Hotel.
It's quite a walk because it's huge. And then we took some selfie with a narcist stick (look at that old lady judging these tacky tourists, LOL).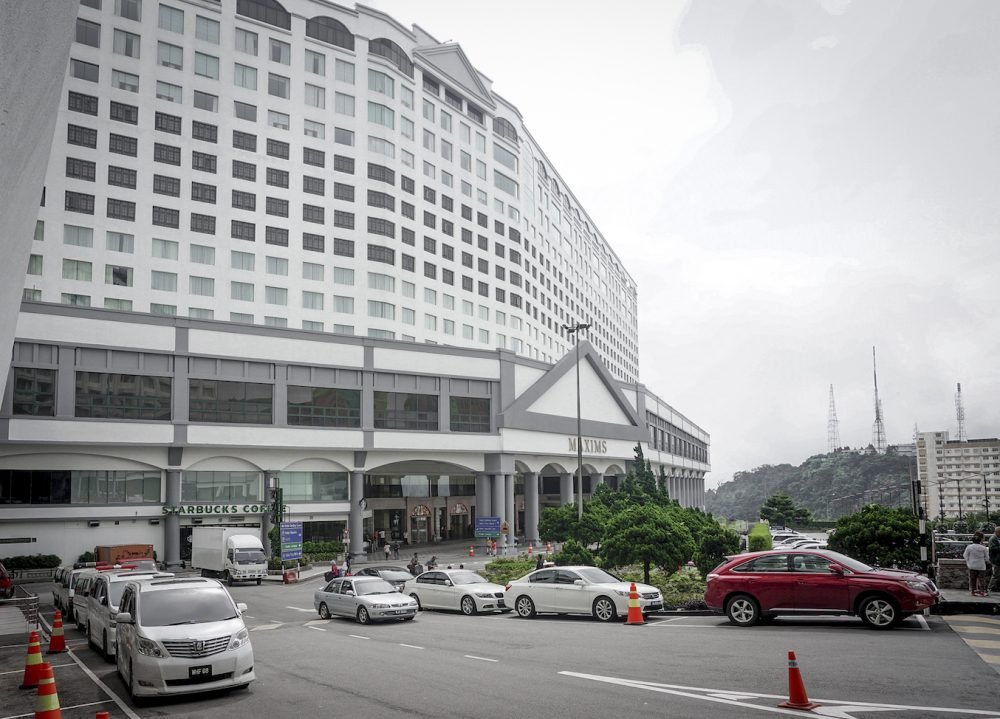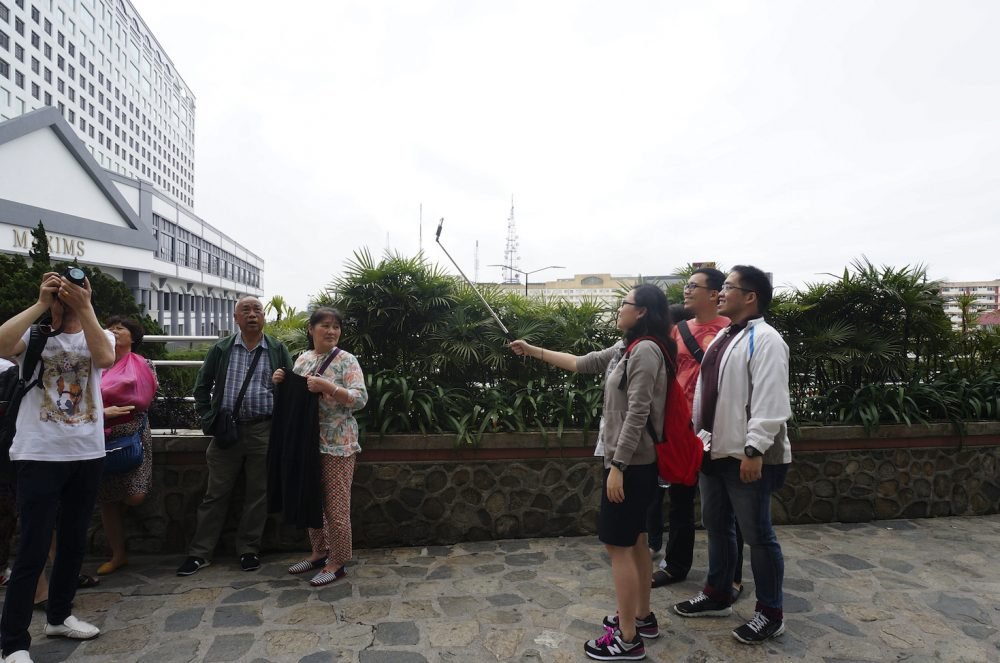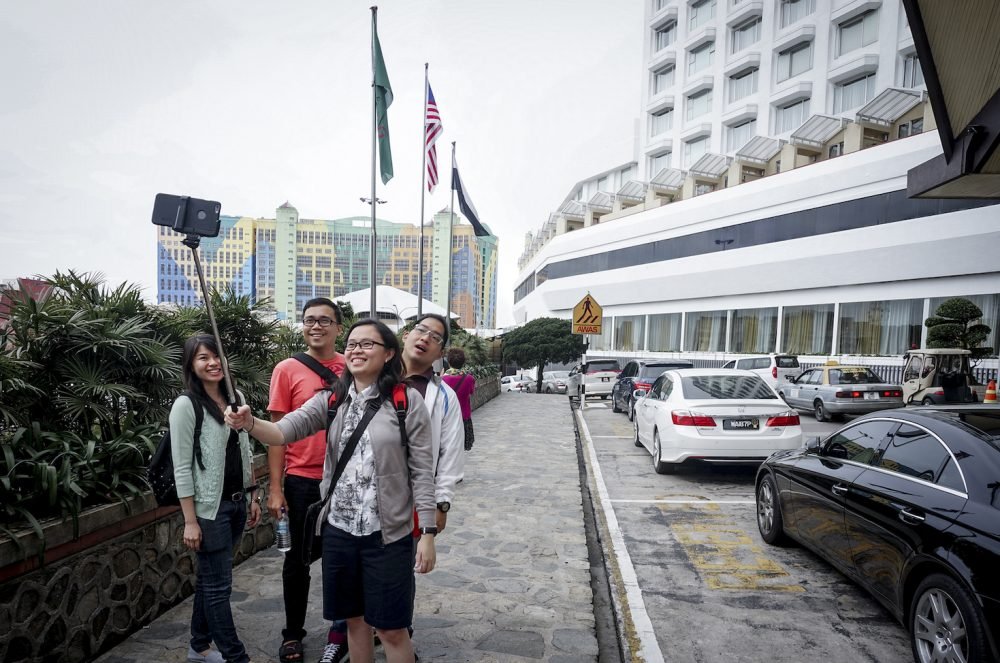 Time For Afternoon Snack
After exploring here and there, we felt a bit hungry, so we tried this new cafe, Terminal 2 Cafe, which has a nice decent look, and their food display makes me want to buy this buy that.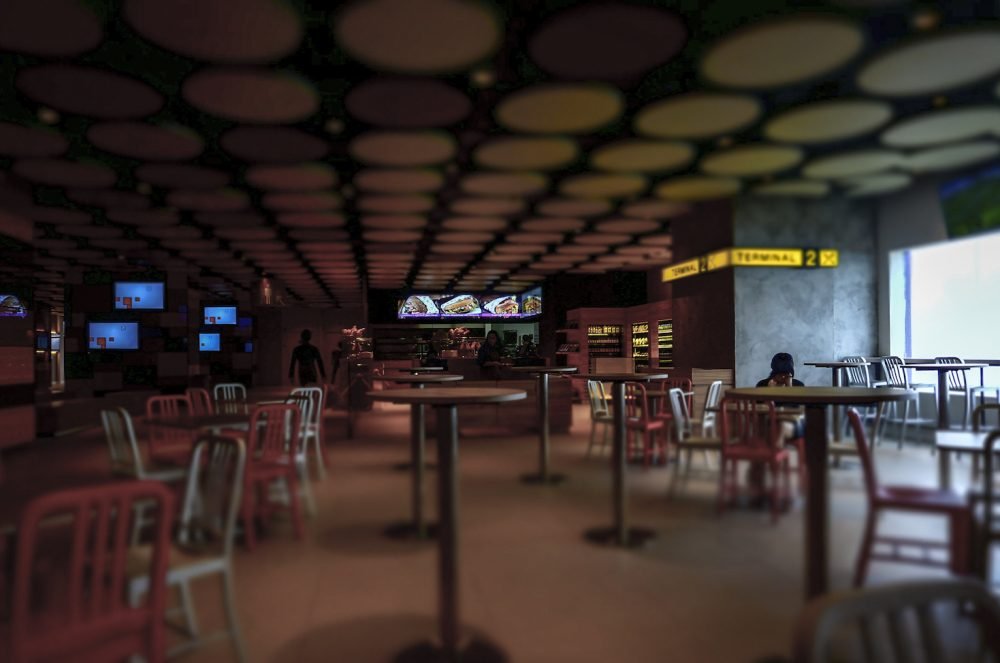 How's the food? 1 to 10, I would say 5? Considering the price and the taste, I guess no wonder there are only a few people. We bought some cakes, sandwich, pizza, and juices. Like I said, 5 is what I can give.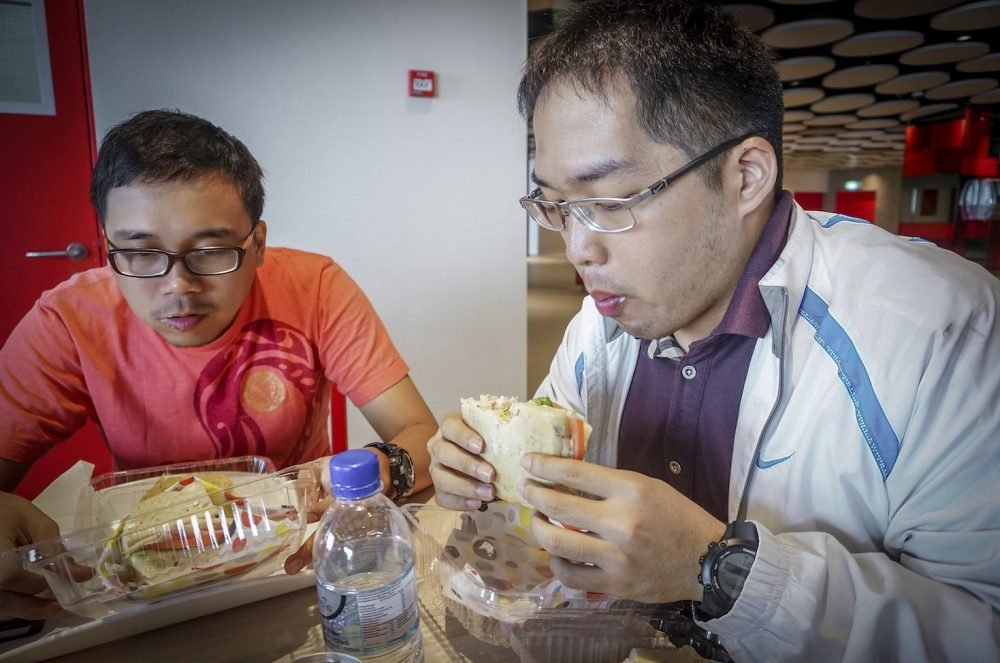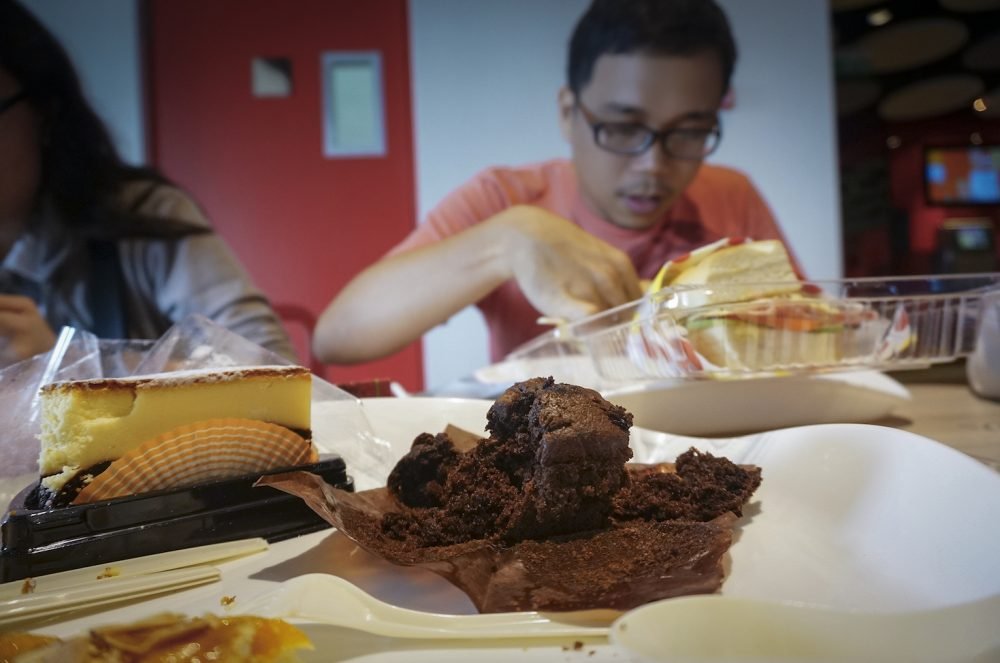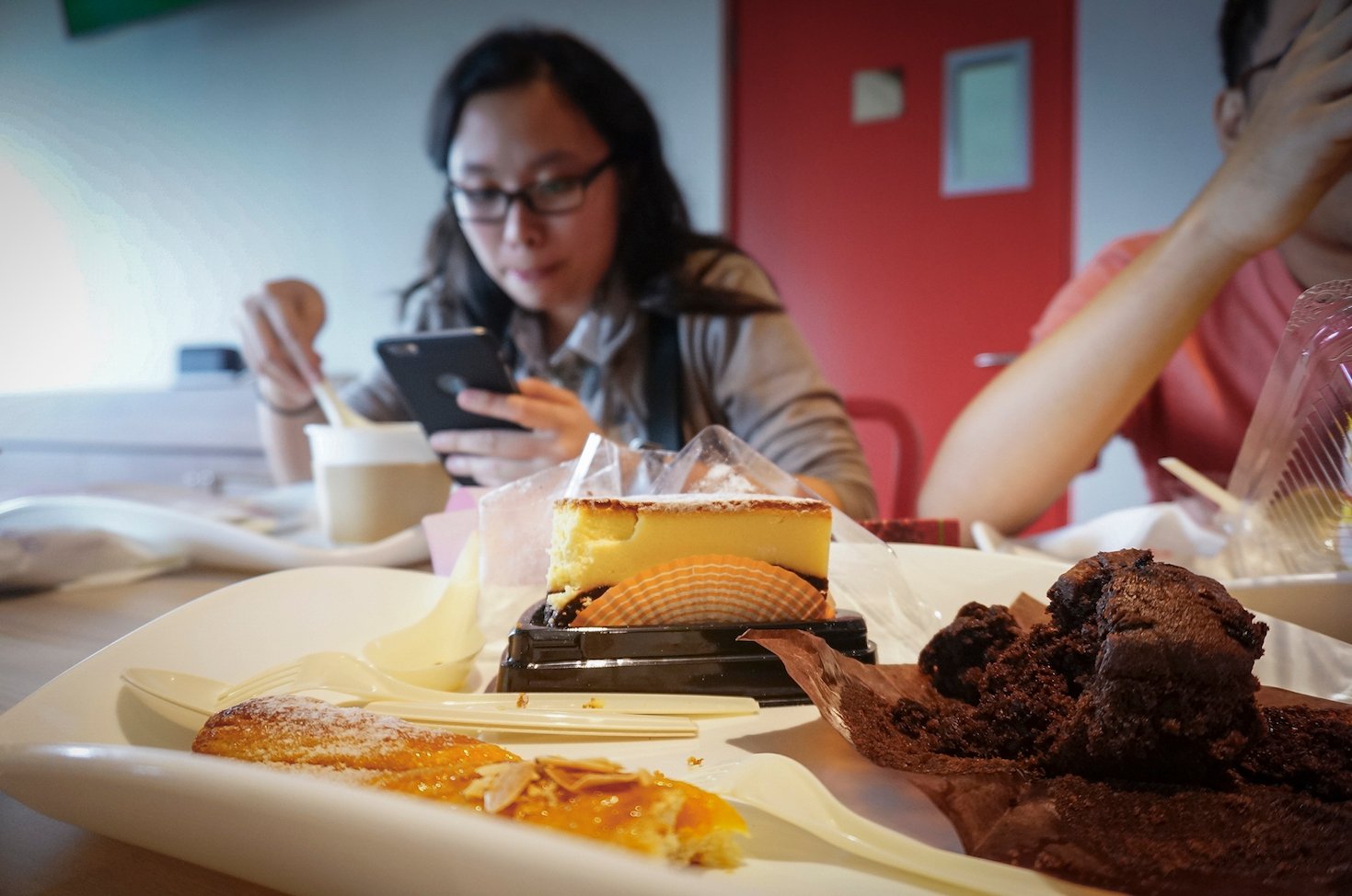 The location is pretty remote, but it's good for a nice quiet surrounding. Their interior was awesome, I think. I like those dots ceiling all the way along the hall and the mirror with red accent and glasses. So I played a bit with filters on my camera.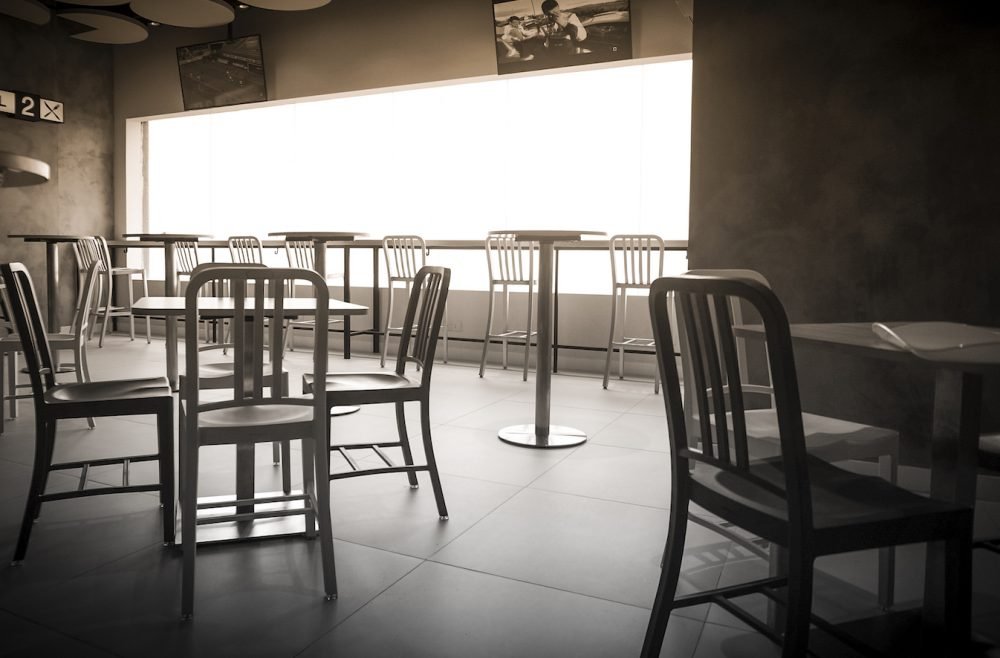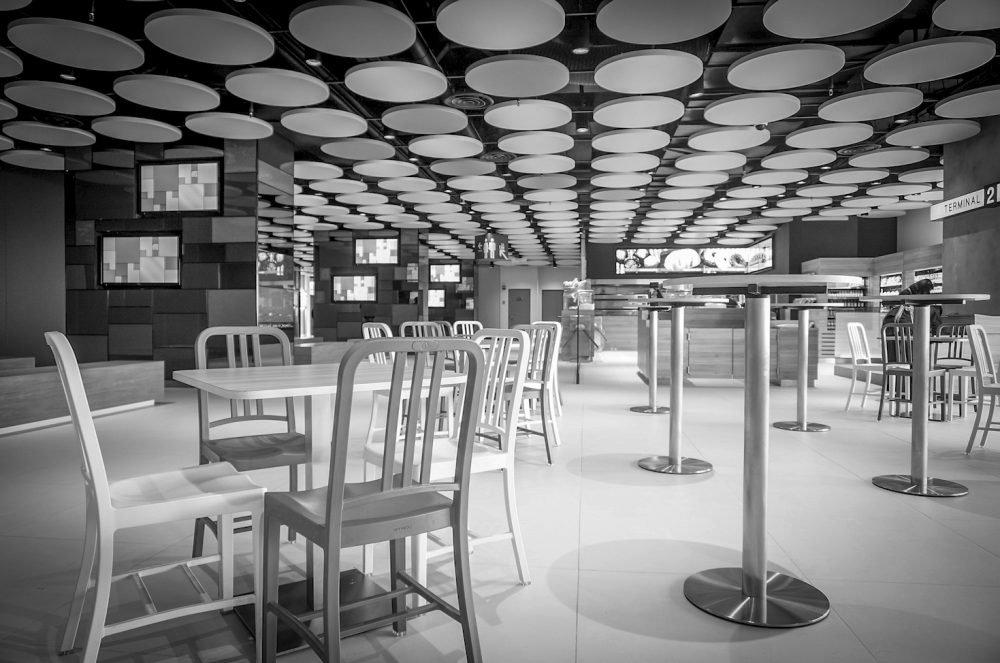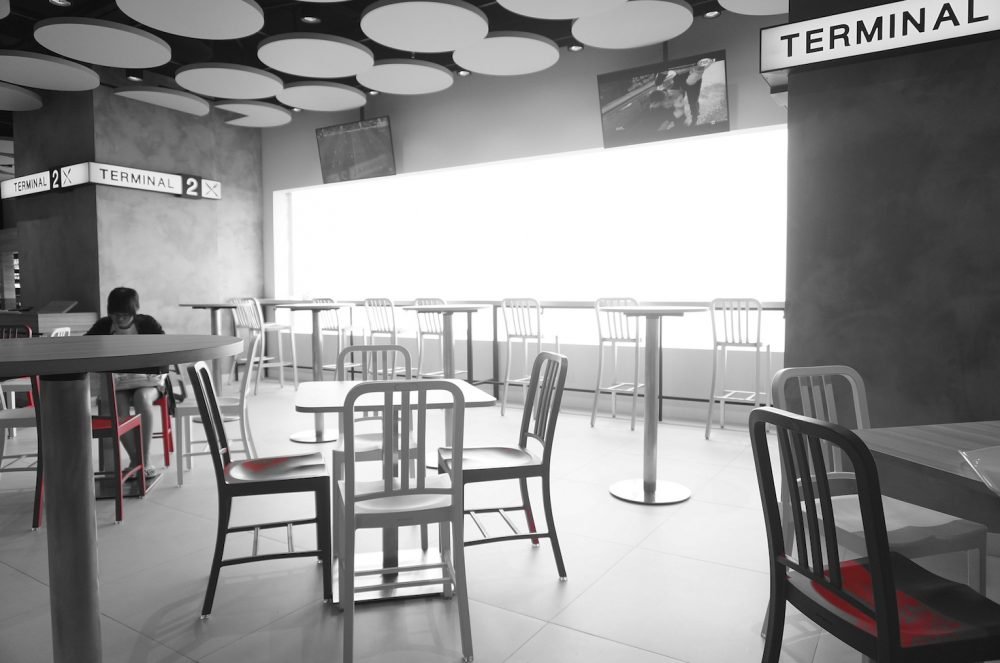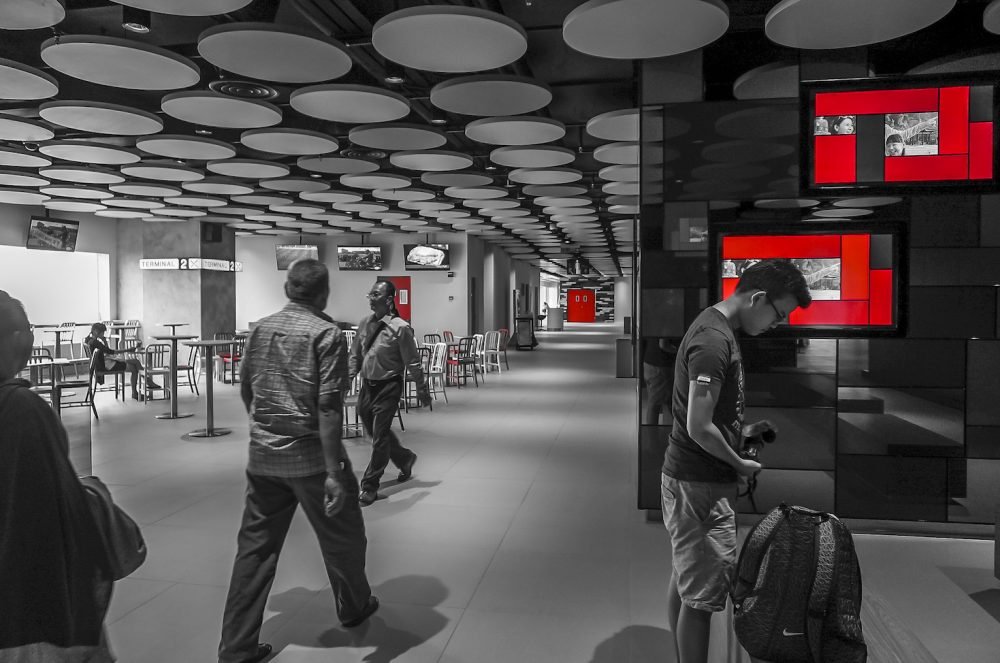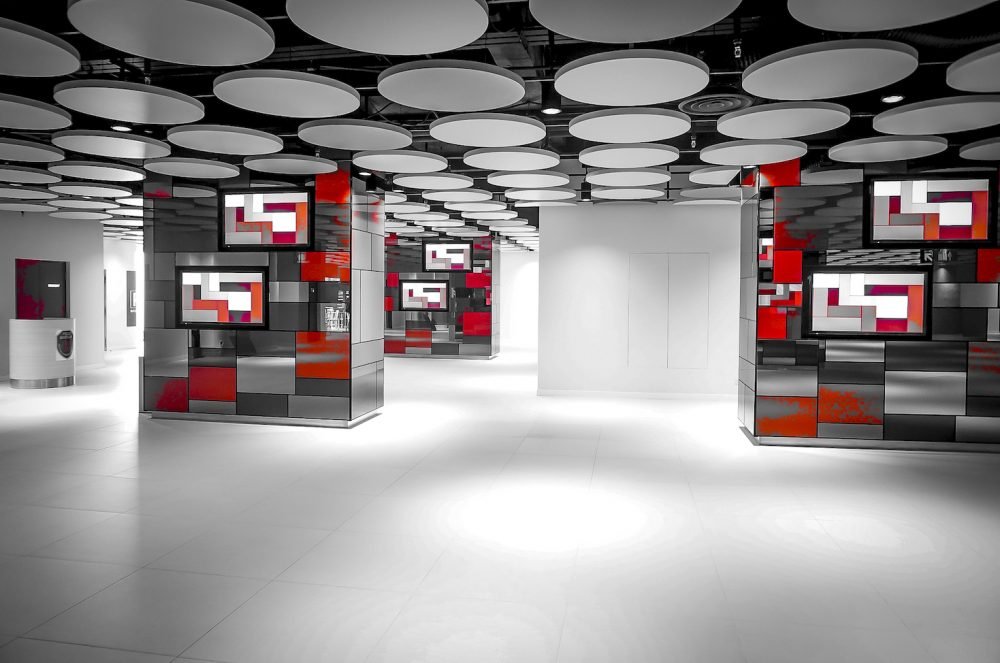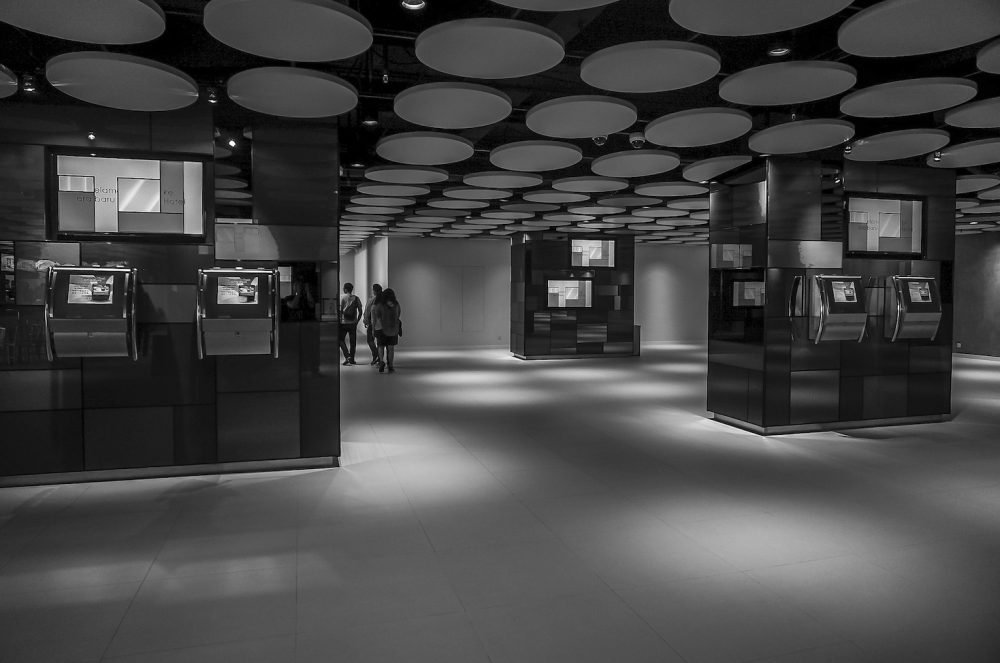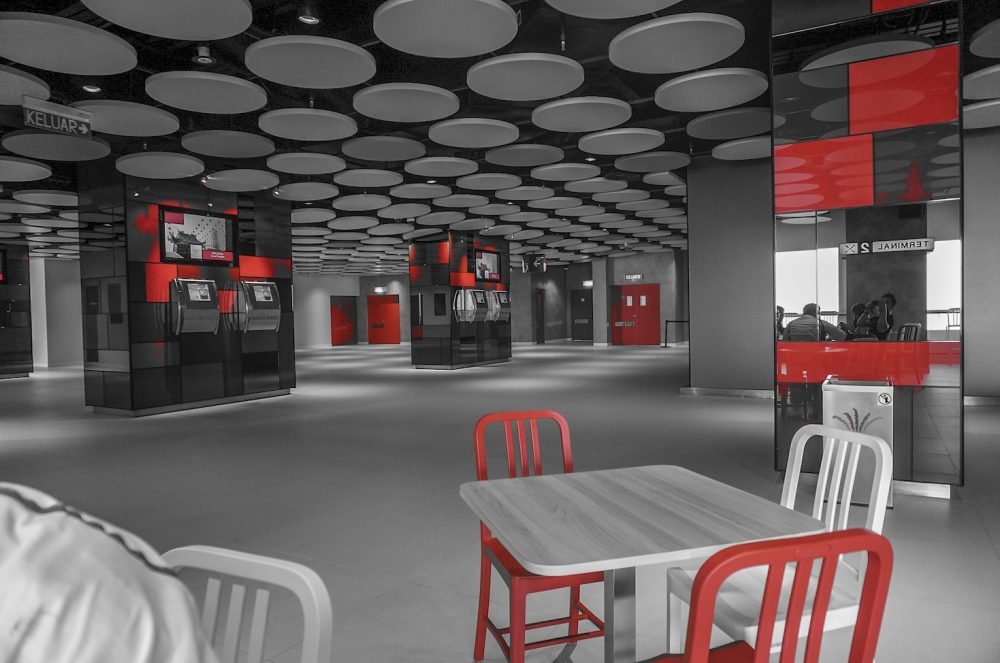 Finish our snack time for total RM 70, then it's time for a nap. All of us were very tired and sleepy because of our early flight at 4.40 am. So we go to the receptionist to check-in and get our baggage to our hotel room trying to get some sleep.
The lobby seems to have more tourists than before, it's started to look like a chaos. The reception line was started to open full. If only they did it earlier, the queue won't be that long.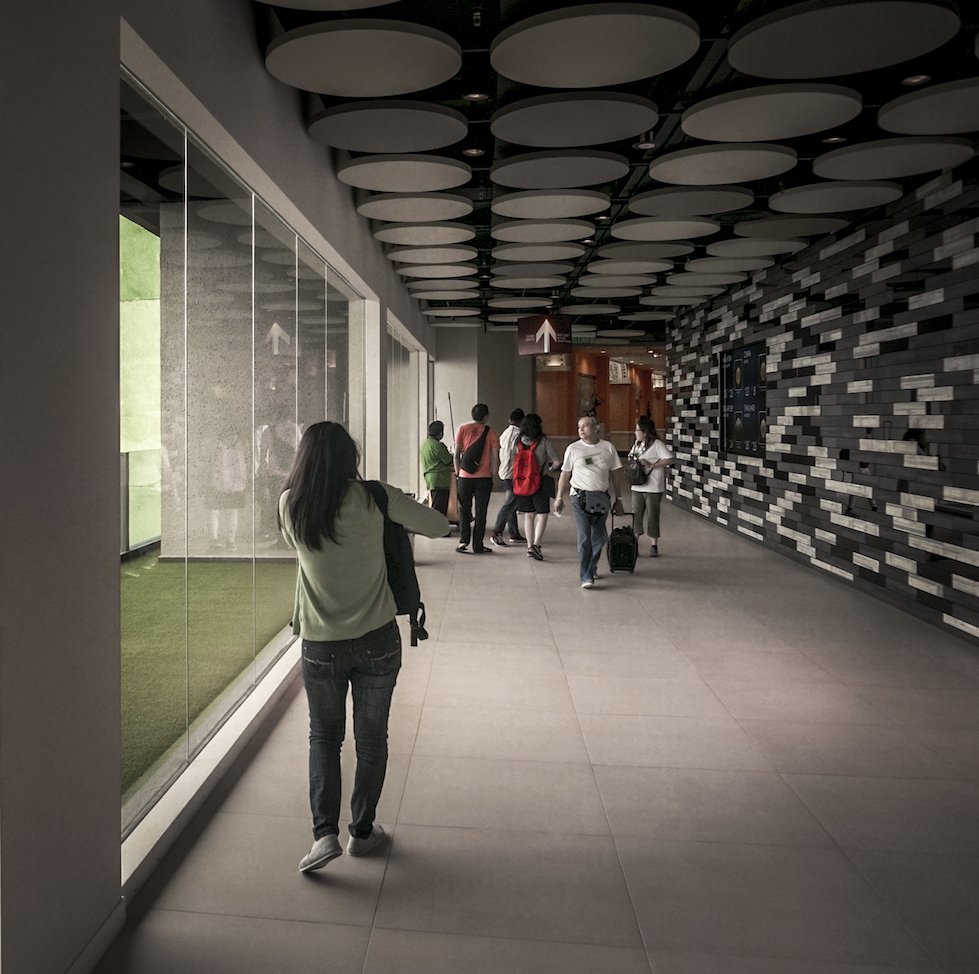 The Room, err… But The View, uuuu..
We got the 20th-something floor, which I expect I will have quite a view to the mountain. This hotel has 7,351 rooms, making it the largest in the world (by room number size). That fact alone is mindblowing. But disappointment struck me when I enter the room.
It's unbelievably small. I thought that was a joke. Space is small, the bed is small, the TV is 14″ or 16″. I was like,
You're kidding, right?

Nope. Maybe this is the room for people who only go here for gambling, so they don't stay much in the room.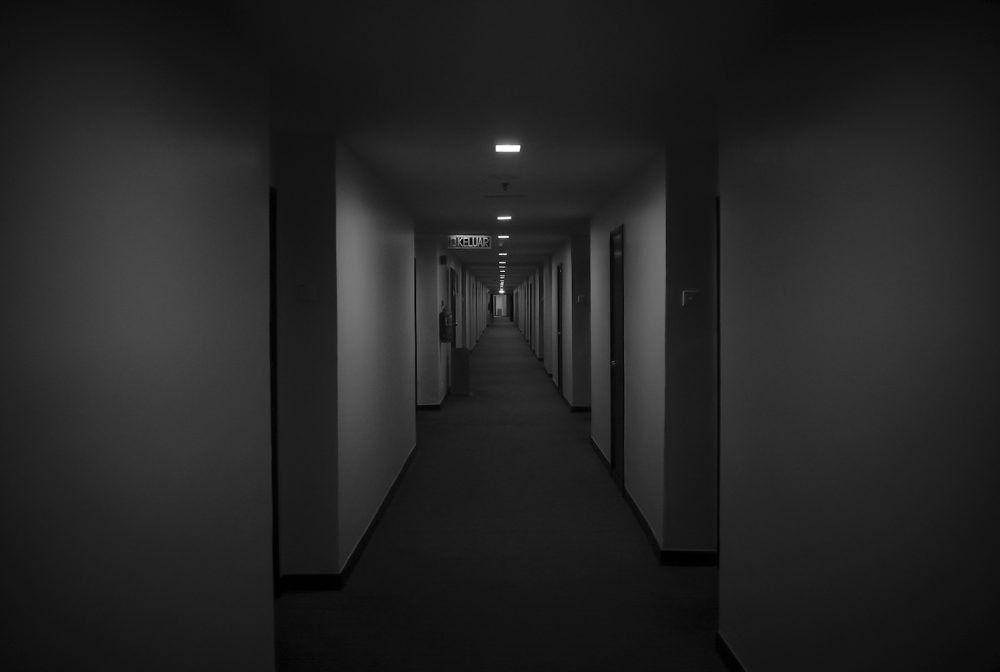 The toilet? Don't ask. Haha! Well, that title of 7,351 rooms is something, right? But, on the other hand, you get what you pay. I would recommend you to book the family room / suite, much better.
Honestly, the room was clean, it's still new, I guess it's the additional room, because before they only had 6,118 rooms. Standard amenities, bed quality was still acceptable. For this price, I can still accept with a little nagging.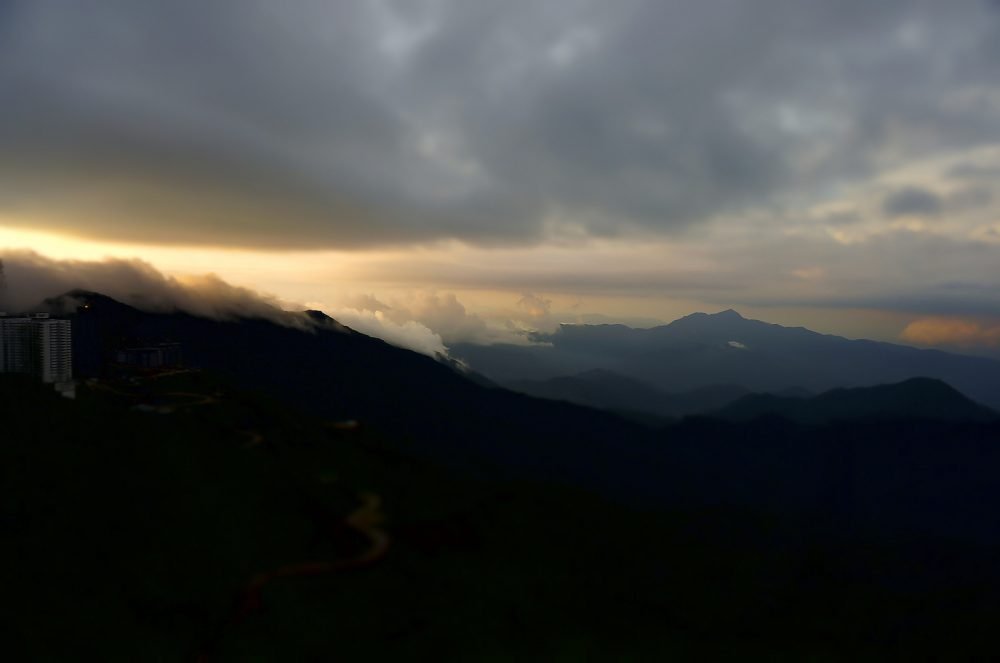 What redeems all this was the view, though. I love the view, it's one of the best views to wake up with. I took some before I'm taking a nap while two of my friends go to the casino.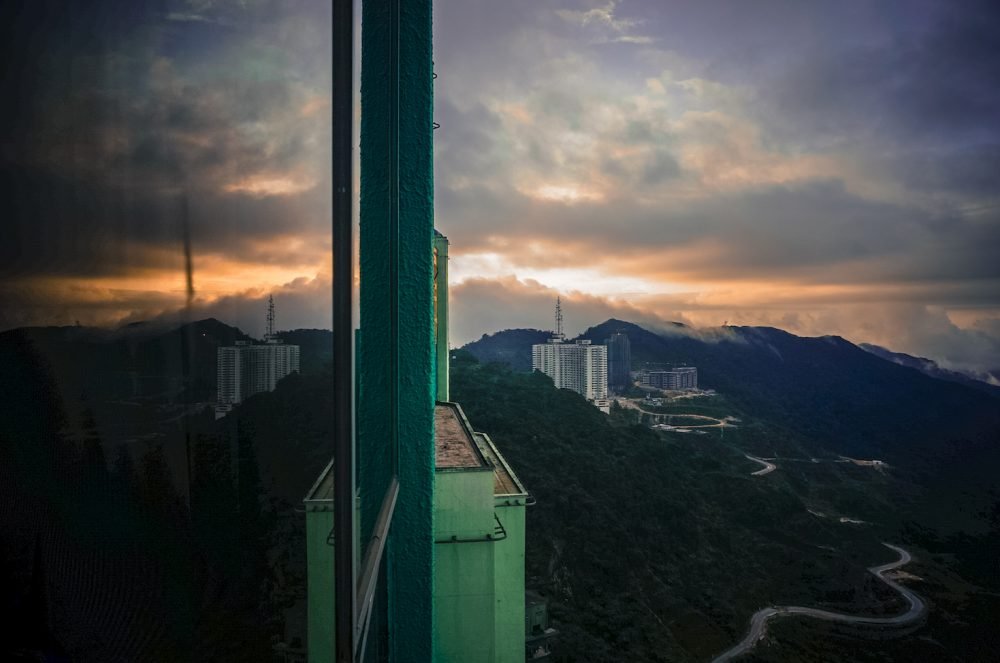 Playing a bit with my exposure settings, the view was really nice. Now I can sleep with this. My mind had calmed. You better have a sweater or warm clothes with you, it's freezing here. Getting darker, the temperature drop even more.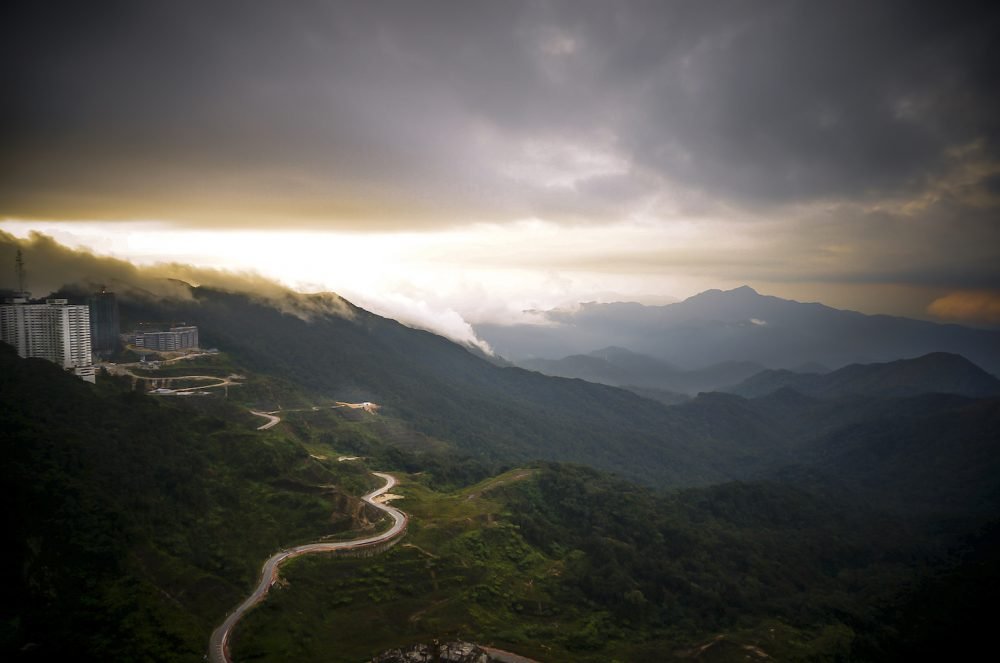 Casino Irony
I woke up in the middle of my nap because it was freakin' cold and I didn't have any jacket with me. Oh, and those friends lost gambling almost RM 1,000 (bad luck, bruh..?). Genting is famous for casino and gambling junkie, too.
I always wonder why people still think they can win against the casino, maybe you'll win the first 1 or 2 rounds because obviously, they let you. But we all know where will it end. I found this interesting post about winning in Genting Casino, check it out.
Actually, this one friend of mine did win some money when he was in MBS Singapore. That makes him believe that he can repeat that luck again here, so he's planning on 'revenge' later that night. Yeah… Right… 'Luck'.
We took a shower, get ourselves ready for dinner. This night is actually where we're gonna plan and decide whether we're going to spend another day in Genting or we should just move to another place since there's not much to do here. The theme park is what we want to see.
There's actually more of what to do here. Such as visiting places like Chin Swee Caves temple, Strawberry or Orchid farms, Lim Goh Tong Memorial Park.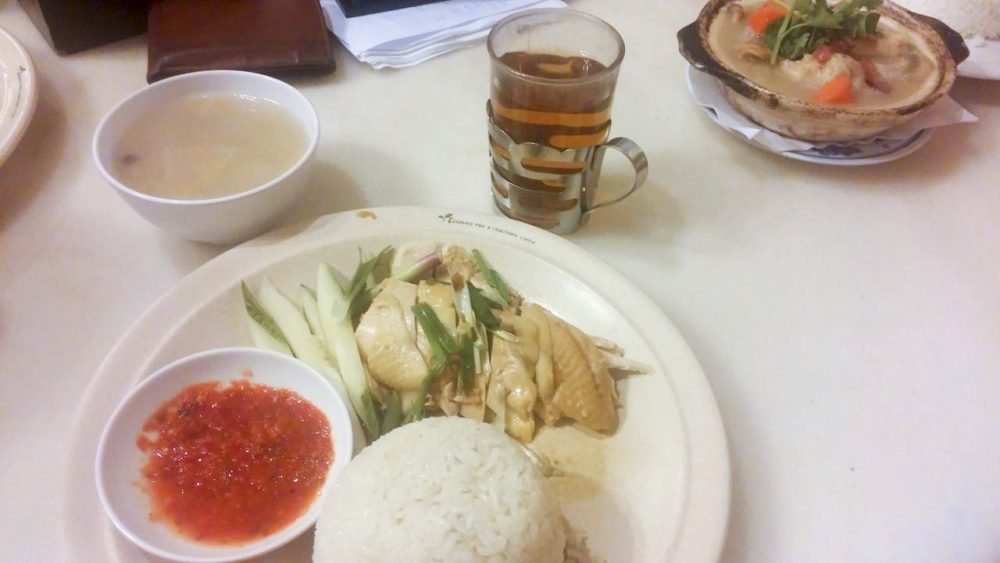 Dinner… Kinda…
This is Hainan Chicken rice set from Hainan Kitchen Restaurant. One thing about this restaurant was they could use more salt or seasoning. I got no complaint at all because I'm just hungry and I ate it all. It costs us total RM 119,50 (about RM 23 to RM 24 per person).
Finish with dinner, fooling around in the mall and we enjoy some snacks at night near the canal which those cafe / restaurants seems to open only at night time. Chee Cheong Fun (Rice Noodle Roll), fishball, bubble milk tea, etc for the total of RM 52.
Change of Plan
This is when we finally decided that we're gonna skip our second night here. Instead, we're going for KL tomorrow morning. We book the same hotel in KL for an additional IDR 514.111 / night , pretty much the same price with the previous book.
And that night was ended with us hanging around in the casinos, and this friend of mine lose some more. A lesson for us all, you cannot win the casino, LOL.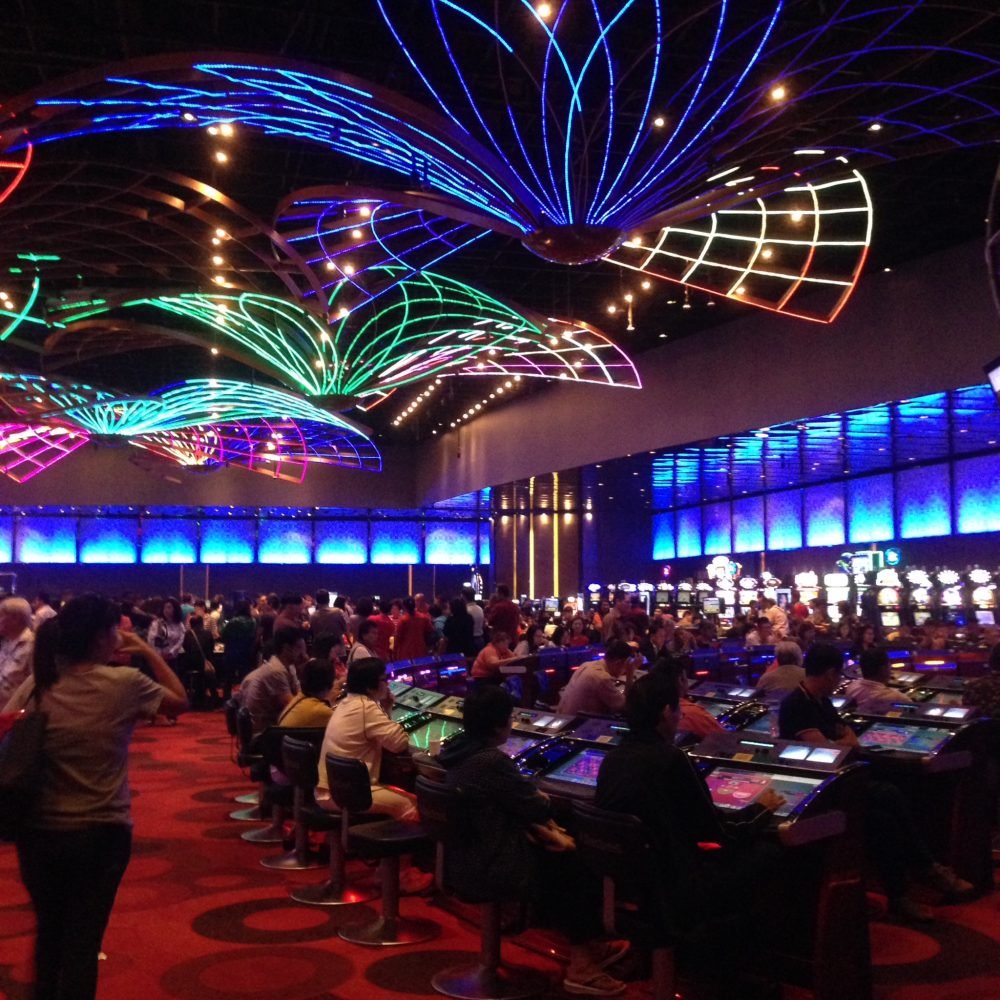 Feeling like a loser, back to the room and we end the day. It's obviously freakin' cold,  I had a trouble to get some sleep. The next day we do check out early and go to KL.
Conclusion
That's pretty much my first day in Genting. I would say it's nice, but not that fun. We book 2 nights, but the first night we're bored already and feels like going to the city would be more fun. I'd say 2 days 1 night is enough, unless the Fox 20th Century World is open, or you're a gambler then you should stay longer.
Overall, nice day, Genting. Thanks for reading (sorry for the long post, hope you enjoy it!). Don't forget to subscribe and leave a comment below. Until next post, guys!
---
Help you help me links
It would be nice for me to help you with your bookings. Please use the links below to plan your next holiday, it will help me to keep sharing story like this.
---
Here's the map for my entire Malaysia trip itinerary in Genting and Kuala Lumpur :