Shopping is indeed an ultimate medicine for stress. As long as the bills doesn't stress you even more. At least, I enjoy shopping last night along Nathan Road. As for today, we're all awake excited because we're going to Window of The World in Shenzhen, China, today to see the so called mini version of the world.
Now I must say, this attraction has become very popular and magnetic among locals. It's super packed especially during high season, but thanks to their huge place (it is very big), so it's not that bad even when it's packed.
We're leaving for Shenzhen at 9 am in the morning. As usual, we took the MTR from the East Tsim Sha Tsui station (it's the only line available to go to Shenzhen), closest from our hotel. There're a couple ways that you can go to Shenzhen from Hong Kong, even if you go straight from Hong Kong airport.
How To Go To Shenzhen from Hong Kong
In a short story, you go to the Lo Wu (Hong Kong – Chinese) border crossing. Ticket 36.50 HKD / person, took us about an hour to get there. Crossing the border here from Lo Wu (Hong Kong side) to Luo Hu (Chinese side) is pretty easy and without fuss.
Do you need a visa? Yes and no. My suggestion is you should get the visa in your home country, that's the best way to avoid anything unpredictable. If you happen to go to Shenzhen from Hong Kong without any plan at the first place, you can apply a 5-day-visa at Shenzhen since it is a special economic region in China.
---
---
Toilet Tips
I know this might piss a lot of Chinese people, but….. I have to share this one important tip. Crossing to China after you've been a while in Hong Kong, the first thing you will notice is the toilet.
They are REALLY REALLY different in terms of hygiene. Please take care of your 'business' while you're still on the Hong Kong side, much better. I was actually got an advice from one of us who has been to China a couple times about this toilet thing, but apparently I was just being ignorant that day.
And right after we cross the border (approx. 30-40 minutes border things), it happens. So… When you gotta go you gotta go, right? I go to the toilet at the border, China side.
What I found was "amazing". The smell, the stains, and everything in-between makes you WILL remember the difference between Hong Kong side and China side. There's even sh*t still there and nobody gives a f*ck to flush. Same thing with the urinoir.
Joke from a friend
There's a joke for this toilet thing. In China, when you go to public toilet, you don't flush.. Let the people after you flush it, that way you save water. Save water, save the earth. *wtf
Another thing, there's actually the janitor there and looks like didn't even care to clean it up. The worst part, there's no toilet paper or even soap to wash your hands. That was so unclean and nasty.
I don't even touch the door handle, I just wait for people to open the door, then I'm out. I'm not a phobia with germs or something (am I?), maybe it's the first impression that makes me suddenly phobia with that place. (Biggest chance was because the human feces that I saw was scary… Geez).
Find A Better Toilet
Here's a tip, if you're on "emergency", skip the toilet at the border, just walk some more to the Shangri-La Hotel, it's very close. My girl friends did it. Way better. After having lunch at one of the restaurant not so far from the
After having lunch at one of the restaurant not so far from the Shangri-La, we continue to the station. From Luo Hu, the journey to Shijiezhichuang Station takes about 45 minutes and costs about 5 RMB or about 80 cents.
Window Of The World First Impression
Now arriving at the Window of The World, you'll be welcomed with the Louvre, as the roof for the access to subway. Pretty nice, and creative too. Queueing for 15 minutes, then we got the ticket.
We paid 180 RMB / person. As I said, crowded but not really, because this place is huge. They have a lot of ticket counter for sure, a lot. Here's some welcome view for the entrance.


This slideshow requires JavaScript.
Actually, before we get inside, we go for a walk around, turns out we found some interesting place to see. If you go to the right side, you can see a place that has unique old European houses in a garden (or looks like a garden), it's still part of this attraction. We found an ice rink there, a copy of Alpen.
This slideshow requires JavaScript.
Firework Show
After fooling around, we're back to the entrance and go inside. It's already 2 in the afternoon. You're gonna have to go through quite a lot of stairs to get to the main arena, where you can watch a dance show at 7.30 pm and fireworks at 9 pm. Here's what it looks like.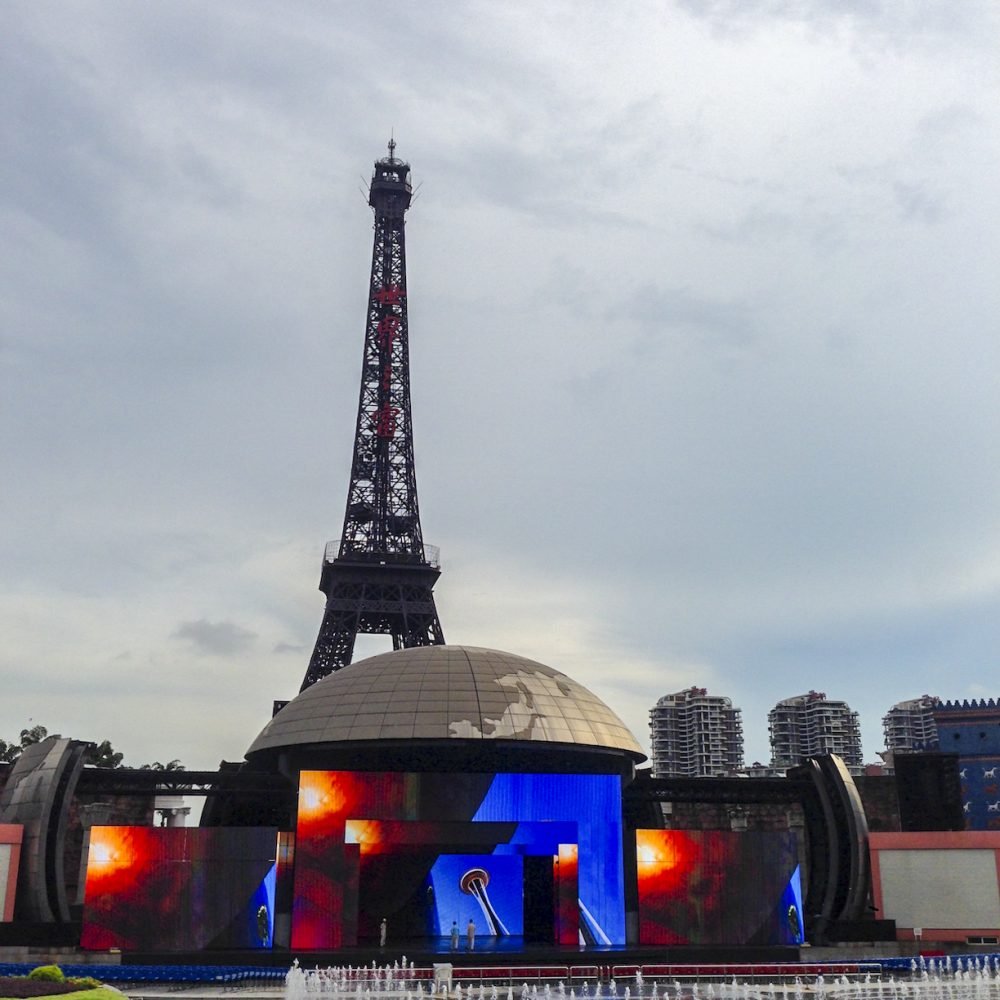 We didn't stay until late to watch the show because we're only planning to go here for one day, and back to Hong Kong. To the left side is the access to see the miniatures from the world, right after you pass the ruins and the gate.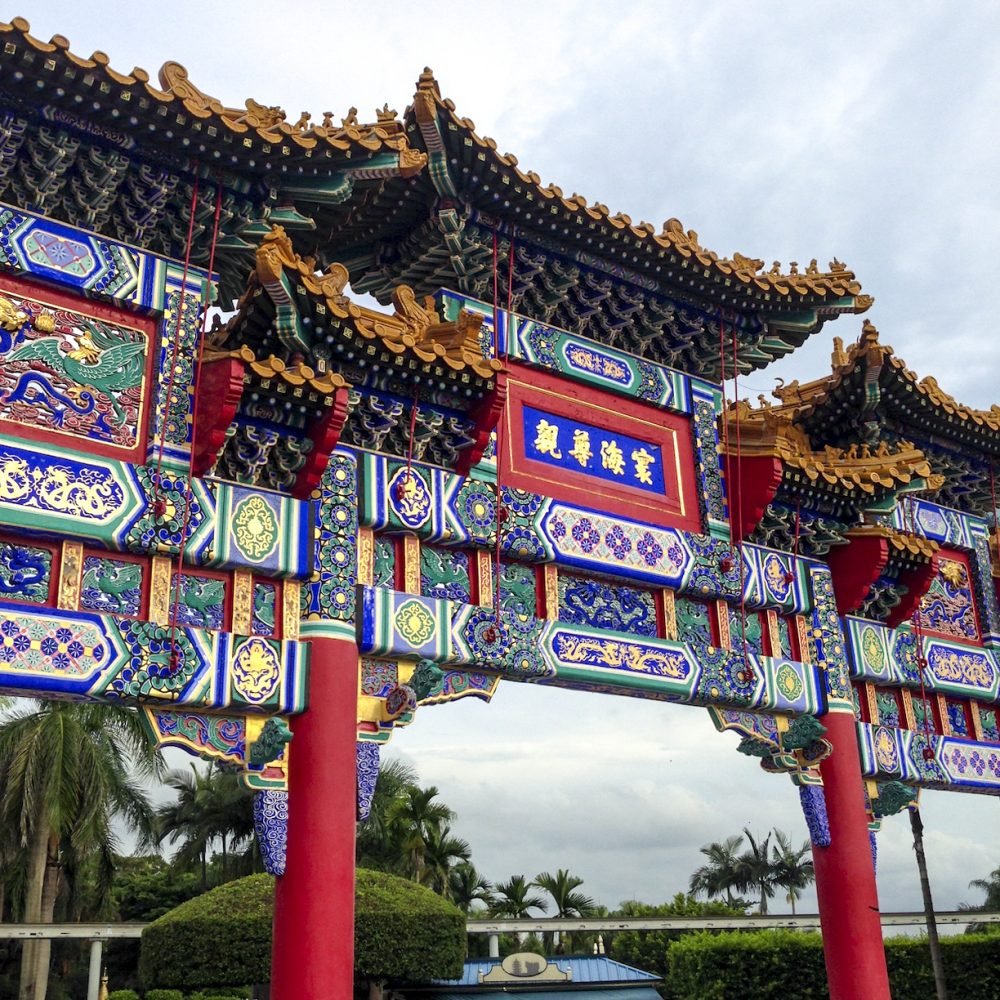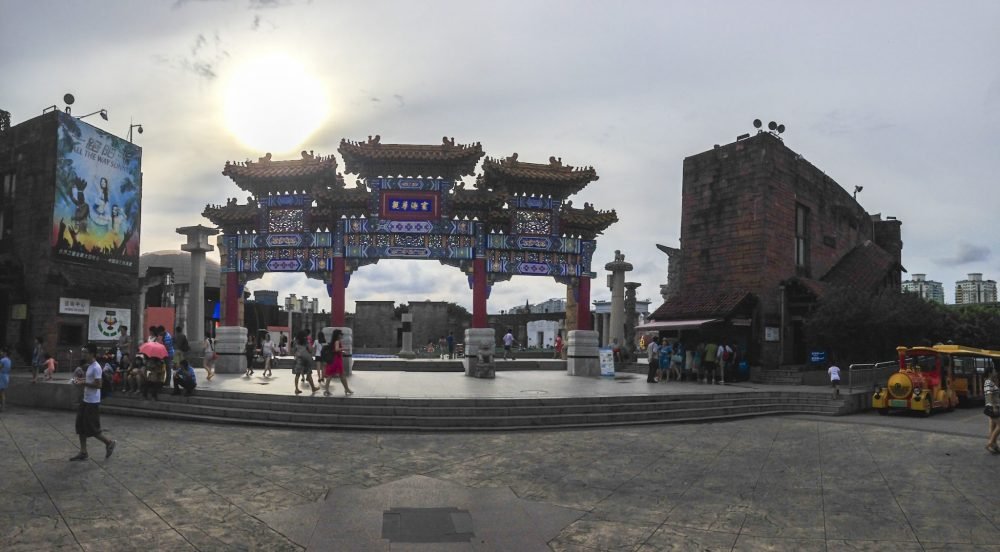 World's Passport Souvenir
Once you pass this gate, you can go either to the left or the right. If you look closely to that little kiosk where some people gather at the right-side between the gate and cart.
It's a stall where you can buy a passport as a souvenir, and they provide you a stamp from many countries which they have the miniature. You can go explore this place by foot, or renting a toy car. (That will be the right side of the photo)
Rent A Car
Rental available in a small cart (self-drive), or even the bigger one like a golf cart (with the driver). Should you rent or not, it depends. If you're easily tired by walking, then rent it. If you feel like you want to enjoy the place, then walk, you'll see more.
As for us, we pay the big extended golf cart for 350 RMB, for all 7 adults and 2 kids on board. It's like a private rent. I would strongly suggest you to just rent the small cart, it's much better. You'll have more freedom to explore that way, although you have to pay attention for the time, the rental goes in timer.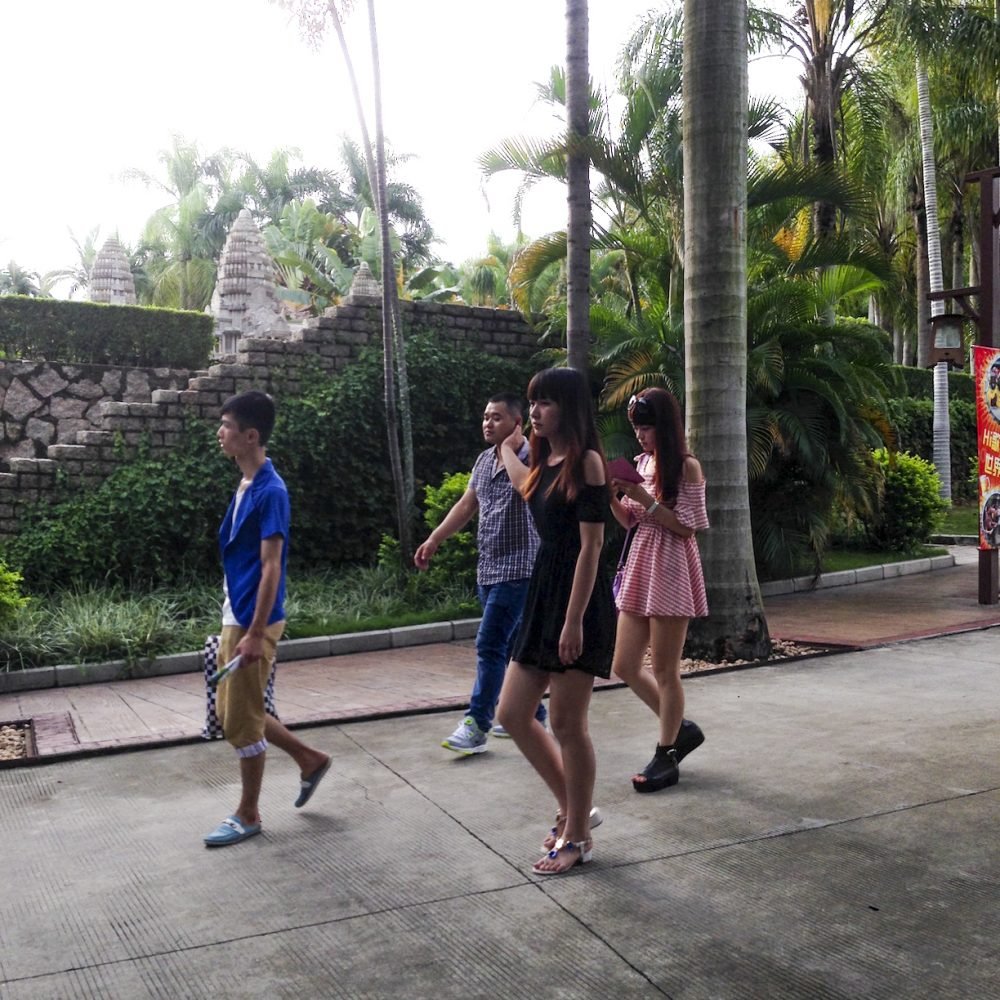 Indonesia
Right after we pay, we hop on the cart and wait for about 10 minutes for the driver. Turns out the driver was a woman. So, we proceed and start the ride. First sight was this Candi Borobudur from my country, Indonesia. (Hey, not bad… Looks similar)
Thailand and Cambodia
Second in sight, the Temple of Emerald Buddha from Thailand and Angkor Wat from Cambodia. I'm sorry for the Thailand part blocked by trees because I'm taking this photo from a moving cart.
Yes, we keep riding through the way, because the driver only stops at some places that you ask for. That's right, you can stop and get off from the cart to take a closer look at one miniature or "a country".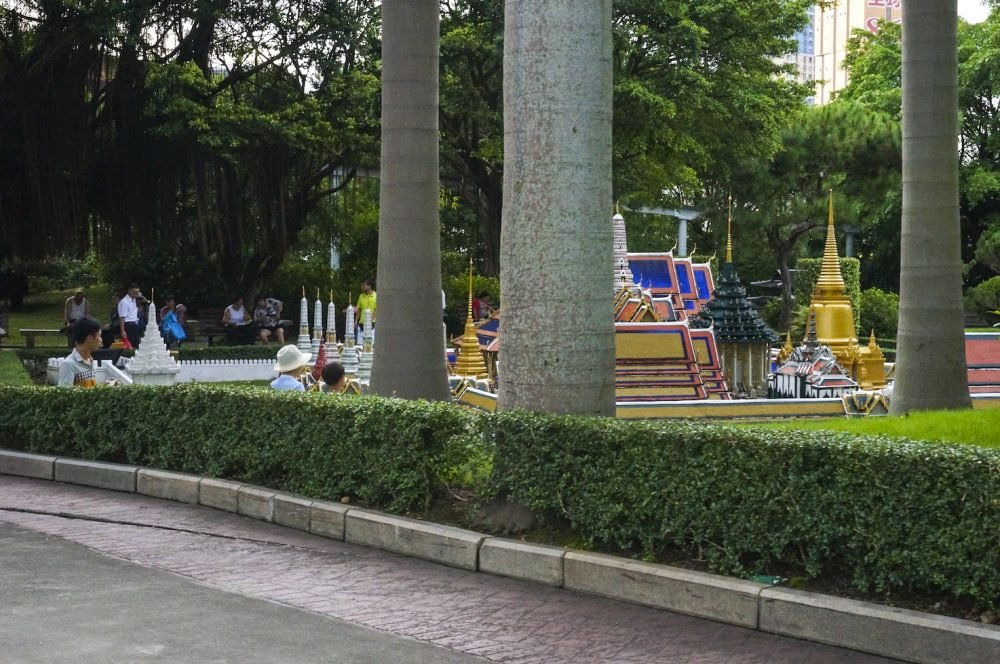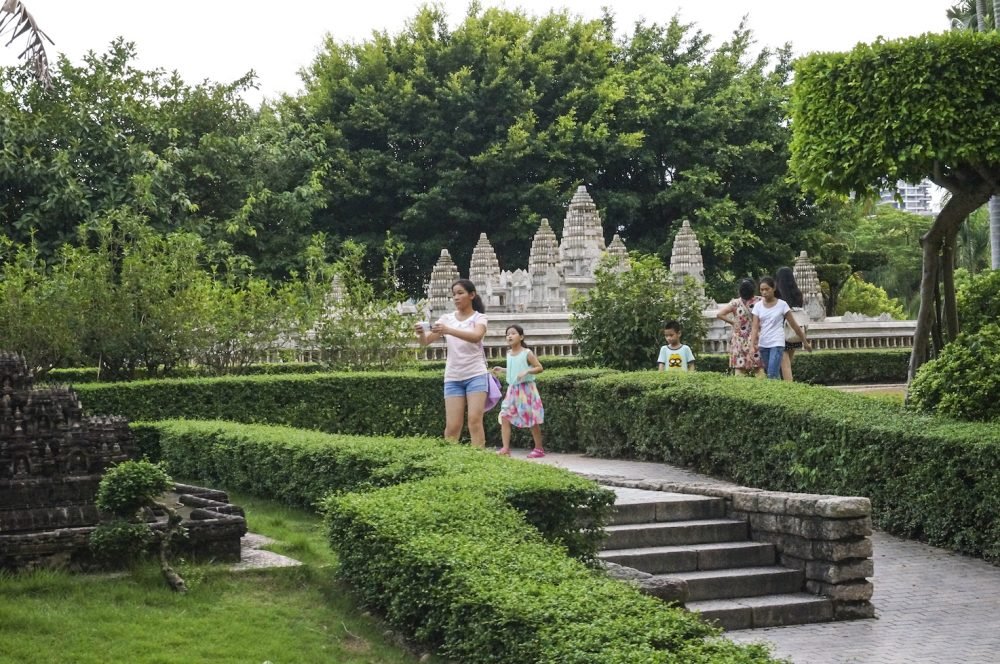 Due to the time limit for the rent, the driver asked us to choose 3 to 4 places for her to make the stop. Why only 3 or 4? So she did the math for us, "I give you 20 minutes for each stop", so with the rental for 1 hour, best is 3 to 4 places to visit.
We asked her what would be her recommendation. She said, "Japan, USA, maybe some Europe". We're all agree to her recommendation, and off we go.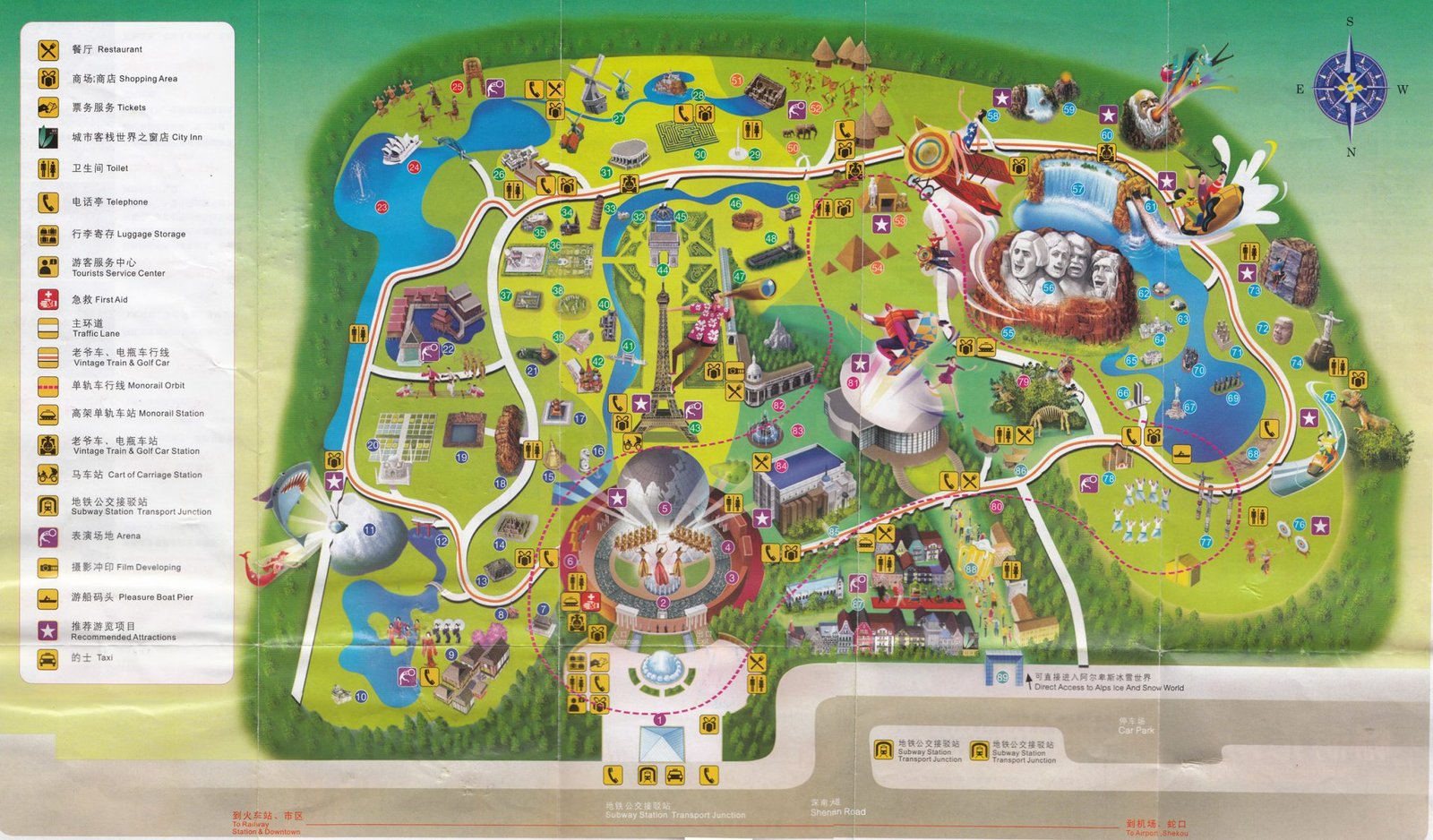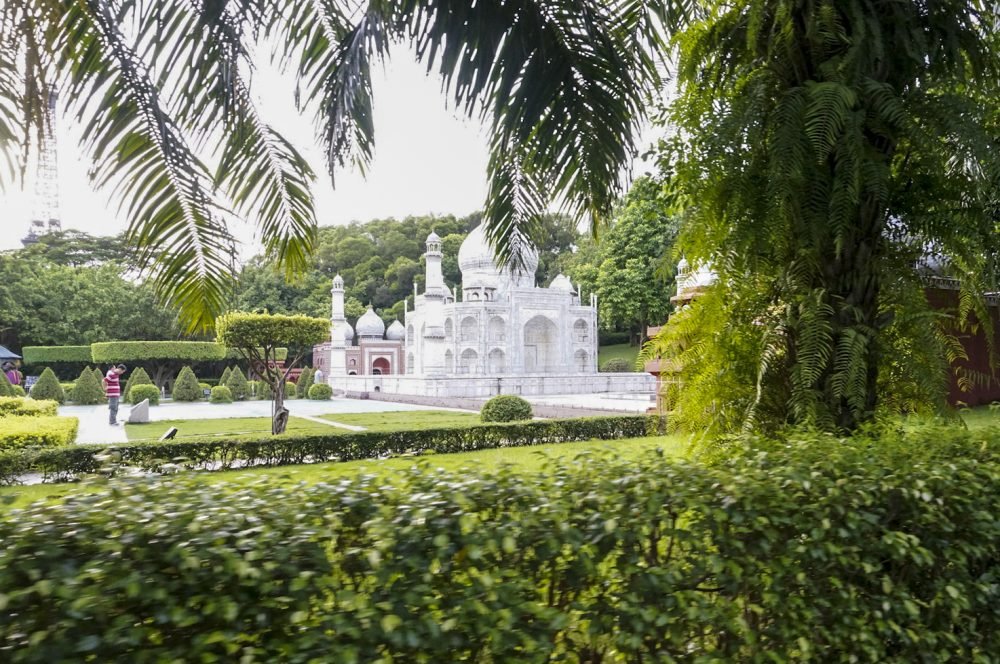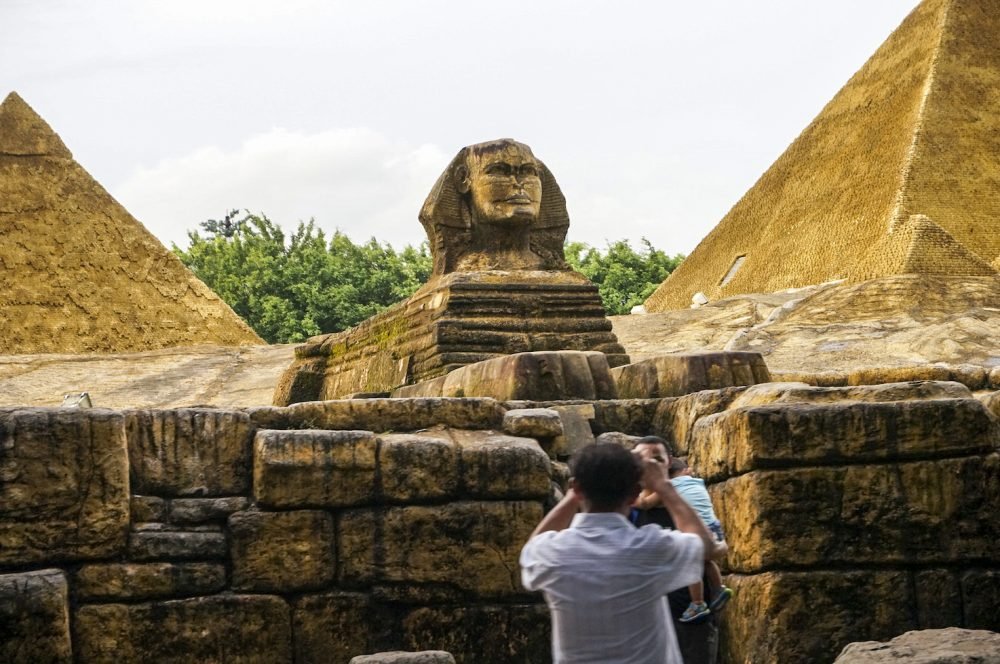 Japan
First stop, Japan! It's brilliant how they replicate these Japan things. It's like you're in Japan for real. Like a separate place. Love how the details and the elements go into this Japan Area.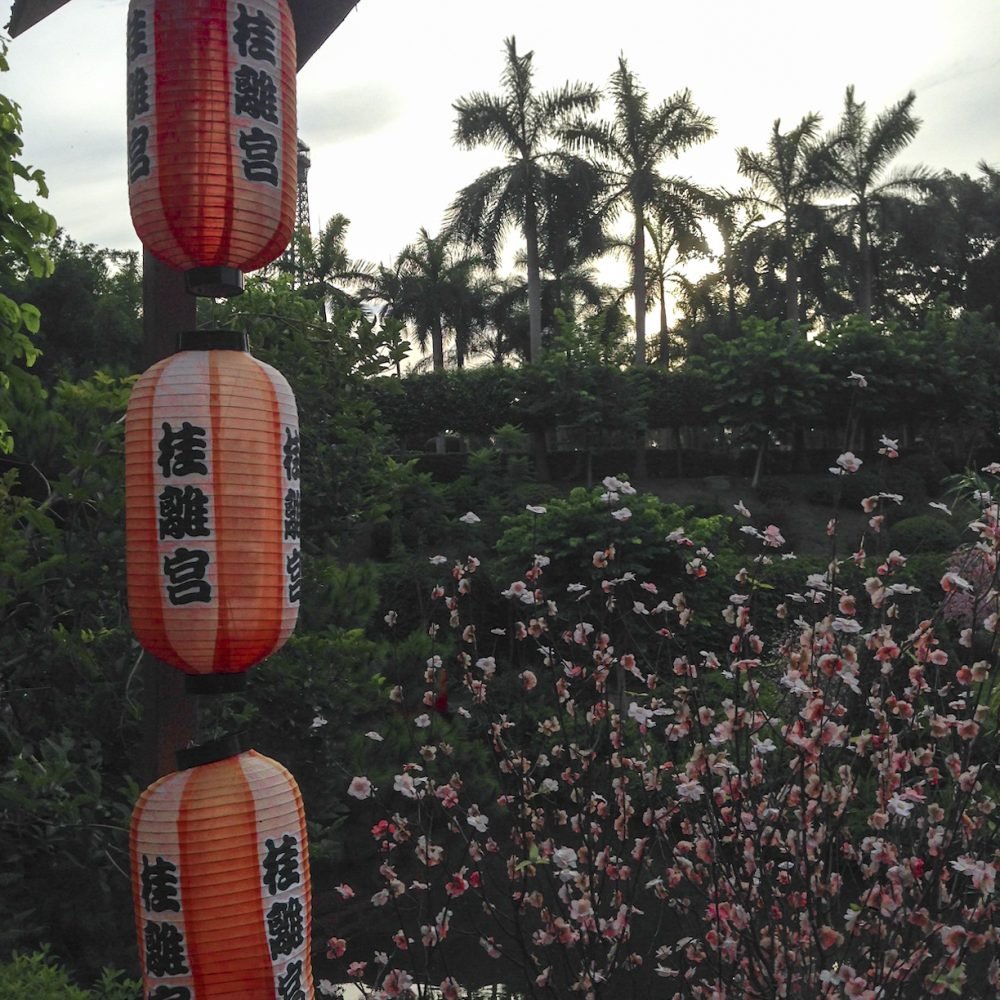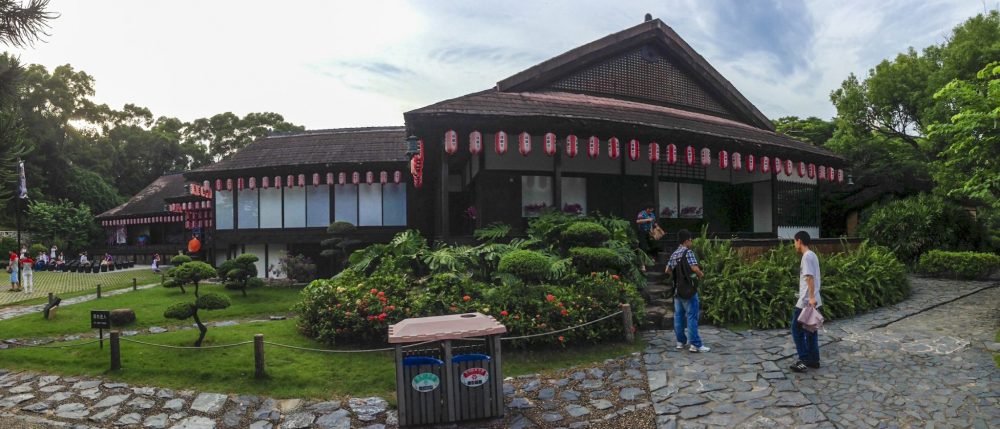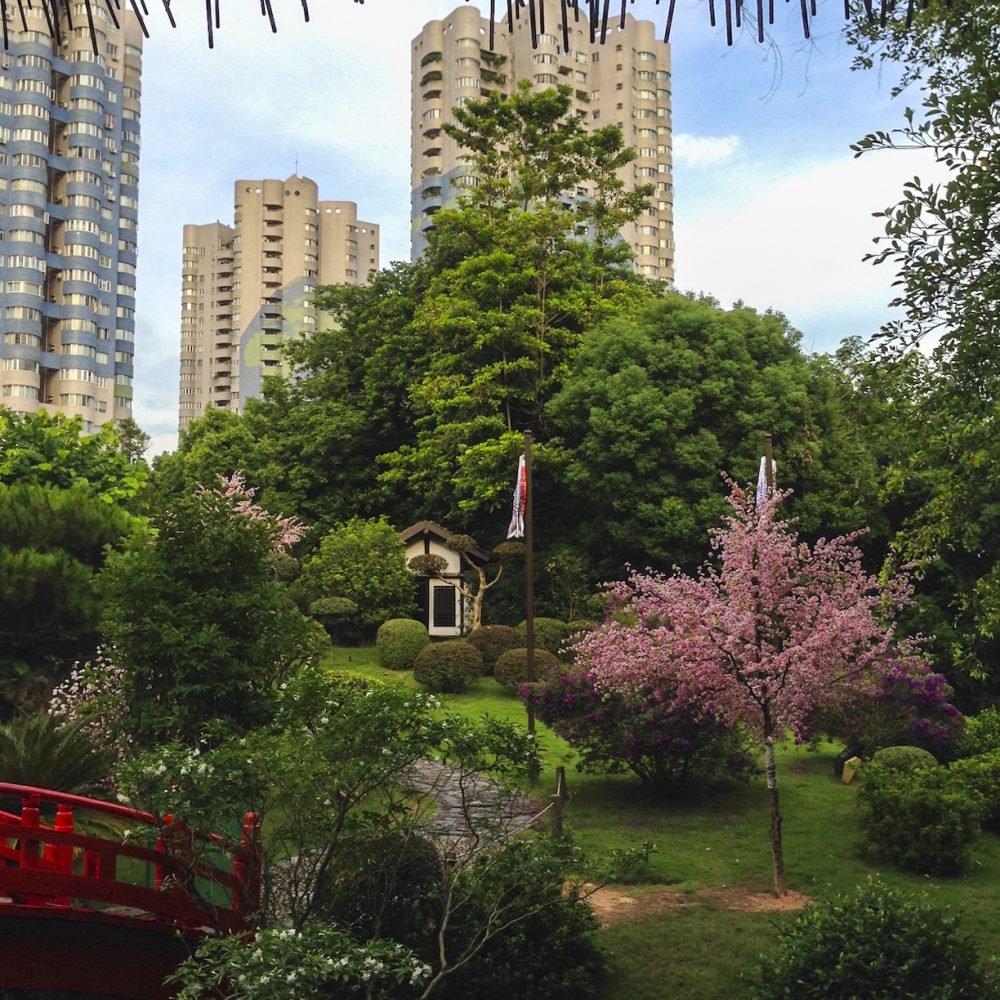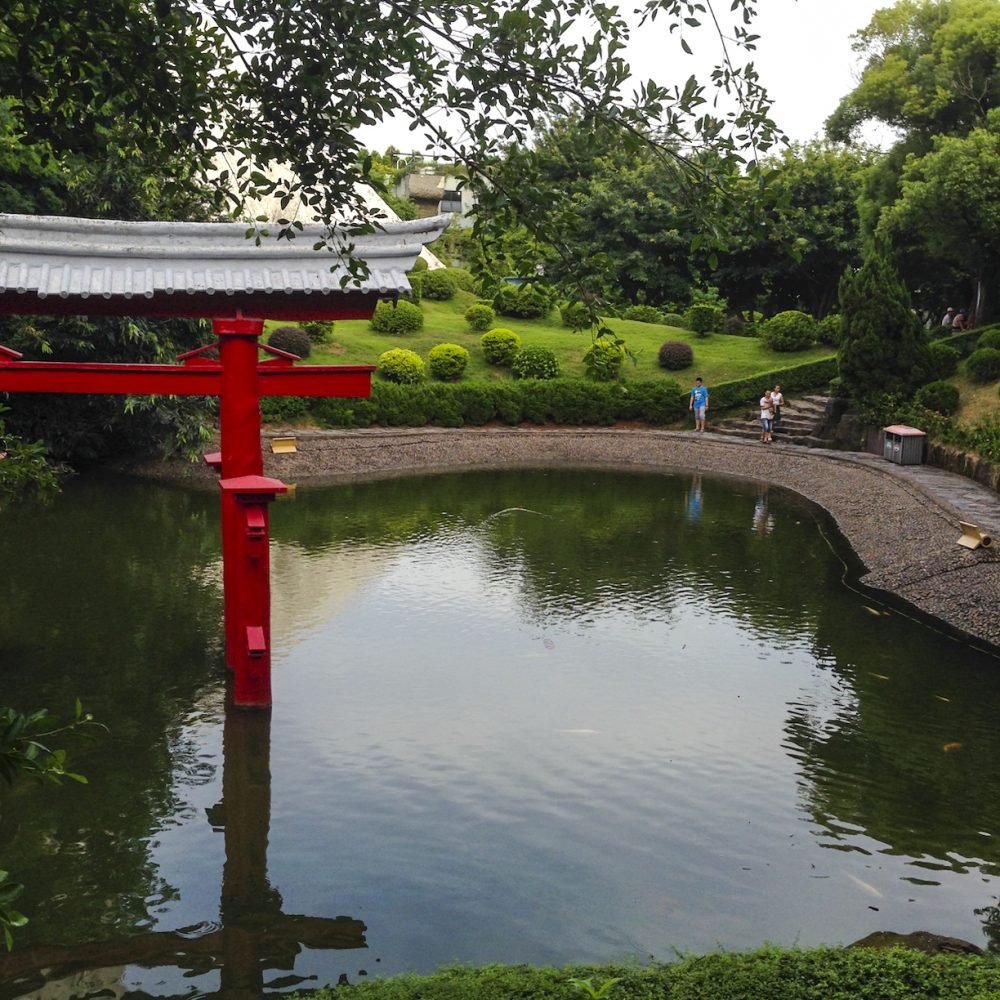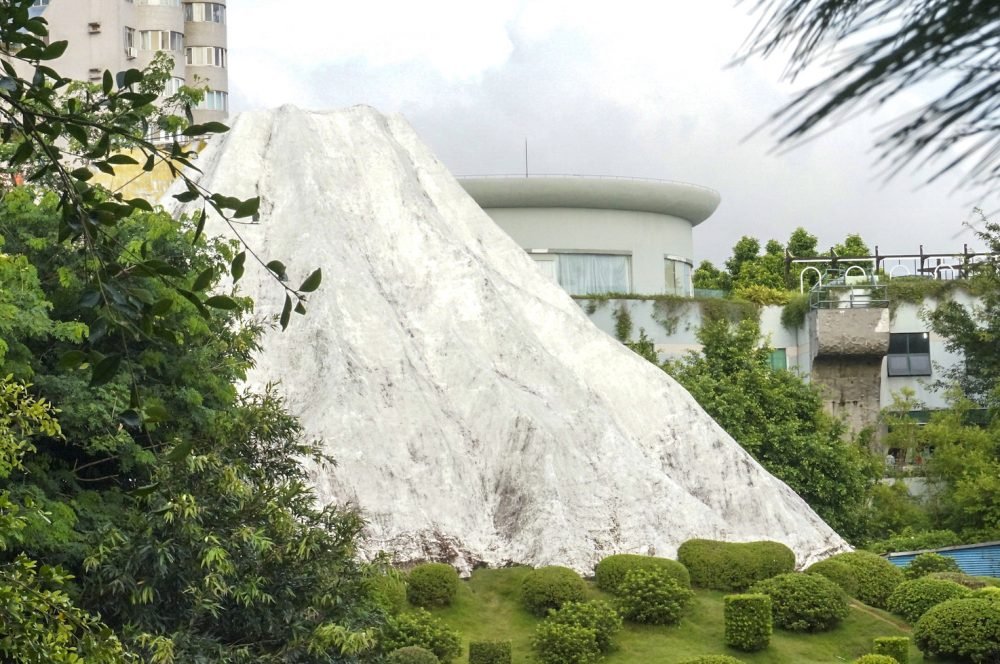 Honk! Honk!
After spending some times taking pictures and chillin', we heard honks. Yep, not honk but honks. That annoying sound finally gets our attention. We finally realized that it actually was the driver telling us that our time is up, time to go to the next one.
Time flies eh, it's already 25 minutes and we didn't even realize it. No, our precious time…When we hop on the cart, the driver got mad at us.
She basically tells us not to waste too much time at one stop, otherwise, we will not get much, and if we passed the 1 hour, there'll be another charge and blah blah blah…… My God, this Chinese woman is badass, she did that to the customer! Hahaha…. Anyway, next stop Europe part!
Europe
This time, she warned us, "Hurry up, we only got 30 minutes left!" Oh my…. This is not enjoyable, everything's rushed, better you walk or rent a small cart with extra time.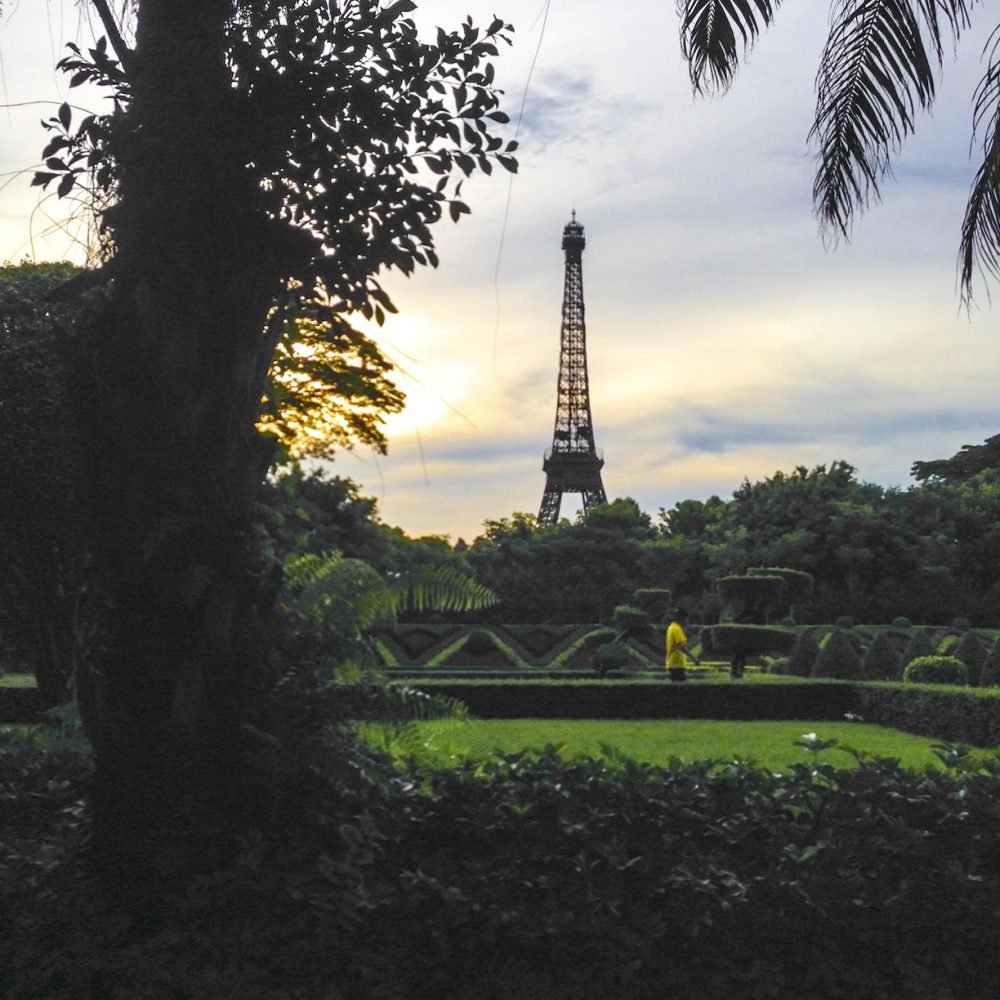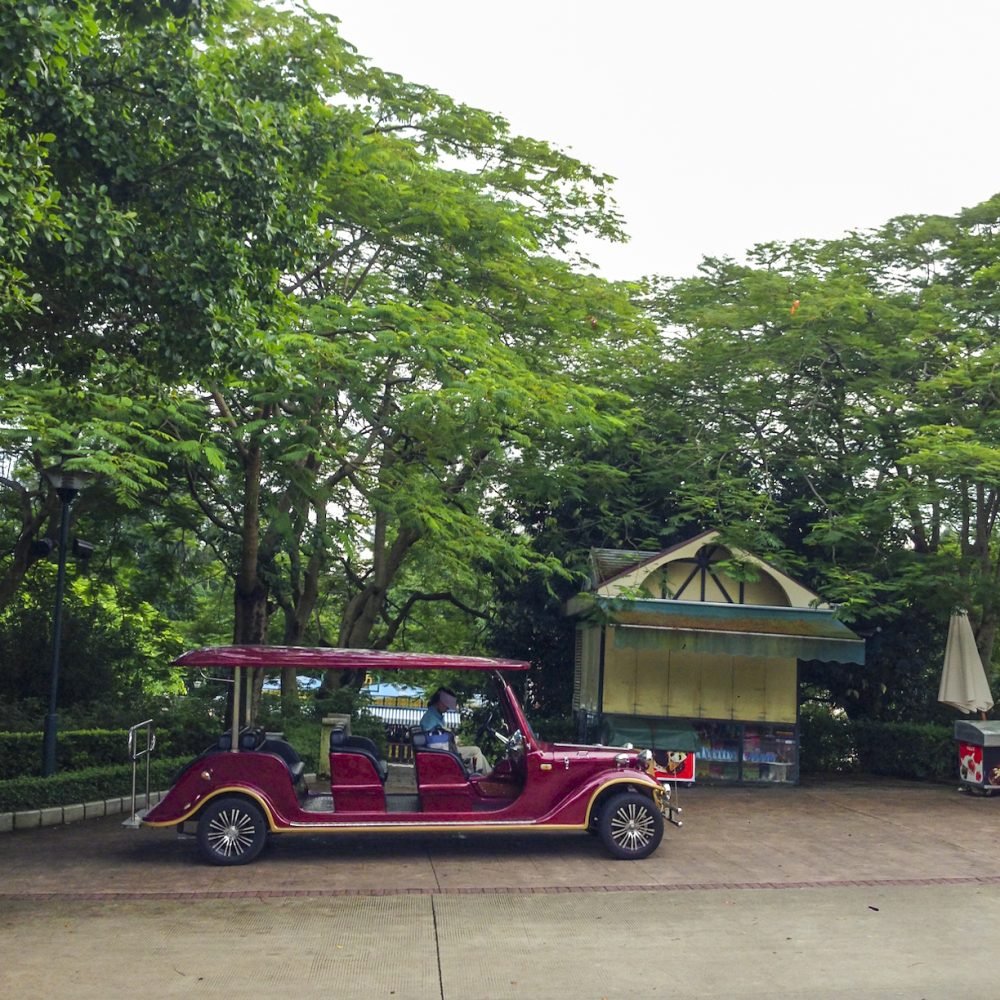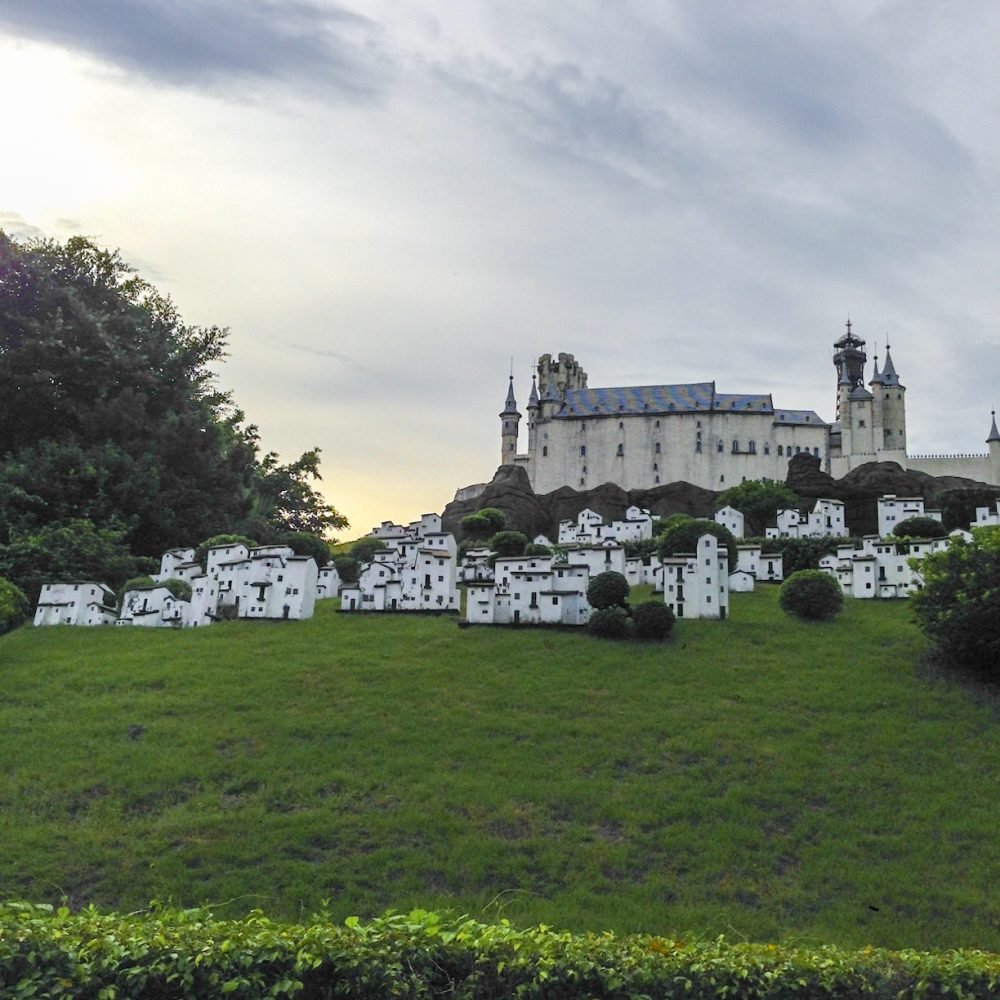 This slideshow requires JavaScript.
Those miniatures above, are close to each other. But, I wouldn't take a long time there. Because what's in front of my eyes, well, amazing…
Beautiful Holland
It's the Holland part. What makes it better was the sunset. It's pretty late in the afternoon, so with the sun is setting, pleasing to the eyes. Take a look.

This slideshow requires JavaScript.
Again, time flies… Honkk! Honk! That woman honking again and again… Time for us to move to the next one. Now, this stop is those famous places from France.

We're glad that there're not so many people in this France area. So we took our time. That Eiffel tower is the only thing that attracts a lot of tourist in this area. It's built by one-third the scale of the real Eiffel Tower.
This slideshow requires JavaScript.
This time, there's no honking. We got back to the cart for our next stop. Ha, our timing is better now. The driver got nothing to say, she just drove us to the next one, USA!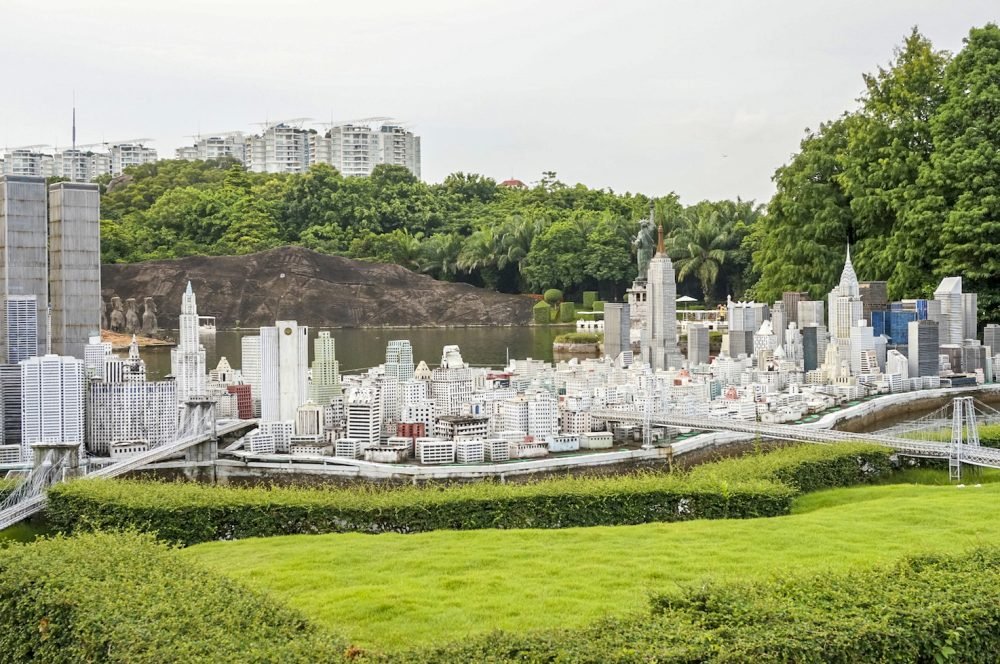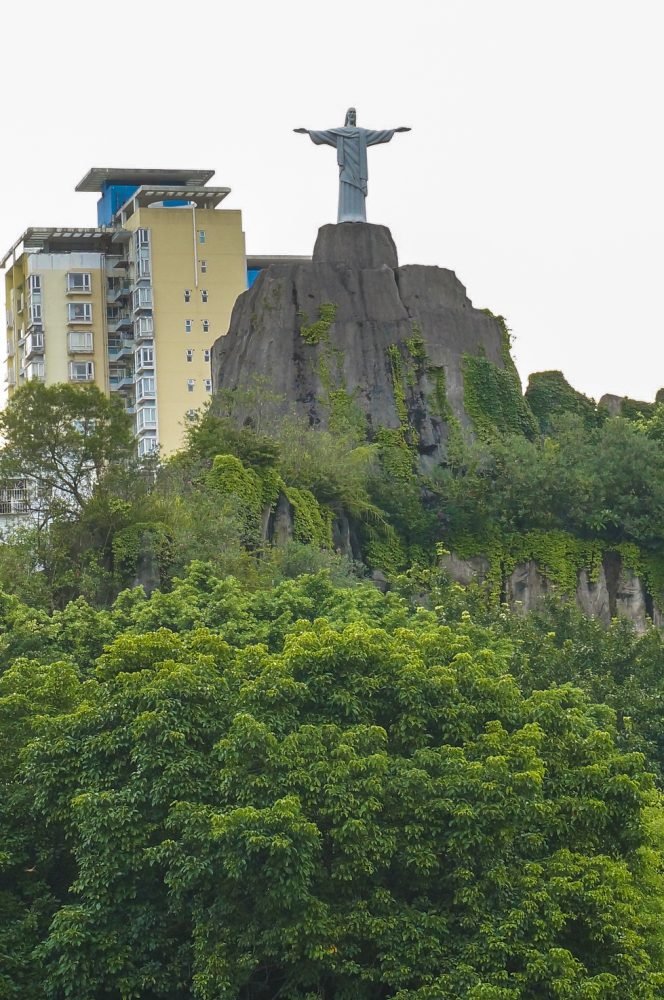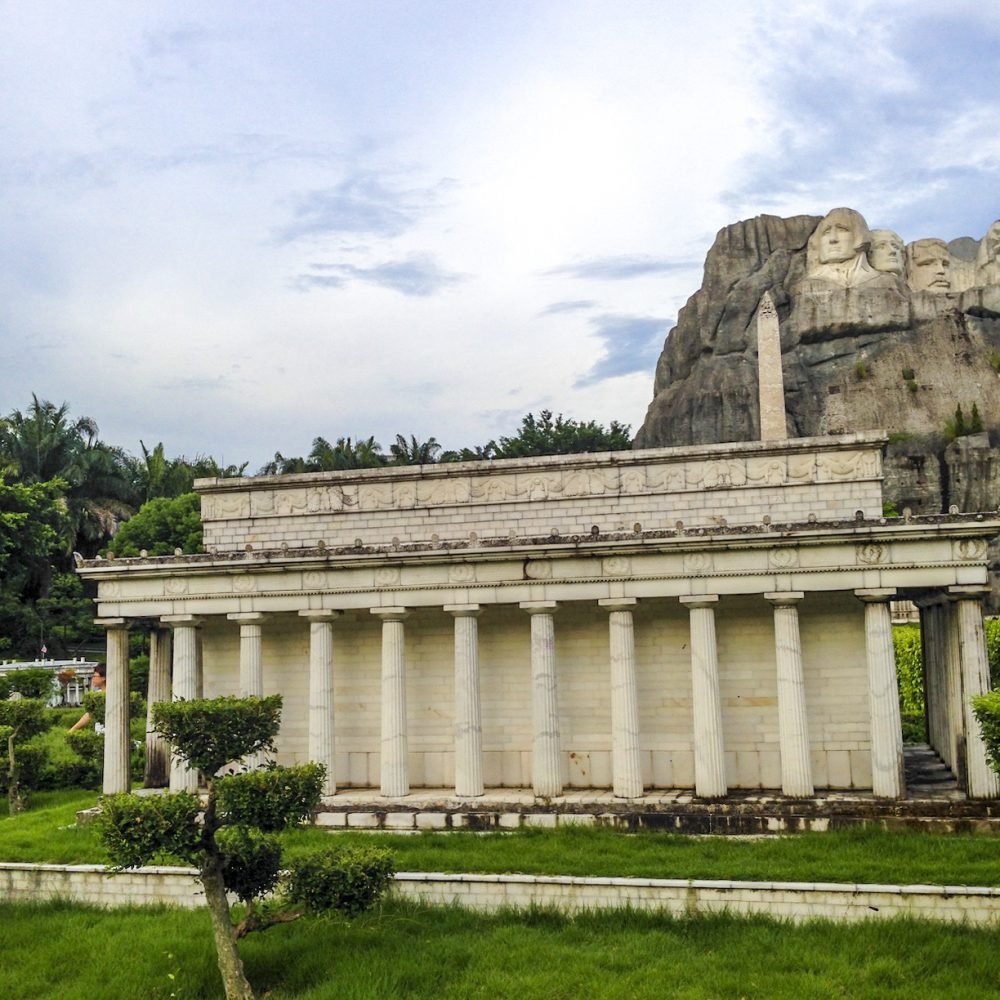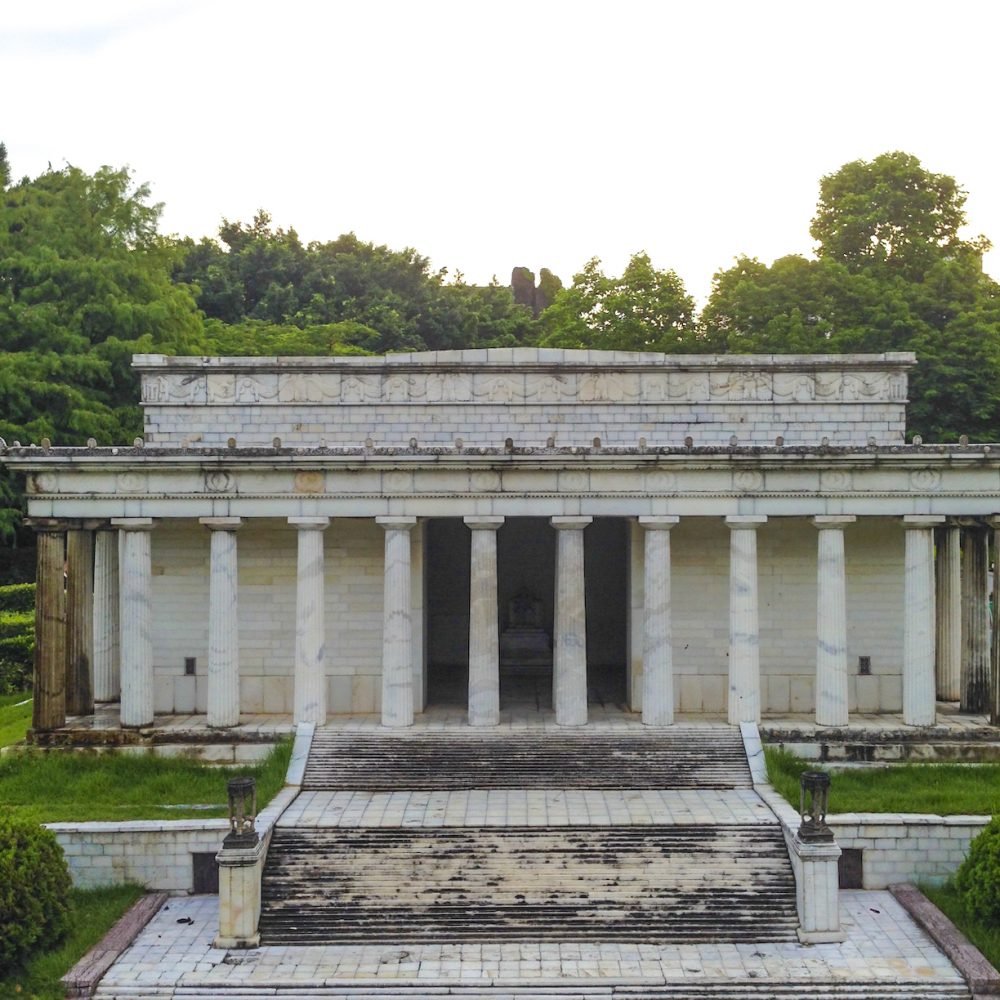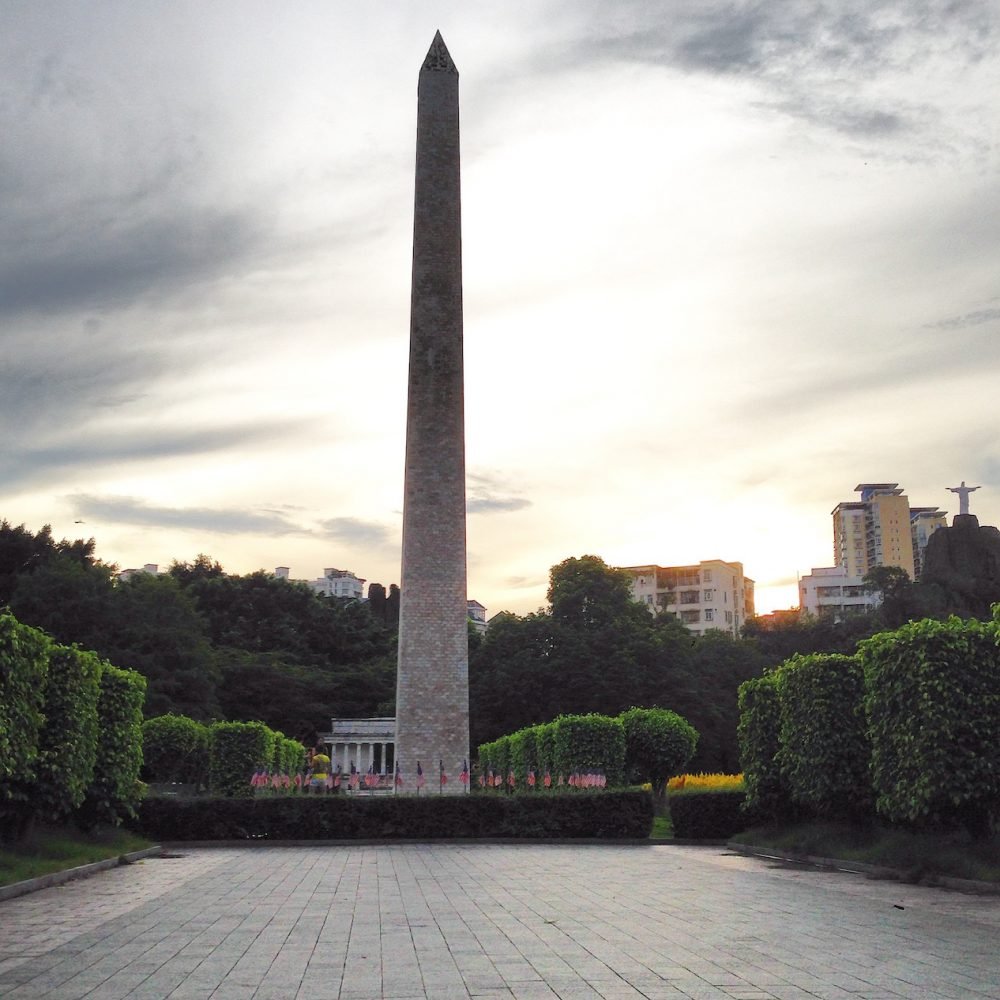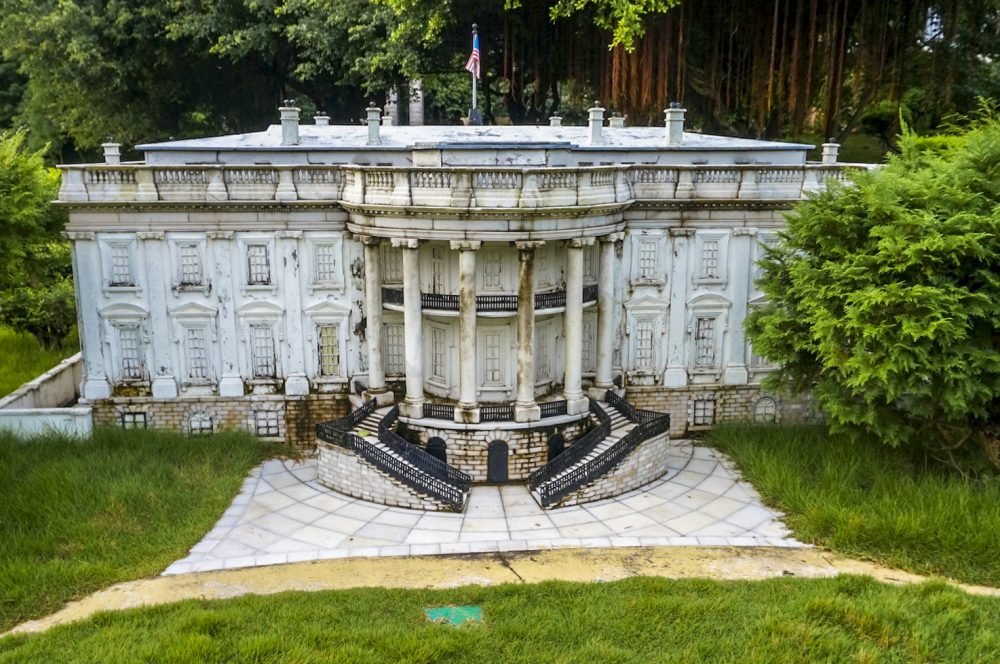 How Was Window Of The World?
And that will be the end of our short journey seeing the world. It's a really unique experience, China is awesome for having this place. I would give 8/10 for this attraction.
It's definitely a must-see if you're in Shenzhen. My personal opinion, the best place is Japan and Holland. Something magical about those two, I don't know what. Hahaha…
After the USA, she drove us back to the starting point, and we shop some souvenirs before we go home. One thing I don't like about it, they kinda over priced everything for tourists, knowing us didn't speak Chinese, those souvenirs are d*mn expensive. Luckily we got one friend who can bargain the better price in mandarin.
That's a wrap for Shenzhen, we go back to Hong Kong and arriving at night. Have you ever been here? Got something to share? Put it in the comment below. Would love to hear your thoughts. Thanks for reading, until next time!
---
Affiliate links to help us keep traveling :
Find out more travel resources that we also use for traveling on our resources page.
---