After a long night from enjoying Macau at night, then we wake up for another sight-seeing of the old Macau. We bought our breakfast at the food court in the mall, some of them were already open from the morning. While waiting for our food, we take a look of the surrounding, the food court located very close to the Canal area where you can ride a boat with a live performance of opera singing, just like in Venice, Italy.
I like the decoration here, they made it looks like Italy, with all the details, stunning. I will get back later with more story about that. So, we're checking out, had our baggage drop at the lobby, and then we went out.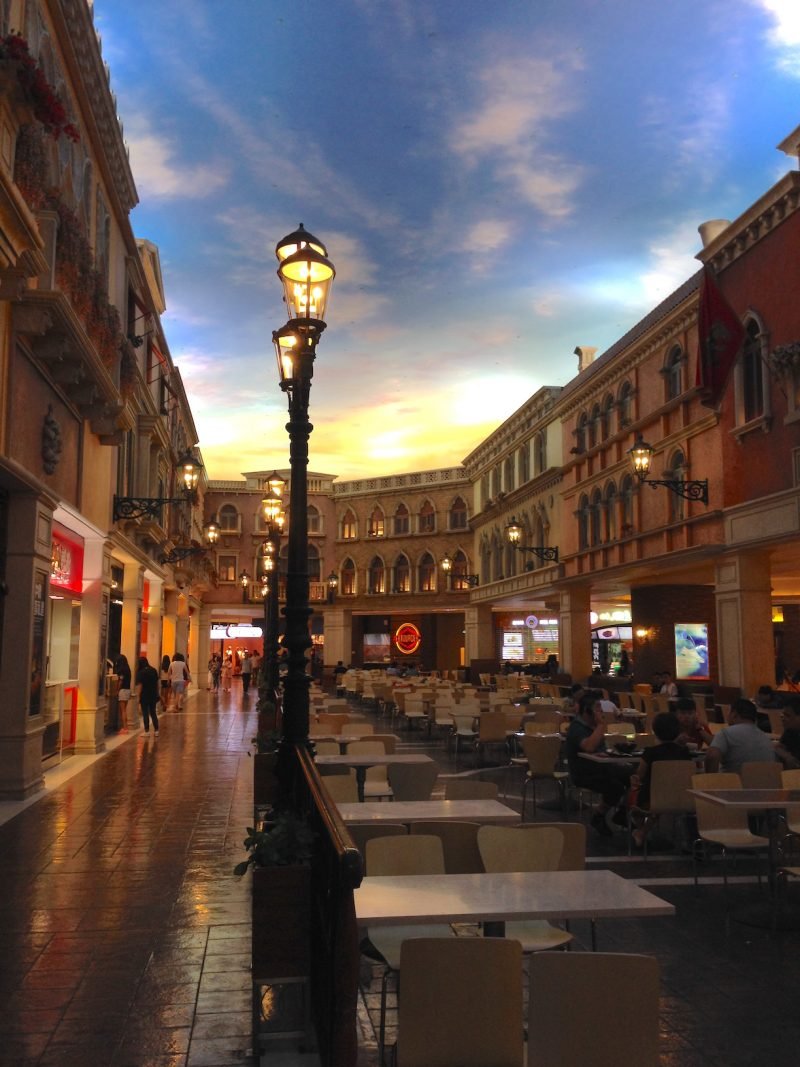 Exploring Old Macau
For our second day in Macau, we're planning to check the very famous Ruins of St. Paul's Church also known as Sam Ba Sing Tzik and everything nearby Old Macau. We decided not to take the hassle of the bus ride since it's been raining in the morning, so we queue at the taxi stand, even the taxi stand took us about 15′ to get one. We took 2 cabs, costs us HK$65 (stop near the ruins), and HK$77 (stop at the Senado square).
For the alternative transport, you can check the public bus route, they have the information on their web here. You can take Bus No.8A, 17, 18, 19, 26 to St. Paul's, and take the No. 3, 3A, 4, 8A, 10, 10A, 11, 18, 19, 21A, 26A, 33 to Senado. After about 10′ drive, we get off the taxi, mine was the one that stops at Senado Square. Because it's still raining, we're sitting under one of the big trees waiting for the rain.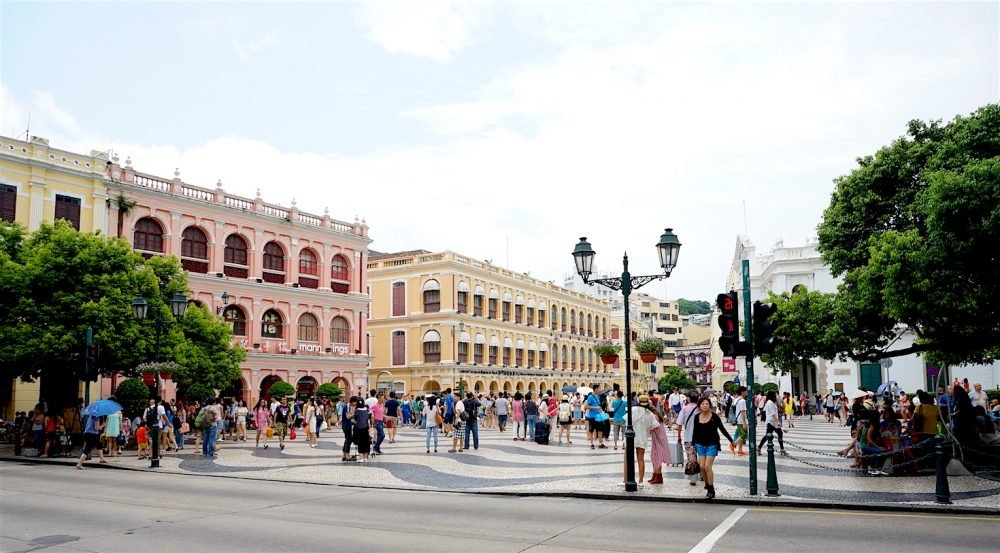 Senado Square
A short lesson of history about this square, covering an area of 3,700 square meters (4,425 square yards), one of the four largest squares in Macau. In 2005, UNESCO made it as one of the World Heritage List, as it forms part of the Historic Centre of Macau.
It has been named since Ming Dynasty (1368-1644), in front of the Leal Senado Building. During the era of Portuguese, this is where the local authorities used to review the troops on their inaugurations. In 1940, there was a statue of a Portuguese soldier named Mesquita in its center.
He was responsible for the deaths of many Chinese soldiers during the hostilities with the Qing Dynasty (1644-1911). The statue has been destroyed by Chinese people and replaced by a fountain; which is why the square is also called "the Fountain".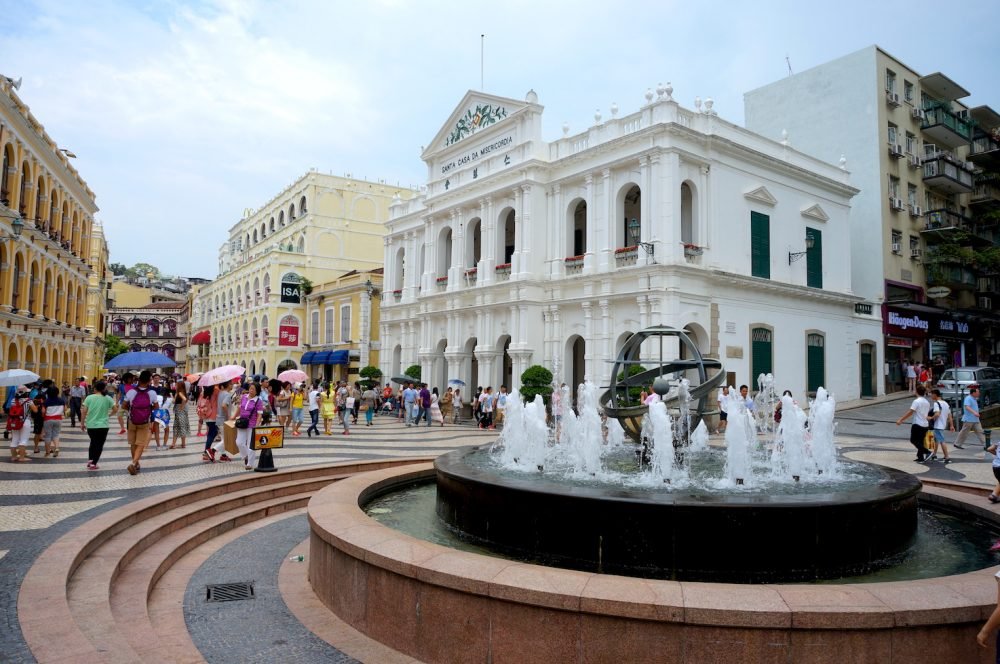 In the early 1990s, the authority hired some Portuguese experts to pave the square with a wave-patterned mosaic of colored stones. From then on this area has become a popular place for cultural activities in Macau. The buildings around the Senado Square have a long history and have many western features, it was really beautiful here.
Of course, it will be better without the overwhelming crowd. Geez.. You can enjoy the shop while walking the scenic look around this area. There's some place within a walking distance from this square that you can visit, such as Macau Cathedral, St. Domingo's Church, Macau Museum, Lou Kau Mansion.
Oh, don't forget to visit the post office just right at the corner of the Senado Square. You know, if you like to collect stamps. Here's what the post office looks like.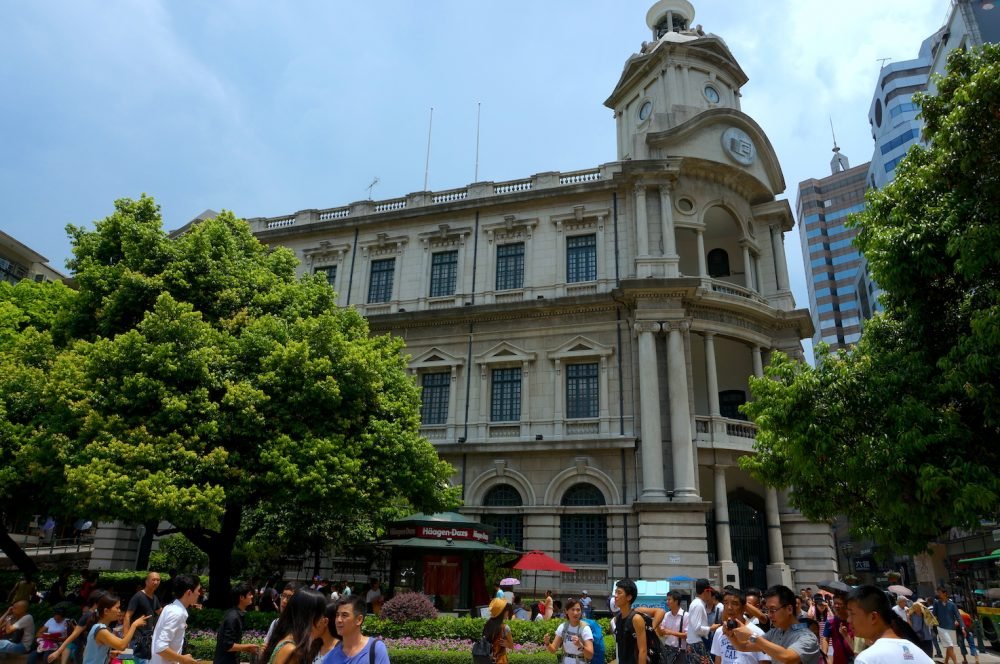 Crowded and Hot Weather Are My Enemies
Day getting hotter, insanely hot. So we took a quick walk while enjoying some view here, honestly, I love it! It's like walking through the history when the Portuguese were there. Beautiful buildings! Oh, there's a McDonalds if you walk from Senado towards the Historical Area, but you know what… Forget it, dude…
Unless you want to fight your way all the queue. Amazing how people starving during midday sun and wanna have a McD, they willing to queue for more than 30′. Me? No, thanks, I would rather eat something else since there's a lot of food along the way.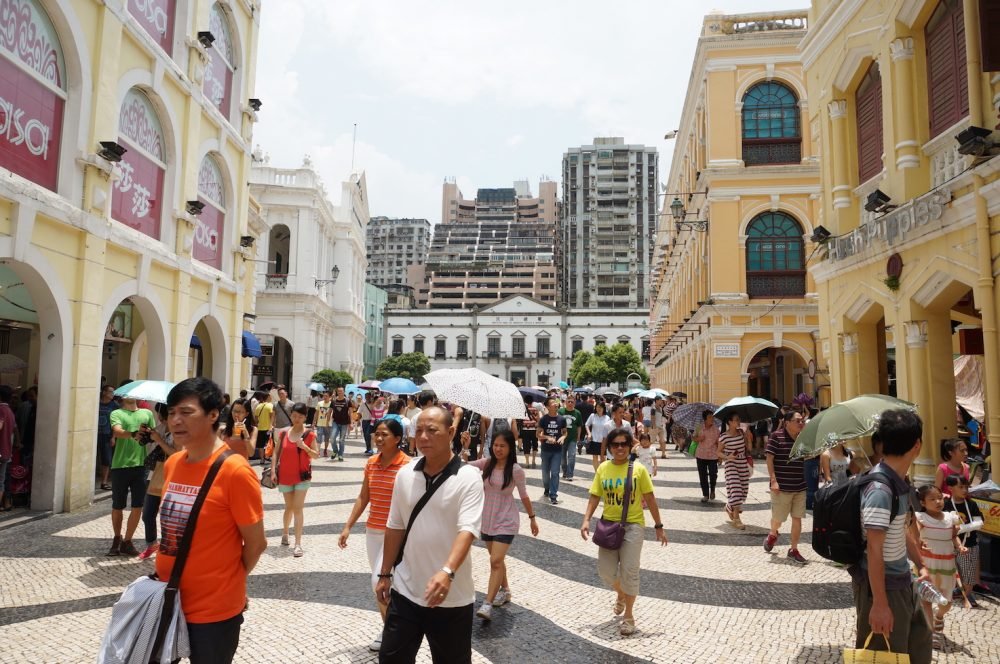 A little warning to really mind your belongings and children if you travel with any, it will get more and more packed as the sun goes higher, I recommend to go early in the morning, the earlier the better. We had a difficult time to walk our way towards the Ruins of St. Paul. We had to sneak, push, shift, and whatever we must do to move forward. What an experience.
After a while finally we made it to the Ruins, exhausted we took a break and had some egg tarts with cold drinks as refreshment. The Portuguese egg tart, I must admit it was very delicious. We spent HK$ 100 here. So, refreshed, now we head to the Ruins started with stairs.
Ruins of St. Paul's
Now, again, a little history about this Ruins of St. Paul's Church. The Ruins of St. Paul's (also known as Sam Ba Sing Tzik), built in the 17th century by the Jesuit, one of the largest Catholic Churches in Asia at the time. 
Unfortunately, a violent typhoon hit Macau in 1835 and the church caught fire for the third time leaving its glory a history. According to historical materials, St Paul's Church, built with white stones, had a grand vaulted roof. It had three magnificently decorated halls.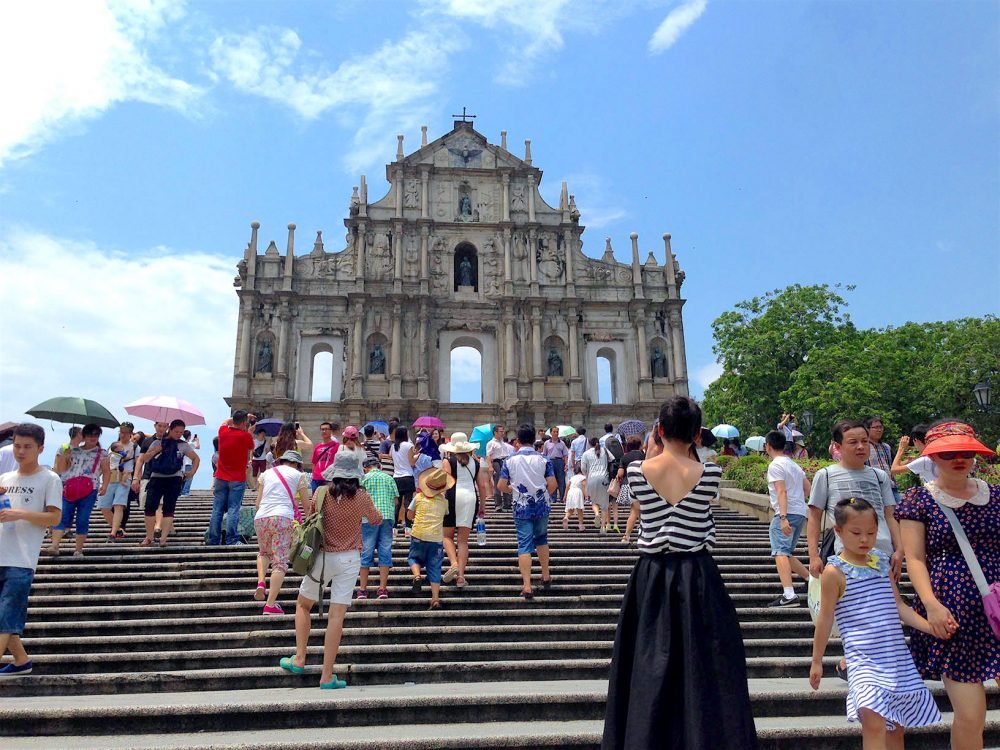 Built with granites, Sam Ba Sing Tzik has a baroque facade rich in ornamentation but with classic oriental characteristics. From the bottom up, the structure has five tiers. The first tier is comprised of ten Ionic columns with three entrances. The entrance in the middle has 'MATER DEI' carved into it.
The two entrances on each side are decorated with bas-reliefs in the pattern of 'HIS'. The second tier features ten Corinthian columns with three windows. A Catholic saint is enshrined in each of four tabernacles between columns. The two tiers as a whole are said to represent the Society of Jesus and the activities of missionaries.
The remaining three tiers are the most decorated. The statue of Madonna stands in the middle of the third tier while the statue of Jesus stands on the fourth. The walls are covered with bas-reliefs in various patterns like devils, angels, symbols of crucifixion, a Portuguese sailing ship, etc.
The triangular combination of the upper three tiers reflects the Holy Trinity (the Father, the Son, and the Holy Spirit) as well as the Blessed Virgin Mary. A cross stands at the coping of the wall.
---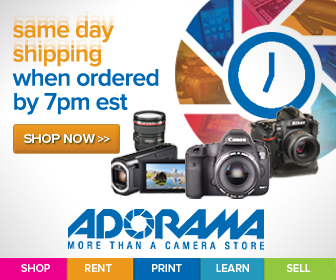 ---
Be Careful With The Stairs
The Ruins of St. Paul's has been restored during 1990 and 1995. The front facade and the grand stone stairs are the only remains of the greatest church. We take a closer look at the ruins, well not much to see but still it's a landmark, so take a photo!
And careful for the stairs, a lot of people trying to get "The Angle" but they didn't pay attention to the stairs behind, I saw a few tourists almost falling down the stairs… It will be funny, though, you know, considering the heat, to see such entertainment. Hahaha.
Anyway, you might have to take a turn to take a photo since there's a lot of people trying to get the same shot. Yeah, be patient.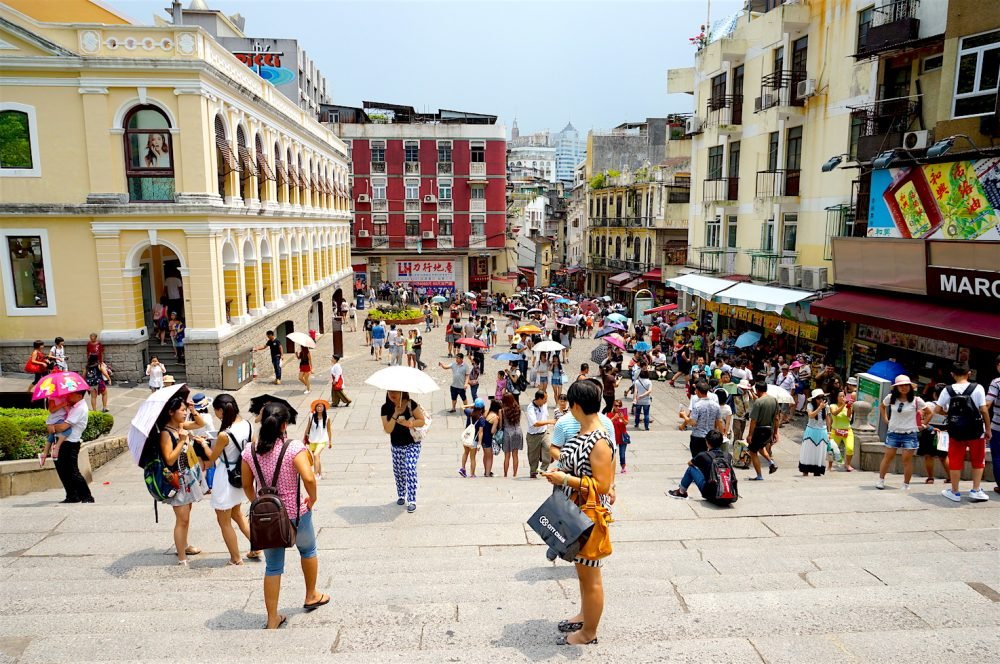 There's more from this ruins to the east you can see the Monte Fort. A fort that once belongs to the St. Paul's Church to defend the church from the pirates. Wow, imagine what is it like in the 17th century.
But I care not to see that fort, you will do the same if you saw the crowd in the fort. I'd rather just sit and rest this time. It was bloody hot, I'm sweating all over my shirt.
Shop And Ice Cream
After we're done with this spot, then we head back down to the Senado Square. Sigh, another struggle way down. But we tried to have some fun, we bought some food, souvenirs. Check out this store if you want to buy something for home.
The Koi Kei Pastelaria, so far this is the most popular store as I've seen, they have several outlets for just in this area, and the crowd was crazy, I wonder how they shop in this situation.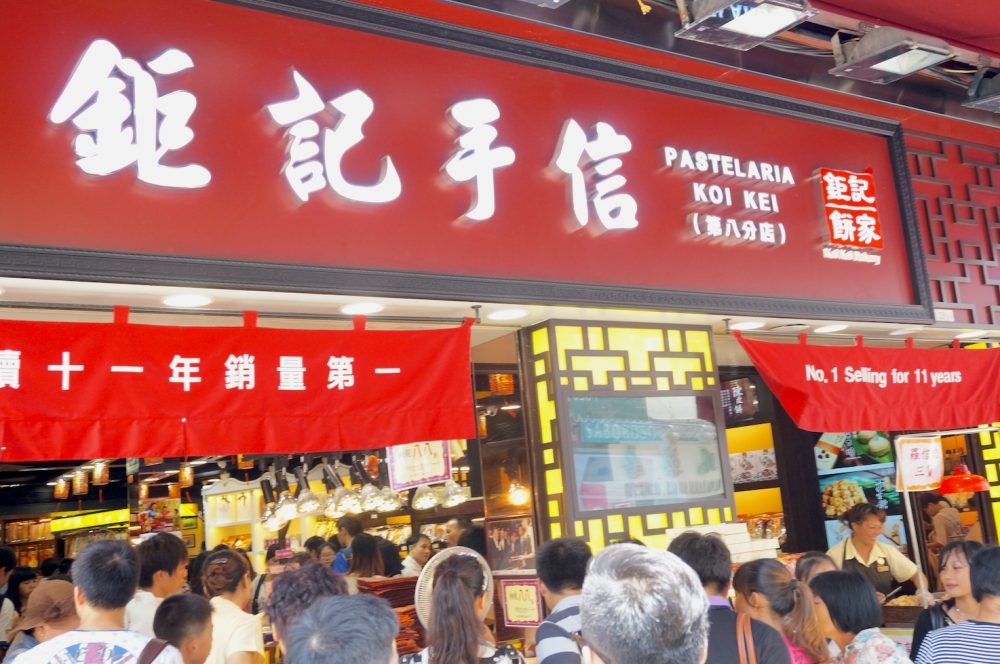 After shopping, we stopped at this Turkish Ice Cream. You know, the kind of ice cream that you're gonna have to try several times to grab it, since the guy will play "can you grab your ice cream?" thing. It took us quite a while just to buy and play a bit with this guy.
Well, if you want more show from him, it's better for the ladies to buy, as he favor ladies more than gentlemen, trust me, I have tried. My turn, he just plays it soft and short, while my friend (woman), he played it hard and quite long. So, remember, ladies better… Alright? The ice cream was around HK$ 10 if I'm not mistaken. Kinda forgot, because my friend treats me.
Now while dealing with the ice cream, we're back to the Senado Square, trying to catch a bus from this Old Macau to the ferry terminal. From the ferry terminal, we took another bus to see the Galaxy Casino. Bus from here to Ferry Terminal costs HK$ 3.20 / person.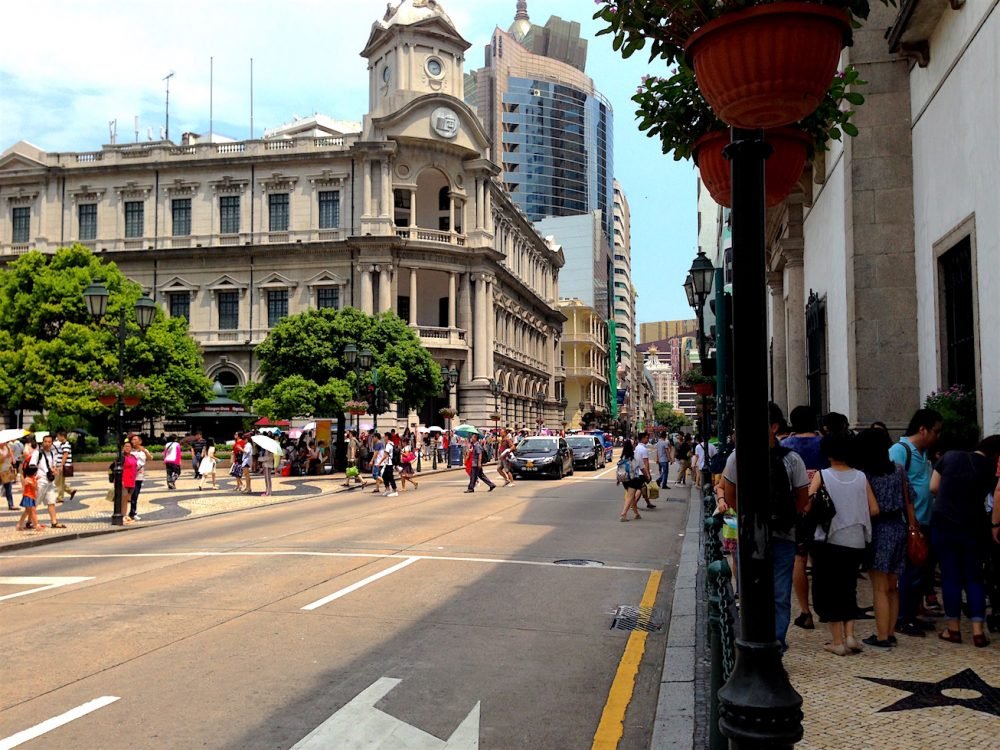 Shortly, we've arrived at the Galaxy Casino. This casino is quite amusing since they have a unique building with the lighting, a kingdom castle-like, looks beautiful especially at night. Here's a photo of how it looks at night.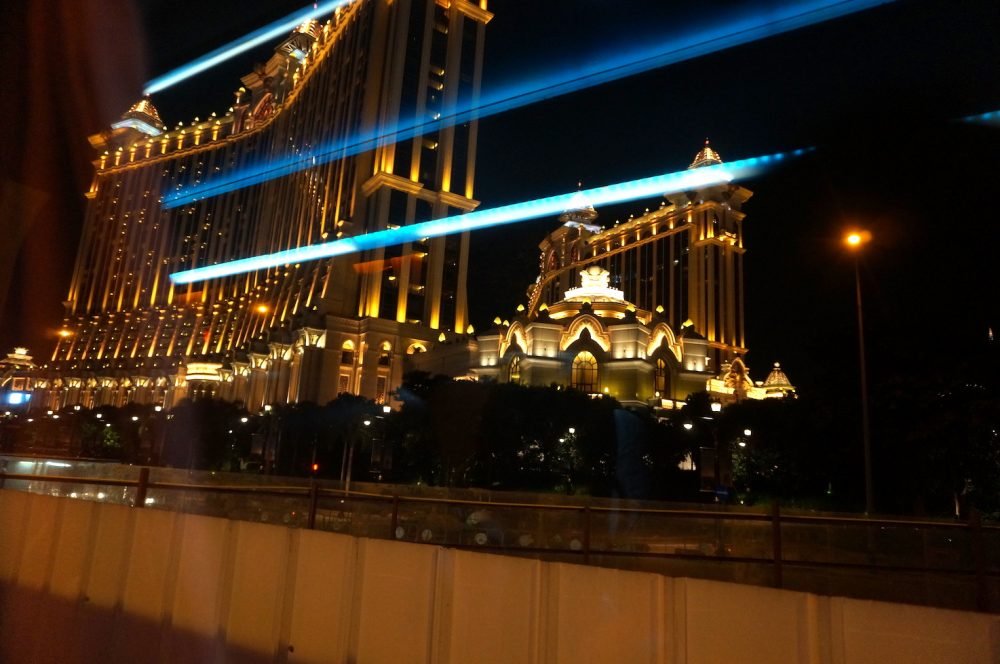 When we arrived, just about time there's a fountain show right at the entrance door inside the building. It looks stunning with all the lighting display, the way the mix the colors are just simply amazing.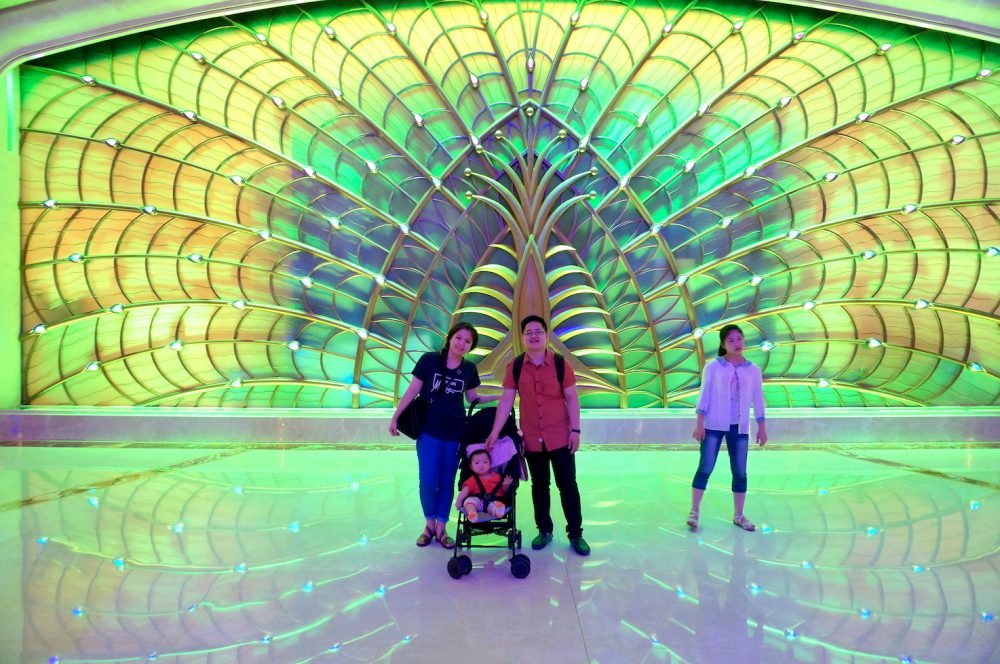 After watching the fountain show, we go to the food court area, not so far away, and we had lunch. We spent about HK$800 in total for 7 adults. For just a food court kind of food. Well, like I said, Macau is not cheap. There's a movie theater right next to the food court, maybe if you got an extra time.
So after fill in our stomach, we explore the city a little bit more, this time, we took the bus again to the Star World Casino, and then walked alongside the road with all the view of the Portuguese influenced architecture, so beautiful.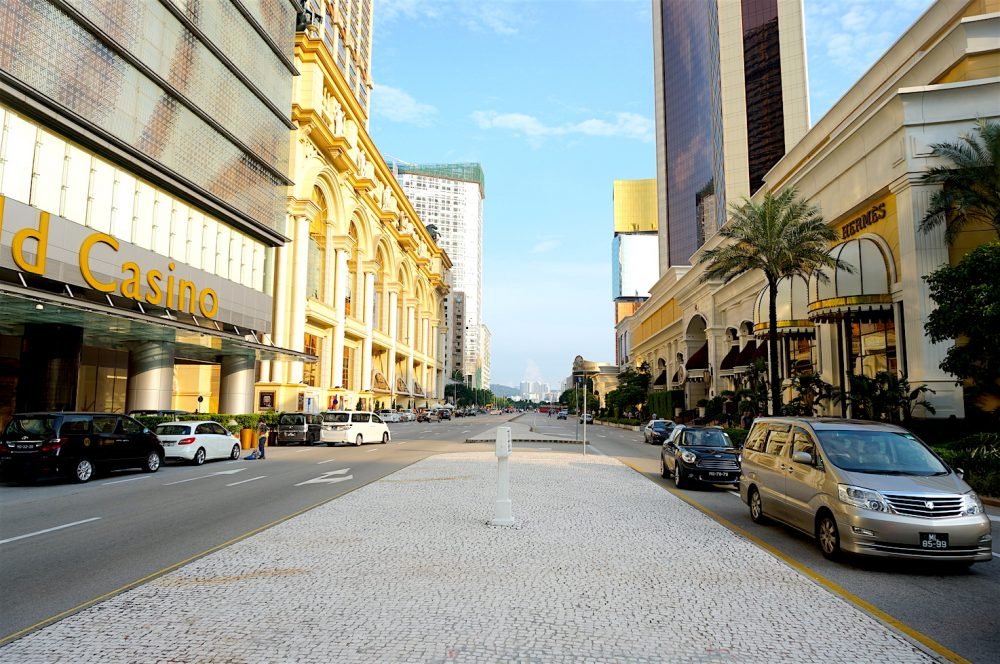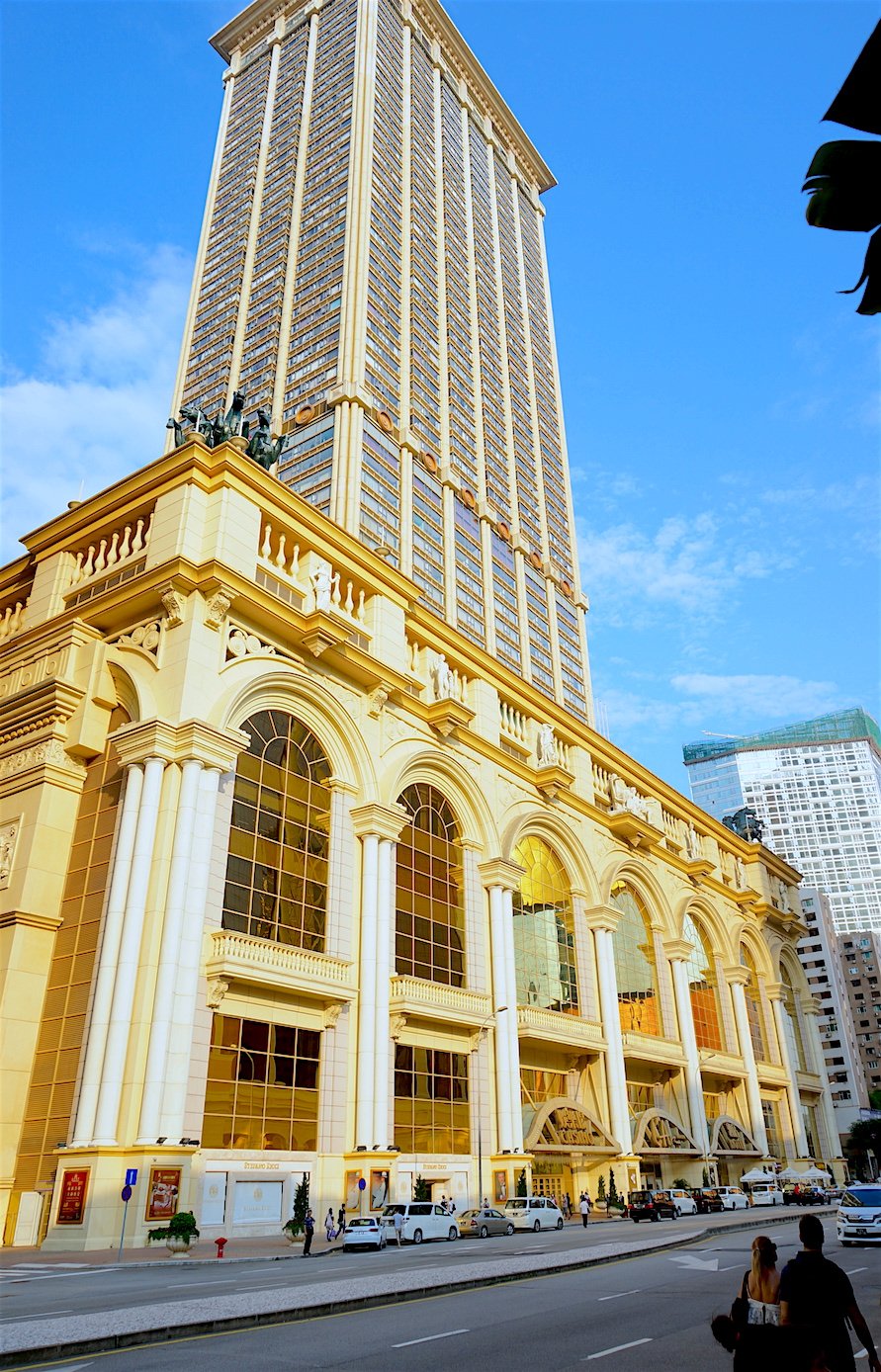 Indoor Giant Fish Tank
I took a couple shots from the road, then we head to the MGM. One of the famous casinos in Macau. They were basically the same with all other hotels, they have malls that sell branded stuff.
But there's this one place at the MGM that you can visit with your children, it looks like an indoor park with a giant fish tank at the center. Decorated beautifully to entertain children, a good spot for photos. It's a chilling spot, they got some cafes and restaurants where you can sit and enjoy.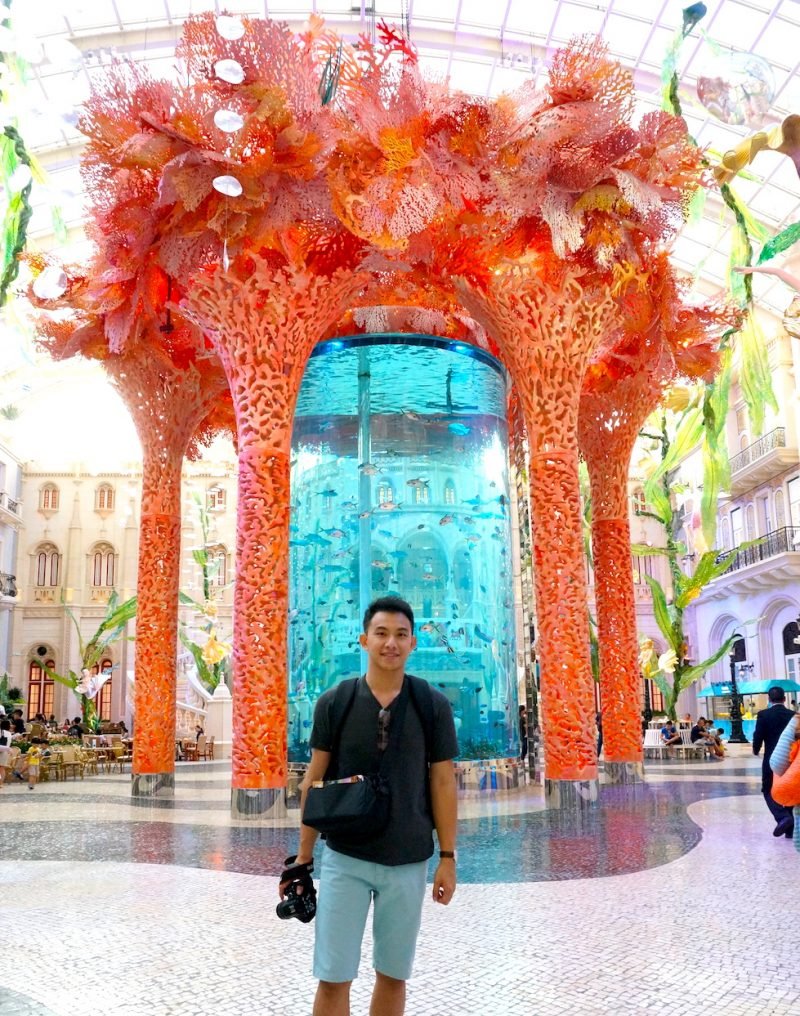 After a while, we head back to The Venetian to take a walk for the last time exploring the mall. We bought some souvenirs, shop some clothes before we finally find this famous thing of Venetian, the Canal Gondola Ride. It's basically an artificial canal made inside the mall to attract tourists. Somehow it works! I saw quite some queue to ride the gondola. It was quite a pricey for HK$118 / person, they will take you around the canal.
What's so interesting about it? Well, basically nothing, they meant for your children to be happy enjoying canal on a gondola. The staff who paddle the boat will serve you a singing, they will sing you a love opera song by default, they do have a lovely voice by the way. But you can also make some request, plus they're really kind to children. Too bad I ran out of battery when I ride the boat, so here's all I can give for the photo.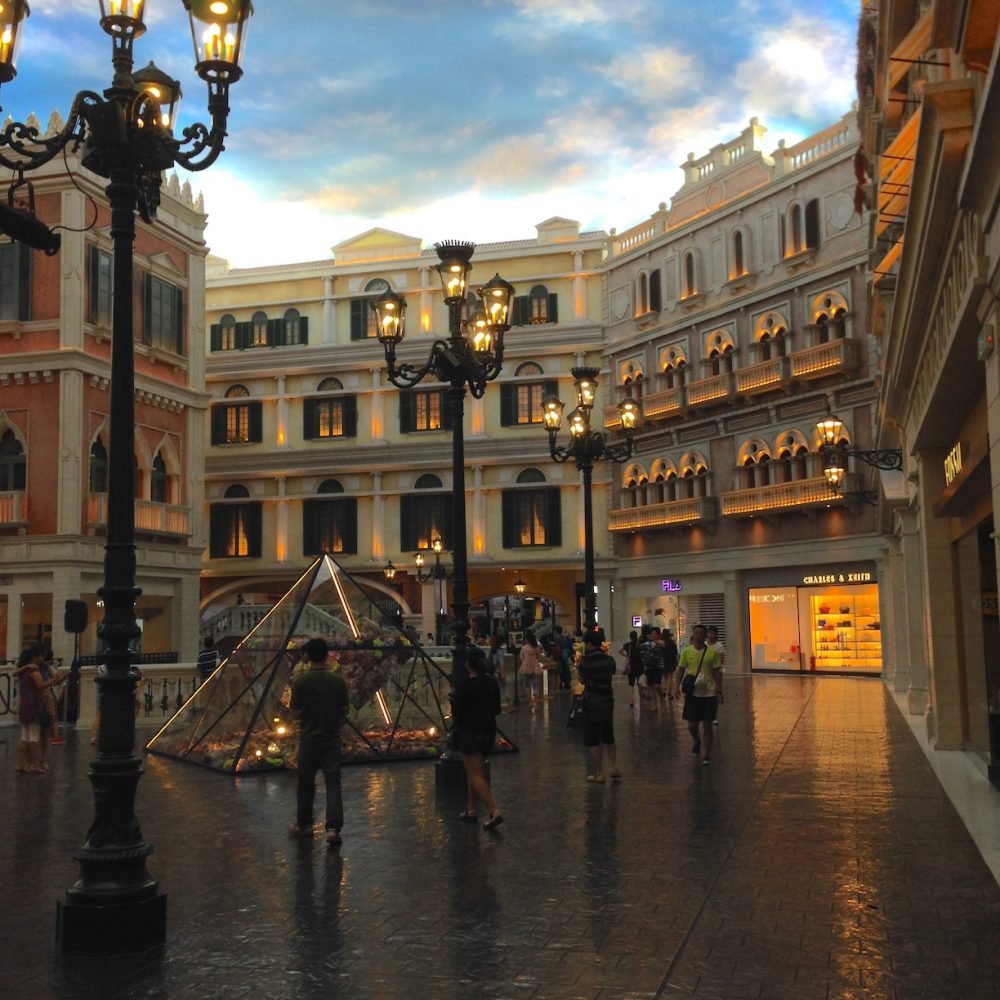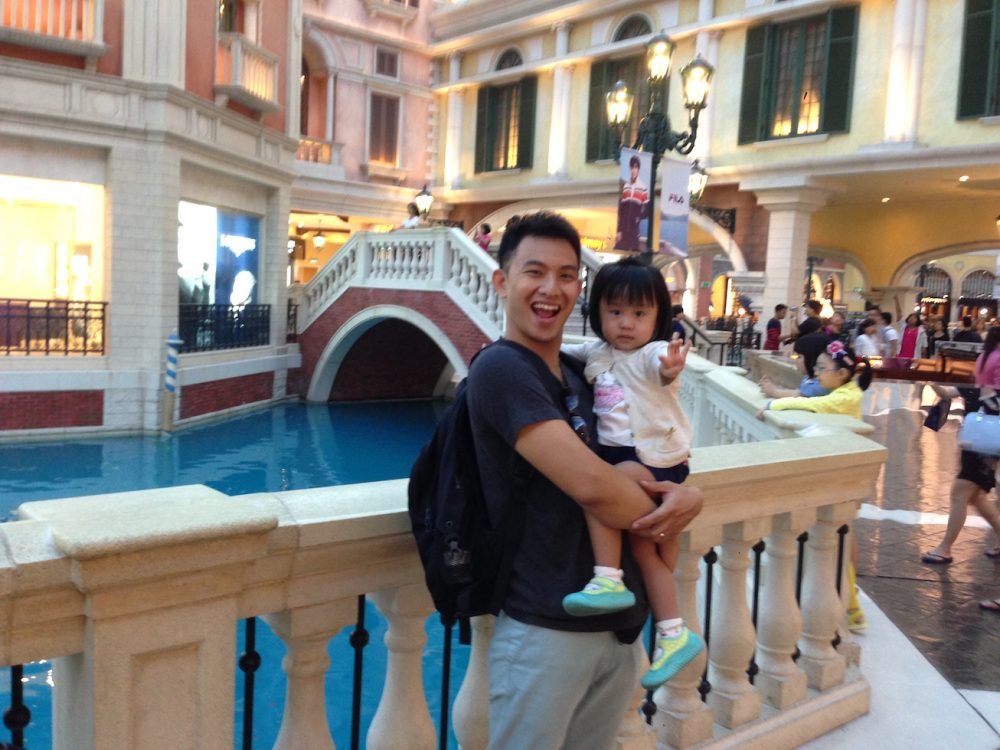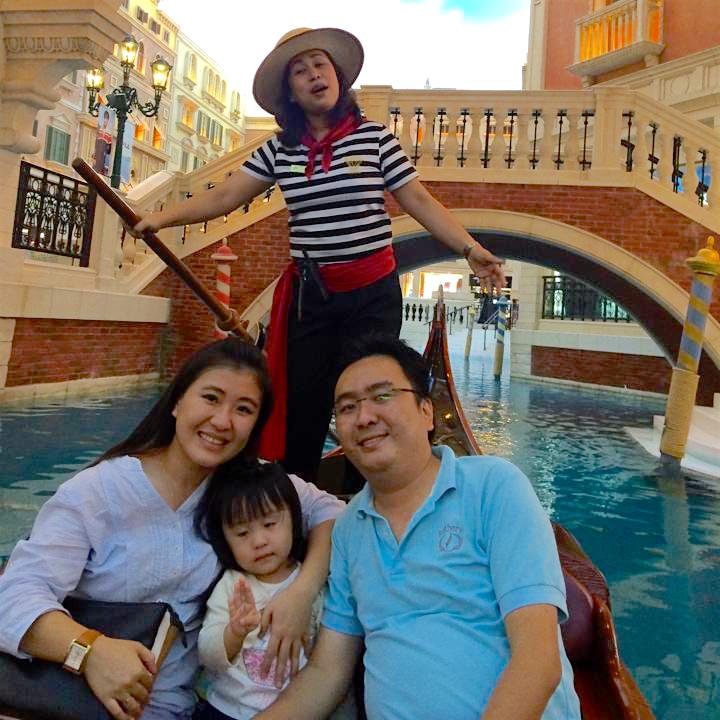 Sorry for the blurred image, took with such a hurry before all battery dies. Haha! Never forget to charge your power bank or extra battery. You can buy the photo they printed for some price, I forgot how much but it's kinda expensive, I'd chose not to.
What The Heck..?
We had much fun with the boat ride since the staffs were very friendly and funny too. I had this one Chinese guy with glasses, throwing some jokes to us about how come both of my guy friends already got a lover, while I'm just standing in the queue by myself, "You must be gay….", I was like, "What….?".
The worst part is that he yelled it on purpose, so everybody on the line was turning their eyes at me, and everybody laughs! Okay, so much for an entertainment, eh? He surely had some guts to throw that kind of jokes to visitors. But relax, I'm not even mad, not because I'm gay, but because this guy is seriously funny.
He keeps throwing jokes at us, with the gay topic and me as the center. Haha! I just keep replying with another joke, and we had a really good time. They surely had to hire more staff like this, so the visitors will never get bored.
We Forgot Time!
Finished with our ride, then we're going to take our baggage back at the receptionist, and here's when the chaos begin. We forgot what time it is, that we missed the ferry to cross to Hong Kong! Yes, we missed our ferry, so what's left for us that night was the last ferry to Kow Loon leaving at 00.15 (all tickets sold out).
This sucks, we had to wait for about 3 hours to our departure, the choice is to stay another night at Macau or Keep going, we chose to go. A lesson, Macau can be a great fun, but do pay attention if you want to go to Hong Kong via ferry, because it was Sunday, and apparently everybody seems to go back to Hong Kong after spending a weekend in Macau, so that's why the tickets are sold out.
It costs us even more expensive than the first time when we go from Hong Kong to Macau, this time, HK$339 / person (children $324). But we got a dinner (well, you know what kind of dinner they can serve at a ferry, right?), at least better than nothing. They have a sandwich and instant noodle as options, with orange juice and water. Exhausted, finally, we depart from Macau right on time, and we arrived at Hong Kong very late.
Conclusion For Macau
This experience I had in Macau, will never be forgotten. The city surely offers a lot of pleasure. I will definitely go back again, this time, will be much enjoyable if it is men's night out. But considering the price, maybe it is wise to spare a lot of money, well… you know.. It's Macau.
That's all I can share about Macau, check out the part 1, part 2 from my travel journal about Macau. Plus, some personal review about Venetian Hotel and Ferry to Macau. Here's a useful itinerary to enjoy Macau in 1 day, if you're interested. Thank you for reading!
---
Find out more travel resources that we also use for traveling on our resources page.
---
Last but not least. Here's a map to show you places I went for the day.